From dry rub wings for an appetizer, to chicken fried steak biscuits for your main dish, to coconut cloud cake for dessert, and so much more, this Southern Supper Menu has something to please everyone!
Southern food, in all its rich and buttery goodness, is comfort food at its core. For a Southern girl like me, there aren't a lot of things that make me feel more warm inside than a biscuit with gravy. And if you can slide a piece of chicken fried steak in there? Fix me a plate!
One thing I love about cooking is sharing the food, and the techniques of creating that food, with others. In the near future, I'll be teaching a class on Southern cooking at a local restaurant (one that I worked in for a bit) and I wanted to create a place for the recipes I'll be sharing to be gathered all together. This is by no means a comprehensive list of my Southern repertoire, but it'll sure get you started!
One thing I love to start a meal with, whether at home or at a restaurant, is chicken wings. These wings get their smoky flavor from smoked paprika and chipotle powder in the spice blend. Although you can fry these and toss them in the spices, I prefer to oven bake these with the seasonings already on them, to caramelize the sugars and bring out the smokiness of the spices. Just wow!
I used to be strictly a blue cheese dunker, but then I made my own buttermilk ranch dressing. Oh my. As if the tanginess of greek yogurt and buttermilk, combined with the creaminess of mayo isn't enough, this dressing is packed with fresh herbs like chives, parsley, and plenty of dill. The flavors pair perfectly with the Sweet and Smoky Dry Rub Wings too, so…win-win 🙌!
Cheesy Grits with Collard Greens & Black Eyed Peas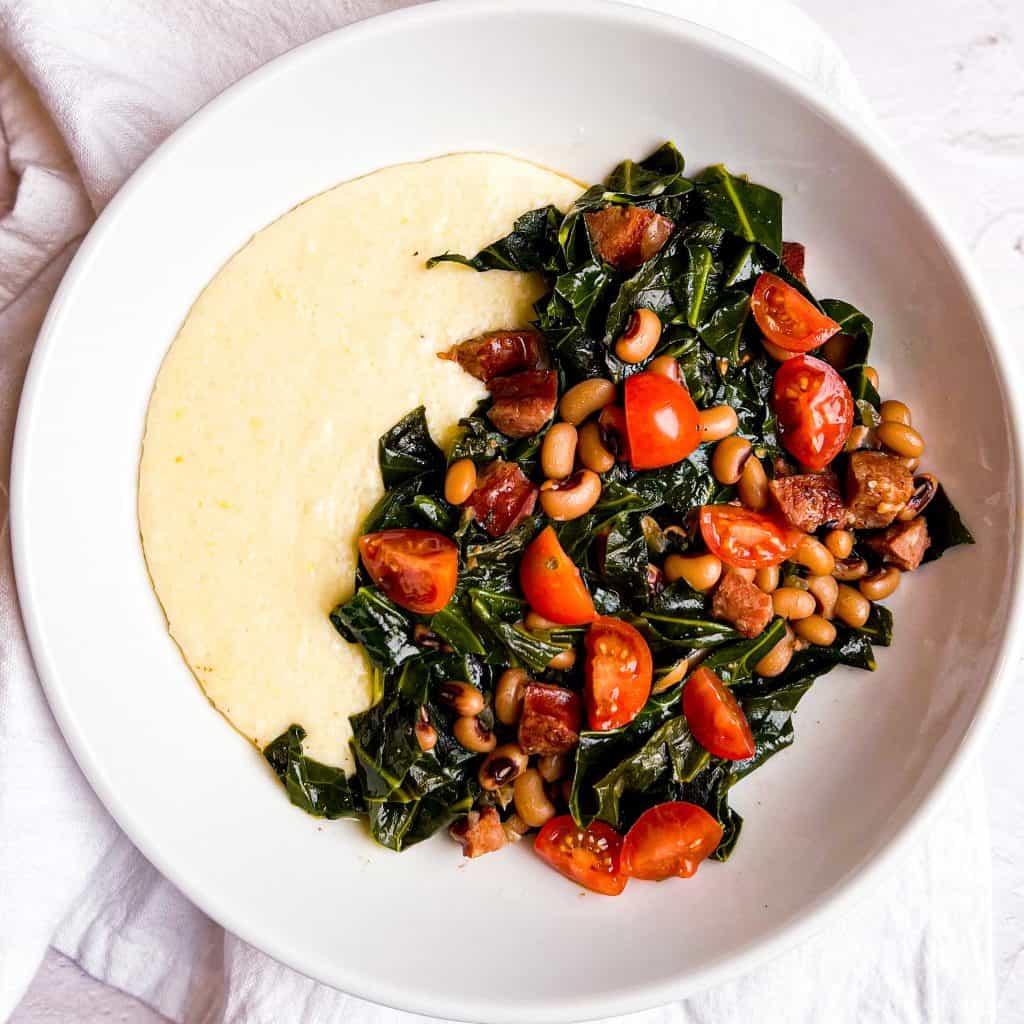 There aren't many things that evoke Southern vibes as much as grits. Collard greens and black eyed peas are a New Year tradition in most Southern and African-American households. I thought, why not bring all three of these amazing Southern staples together in one hearty dish?
This dish highlights cheesy grits, topped with collard greens, braised in the juices of andouille sausage, mixed with plump black eyed peas. One bite and you might just start saying "y'all" and craving sweet tea!
I really can't talk Southern cooking without including some biscuits. I don't remember a single Sunday supper at my Grandma Olga Mae's house that didn't include a cast iron pan filled with fluffy and flaky biscuits. She kept a container of flour and shortening on her counter and could have biscuits go from in the oven to in your mouth in less than 30 minutes. Mine are made with butter, but I think they would do Olga Mae proud.
Chicken Fried Steak Biscuits with Country Gravy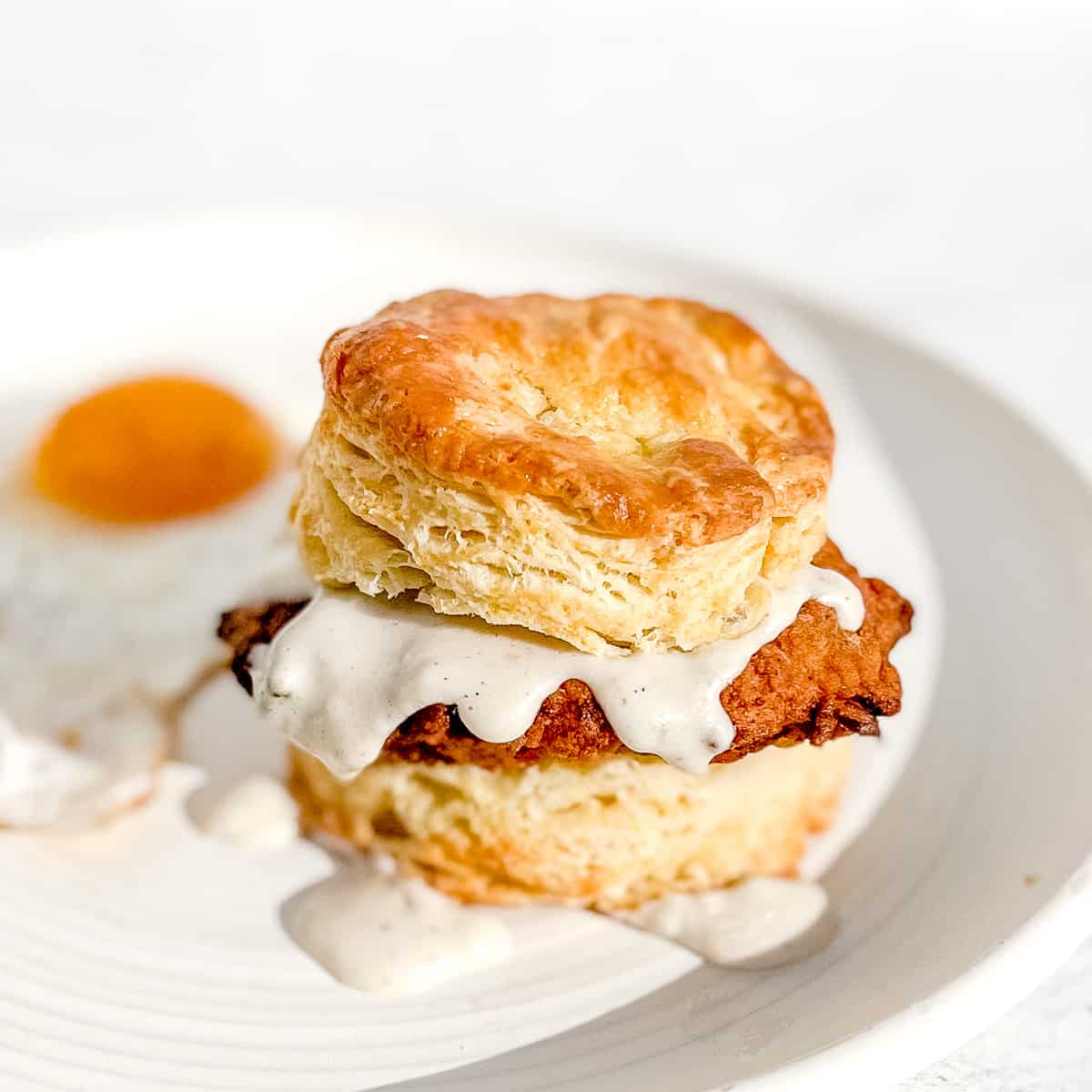 You know what's better than biscuits? Biscuits with gravy. You know what's better than biscuits with gravy? Biscuits with gravy with chicken fried steak. Yeah, I went there.
For the uninitiated, Chicken Fried Steak is not chicken (I'm looking at my husband now). It is tenderized steak, coated in flour, and fried like you would fry chicken. And it was sent from heaven to make people happy. For real. Whether you choose to make yourself a chicken fried steak sandwich, or just eat the steak on its own (slathered in gravy, of course), you are NOT going to regret your decision.
Coconut Cloud Cake with Lemon Curd
No Southern Supper is complete without dessert. For my Southern supper, I chose a cake that I often crave. A light fluffy coconut cake with lemon curd, cream cheese frosting, and coconut flakes.
Coconut cake is an old Southern tradition and, as with many Southern recipes, this one has a deep African-American history. The first known coconut cake recipe was published in 1881 by Abby Fisher in her book What Mrs. Fisher Knows About Old Southern Cooking, the second cookbook written by an African-American. Many years later, the layer cake we know today was published in Kentucky and has continued to be a treasured Southern recipe.
My version is for a single layer cake with lots of coconut flavor, a tangy lemon curd, and a decadent coconut cream cheese frosting. And of course a snowstorm of coconut flakes on top!
This collection of recipes are directly from, or inspired by, my Southern Heritage. Fully embracing the flavors and memories of my childhood, these are family favorites that stand the test of time!
As an Amazon Associate, I earn a small commission from qualifying purchases, at no extra cost to you. I only recommend products that I use and love. Any money earned allows me to keep doing what I love – providing free recis t my readers!