Easy, flaky Buttermilk Biscuits and Sausage Gravy makes the best breakfast any day of the week. Sure to become a family favorite!
My Journey to Buttermilk Biscuits and Sausage Gravy
You'd think, being born in Chattahoochee County, Georgia, I'd have had my biscuit game down years ago. Sadly, no. Most of my childhood biscuits came out of a can. Poppin' Fresh! When I became a "grown-up" I put my mind on figuring out how to get the biscuits of my dreams out of my head and onto a plate. I read a lot of recipes, tried a few different techniques, and…made some truly heinous hockey pucks. But I never gave up. I kept trying, and I finally brought it all together into what I believe are some of the fluffiest, flakiest, most tender biscuits outside of the South. Covered in rich creamy sausage gravy (try my Homemade Breakfast Sausage!), this makes for a breakfast worth having for dinner!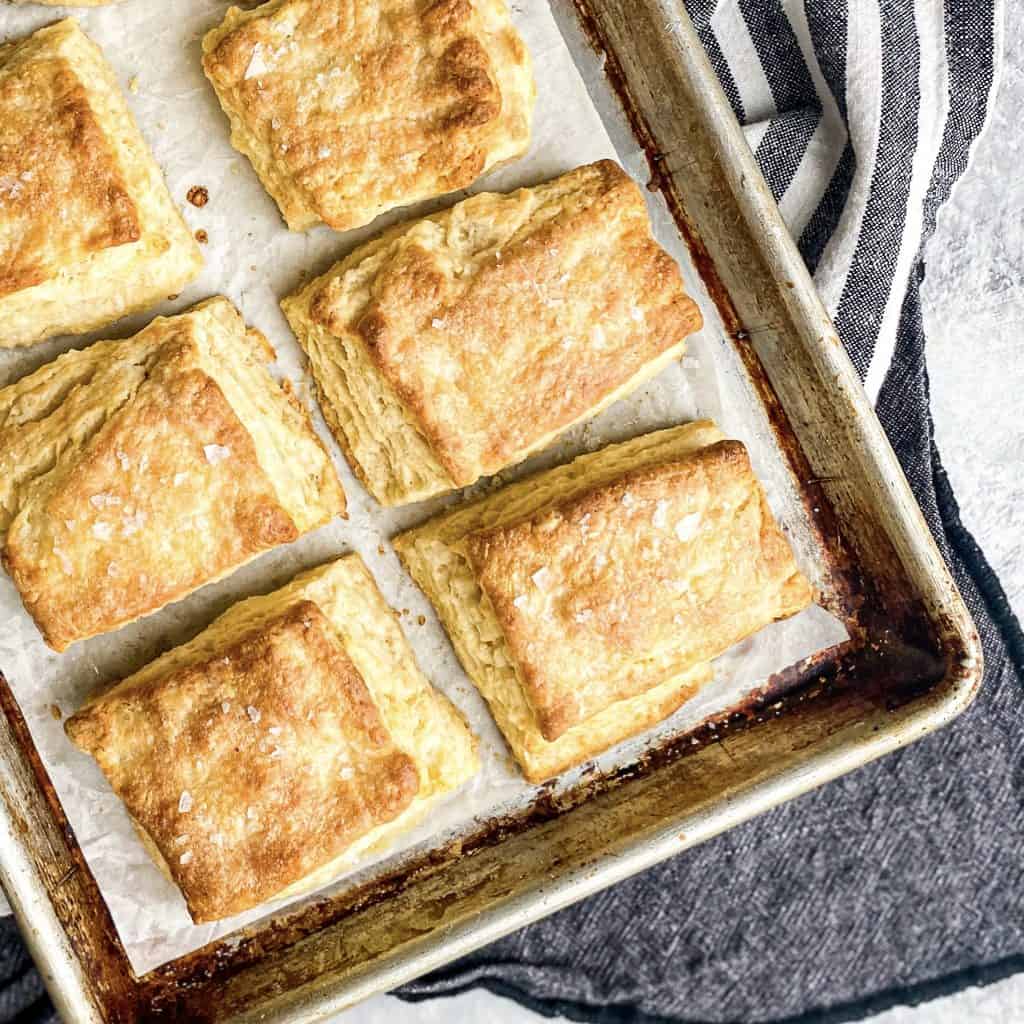 Biscuit Ingredients
All-purpose flour No fancy flours here. I use King Arthur Unbleached All-Purpose Flour, but any brand will do.
Baking soda Baking soda reacts with the buttermilk right away to give your biscuits a nice lift.
Baking powder Baking powder also works right away, but is "double acting", meaning it continues to add fluff to your biscuits all the way to the end.
A touch of sugar The biscuits I love the most always have just a touch of sweetness. You can leave that out later, but try it just this once. I think you'll like it!
Salt Unless a Medical Doctor told you to leave out salt, don't leave out salt. Whether baking or cooking, salt enhances the flavor of all the ingredients. Friend not foe, unless otherwise directed.
Butter Cold. Cold. Cold 🥶 The high heat of your oven hits the cold, cold butter. The butter releases steam that pushes up and out of the dough, creating flaky layers as a fabulous side effect. I love science!
Buttermilk Buttermilk helps to create an overall taller, tastier, flakier, fluffier biscuit. Who doesn't want that? The normal ratio for making your own buttermilk substitute is simple: for every cup of buttermilk, add 1 tablespoon of white vinegar or lemon juice and let it sit for 5 minutes to thicken. There's a bit of science that you can Google if you'd like, but what matters is, it works. In this recipe, we call for ¾ cup of buttermilk so it's just a bit different. Measure ¾ cup of buttermilk and add 2 ¼ teaspoons of vinegar or lemon juice and let sit for 5 minutes. Done.
Tips for Buttermilk Biscuit Success:
Biscuit making need not be complicated. Once someone gives you the correct formula (I think it's this one), it's just a matter of following the directions. I mean, yes baking is a science, but biscuit making should be fun!
Make sure your baking powder is fresh! That way, you'll get the light and fluffy biscuits of your dreams. Check the expiration date!
Use cold, cold 🥶 butter and buttermilk. The key to getting the flakiest biscuits is having the heat of the oven hit the cold liquids in the butter and the buttermilk, turning those liquids into steam that pops out all those layers. The science part 🤓
Don't handle the dough too much. Pat it out or roll it out gently to not only keep the butter cold, but to reduce gluten formation. That'll make a tough biscuit. More science 🤓
If you have time, place the biscuits in the refrigerator for 15 minutes or the freezer for 5 minutes to firm up the butter before baking.
When cutting out your biscuits, don't twist your biscuit cutter. Lift straight up. Just the simple act of twisting out the biscuits can seal the edges and keep you from reaching your layered potential!
As soon as your biscuits come out of the oven, give them a brush of honey or butter. Or honey butter! An extra bit of joy ❤️
How to make sausage gravy?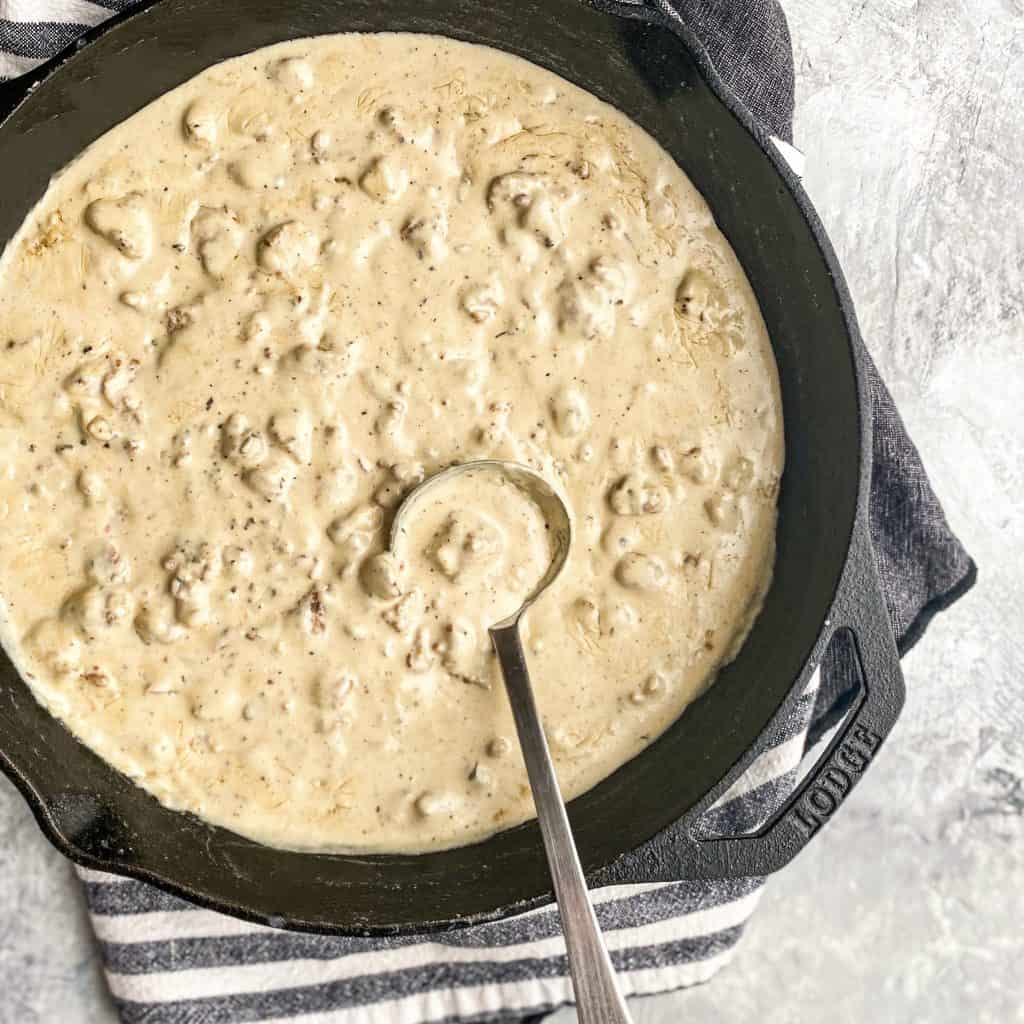 Brown sausage Using my Freshly Ground Breakfast Sausage or store bought breakfast sausage, and cook until no pink remains and you have brown crispy bits.
Add butter Add 3-4 tablespoons butter, less if your sausage produced a lot of fat, and melt it in.
Whisk in flour Whisk in ¼ cup of flour and cook for a minute or two. This will cook out any raw flour taste, and the flour itself is what will thicken your gravy.
Add milk Slowly pour in 4 cups of whole milk, whisking all the time, and allow to simmer until your gravy is thickened to your liking. If, at the end, you think it's too thick, you can always add more milk. If you think it's too thin, just keep simmering.
Season You don't want to season you gravy with salt and pepper until the end or you risk over-seasoning your gravy and it reduces.
Looking for more savory breakfast ideas?
Buttermilk Biscuits and Sausage Gravy
Easy, Flaky Buttermilk Biscuits and Sausage Gravy makes the best breakfast any day of the week. Sure to become a family favorite!
Ingredients
Buttermilk Biscuits
2

cup

(260g) all purpose flour

1

tablespoon

baking powder

¼

teaspoon

baking soda

2

teaspoon

sugar

1

teaspoon

salt

8

tablespoon

(113g) cold unsalted butter, cut into small cubes

¾

cup

(180g) cold buttermilk, plus more to brush on top of the biscuits
Sausage Gravy
1

lb

breakfast sausage

2

tablespoon

unsalted butter (I always use unsalted butter. You can always add more salt to your food at the end, but you can't take salt out)

¼

cup

all purpose flour (I like Wondra Flour, which is an ultrafine flour, perfect for gravies and sauces. All purpose flour is just fine)

4

cup

(960g) Whole Milk

Salt and pepper to taste
Instructions
Buttermilk Biscuits
Preheat oven to 450°F. Line a large sheet pan with parchment paper or (my choice) butter 12 inch cast iron pan and set aside.

In a large mixing bowl, whisk together all the dry ingredients.

Toss the butter cubes into the dry ingredients and, using a pastry cutter or your fingers, mix in the cold butter until you have a mixture of flat pieces and crumbly bits of butter mixed into the flour. If you're not a fast butter squisher, using a pastry cutter can help make sure you don't accidentally warm the butter too much with your hands. I squish pretty fast, but do what works for you!

Make a well in the center of the mixture and pour the cold buttermilk right in there (buttermilk is going to give us the tenderness we're looking for.) Gently work it together until you have a fairly uniform loose dough. It won't look all mixed in and that's okay. It will come together. Have faith!

Dump it all out onto a flour dusted counter or board. Using your hands, gently bring it all together into a rough rectangle. I never use a rolling pin, I feel like it works the dough too much and that will give you hockey puck biscuits. That's bad.

With a bench scraper or knife, cut into four smaller squares. Stack the pieces of biscuit dough on top of each other. Smush it all down into a square again. Repeat this cutting and stacking procedure 3 more times. This is how you form your unbelievable flaky layers!

Pat the dough into a rectangle at least ½ to ¾ inch thick. Using a biscuit cutter, or even a small drinking glass or mason jar, cut out your biscuits and place on your sheet pan or in your buttered cast iron pan. DON'T twist the cutter when cutting them out! That will effectively seal the edges of the biscuits, keeping them from fully rising. As an alternative, feel free to use a knife or your bench scraper to just cut them into squares or rectangles.

Don't miss any biscuit opportunities! Gather your scraps as you go and gently reform them together and cut as many biscuits as you can. These won't be as pretty as your first biscuits, but they'll be just as delicious! You should be able to get 6-8 biscuits with this recipe. Brush the tops lightly with a little bit of buttermilk. The milk solids will help the biscuits achieve their golden potential.

Bake in a 450° oven for 15-18 minutes, or until the have a beautiful golden brown crust. At this point, you can enjoy them as is, with a little butter or jam, or you can keep on going and make some amazing sausage gravy! I say we make gravy!
Sausage Gravy
Break up breakfast sausage into small pieces and brown in a pan over medium high heat until fully cooked and there are brown crunchy bits throughout.

Add butter and allow to melt. Sprinkle flour over the sausage and stir it around for a minute or two, allowing the fat to absorb the flour and cook the raw flour taste out.

Stirring constantly, pour in the milk. Allow to simmer for about 10 minutes. Don't add salt or pepper yet, as it thickens it will concentrate and you'll risk over seasoning. When it gets nice and thick, season with the salt and pepper to taste. I like it with a bunch of pepper and I'll sometimes add a dash or two of Texas Pete hot sauce for a little extra zing!

Pull open your biscuits and ladle the gravy over top and get down to it! You might even put some eggs and home fries down on the plate and make it a real Southern breakfast. Or lunch. Or dinner.
Nutrition
Calories:
517
kcal
|
Carbohydrates:
35
g
|
Protein:
17
g
|
Fat:
34
g
|
Saturated Fat:
17
g
|
Trans Fat:
1
g
|
Cholesterol:
93
mg
|
Sodium:
922
mg
|
Potassium:
369
mg
|
Fiber:
1
g
|
Sugar:
8
g
|
Vitamin A:
709
IU
|
Vitamin C:
1
mg
|
Calcium:
262
mg
|
Iron:
2
mg
The nutritional and caloric information shown is an estimate provided by an online nutrition calculator. It does not assert or suggest that readers should or should not count calories, and should not be considered a substitute for a professional nutritionist's or doctor's counseling.