Making your own freshly ground breakfast sausage is easier than you think, with your stand mixer and a grinder attachment. Don't want to grind your own meat? No problem! Just mix the spice blend into ground pork from your Mega Market!
I grew up eating Jimmy Dean Sausage Patties. Every Sunday my dad would make breakfast, and sausage was almost always part of the spread. When I grew up, for no reason whatsoever, I decided I wanted to make my own. From scratch. I'm weird like that.
Once I got it into my head that I want to make my own breakfast sausage, I researched all the ways to make it. I tried it once without grinding my own meat, buying ground pork and adding my herbs and seasonings. It was very good, but the challenge of making my own grind was in my brain.
I looked up making ground meat with a food processor, but the method had more than a few sketchy reviews. I happened to have balance left on a gift card to our Interweb Overlords, so I ordered the meat grinder attachment for my Kitchen Aid stand mixer.
If you don't have, or don't want to invest the money in a meat grinder, I totally respect that. It isn't cheap, and you might not feel like you'll get your money's worth out of it. Pre-ground pork makes a perfectly delicious sausage, although you might need to add more fat when cooking, as it tends to be leaner.
As you read through the ingredients, you'll see that most of the fresh herbs are repeated with a dried version of the herb. This is because I found that, although I got a fantastic fresh herb flavor, and those great specks of herbs in my sausage, adding the dried versions reinforced the flavor. This is because dried herbs are usually more concentrated. Having both dried and fresh herbs gives me the best qualities of both types.
What do I do with my sausage?
Other than making delicious sausage patties, you can brown it like ground beef and add it to breakfast tacos or breakfast pizza, or you can make my tried and true favorite Buttermilk Biscuits with Sausage Gravy!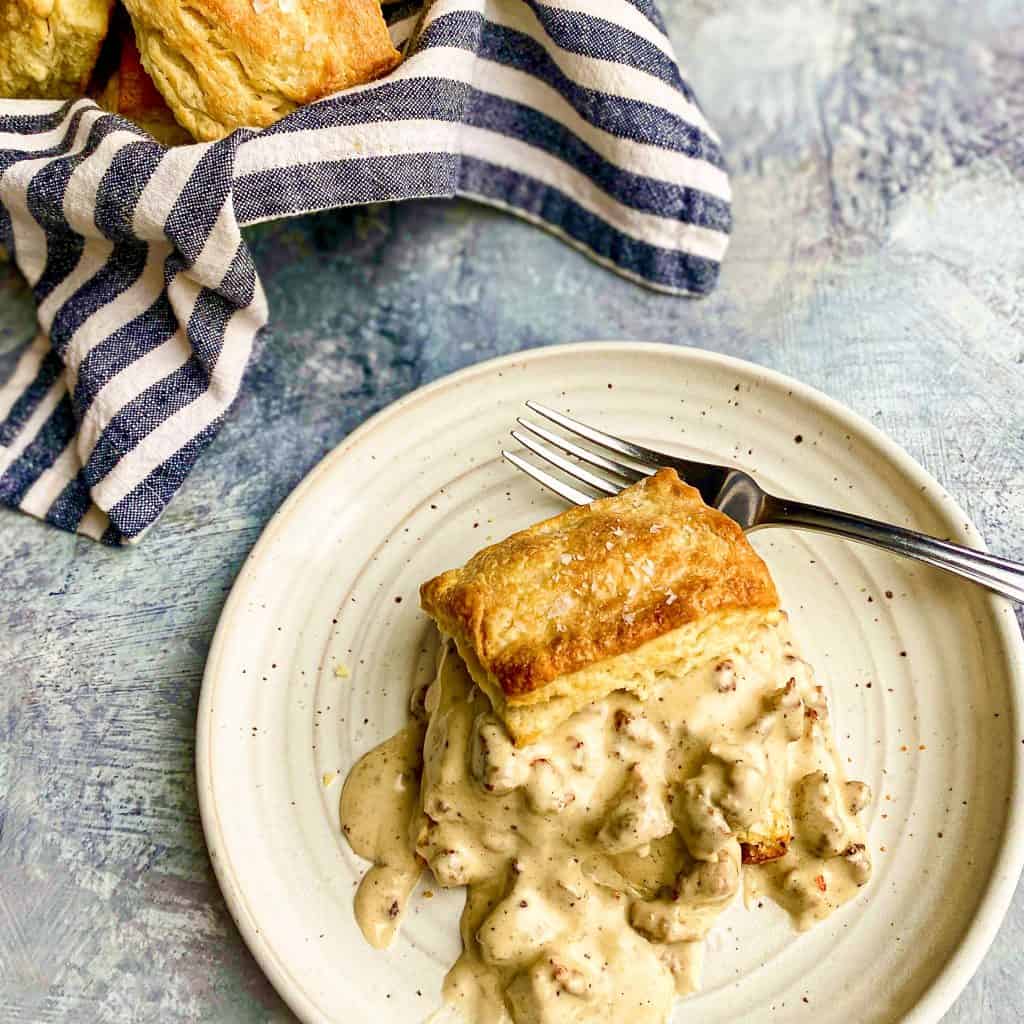 Craving more savoury breakfast recipes?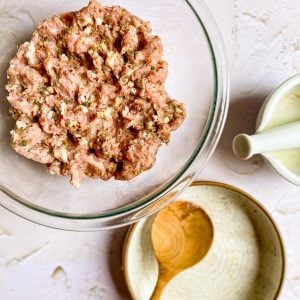 Freshly Ground Breakfast Sausage
Making your own freshly ground breakfast sausage is easier than you think, with your stand mixer and a grinder attachment. Don't want to grind your own meat? No problem! Just mix the spice blend into ground pork from your Mega Market!
Ingredients
1 ½

lbs

pork shoulder

or 1½ lbs ground pork

4

slices

bacon

uncooked, diced very fine

2

tablespoon

fresh sage

2

teaspoon

fresh rosemary

2

teaspoon

fresh thyme

2

teaspoon

kosher salt

1

teaspoon

ground black pepper

1

teaspoon

lightly crushed fennel seeds

1

teaspoon

brown sugar

½

teaspoon

dried thyme

½

teaspoon

grated nutmeg

½

teaspoon

ground sage

½

teaspoon

chipotle powder

½

teaspoon

crushed red pepper

⅛

teaspoon

ground cloves
Instructions
Cut your pork shoulder into about ¼ inch cubes. Roughly chop the bacon. Place in a bowl in the refrigerator while you get all the herbs and seasonings together.

Gather and measure all of your herbs and spices. The fresh herbs get a rough chop, but don't go too crazy since this is all going into the meat grinder! (if using all dried herbs, use about ⅓ of the fresh amount.)

Add herbs and seasonings to the pork and bacon and mix well.

Lay the seasoned meat on a sheet tray in a single layer, and place in the freezer for at least one hour. Having the meat very, very cold will make it so much easier to grind. You want the meat to be frozen enough to be hard to the touch, but still able to be pierced with the tip of a knife.

Attach the meat grinder to your stand mixer (I prefer the medium grind plate for most sausage.) Place a bowl directly under the grinder face to catch your ground meat. Place a heap (exact measurement) of seasoned meat cubes on the tray of your meat grinder. Turn the stand mixer to #4. Drop cubes of meat into the grinder and, using the meat pusher stick (technical term) gently guide the meat through. Don't use it as a battering ram, just use it to gently guide the meat in.

If using ground pork, gently spread the ground pork and diced bacon in a thin layer on a sheet pan. Finely chop all the fresh herbs. Mix all chopped herbs and seasoning in a small bowl and spinkle evely over the surface of the meat. Using a gentle folding and mixing technique, fully distribute the bacon, herbs, and spices into the ground pork.

Now look at what you have created! Breakfast sausage! If you're not using the sausage right away (umm…why not?), wrap tightly in plastic wrap, and then place in a ziploc bag and refrigerate. It will keep for up to a week in the fridge, or you can freeze it for about 3 months.
Nutrition
Calories:
71
kcal
|
Carbohydrates:
1
g
|
Protein:
8
g
|
Fat:
4
g
|
Saturated Fat:
1
g
|
Polyunsaturated Fat:
0.4
g
|
Monounsaturated Fat:
2
g
|
Cholesterol:
28
mg
|
Sodium:
501
mg
|
Potassium:
161
mg
|
Fiber:
0.4
g
|
Sugar:
0.4
g
|
Vitamin A:
85
IU
|
Vitamin C:
1
mg
|
Calcium:
21
mg
|
Iron:
1
mg
The nutritional and caloric information shown is an estimate provided by an online nutrition calculator. It does not assert or suggest that readers should or should not count calories, and should not be considered a substitute for a professional nutritionist's or doctor's counseling.