My unbelievably flaky buttermilk biscuit recipe is made even better with ham and Swiss cheese baked into the layers and a honey butter glaze on top!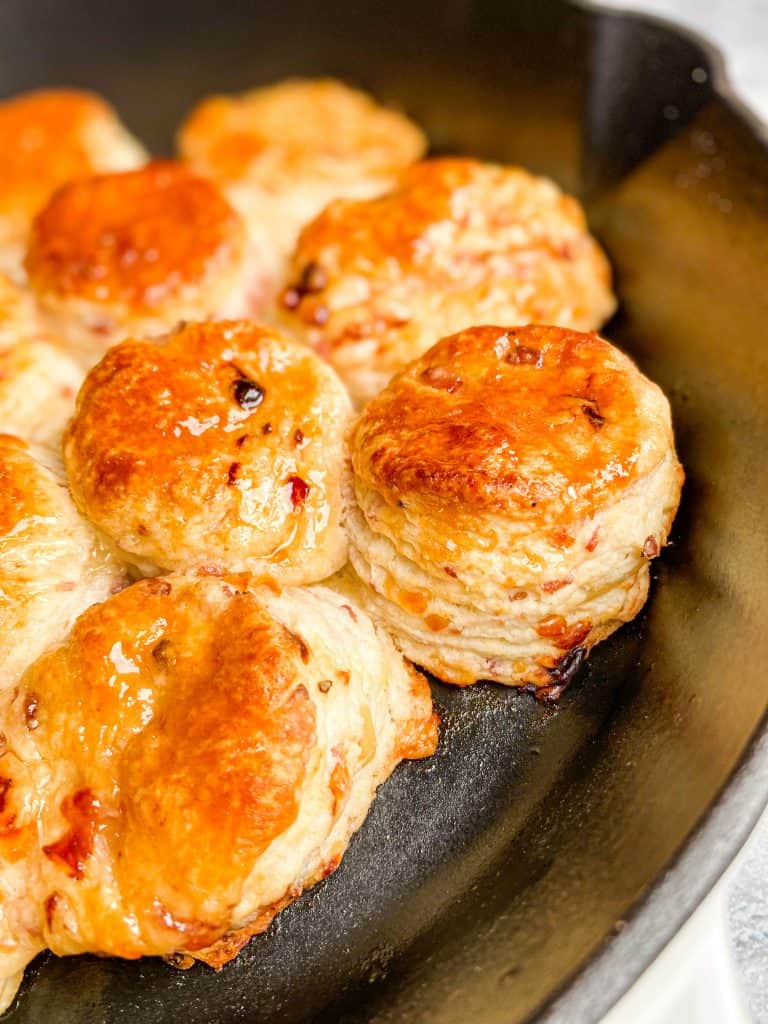 Hello biscuit fans and biscuit fans-to-be! A variation on my classic Buttermilk Biscuits, these Ham and Swiss Buttermilk Biscuits will get even those on the biscuit fence excited. Being a Southern Girl at heart (and by birth, in Chattahoochee County, Georgia), it's in my DNA to love biscuits, but it was the work of most-of-a-lifetime to get the recipe just right.
And what do I do when I think I've mastered something? Mess with it, of course. Like most of my pandemic-era recipes, this new biscuit was developed when I wanted to make something for my family, in this case for breakfast, without having to go to the store.
I looked in the refrigerator that morning and saw just a bit of leftover ham and Swiss cheese (not enough for even one sandwich) and that was all it took. These beauties were born. (By the way, no one understands how my brain works. Not even me. Science is baffled.)
These Ham and Swiss Buttermilk Biscuits are amazing on their own, or slathered in Sausage Gravy (hey, we all need more protein after 8 months indoors). Don't let the idea of biscuit making intimidate you. With simple ingredients and clear directions, you're going to make something amazing!
Ingredients
All-purpose flour No fancy flours here. I use King Arthur Unbleached All-Purpose Flour, but any brand will do.
Baking soda Baking soda reacts with the buttermilk right away to give your biscuits a nice lift.
Baking powder Baking powder also works right away, but is "double acting", meaning it continues to add fluff to your biscuits all the way to the end.
A touch of sugar The biscuits I love the most always have just a touch of sweetness. You can leave that out later, but try it just this once. I think you'll like it!
Salt Unless a Medical Doctor told you to leave out salt, don't leave out salt. Whether baking or cooking, salt enhances the flavor of all the ingredients. Friend not foe, unless otherwise directed.
Butter Cold. Cold. Cold 🥶 The high heat of your oven hits the cold, cold butter. The butter releases steam that pushes up and out of the dough, creating flaky layers as a fabulous side effect. I love science!
Buttermilk Buttermilk helps to create an overall taller, tastier, flakier, fluffier biscuit. Who doesn't want that? The normal ratio for making your own buttermilk substitute is simple: for every cup of buttermilk, add 1 tablespoon of white vinegar or lemon juice and let it sit for 5 minutes to thicken. There's a bit of science that you can Google if you'd like, but what matters is, it works. In this recipe, we call for ¾ cup of buttermilk so it's just a bit of math. I'll do it for you: measure ¾ cup of milk (I recommend whole milk) and add 2 and ¼ teaspoons of vinegar or lemon juice and let sit for 5 minutes. Done.
Ham and Swiss cheese I'm not asking you to get Berkshire ham and fancy Ementaler cheese here. Deli ham and some sliced Swiss is absolutely fine. Use what you have. For a fun twist, try bacon and cheddar instead of ham and Swiss. Food should be fun! Are you having fun yet?
Tips for Success:
Biscuit making doesn't have to be complicated. Once someone gives you the correct formula (I think it's this one), it's just a matter of following the directions. I mean, yes baking is a science, but biscuit making should be fun!
Make sure your baking powder is fresh! That way, you'll get the light and fluffy biscuits of your dreams. Check the expiration date!
Use cold, cold 🥶 butter and buttermilk. The key to getting the flakiest biscuits is having the heat of the oven hit the cold liquids in the butter and the buttermilk, turning those liquids into steam that pops out all those layers. The science part 🤓

Don't handle the dough too much. Pat it out or roll it out gently to not only keep the butter cold, but to reduce gluten formation. That'll make a tough biscuit. More

science 🤓
If you have time, place the biscuits in the refrigerator for 15 minutes or the freezer for 5 minutes to firm up the butter before baking.

When cutting out your biscuits, don't twist your biscuit cutter. Lift straight up. Just the simple act of twisting out the biscuits can seal the edges and keep you from reaching your layered potential!
As soon as your biscuits come out of the oven, give them one last brush of the honey butter glaze. An extra bit of joy!
Drop Biscuit Alternative
Okay, I think I've made biscuits sound a little less scary. However, if you don't feel up to all the rolling out and cutting out (or are feeling a bit lazy this morning 🥱), I've got you covered.
One of the most common biscuits in the South are simple drop biscuits, where you literally mix everything up and "drop" spoonfuls into your skillet, or on a sheet pan, and bake. How can you convert this biscuit recipe to drop biscuits?
Mix all the dry ingredients and cut in the butter. No change.
Add ham and Swiss directly to the dry ingredients and toss together.
Add 1 cup cold buttermilk (an extra ¼ cup than original recipe) and mix. It will be sticky.
Drop large mounds of biscuit dough either into a cast iron skillet or a parchment lined sheet pan. I like to use a 2 oz (¼ cup) scoop for an even easier biscuit.
Brush with honey butter and bake as directed.
Serve these Ham and Swiss Buttermilk Biscuits with butter, jam, gravy, or honey or enjoy them all on their own. Go on, bake yourself happy!
Play with your food
Sometimes it's a good idea to play with your food! Don't let a recipe hold you back! As long as you're not messing with the liquid content of the biscuits, you can substitute other yummy bits for the ham and Swiss. You can do cheddar and chive, fresh or dried Italian herbs and mozzarella, or just black pepper and parmesan.
I even made spiced bacon and gruyere biscuits and slathered them with blueberry jam! I glazed them with an egg wash and sprinkled the tops with fresh black pepper and flaky sea salt before baking and they were the perfect blend of salty, sweet, peppery, and cheesy. Don't knock it till you've tried it! You gotta try it!
More tasty breakfast recipes
Ham and Swiss Buttermilk Biscuits
My unbelievably flaky buttermilk biscuit recipe is made even better with ham and Swiss cheese baked into the layers and a honey butter glaze on top!
Ingredients
2

cup

(

240

g

)

all-purpose flour

1

tablespoon

(

12

g

)

baking powder

¼

teaspoon

(

1

g

)

baking soda

2

teaspoon

(

8

g

)

granulated sugar

1

teaspoon

(

6

g

)

kosher salt

½

cup

(

113

g

)

unsalted butter

cold and cut in cubes

¾

cup

(

180

g

)

buttermilk

cold

4

oz

(

114

g

)

Swiss cheese

4

oz

(

114

g

)

ham

2

tablespoon

(

28

g

)

unsalted butter

melted

2

tablespoon

(

42

g

)

honey

Pinch of kosher

Flaky sea salt (optional)
Instructions
Preheat oven to 425°. Put your butter cubes back in the refrigerator to get 'em nice and chilly while you do these next couple steps.

Line a large baking sheet with parchment paper or lightly butter a cast iron pan and set aside.

Finely dice both the Swiss cheese and the ham and set aside.

Next make your honey butter. In a small pan, or in the microwave, melt the butter and combine with the honey. Stir in a pinch of kosher salt. You may need to rewarm your home buttery when the biscuits are ready to go into the oven.

In a large mixing bowl, whisk together all the dry ingredients. Toss the butter cubes into the dry ingredients and, using a pastry cutter or your fingers, mix in the cold butter until you have a mixture of flat pieces and crumbly bits of butter mixed into the flour.

Make a well in the center of the mixture and pour in the cold buttermilk. Gently mix it together with a spatula or your hands until you have a fairly uniform loose dough. It won't look all mixed in and that's okay. It will come together.

Turn out your dough onto a lightly floured surface. Pile it up and push the dough together until you can pat it into a big square. With a bench scraper or knife, cut into four smaller squares. Sprinkle the ham and Swiss on three of the squares.

Stack the pieces of biscuit dough on top of each other, finishing with the plain one on top. Smush it all down into a square again (the ham and Swiss will be all snugged into the layers). Repeat this cutting and stacking procedure 3 more times. This is how you form your flaky layers!

Pat or roll dough to 1-inch thickness. Use a biscuit cutter to cut into traditional round biscuits, or you can use a knife or the bench scraper to make square biscuits. If you use a biscuit cutter, dip it in flour first to make sure it doesn't stick to the biscuit dough. And remember: Do not twist as you cut the dough or you'll seal all the layers you created with the stacking technique!

Place the biscuits, sides touching lightly, on your parchment covered sheet tray or in your cast iron pan. Place the finished biscuits in the refrigerator for 15 minutes or the freezer for 5 minutes to firm up the butter before baking. Remember, cold butter creates steam in the oven, and that creates layers! (See where we're going here?)

Brush tops of biscuits with honey butter and bake at 425° for 18-20 minutes or until nicely browned on top.

Brush with more honey butter as soon as they come out of the oven. Sprinkle with a bit of flaky sea salt for a nice salty sweet combo, if you like. Let cool a bit before eating. Just a bit. We made beautiful Ham and Swiss Biscuits! We're amazing! Now, let's eat.
Nutrition
Calories:
248
kcal
|
Carbohydrates:
30
g
|
Protein:
10
g
|
Fat:
10
g
|
Saturated Fat:
5
g
|
Polyunsaturated Fat:
1
g
|
Monounsaturated Fat:
3
g
|
Trans Fat:
1
g
|
Cholesterol:
30
mg
|
Sodium:
681
mg
|
Potassium:
89
mg
|
Fiber:
1
g
|
Sugar:
6
g
|
Vitamin A:
207
IU
|
Vitamin C:
1
mg
|
Calcium:
207
mg
|
Iron:
2
mg
The nutritional and caloric information shown is an estimate provided by an online nutrition calculator. It does not assert or suggest that readers should or should not count calories, and should not be considered a substitute for a professional nutritionist's or doctor's counseling.