My Basic Buttermilk Muffins start with a fluffy and delicious muffin recipe. You can then add fruit, nuts, whatever you like, to make these muffins uniquely yours. The possibilities are endless!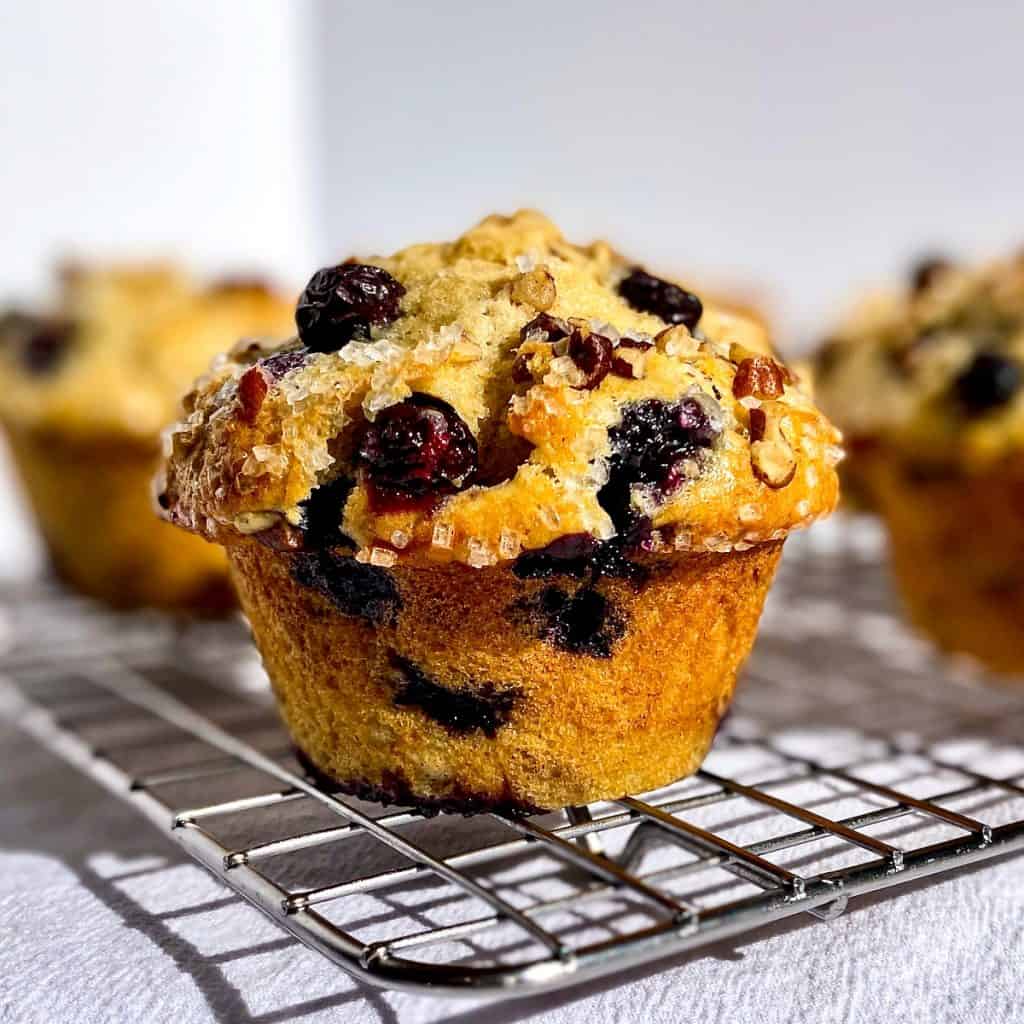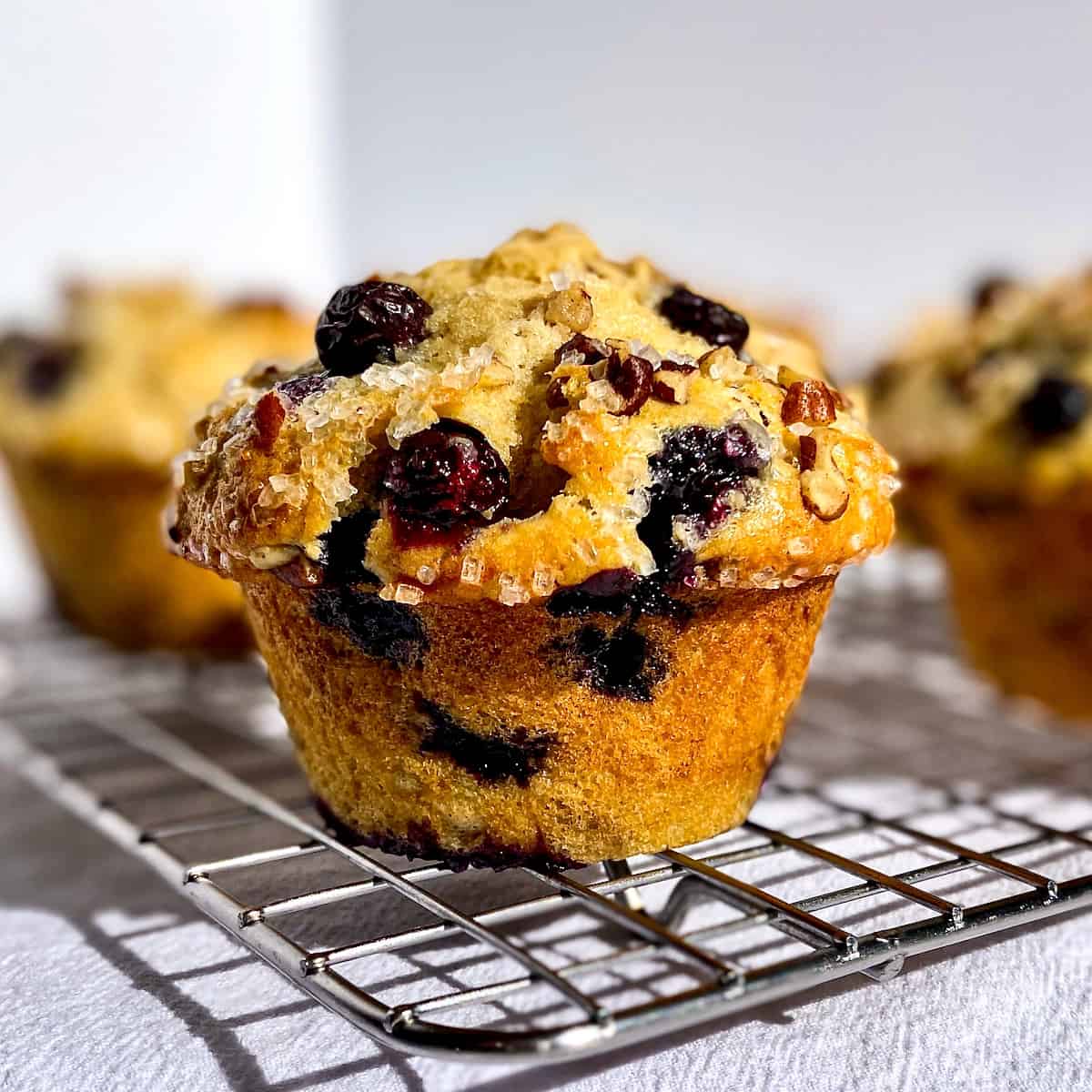 The Best Basic Buttermilk Muffin Recipe
When my kids were little, whenever we would go to the grocery store we would drop by the bakery department and pick out a different muffin for everyone. We'd get one of those white waxy bags and use those barely functional clear plastic tongs (attached with the curly phone cord thingy - like I was going to steal it) and grab a few cold, dense blueberry or chocolate chip muffins for the next morning's breakfast.
Sometimes The Boy would grab a day old at the counter - you know, the ones they wrapped tightly in plastic wrap with the big orange 50% OFF sticker? Those are my muffin memories. My kids are grown now, but it's not too late to reshape their muffin memories with this amazing Basic Buttermilk Muffin: Better than Basic recipe!
Why you need a good Basic Muffin Recipe
If there is one thing I've learned over the years, it's that, unless you have a teenager with a new license who's itching to drive, no one wants to go to the store when you've forgotten an ingredient. Having a good set of basic recipes at your disposal keeps you from being locked into a specific set of ingredients.
With this Basic Buttermilk Muffin recipe, you can open your fridge or pantry and use whatever you have to make a muffin that's guaranteed to be delicious. See some blueberries in the fridge that are on their last legs? Toss them in the batter! Have half a cup of toasted pecans too? Now you have Blueberry Pecan Muffins! As long as you have the basic muffin ingredients, you can have not so basic muffins!
What are the ingredients for basic muffins?
All-purpose flour I find that all-purpose flour is the perfect flour for muffins, since you want a sturdy batter that will hold up under any and all add ins you'll bring to your muffin party. Don't worry about it being too dense though, that's where the next ingredient comes in.
Buttermilk Because of its acidity, buttermilk acts as... let's call it a pair of scissors. Your buttermilk scissors snip the gluten strands in the batter, making a more tender muffin. It also adds a nice amount of tang to your muffin, keeping it from being cloyingly sweet. (See additional note at the end of the recipe for buttermilk substitutes in case you run out!)
Granulated sugar There's just half a cup of sugar in these muffins, so they'll never be too sweet. But don't forget that sugar is an important ingredient, even in savory muffins, so that your muffin will get all the nice brown bits that bring more flavor.
Baking powder and baking soda I use both of these leavening agents in my muffins, because they both act in a different way. As you recall from science class 🤓 baking soda is a base. When it gets together with the acidic buttermilk, they create carbon dioxide gas and... Did anyone else do baking soda and vinegar experiments in school, like the volcano eruption? Yeah, that's how baking soda and buttermilk make your muffins rise. The baking powder does that as well, but it also works its magic a second time with...
High Heat I have you start your muffins at 425°F so when the high heat and baking powder react you get a nice doming on the top of your muffins. I don't know about you, but a flat muffin just makes me sad 😞 After five minutes you drop the heat to 350° and finish baking. If you think you might forget to turn the temperature down (I may have done that a few times in testing), feel free to bake for 20-25 minutes at 375°. They may not dome as much, but will be equally delicious.
Butter and oil I use both because butter adds a great buttery flavor that can't be beat, but it solidifies at room temperature. That's where the oil comes in! By replacing half of the usual butter content with a vegetable oil, your muffins will stay soft and moist for much longer.
Egg One egg justs bring it all home. It adds flavor and structure, contributes to the rise, and keeps the fat all evenly distributed throughout the muffin. Truly the unsung hero of the muffin. No one ever says "Mmm, such an eggy muffin!" but they sure would miss the egg.
10 Amazing Muffin Variations
I want you to embrace this recipe with the confidence to make it your own. To get you started, I'm sharing my favorite 10 muffin variations, all of which my family lovingly taste-tested for you. These are only a few of the infinite possibilities, and that's the point of a Better than Basic recipe!
Streusel Topping (can go on any muffin variety) ¼ cup granulated sugar or brown sugar (50 g) + ⅓ cup (40 g) all-purpose flour + 3 tablespoons (43 g) unsalted butter, chilled and cut into tiny pieces.
In a medium bowl combine the granulated sugar, flour, and butter. With your fingers, work in the butter pieces until the mixture is very crumbly and resembles a coarse meal. Add toasted nuts if you're feeling crazy. The crumbs should be pea-sized, with some larger clumps. Refrigerate until ready to top muffin. Top each muffin with about a tbs of crumb topping. Bake as directed.
Cinnamon Swirl Streusel Muffins For the cinnamon swirl: ½ cup (65 g) finely chopped pecans + ⅓ cup (67 g) brown sugar + 2 teaspoons ground cinnamon
Add ½ teaspoon cinnamon to streusel topping above. Whisk together all filling ingredients until well combined. Set aside until ready to use. Place 2 tablespoons batter in each muffin liner. Top with 1 teaspoon cinnamon filling, swirl with a toothpick, and top with remaining 2 tablespoons muffin batter. Top with cinnamon streusel. Bake as directed.
For Jammy Swirl Muffins ½ cup jam of choice (not jelly, which will completely liquify when heated) + Sugar to sprinkle on top.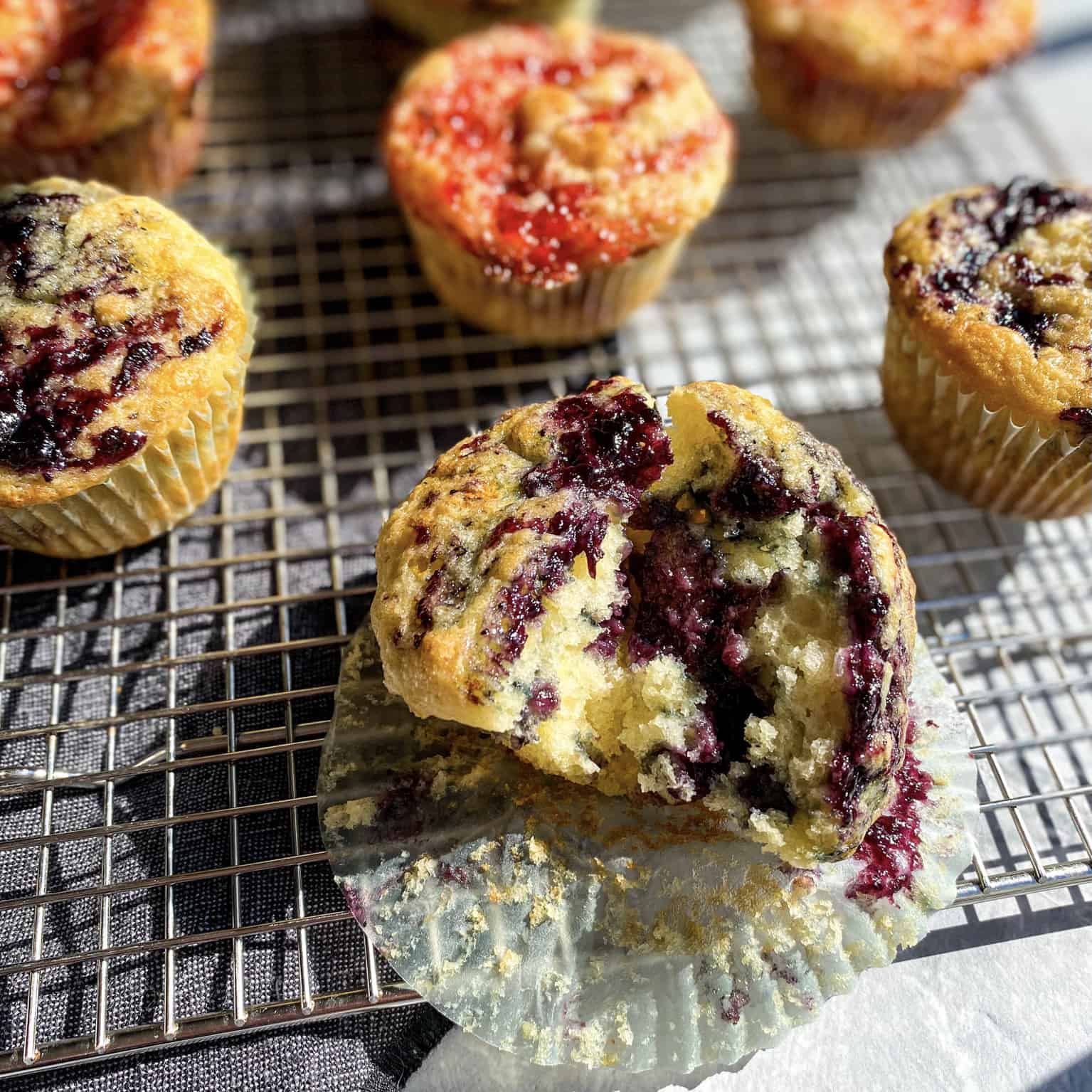 Fruit Muffins Toss 1 ½ cups whole or chopped fruit with 2 tablespoons of your dry ingredients. Fold into the finished batter. Top with streusel (see above.) Bake as directed.
Chocolate Chip Muffins Toss 1 ½ cups chocolate chips with 2 tablespoons of your dry ingredients. Fold into the finished batter. Top scooped muffins with more chips. Bake as directed. Feelin' fancy? Use one or more types of bar chocolate, chopped up into pieces, placing some on top for melty pools.
For Banana Muffins Replace ½ of your buttermilk with 2 mashed bananas. and mix into wet ingredients. Toss in ½ cup of toasted walnuts or pecans, if you like. Bake as directed.
Double Chocolate Muffins Replace all-purpose flour with 1 ½ cups (180 g) all purpose flour and ½ cup (44 g) of cocoa powder. Add 1 cup of chocolate chips. Put some more chips on top before baking. Bake as directed.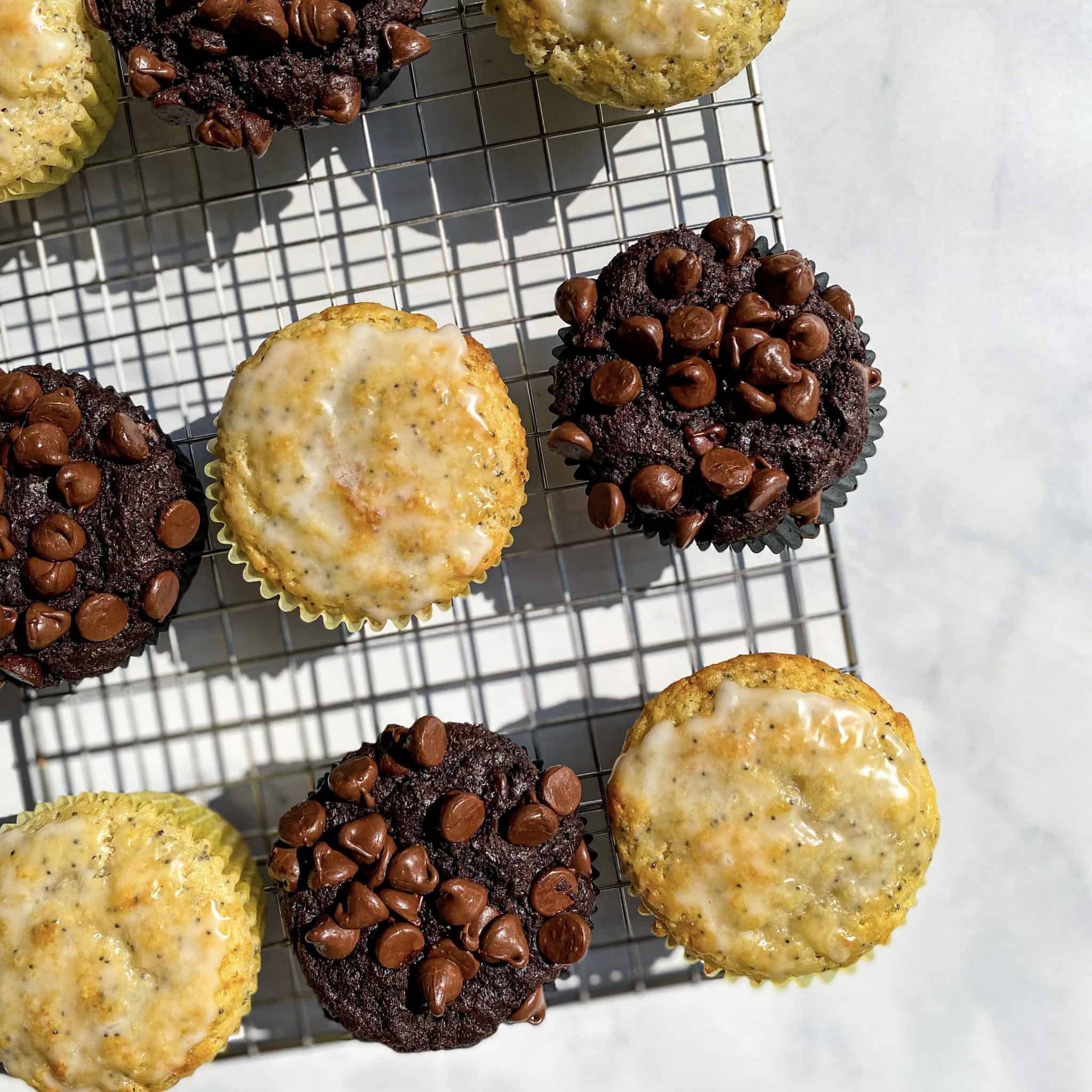 Lemon Poppy Seed Muffins Zest one lemon into your sugar, before adding to the dry ingredients. Rub the zest into the sugar with your fingers to release the lemon oils and add more lemon flavor. Add 2 tablespoons poppy seeds to wet ingredients and allow to sit for 10 minutes to soften them. Substitute lemon extract, in place of the vanilla. Top with streusel (see above) or a lemon glaze made of 1 cup confectioners sugar and 1-2 tablespoons of lemon juice to drizzle or dip. Bake as directed.
Apple Cinnamon Crunch Muffins Add 1½ teaspoon of ground cinnamon to dry ingredients. Fold in ¾ cup to 1 cup of diced apples that have been sautéed for 3-4 minutes in two tablespoons of butter. Bake as directed. After baking, dip tops in melted butter and then into a mixture of ½ teaspoon of cinnamon and ½ cup of granulated sugar.
Peaches and Cream Muffins Fold 1 ½ cups of chopped peaches into muffin batter (can use frozen, but do not defrost) Top with streusel topping (see above). Bake as directed. Allow muffins to cool for 10 minutes. Drizzle cooled muffins with vanilla glaze: 1 cup (120 g) confectioners' sugar + 3 tablespoons heavy cream or milk + ½ teaspoon vanilla extract or paste, all whisked together.
Try my Small Batch Raspberry Banana Muffins for a best of all worlds variation!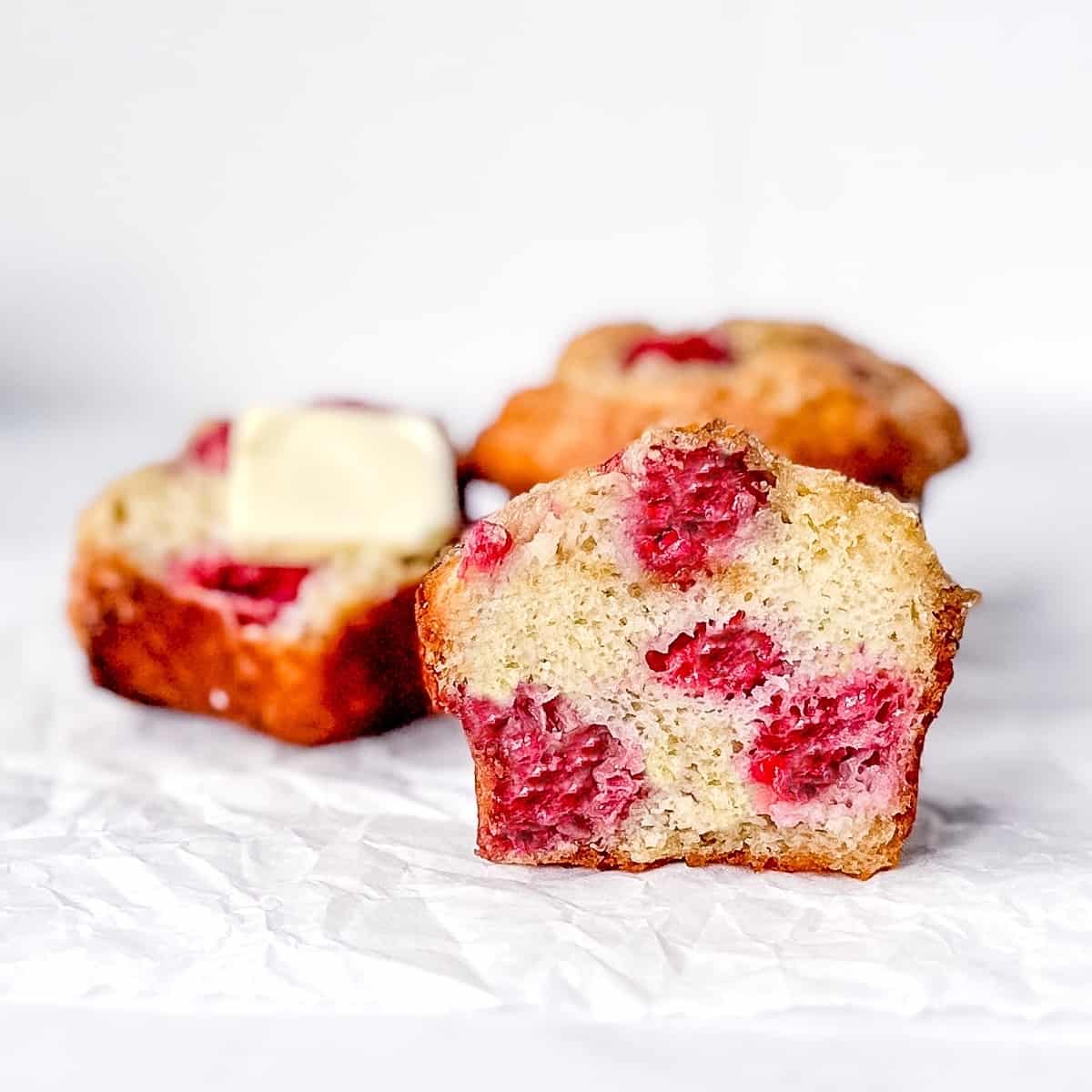 There are so many other varieties, I just couldn't possibly list them all here. You're only limited by your imagination, what's in your pantry and fridge, or your willingness to put on pants and shoes and go to the store. Good luck and let me know what you bake up!
Looking for more morning bakes?
Basic Buttermilk Muffins with Variations
My Basic Buttermilk Muffins start with a fluffy and delicious muffin recipe. You can then add fruit, nuts, whatever you like, to make these muffins uniquely yours. The possibilities are endless!
Ingredients
Dry Ingredients
2

cups

(

240

g

)

all purpose flour

½

cup

(

100

g

)

granulated sugar

2

teaspoon

baking powder

½

teaspoon

baking soda

½

teaspoon

kosher salt
Wet Ingredients
2

large

eggs

room temperature

1

cup

(

240

g

)

buttermilk

room temperature

4

tablespoon

(

56

g

)

unsalted butter

melted

4

tablespoon

(

60

g

)

vegetable oil

1

teaspoon

vanilla extract

or paste
Instructions
Preheat oven to 425° Place cupcake liners in each cup of a standard size cupcake pan.

Whisk dry ingredients together in a medium bowl.

Whisk together wet ingredients in another bowl.

Add wet to dry and mix until just combined. Don't over mix. Just bring together until all the dry flour disappears. A few lumps are okay.

Gently fold in any add-ins that you have decided to include. See the post contents for variations I have tested for you, but don't be afraid to stretch your culinary wings!

Using a medium scoop or measuring cup, place ¼ cup of batter into each muffin cup (or, if you'd rather eyeball it, fill each cup ¾ full.) Sprinkle top with more granulated sugar or streusel, if desired. Bake at 425° for 5 minutes. After 5 minutes turn the oven down to 350°, without opening the oven door. Bake for another 15-18 minutes, or until a clean toothpick inserted into the center muffin comes out with few or no crumbs attached.
Notes
Note on Buttermilk When it comes to the liquid I use in muffins, I sometimes make adjustments based on what I have in the fridge at the moment. You can absolutely use Greek yogurt or sour cream in place of the buttermilk, if that's what you have on hand. If you substitute with milk - whole milk, skim milk, or almond milk for instance - remove the baking soda from the recipe and increase the baking powder to 3 teaspoons.
Don't need a dozen muffins? This recipe is easily divided in half for 6 muffins. Sometimes I even make 6 of one muffin flavor and 6 of another. Have fun!
Nutrition
Calories:
205
kcal
|
Carbohydrates:
25
g
|
Protein:
4
g
|
Fat:
10
g
|
Saturated Fat:
7
g
|
Trans Fat:
1
g
|
Cholesterol:
40
mg
|
Sodium:
246
mg
|
Potassium:
61
mg
|
Fiber:
1
g
|
Sugar:
9
g
|
Vitamin A:
191
IU
|
Calcium:
71
mg
|
Iron:
1
mg
The nutritional and caloric information shown is an estimate provided by an online nutrition calculator. It does not assert or suggest that readers should or should not count calories, and should not be considered a substitute for a professional nutritionist's or doctor's counseling.