All the flavor of Chicken Piccata in a juicy meatball, swimming in a savory, lemon cream sauce!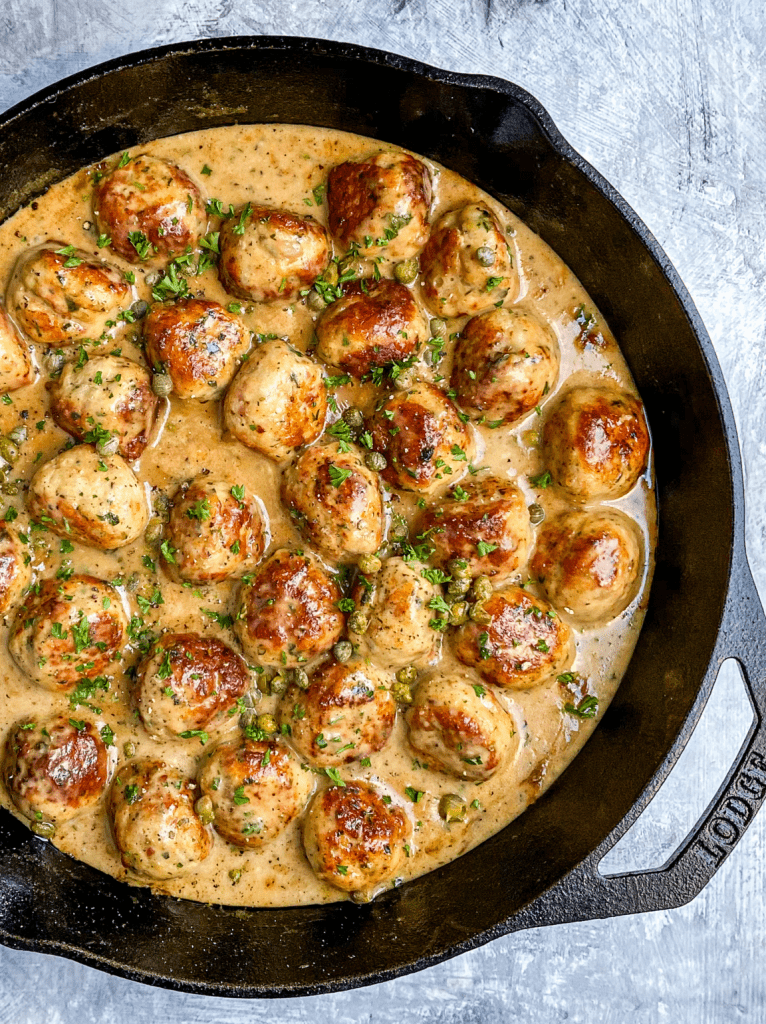 Why did I create this Chicken Piccata Meatballs recipe? First of all, I love chicken. I know, I know. A lot of people think chicken is boring, and that can be true. But fried or roasted, smothered or skewered, I really love chicken. And if a classic roasted chicken with lemon is good enough for Ina and Jeffrey, who are we to judge? Seriously. Adding the refreshing, acidic punch of lemon to my beloved chicken dinner? I swoon. No really, I'm actually in danger of swooning just thinking about it right now.
I don't even know where my love of lemon chicken originated. I mean, as I'm sitting here writing this, I pause, wracking my brain, and I cannot think of when was the first time I had any type of lemon chicken. It certainly didn't come from the Korean side of my family. And if my grandma Olga Mae did anything with lemons, it was probably in the form of a dessert (helloooo lemon pound cake).
I can only guess my love affair with lemony chicken began at some Italian-American Banquet Hall function in New Jersey, when I first met my husband's family. Silver rows of massive chafing dishes filled to the brim with steaming stacks of Chicken Française (Fran-cay-see in New Jersey speak) or Chicken Piccata. Can you picture it? The velvet-lined walls, for whatever reason? Classic Jersey Italian stuff.
Why chicken?
My love ❤️ of chicken shines through in this amazing one pan meal, Chicken Piccata Meatballs. Much to my own surprise, I've recently discovered my love of chicken meatballs. It started with a Thai Curry Meatball I worked out when all I had was chicken thighs. (I notoriously hate the texture of chicken thighs, so I pulled out my meat grinder!)
After that tasty experiment, I moved on to Chicken Parmesan Meatballs (cheese INSIDE the meatballs 🤯), and now I'm introducing these saucy Chicken Piccata Meatballs! This recipe eats fancy, but it is so simple to make and gets on the table in no time. The meatballs use easy-to-find ingredients that you probably already have, take just minutes to cook, and the sauce comes together in the same pan!
Ingredients
Ground Chicken Normally, I would be telling you all about how I prefer chicken breasts over thighs right now, but in this case you want at least a combination of both. Most ground chicken packages are labelled as either just "Ground Chicken" or "Ground Chicken Breast". This time you don't want the breast. The just found chicken package is going to have both breast and thigh meat, and therefore will have a little fat content. That's important in meatballs.
Pancetta I add very finely chopped (you can blitz it in a food chopper) to these meatballs for added flavor and fat. It's a little flavor bomb!
Panko bread crumbs In my classic Beef Meatball recipe, I use fresh torn white bread as a binder in the meatballs. In this recipe I use panko crumbs. Because chicken meatballs tend to be more dense than their beef or pork counterparts, the texture of the panko crumbs really lightens them up.
Fresh Lemons Please, take it from someone who used to buy bottled lemon juice, don't use bottled lemon juice. I can actually remember the first time, oh so long ago, that I used fresh lemon juice in a regular recipe of mine. It was mind blowing 🤯 and I've never once gone back. Buy a lemon. You'll be glad you did.
Chicken bouillon I could ask you to really reduce your broth until you get it almost thick, to really boost the flavor of the sauce, and you can, but also you can use a shortcut. Just one teaspoon of chicken bouillon granules or Better Than Bouillon chicken base can make a world of difference in your sauce, and save you about 15-20 minutes. I go for the time-saver.
Parmigiana reggiano This cheese just adds that something extra to the meatballs. I recommend buying the real thing, ungrated, in the wedge, found in the deli department of your local Mega Market. If you can't find/can't afford the real stuff, it ain't cheap, use the best quality parmesan you can.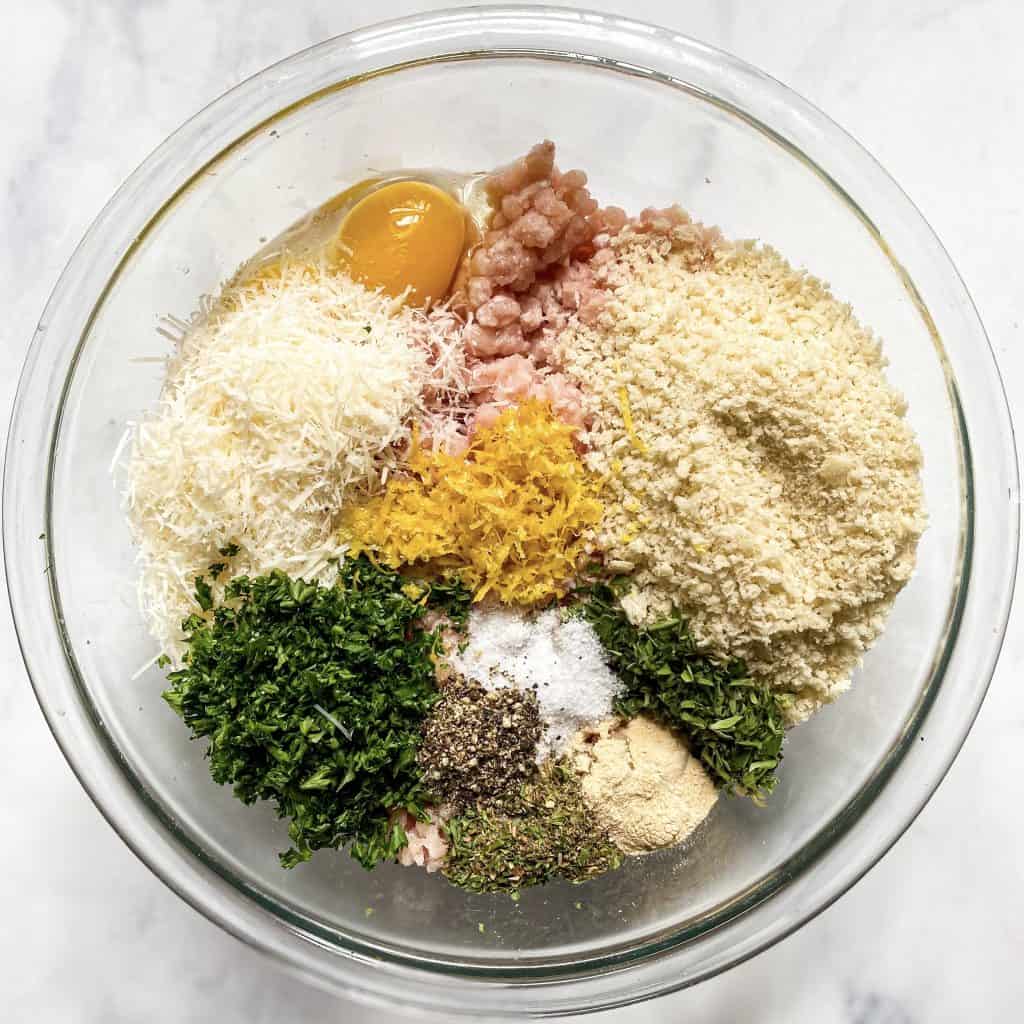 Tips for Success
I love the texture of the chicken, and it will never be dry if you add some element of fat to the meat by either buying a white meat/dark meat mixture or adding fat, like I do, in this recipe with pancetta.
Avoid overcooking your meatballs by checking the temperature with an instant read thermometer as you cook. Bam! Perfect chicken.

You can also bake the meatballs if you prefer. Here's a quick rundown: Form the meatballs and then bake them at 400° for about 25-30 minutes, turning them over halfway through the baking time.

Personally, I like the pan searing method, because all the flavor left behind in the pan adds to the sauce, but do whatever works for you!

Your first instinct will be to serve these Chicken Piccata Meatballs with pasta, but hold on just a minute. For whatever reason, my brain said these needed a bed of creamy mashed potatoes and, let me tell you, I will never go back! Theres something about those fluffy mashers that perfectly held all the lemony sauce. Oh my.
(Silly little note, but kudos to The Boy: I sent him shopping for this recipe and he brought home curly parsley instead of flat leaf Italian parsley. I found out I'm a bit of a parsley snob. I tried to be all cool about it, but I felt myself being kind of... a little bit of a b-word about it inside. Guess what? In the end, I really liked the texture of the curly parsley and it tasted exactly the same as flat-leaf parsley. The Boy wins. This time.)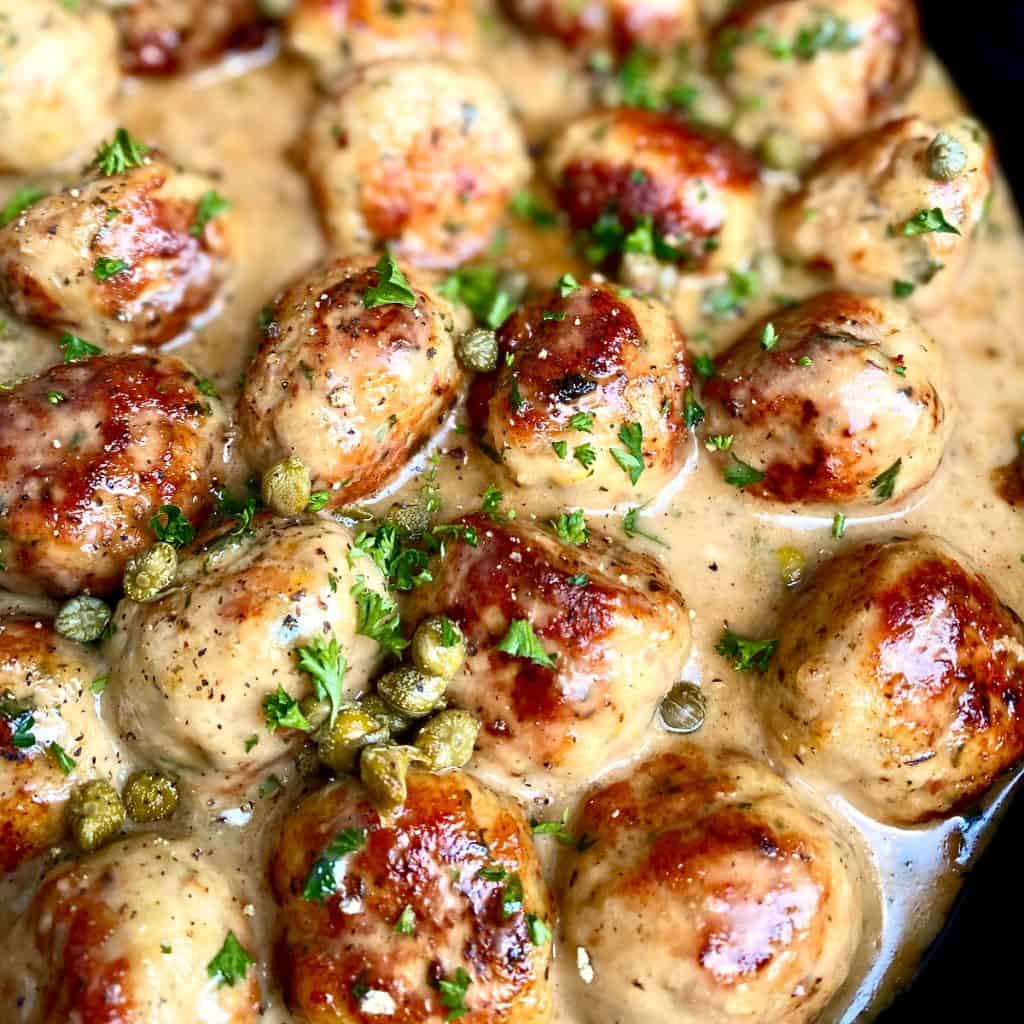 Can I use the sauce with another protein?
The sauce from this recipe is equally good with chicken, pork, or even fish. I've seen cod piccata on menus before, but I recommend a good piece of salmon. Yum! I'll add optional salmon instructions below.
More Italian meals you'll love
Serves 4-6
Chicken Piccata Meatballs
All the flavor of Chicken Piccata in a juicy meatball, swimming in a savory, lemon cream sauce!
Ingredients
Chicken Meatballs
1 ½

lb

ground chicken

4

oz

very finely chopped pancetta

2

large eggs, whisked

1

cup

panko bread crumbs

½

cup

parmigiana reggiano cheese

grated

½

cup

chopped parsley

2

teaspoon

chopped fresh oregano (one teaspoon if using dried)

1

teaspoon

dried Italian seasoning

Zest of one lemon

1

teaspoon

garlic powder

1 ½

teaspoon

kosher salt (use half the amount if using table salt)

1

teaspoon

black pepper
Piccata Sauce
2

tablespoon

unsalted butter

4

garlic cloves, grated

2

cup

chicken stock

Juice of one lemon (add an extra half a lemon, if you're a pucker maniac)

2

teaspoon

cornstarch

¼

cup

heavy cream

¼

cup

capers, rinsed and drained

2

tablespoon

chopped parsley

Salt and pepper to taste

1

teaspoon

chicken bouillon or base, such as Better Than Bouillon (optional)
Optional Protein Substitution
4

6 oz salmon filets, skin removed
Instructions
Let's make Meatballs!
Place ground chicken in a medium bowl. If you are an overachiever (as I am oft called), and are grinding your own chicken, I highly recommend adding the 4 oz of pancetta into the grinder with your chicken to really blend the meats together. You don't even have to finely dice it, just a rough chop will do.

Add all the other meatball ingredients to the chicken and gently mix together. Do not overmix or you might end up with a tough meatball. Treat your balls with care! (🤣)

🔥Hot tip: when making any type of meatballs it is impossible to test for seasoning, since the meat is raw. There is a work-around used in the restaurant industry. Take a small amount of your meatball mixture and fry it in a pan. When done, taste it and adjust the seasoning in your mixture, if needed. Easy!

Place a piece of parchment paper on a sheet pan, or lightly grease the sheet pan if you don't have parchment paper. Using a small scoop (or eyeballing it if you're a daredevil) scoop your mixture into golfball-sized meatballs, and line them up on the sheet pan.

After all your meatballs are scooped, using lightly dampened hands, gently roll the scoops into nicely-rounded balls. Once they're all ready to go, heat a couple of tablespoons of vegetable oil in a 12" skillet over medium-high heat. When the oil is hot (you'll see it shimmer a bit when it's ready), add one tablespoon of butter. It'll melt up quick, so go ahead and add some meatballs!

Cook the meatballs, in batches, until golden brown on all sides and cooked almost completely through (about 150°). If you cook them all the way to chicken's food-safe temp of 165°, you run the risk of having your perfect little meatballs go dry. Set cooked meatballs aside on a plate once they hit 150°, and don't worry, they'll finish cooking in the sauce.

🔀Optional Substitution: If you would like to make this with salmon instead of meatballs, no problem. I got you! Let the salmon filets sit on the counter for about 30 minutes, to come to room temperature. Just before cooking, season the fish on both sides with salt.

Heat a couple of tablespoons of vegetable oil in a 12" skillet over medium-high heat. Once the oil is hot (you'll see it shimmer a bit when it's ready), add one tablespoon of butter. Place the salmon, presentation side down, in the pan and sear for 3 minutes, to allow a nice crust to form. Gently flip salmon over and cook for another 3 minutes on the other side. Remove to a plate to rest. It will be about medium-rare at this point, but will continue cooking a bit in the finished sauce.

In the same pan that your meatballs cooked in, melt 2 tablespoons of butter. Sauté the garlic for about 30 seconds. Add the broth and the lemon juice and allow to reduce for about 10 minutes. Whisk cornstarch with ¼ cup heavy cream and add to the sauce, whisking the whole time, until completely incorporated. Add most of the parsley and most of the capers, reserving some for garnish. Taste the sauce and season with salt and pepper to taste. For even more flavor, add one teaspoon of a chicken base, such as Better Than Bouillon. Nestle the meatballs (and any juices that may have settled) into the sauce and allow to simmer for 5-10 minutes or until meatballs are completely cooked (165°).

Serve over pasta or creamy mashed potatoes (my favorite!) and garnish with reserved parsley and capers.
Nutrition
Calories:
431
kcal
|
Carbohydrates:
11
g
|
Protein:
38
g
|
Fat:
26
g
|
Saturated Fat:
9
g
|
Trans Fat:
1
g
|
Cholesterol:
190
mg
|
Sodium:
992
mg
|
Potassium:
1040
mg
|
Fiber:
1
g
|
Sugar:
2
g
|
Vitamin A:
719
IU
|
Vitamin C:
7
mg
|
Calcium:
69
mg
|
Iron:
3
mg
The nutritional and caloric information shown is an estimate provided by an online nutrition calculator. It does not assert or suggest that readers should or should not count calories, and should not be considered a substitute for a professional nutritionist's or doctor's counseling.