This Small Batch Buttermilk Biscuits recipe is super easy to follow and makes 4 to 6 of the most delicious, buttery and flaky biscuits you'll ever taste!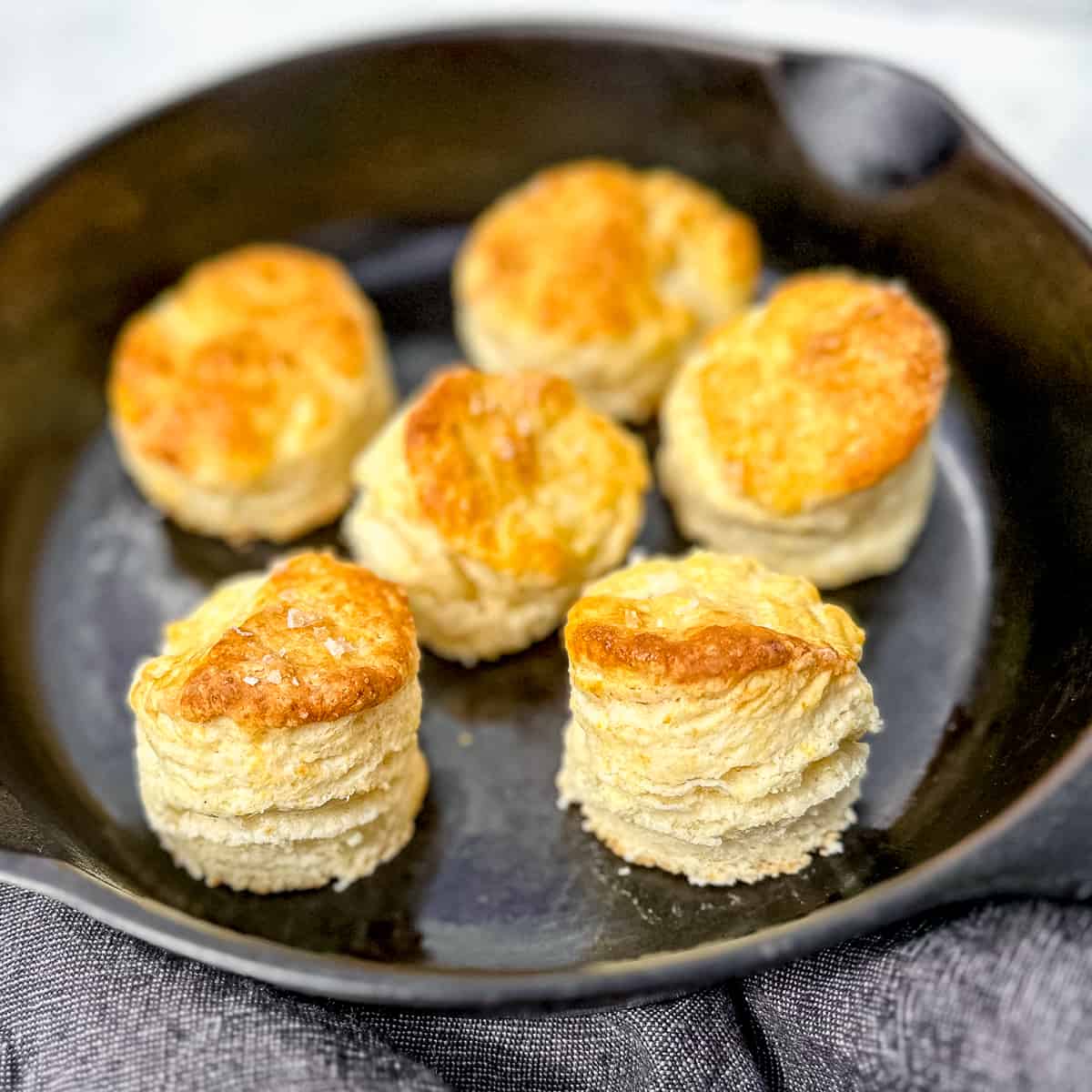 Even though all of our daughters have long left the nest, I still struggle to make just enough food for two. I'm constantly trying to encourage The Boy (my husband) to eat just one more serving. I end up taking leftovers to the neighbors, my in-laws, and yes - even my daughters. I realize I need to start making small batch recipes of my favorite foods, starting with my favorite - biscuits!
Biscuits are that craveable bread that you want all the time, but you don't always need to make a big batch of them. This small batch biscuit recipe makes just 4 to 6 biscuits, and they're ready in about 30 minutes.
Jump to:
Ingredients
Not only do you probably have all the ingredients right now, you don't need that much of them. I mean, it's only a cup of flour!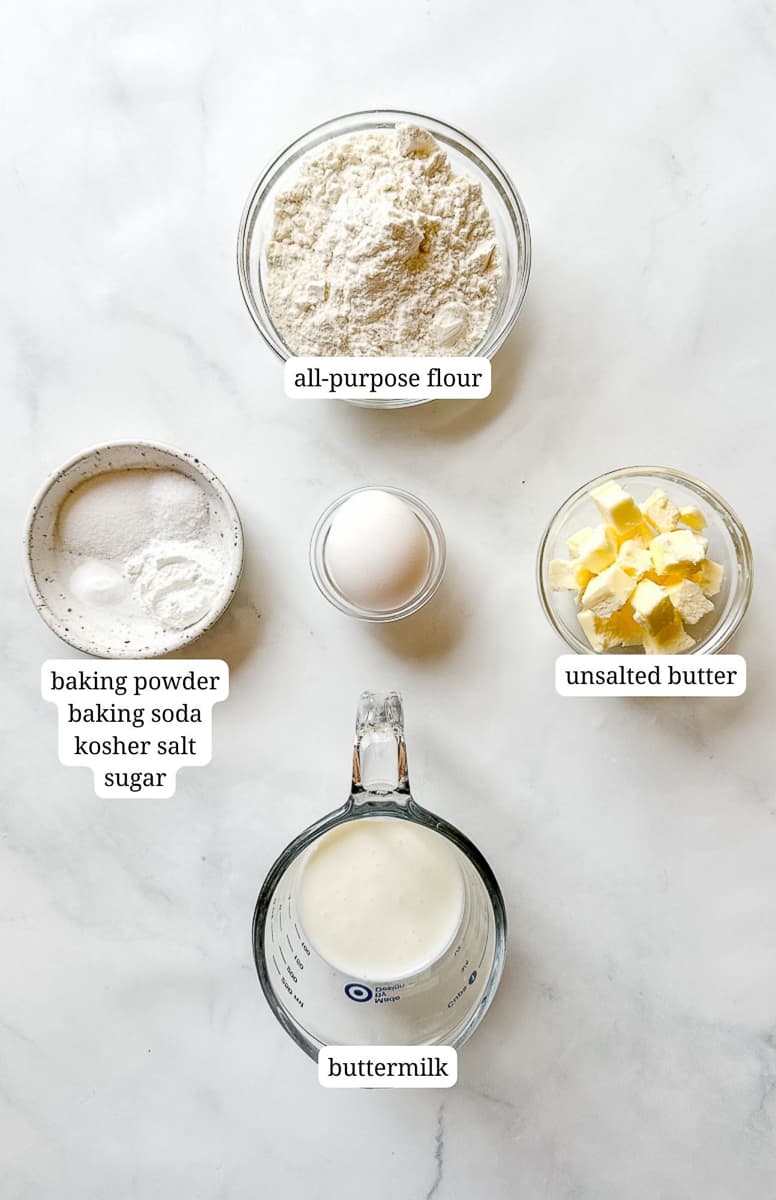 See recipe card for quantities.
Substitutions
Here are few easy ingredient substitutions, should you need them.
Buttermilk - If you don't have access to buttermilk you can make your own, "in a pinch", substitute. For the ⅓ cup of buttermilk needed in this recipe, place 1 teaspoons of lemon juice or vinegar in a measuring cup. Add enough whole milk to add up to ⅓ cup or 90 grams. Stir, then let stand for 5 minutes, until it looks thick and curdled.

Alternatively, you can replace the buttermilk with yogurt, either plain or Greek. Because of the thickness of yogurt, you'll need more of it than you would buttermilk, to properly hydrate the flour. Replace ⅓ cup of buttermilk with ½ cup of yogurt.

Check out my Easy Yogurt Biscuits for all the details! You can use the .5X button on the recipe card to make it a small batch.

Sugar - The sugar is not here to add sweetness to the biscuits. It contributes to the tenderness on the inside and the browning on the outside of the biscuit. You can omit this if you want and they'll still be delicious.

Egg - I prefer to brush all of my pastries with an egg wash. I find that the milk solids in butter, buttermilk, milk, and cream have a tendency to burn. If you don't want to use an egg, you can still brush the tops with dairy. Just keep an eye on them and remove before they burn.
Variations
As delicious as they are, you are in no way restricted to plain biscuits. Try these fun variations!
Cheddar - Toss ½ cup shredded cheddar cheese with your flour/butter mixture, before adding the buttermilk. Bake as directed.
Black pepper and romano - Toss 2 tablespoons romano cheese and ½ teaspoon freshly ground black pepper with your flour/butter mixture, before adding the buttermilk. Bake as directed.
Make it sweet - For a sweet biscuit, try increasing your sugar to 2 tablespoons and topping your biscuits with coarse sugar before baking as directed. Makes a delicious shortcake situation!
Go fruity - My Strawberry Biscuits are perfect for small batching!
Instructions
In my opinion, biscuits are the perfect bread. With their fluffy and buttery insides, they are simply the best, and using my cut and stack technique will get you the flaky layers of your dreams!
Mixing the dough
1a. Mix together the flour, baking powder and baking soda, sugar, and salt.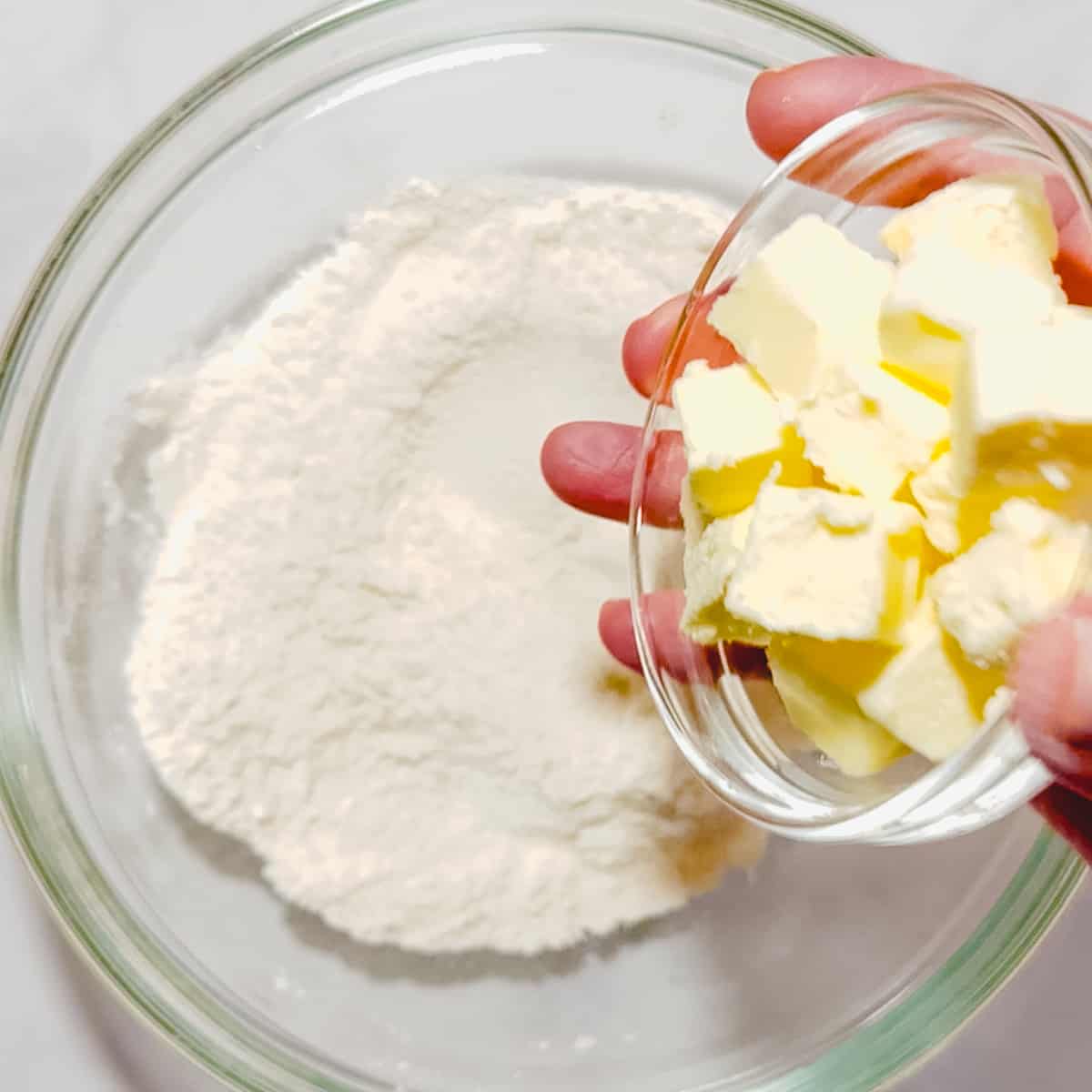 1b. Add in cold butter cut into cubes.
1c. Using a "finger snapping" motion, cut the butter into the flour.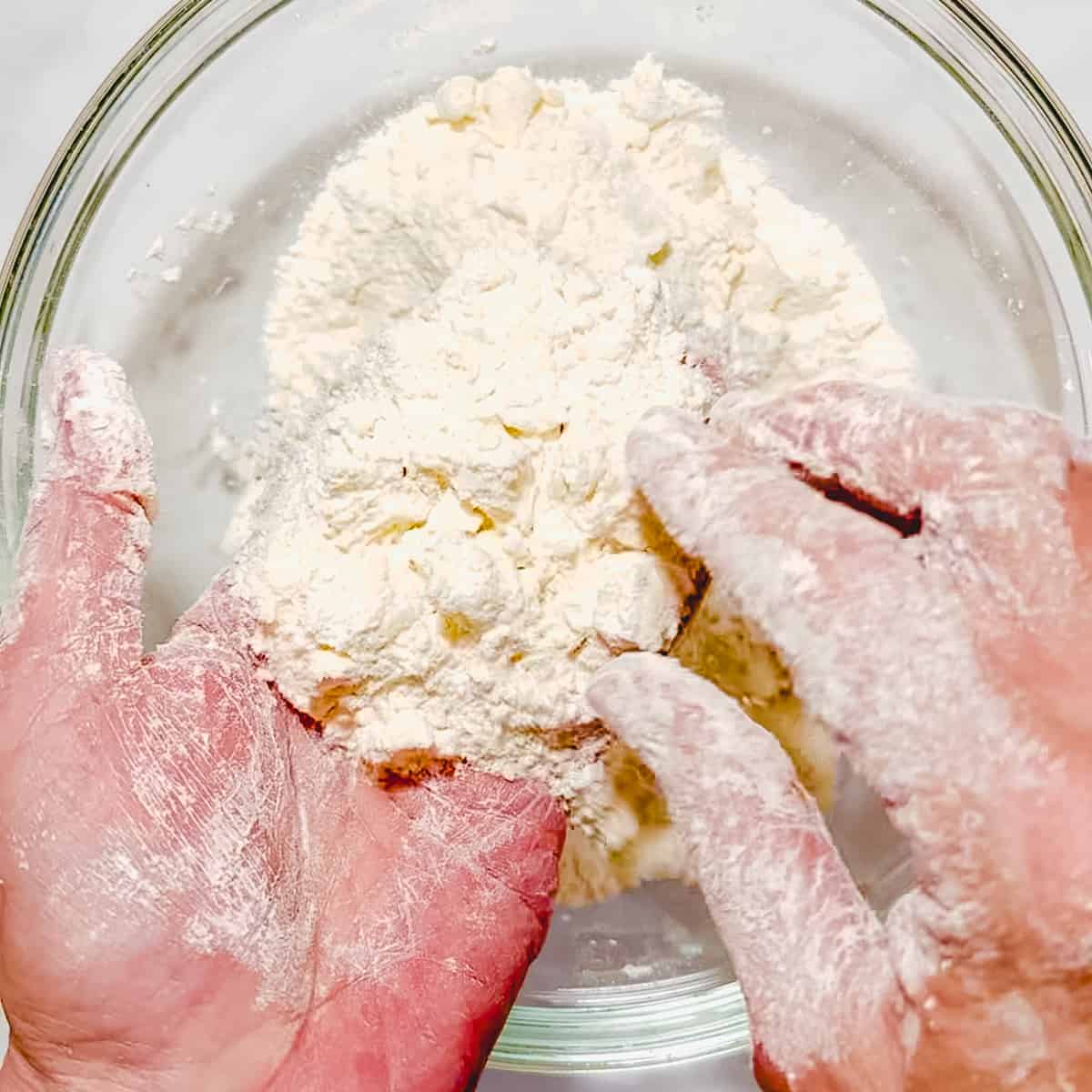 1d. You should end up with small and larger bits of butter, along with thin flat pieces.
1e. Add buttermilk to the flour and butter mixture.
1f. Mix together to a shaggy dough, with dry floury bits at the bottom of the bowl. Don't worry, it will all combine in the next steps.
1g. Dump the shaggy dough out onto a lightly floured counter.
1h. Using your hands, press the dough into a rough square.
Cut & Stack
2a. Using a bench scraper, or sharp knife, cut the dough into four pieces.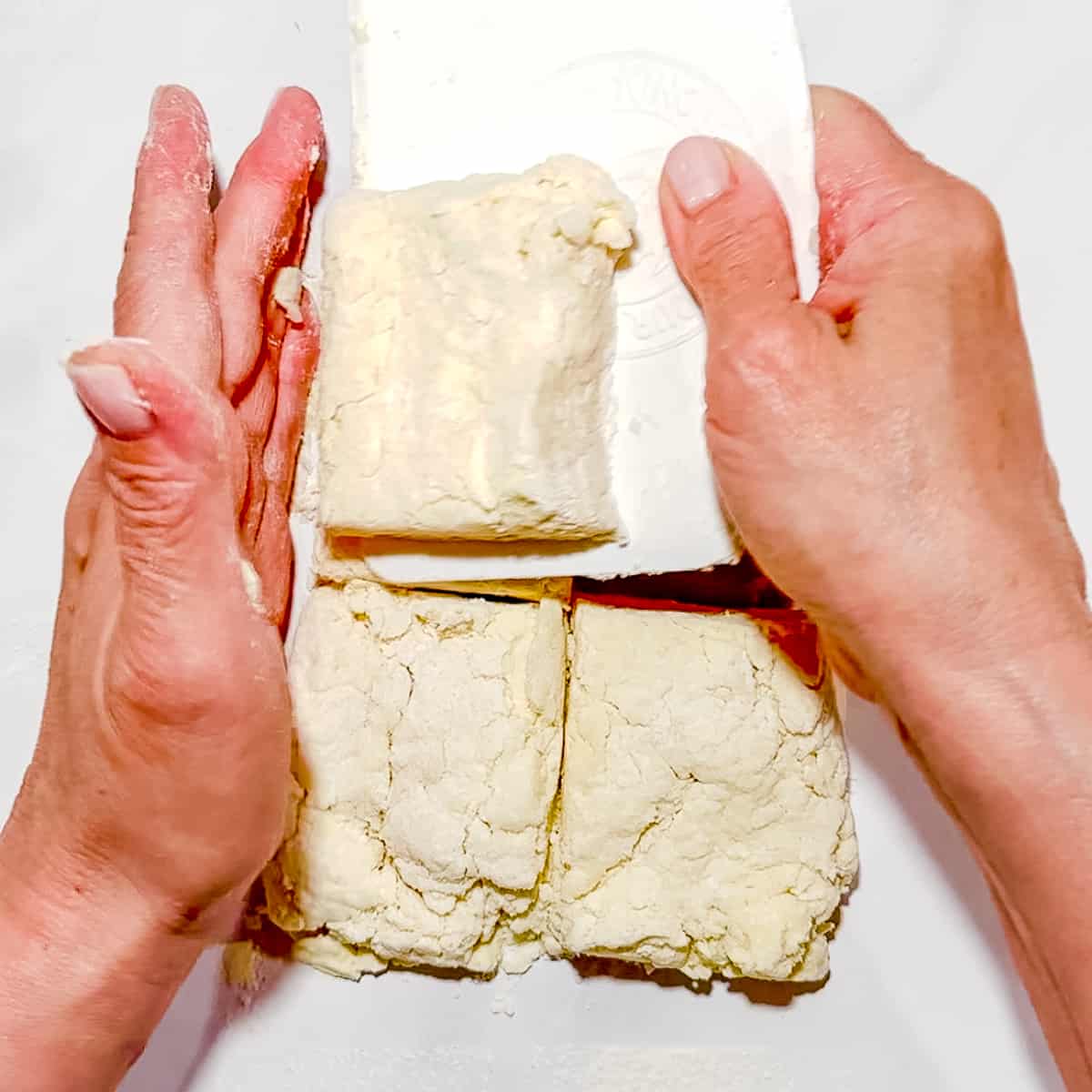 2b. Stack the dough quarters on top of each other and press down, forming another square. Repeat 1 more time.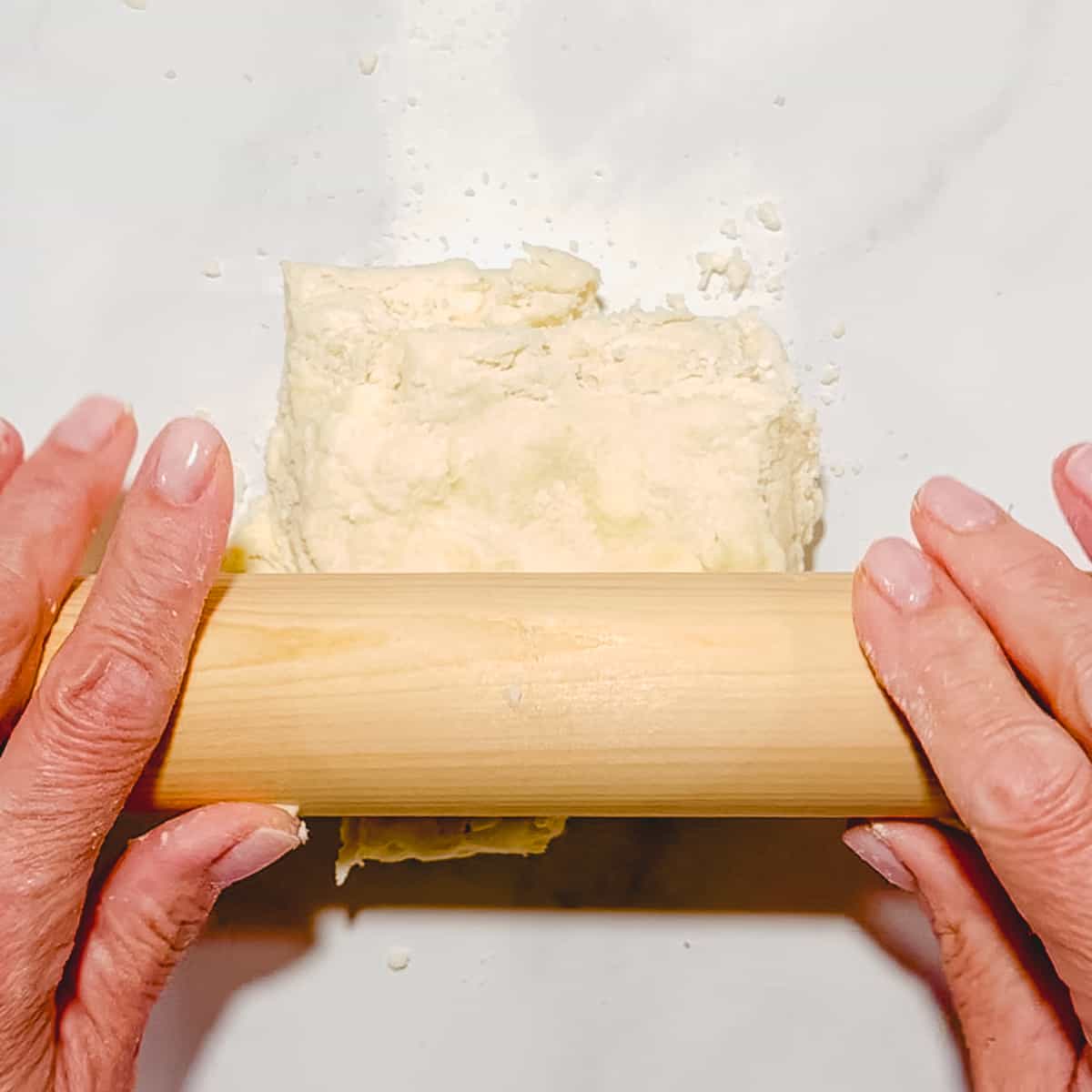 2c. Press or roll out to ½ inch thickness.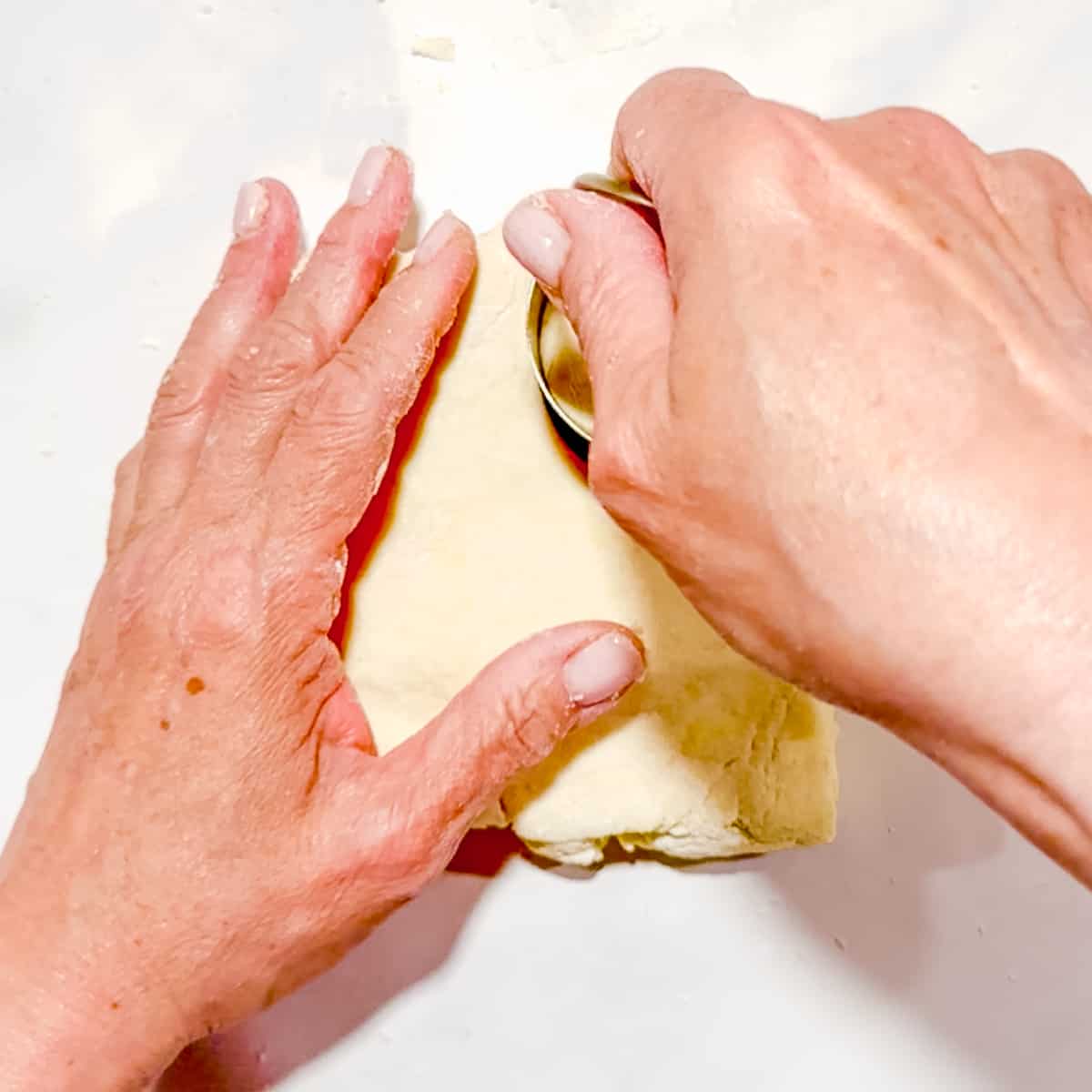 2d. Using a 2 inch biscuit cutter or cookie cutter, cut out biscuits. Place on a parchment paper lined small sheet pan. Put into the freezer while you preheat the oven to 450°F.
Baking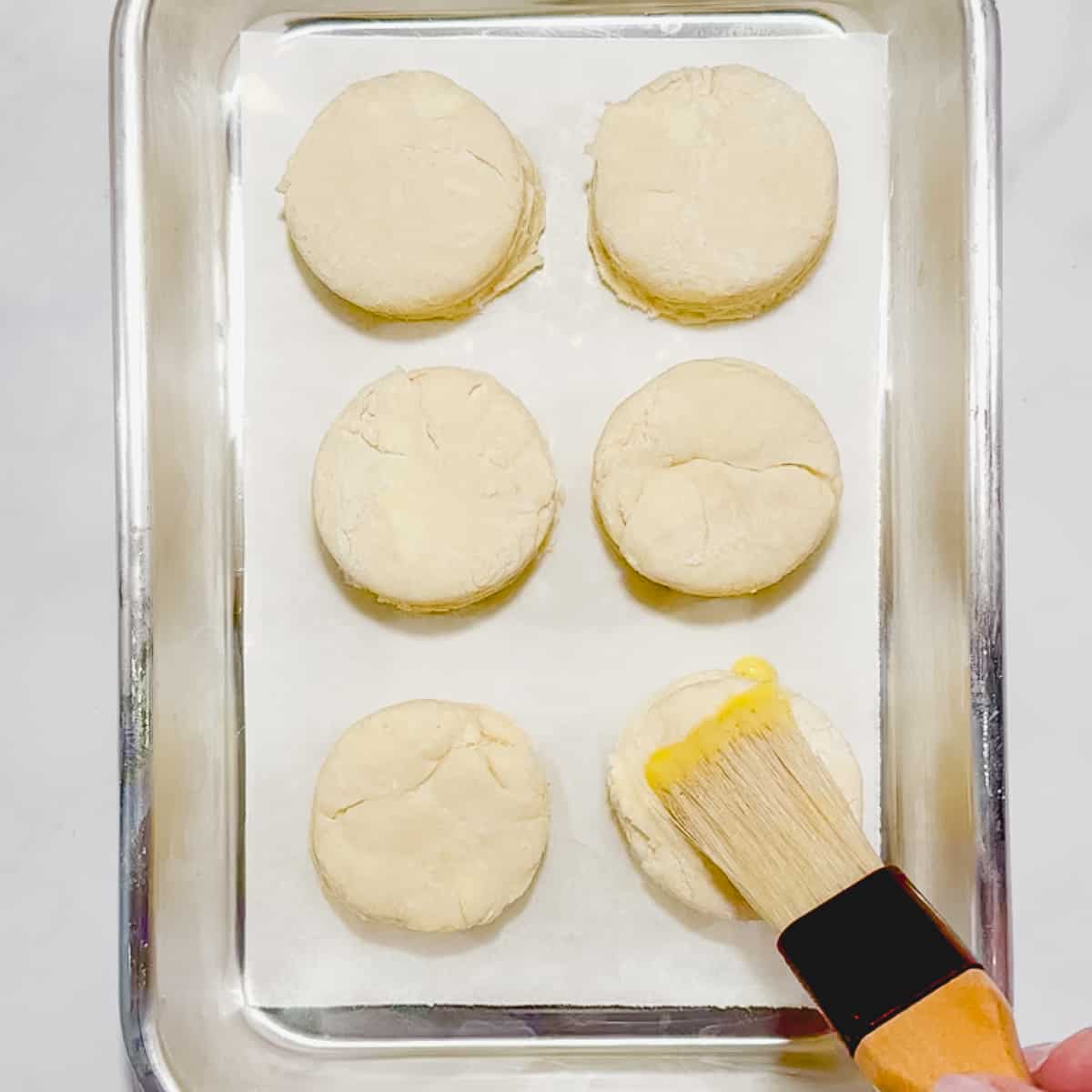 3a. Remove biscuits from freezer. Brush tops with egg wash.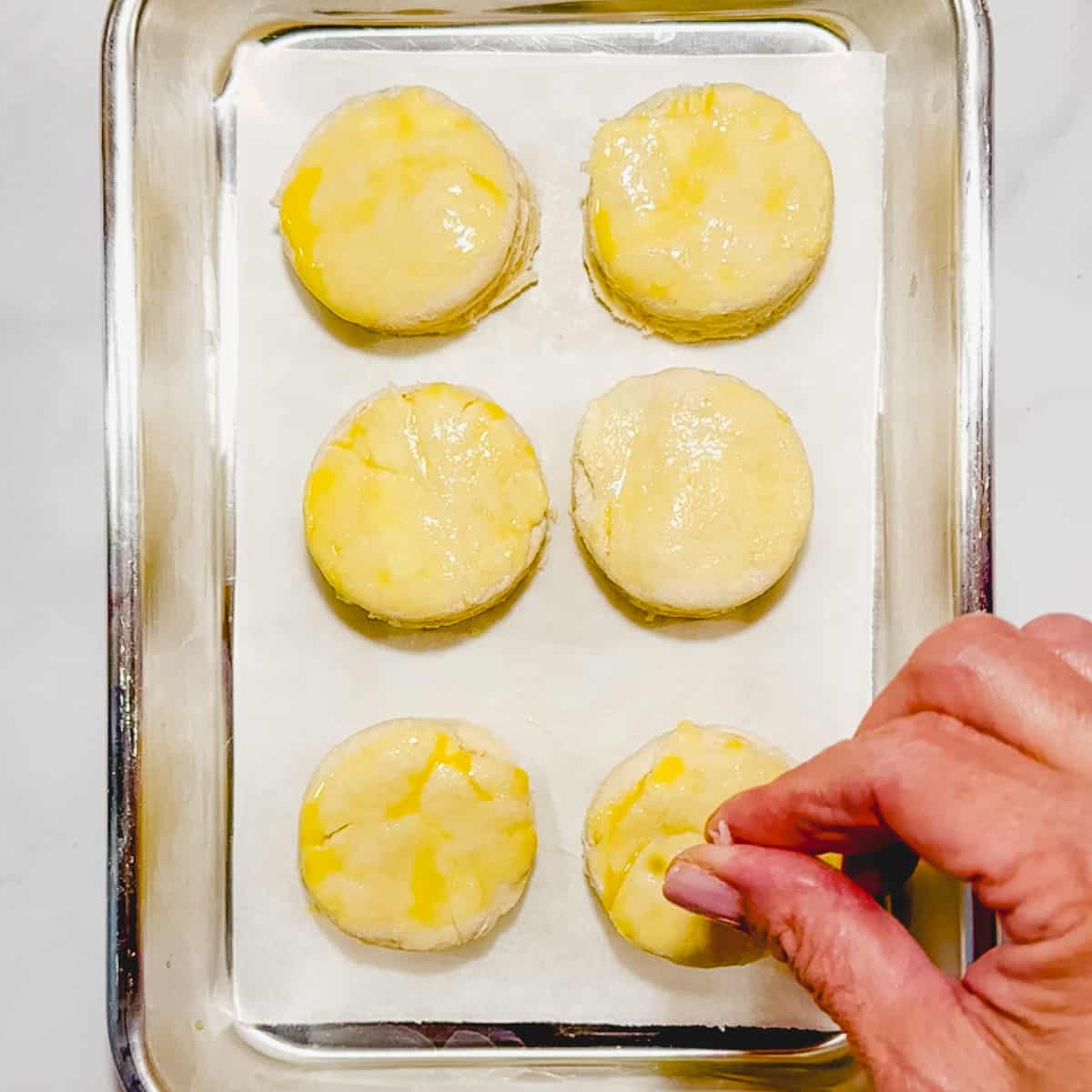 2b. Sprinkle tops with flaky salt, if desired. Bake at 450°F for 14 to 16 minutes, or until golden brown.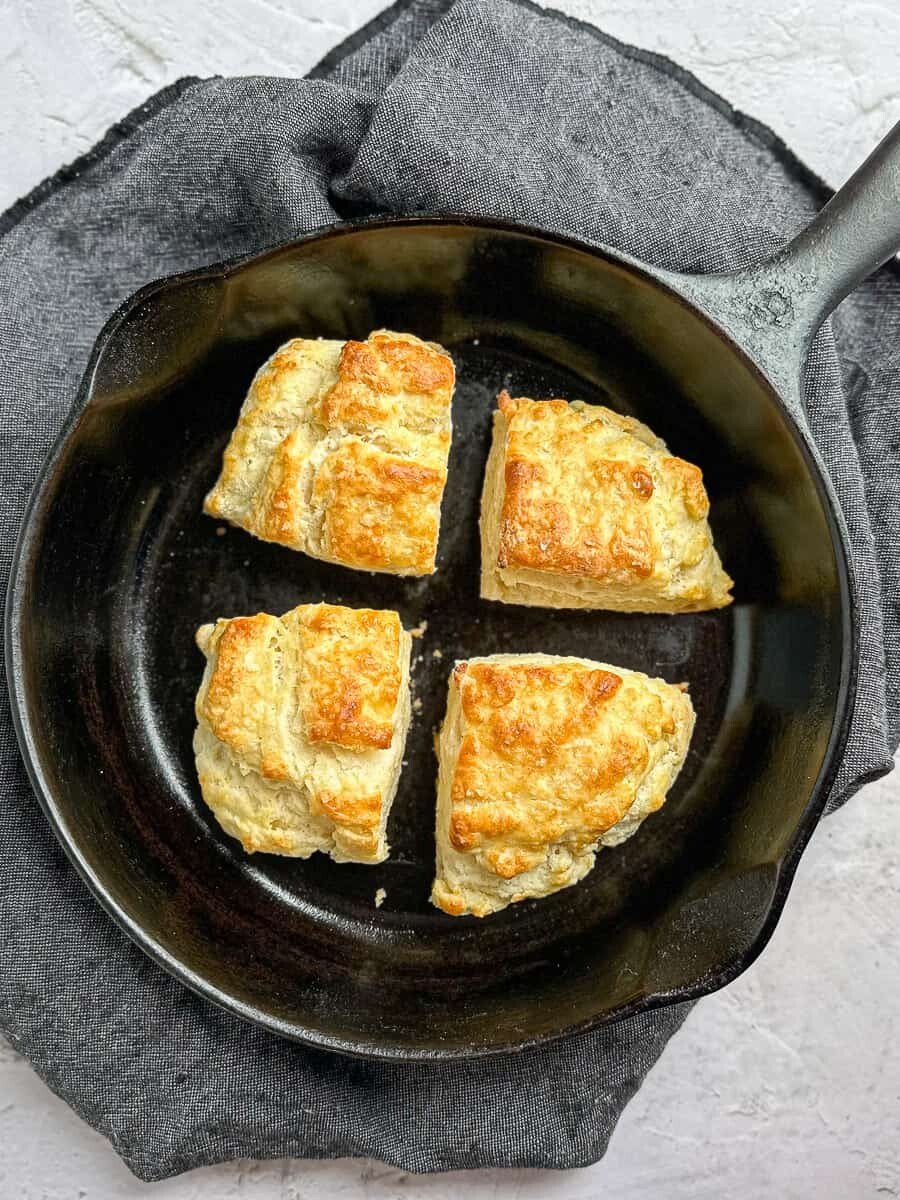 Alternatively, you can cut your biscuit dough into four larger biscuits and bake them on a sheet pan, or in a small cast iron skillet.
Expert tips
Don't twist your cutter when cutting out biscuits. This can press the biscuit edges together, and your biscuits won't rise as well. Press straight down and pull straight back up.
When making smaller biscuits, doing too many "cut and stack" techniques will leave you with the leaning towers of biscuits. They will fall over from sheer height. Stick to a max of 2 " cut and stacks".
Recipe FAQ's
Can I use a drinking glass to cut out biscuits?
I would not recommend using a drinking glass to cut out your biscuits. You need a crisp, sharp edge to cut them or you will seal the edges and the biscuits may not fully rise. If you don't have a biscuit cutter, you can make square biscuits by cutting with a bench scraper or knife.
How long do baked biscuits last?
With a small batch, I'm sure you'll eat them all up, but if not, store leftovers in an airtight container for up to 3 days.
How do I reheat cold biscuits?
Because butter is a solid at room temperature, they will feel and taste "dry" if eaten cold. Wrap your biscuits in aluminum foil and reheat in a 350°F oven for 10 minutes, or until warmed through, or heat in microwave for 15 seconds.
More ways to love biscuits
Did you try this recipe? Tell me all about it!
Leave a ⭐️ review and comment below!
Take a pic and tag @butfirst_webrunch on Instagram!
Small Batch Buttermilk Biscuits
This Small Batch Buttermilk Biscuit recipe is super easy to follow and makes 4 to 6 of the most delicious, buttery and flaky biscuits you'll ever taste!
Ingredients
1

cup

(

120

g

)

all-purpose flour

1 ½

teaspoons

baking powder

⅛

teaspoon

baking soda

1

teaspoon

sugar

½

teaspoon

kosher salt

4

tablespoons

(

56

g

)

unsalted butter

very cold and cut into small cubes

⅓

cup

(

90

g

)

buttermilk

very cold
Egg wash
1

large

egg

1

tablespoon

water
Instructions
Line a small sheet pan with parchment paper or butter a small cast iron pan.
Mixing (cutting) in butter
Toss cold butter cubes into the dry ingredients and, using a pastry cutter or your fingers, mix in the cold butter until you have a mixture of flat pieces and crumbly, pea sized bits of butter mixed into the flour.
Making biscuits
Make a well in the center of the mixture and add the cold buttermilk. Use a sturdy wooden spoon to bring the wet and dry together until you have a fairly uniform, loose dough. The flour won't look all mixed in and that's okay. It will come together.

Dump the dough out onto a lightly floured surface. Using your hands, gently bring it everything together into a rough square.

With a bench scraper, or knife, cut dough into four smaller squares. Stack the quarters of dough on top of each other. Smush it all down into a square again. Repeat this cutting and stacking procedure 1 more times, for a total of 2 cut and stacks.

Pat or roll the dough into a large rectangle about ½ inch thick.
Round biscuits
Using a biscuit or cookie cutter, cut out your biscuits. Do not twist the cutter when cutting them out! That will effectively seal the edges of the biscuits, keeping them from fully rising. Just press straight down and lift straight up. Gather your scraps as you go and re-form them together and cut as many biscuits as you can. You should get 5 to 6 biscuits.
Square biscuits
Using your bench scraper, or a knife, cut your dough into 4 biscuits.
Baking instructions
Place in freezer while you preheat the oven to 450°F.

Brush the tops of the biscuits lightly with an egg wash made of 1 egg whisked with 1 tablespoon of water. Sprinkle with flaky salt, if desired.

Bake in 450°F oven for 14-16 minutes, or until golden brown.
Nutrition
Calories:
154
kcal
|
Carbohydrates:
17
g
|
Protein:
3
g
|
Fat:
8
g
|
Saturated Fat:
5
g
|
Polyunsaturated Fat:
0.4
g
|
Monounsaturated Fat:
2
g
|
Trans Fat:
0.3
g
|
Cholesterol:
22
mg
|
Sodium:
338
mg
|
Potassium:
43
mg
|
Fiber:
1
g
|
Sugar:
1
g
|
Vitamin A:
255
IU
|
Calcium:
80
mg
|
Iron:
1
mg
The nutritional and caloric information shown is an estimate provided by an online nutrition calculator. It does not assert or suggest that readers should or should not count calories, and should not be considered a substitute for a professional nutritionist's or doctor's counseling.