These Cream-Filled Chocolate Cupcakes, with the classic white squiggle, will take you back to your childhood favorite., but even better than you remember!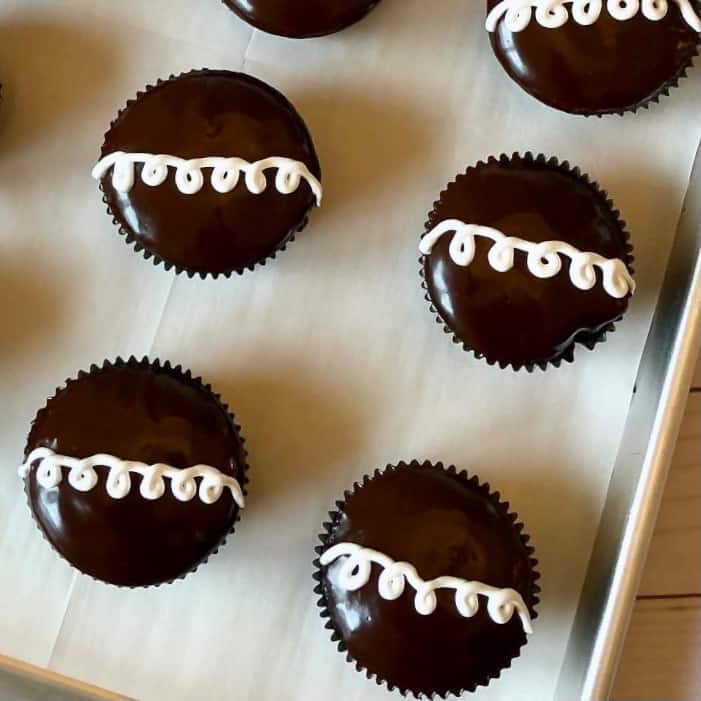 My Copycat Hostess Cupcakes look like pretty complicated cupcakes, I know. I made hundreds of these every single day in the bakery, and I was a little overwhelmed when they told me I would be in charge of making them. "There's so many components! This will be so hard! I'll never make them look like that!" Psh. It's just cupcakes. They're gonna taste great no matter what!
It might seem like there's a lot of steps, but take them one at a time and have some fun! Don't overthink things. And if you don't get your squiggles just right, think about this: Recipe photos, even mine, only show you the best of the bunch. Do you think no one ever makes something that looks kinda funny? We don't post those pictures. And, again, it's cupcakes, we eat the imperfect evidence 😉 This is a fairly foolproof recipe and, unless you catch your cupcakes on fire (unlikely), everything is going to be fine. Better than fine - it's going to be delicious!
Who wants more cupcakes?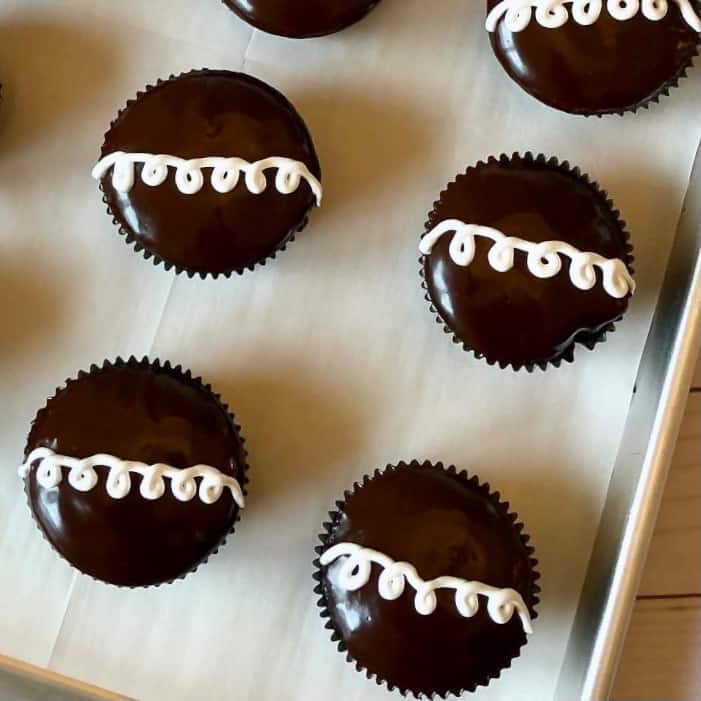 Cream Filled Chocolate Cupcakes
These Cream-Filled Chocolate Cupcakes, with the classic white squiggle, will take you back to your childhood favorite., but even better than you remember!
Ingredients
Chocolate Cupcakes
2

cup

all-purpose flour

260 g

2

cup

granulated sugar

400 g

1

cup

unsweetened dark cocoa powder

96 g

2

teaspoon

baking soda

1

teaspoon

baking powder

1

teaspoon

salt

2

large

eggs

1

cup

buttermilk

259 g

½

cup

still warm brewed coffee + 1 teaspoon instant coffee or espresso mixed in

120 g

½

cup

vegetable oil

120 g

1

teaspoon

vanilla extract
Cupcake Filling and Squiggle
½

cup

unsalted butter

113 g, at room temperature

7 ½

oz

jar of marshmallow fluff

213 g

1

cup

powdered sugar

130 g

1

teaspoon

vanilla extract
Chocolate Ganache
8

oz

semi-sweet chocolate

227 g, chopped

½

cup heavy cream

120 g

3

tablespoon

corn syrup
Instructions
Preheat oven to 350 degrees. Line muffin pans with baking cup liners. This recipe will make 24 cupcakes. Place oven racks in the top and bottom third of oven. You will be swapping rack positions and rotating pans halfway through.

In the bowl of a stand mixer fitted with the paddle attachment, stir together sugar, flour, cocoa, baking soda, baking powder and salt. Add buttermilk, warm coffee, oil and vanilla. Mix.

Add eggs, one at a time, and beat on medium speed until fully mixed in. Batter will be thin. Fill muffin cups about ⅔ full. I use a medium (¼ cup) ice cream scoop.

Bake at 350 degrees for 20-25 minutes, rotating your pans halfway through (just give them a 180˚ spin) and swapping the rack positions of the pans. They are done when a toothpick or skewer inserted in the center comes out almost completely clean. Cool the cupcakes in the pan for 5 minutes, then remove from the pan and let cool completely on a cooling rack.

When your cupcakes are fully cooled, about an hour or so, use a small ring mold or an apple corer to remove the center of your cupcake. This is where you will pipe in the marshmallow filling.
Making Marshmallow Frosting
Beat butter and powdered sugar until fluffy.

Add in marshmallow fluff and vanilla and mix in by hand until fully combined.

Fill a piping bag fitted with a large round piping tip, or a zip top bag with a corner snipped out, with ¾ of the frosting, saving the rest for piping the squiggles.
Filling and frosting the cupcakes
To make the ganache, heat your cream and corn syrup on medium heat until bubbles start to pop up on the edges of the pan. Don't let it go to a full boil because you might scorch your cream. Pour the hot cream mixture over the chopped chocolate and let it sit for about 2 - 3 minutes. Using a spatula or whisk, mix your chocolate and cream until smooth. Let cool while you fill your cupcakes.

Pipe your marshmallow frosting into each cupcake until it just peeks over the top. 

Using a small offset spatula or butter knife, smooth the frosting flush with the top of your cupcake.

Gently grasp a cupcake by its sides and dip the top into your ganache. Slowly pull it out, and give it a little twist to the side as you turn it upright. Repeat with the rest of the cupcakes. Allow to chill in the refrigerator for about 15 minutes before piping the squiggles.

Fit another piping bag with a small round piping tip and fill the bag with the remaining frosting. You can also use another zip top bag with a small hole snipped in the corner. Pipe some squiggles on top of the cupcakes. They don't have to be perfect. They will still taste amazing. Enjoy!
The nutritional and caloric information shown is an estimate provided by an online nutrition calculator. It does not assert or suggest that readers should or should not count calories, and should not be considered a substitute for a professional nutritionist's or doctor's counseling.