Tender yogurt marinated Grilled Greek Chicken Skewers with Tzatziki Sauce can be grilled indoors or out all year long for a quick and easy dinner!
I'm super excited to share my family's new favorite dinner: Greek Chicken Skewers with Tzatziki Sauce. Tender yogurt-marinated grilled chicken and fresh summer veggies are grilled to a caramelized golden brown and served with a tangy tzatziki It's a recipe that I've made at least half a dozen times in the past few months and have even shared with my daughters for to test in their home kitchens. Great reviews all around! My girls and The Boy are all over the moon for it, so now I'm giving it to you!
Ingredients
Chicken (breasts or thighs) I'm afraid I might lose my cooking cred by saying this, but I prefer chicken breast over thighs. I know that everyone says that thighs are sooo moist and delicious, but I like the texture of breasts (🤣), and, if cooked correctly, they can be just as flavorful and juicy as thighs. Trust me! I cut the chicken into strips so that it cooks quickly but retains its moisture.
Greek Yogurt Yogurt is an excellent meat tenderizer and flavor enhancer. Its lower acidity (as opposed to a citrus or vinegar based marinade) can even be left on overnight without changing the texture of your protein. The yogurt marinade also helps the chicken to stay juicy, even with a good char. Plus, it caramelizes beautifully on the grill. I recommend using Greek yogurt. Because of its thicker consistency it really holds on to the chicken, allowing it to work its tasty tenderizing

magic.

Fresh herbs I can't stress enough how much more delicious my life has been since embracing fresh herbs. Dry herbs still have their place (hello Pantry Shelf Marinara), but given a choice I will always choose fresh over dried. That being said, if your Mega Market is out of your herb of choice, ask for dehydrated herbs. They still pack a great flavor punch!
Fresh Lemons Please, take it from someone who used to buy bottled lemon juice, don't use bottled lemon juice. I can actually remember the first time, oh so long ago, that I used fresh lemon juice in a regular recipe of mine. It was mind blowing 🤯 and I've never once gone back. Buy a lemon. You'll be glad you did. Free bonus with every lemon: Lemon Zest!!
Tips for Success
I like to add a colorful vegetable to the skewers, not only for color and flavor, but as another way to help the chicken stay juicy. I try to cut or stack the vegetables about ¼ inch thick. You don't want a thick hunk of vegetable or it won't cook at the same time as the meat, and you don't want one too thin or it will burn to a crisp. Balance 🧘🏻‍♀️
What do I serve with my skewers?
Go get your grill on and enjoy!
Makes 6-8 skewers, which will feed 3-4 normal people. Or simply The Boy.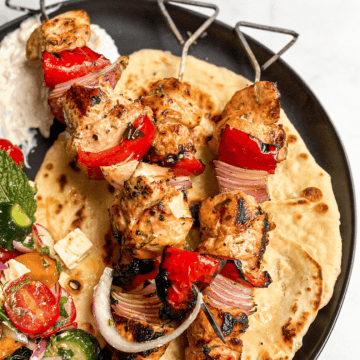 Greek Chicken Skewers with Tzatziki Sauce
Tender yogurt marinated Grilled Greek Chicken Skewers with Tzatziki Sauce can be grilled indoors or out all year long for a quick and easy dinner!
Ingredients
Chicken
2

lb

boneless skinless chicken breasts or thighs
Yogurt Marinade
½

cup

whole milk Greek yogurt

1

tablespoon

chopped fresh rosemary

1

tablespoon

chopped fresh parsley

2

teaspoon

chopped fresh oregano

2

teaspoon

chopped fresh dill

1

teaspoon

smoked paprika

1

teaspoon

kosher or sea salt

1

teaspoon

ground black pepper

1

Juice and zest of lemon
Extra Bits
2

Assorted vegetables (I chose red bell peppers and red onions cut into one inch squares)
Tzatziki
1

cup

whole milk Greek yogurt

1

Persian cucumber (or ½ of an English cucumber)

1

clove

garlic, grated

1

tablespoon

chopped dill

2

teaspoon

chopped chives

2

teaspoon

lemon juice

1

teaspoon

lemon zest

½

teaspoon

kosher or sea salt

¼

teaspoon

ground black pepper
Instructions
If using bamboo or wooden skewers, place them in water to soak while you prepare the recipe. This can be done several hours ahead and will help keep the skewers from burning up as you grill.

Cut chicken into strips, about one inch wide and three inches long. Place in a large zip top bag.Mix all the yogurt marinade ingredients together and add to the chicken. Seal the zip top bag and squish everything around until all of the chicken is coated in marinade.

Allow to marinate in the refrigerator for at least 1 hour, or up to 24 hours. The longer it sits, the yummier it gets!

Now, for the Tzatziki. Take your Persian cucumber (or ½ English cucumber) and peel it. Now grate it up real fine. (Watch your fingers!) Then wrap the grated cucumber in a dish towel and squeeeeeze all the liquid out. You'll end up with about 2tbsp of pretty-dry grated cucumber. Add this to the rest of the ingredients for the Tzatziki in a medium bowl, mix it up, then cover and place in the refrigerator until ready to serve. This can be made ahead and will keep in the fridge for 2-3 days.

Take the chicken out of the refrigerator and let's build the skewers. Thread the chicken strips tightly onto your skewers, almost like you're sewing. You want to thread the chicken just tight enough to keep the meat from drying out as it is grilled, but not so tight that it doesn't completely cook. Once you've threaded one piece on, squish it down a bit and add a slice of red bell pepper (or vegetable of your choice) followed by a few pieces of cut red onion.

Repeat with another piece of chicken and the vegetables until you get to the end of the skewer. Finally, cap it all off with a piece of red bell pepper or onion to hold everything on the skewer. Super easy, and looks fancy!

Prepare the grill by wiping the grates with a paper towel dipped in olive oil then heating the grill over medium-high heat. Brush some olive oil over the chicken skewers and sprinkle with salt and pepper.

Place the chicken skewers directly over the hottest part of the grill and cook until golden brown and cooked through, turning the skewers to brown all sides, about 10-12 minutes total. Brush with a little more olive oil as they come off the grill.

Serve with your Tzatziki and extra lemon wedges. Maybe a Greek Salad with some Pita or Naan. Enjoy!
Nutrition
Calories:
338
kcal
|
Carbohydrates:
11
g
|
Protein:
58
g
|
Fat:
7
g
|
Saturated Fat:
2
g
|
Trans Fat:
1
g
|
Cholesterol:
149
mg
|
Sodium:
1172
mg
|
Potassium:
1309
mg
|
Fiber:
3
g
|
Sugar:
6
g
|
Vitamin A:
687
IU
|
Vitamin C:
39
mg
|
Calcium:
145
mg
|
Iron:
2
mg
The nutritional and caloric information shown is an estimate provided by an online nutrition calculator. It does not assert or suggest that readers should or should not count calories, and should not be considered a substitute for a professional nutritionist's or doctor's counseling.