My Garlic Butter Naan is a soft and fluffy Indian-style flatbread with an airy interior and toasty exterior that you'll want to make again and again!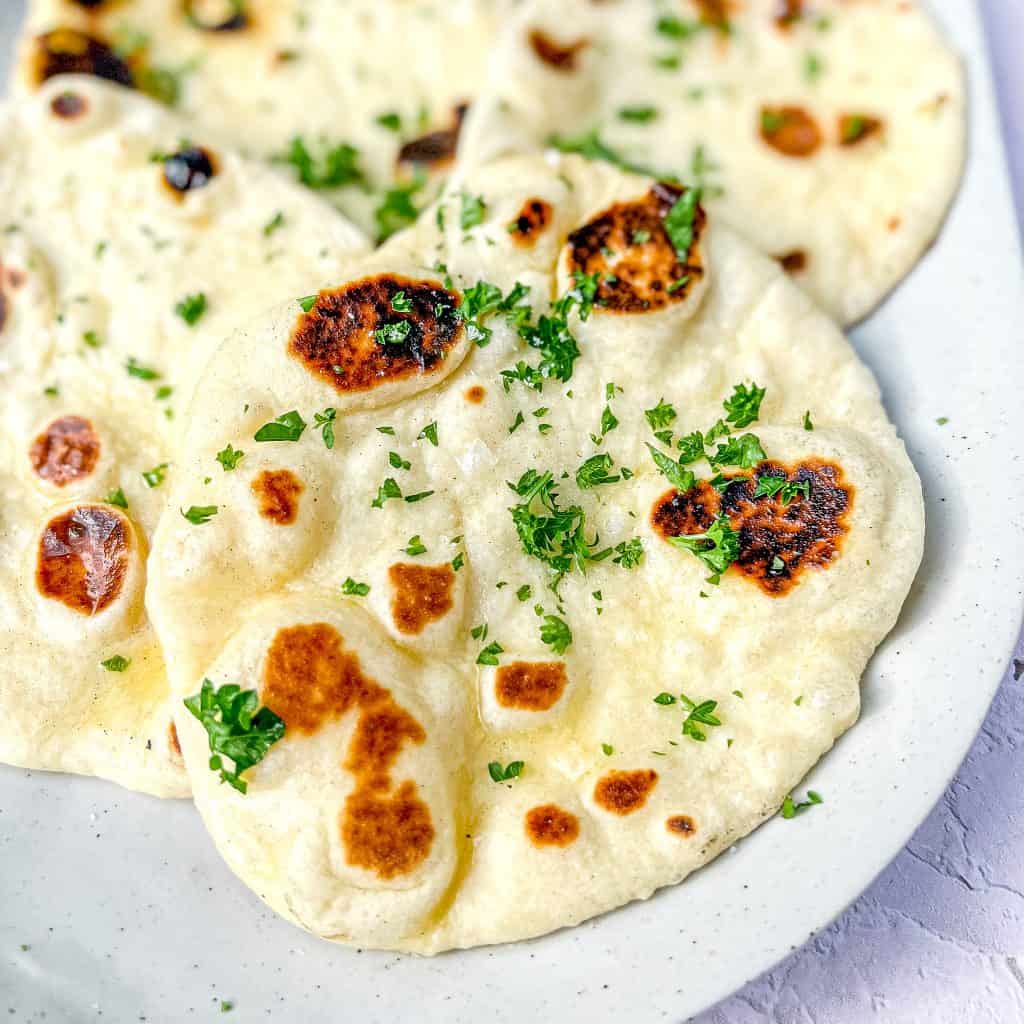 It's the last day of Summer y'all and I'm finally finishing my Mediterranean Dinner series. We started with my Greek Chicken Skewers with Tzatziki Sauce, accompanied that with my Greek Salad with Herb Marinated Feta, and we're going to "wrap" it all up in my Garlic Butter Naan. Wrap it up. Get it? I'm cracking up... I mean, I crack myself up 😳 (2020... )
I know, I know, Garlic Butter Naan is not a true Mediterranean flatbread (Hello Iran and India), but it's the one I like the most. I use it instead of pita, in place of tortillas, and cover it in pizza toppings. I think once you try making my Garlic Butter Naan for yourself, you'll find yourself making it naanstop.
What is Naan?
Naan is an yeasted flatbread, commonly found in Iran and India and most of South Asia, that is traditionally cooked in a tandoor oven (think a really, really hot chimney that you use to cook food.) It is usually served alongside curries, dips, or hummus, but I like to use my Garlic Butter Naan in so many other ways.
I've used naan to sop up the juices from braised beans and meats, as the base of some amazing pizzas, and I just love to wrap my Greek Chicken Skewers in warm Garlic Butter Naan.
I know pita is most commonly associated with Greek food, but I just love the texture of this naan! It's soft and fluffy, with an airy interior and tasty golden brown spots on the outside. If you're normally afraid to work with yeast (I've been there), my Garlic Butter Naan is the perfect starter bread. It rises quickly, rolls out easily, and cooks up like a dream!
Ingredients
All-purpose flour No need for bread flour or any specialty flour. All-purpose flour makes light fluffy naan.
Yeast There are flatbread recipes on the Interweb that use other leavening agents, such as baking powder, to give their dough some fluff, but traditional naan calls for yeast. This is probably the easiest yeasted dough you can make and a great recipe for someone new to bread making!
Milk Helps develop a much softer dough and feeds the yeast 😋
Greek yogurt Not to sound too sciency 🤓 but both the acid and the fat in yogurt helps to stop gluten from forming, yielding the softest and fluffiest naan.
Butter You will use this to brush your naan after cooking.
Garlic This is not a traditional ingredient found in naan, and if you are not a garlic fan, or allergic to alliums, leaving it out is absolutely okay. I like the flavor it gives the bread, and if you're brushing the naan with butter anyway...
This recipe makes eight Garlic Butter Naan, that will disappear in no time!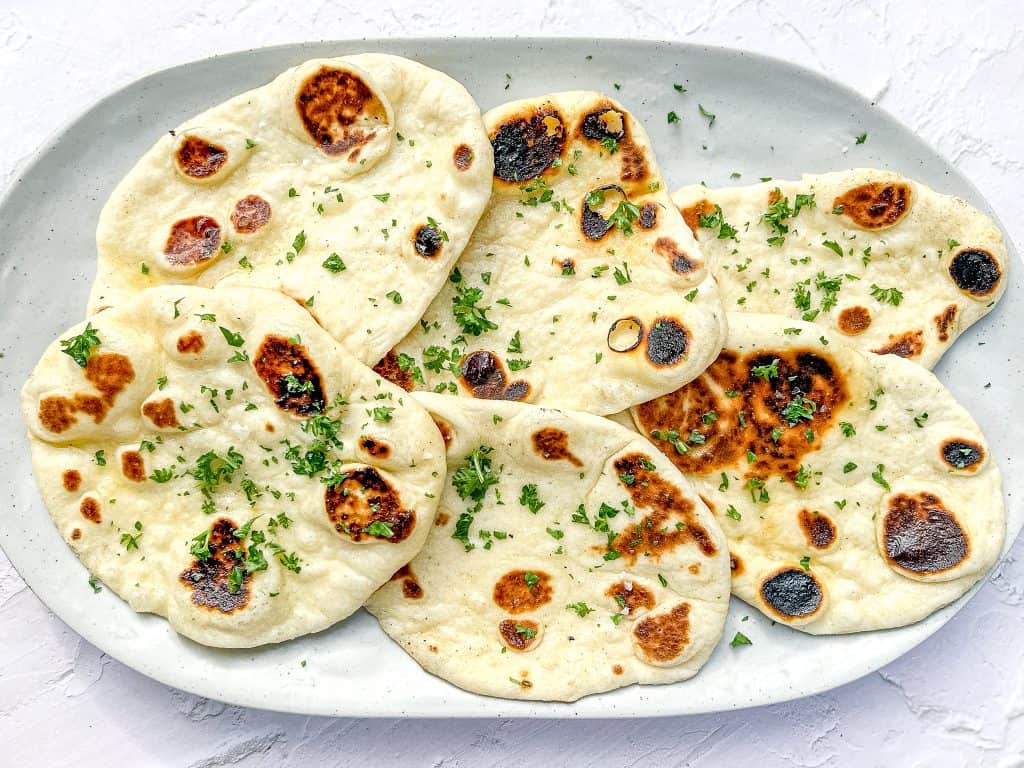 What do I serve these with?
Garlic Butter Naan
My Garlic Butter Naan is a soft and fluffy Indian-style flatbread with an airy interior and toasty exterior that you'll want to make again and again!
Ingredients
1

teaspoon

honey

¼

cup

warm water

¼

cup

warm milk (both milk and water should be about 110°-115°F)

2 ¼

teaspoon

active dried yeast

2 ¼

cup

(292 g) all-purpose flour

½

cup

(120 g) plain greek yogurt (whole milk if you please)

½

teaspoon

fine grain kosher or sea salt

1

tablespoon

olive oil

3

tablespoon

melted unsalted butter (for brushing on finished naan)

2

cloves

garlic, finely minced
Instructions
In a small bowl, mix honey, warm water, warm milk, and yeast together. Let it sit and the yeast will activate (wake up) and become foamy after about 5-10 minutes. Add this mixture to the flour along with the yogurt, salt and olive oil, mix together until a shaggy dough forms.

Transfer the dough to a lightly floured counter and knead for about 2 to 3 minutes, or just until you can form it into a slightly sticky ball. Place the dough in a lightly oiled bowl and cover with a damp cloth or plastic wrap and let it rise in a warm place for about an hour.

Heat up a cast-iron skillet over high heat. While it's heating, melt the unsalted butter and add the minced garlic to flavor the butter.

When ready to cook, using a knife or bench scraper, divide the dough into 8 equal balls. Using a rolling pin, roll each piece of dough into an oval shape on a lightly floured surface. Each should be about 6-8 inches long and about ¼-inch thick, but irregular shapes are fine. They just have more character! Rather than rolling them all out at the same time, it's best to roll each piece of dough just before you cook it, leaving the rest of the dough covered with a piece of plastic wrap to stay moist.

Lay your rolled dough in the hot skillet. Cook for 1-2 minutes, or until you see bubbles starting to form on the surface. Flip over and cook for 1-2 minutes on the other side, until large toasted spots appear on the underside.

Brush the finished naan with your garlic butter mix and put on a plate covered with a towel to keep it warm. Repeat the process until all naan are done. These are best eaten right away but, once cooled, can be kept in a ziplock bag for a few days.

To warm leftover naan, just heat for a minute on each side in a hot cast iron pan. Enjoy!
Nutrition
Calories:
245
kcal
|
Carbohydrates:
30
g
|
Protein:
7
g
|
Fat:
11
g
|
Saturated Fat:
6
g
|
Trans Fat:
1
g
|
Cholesterol:
24
mg
|
Sodium:
157
mg
|
Potassium:
104
mg
|
Fiber:
2
g
|
Sugar:
2
g
|
Vitamin A:
275
IU
|
Vitamin C:
1
mg
|
Calcium:
33
mg
|
Iron:
2
mg
The nutritional and caloric information shown is an estimate provided by an online nutrition calculator. It does not assert or suggest that readers should or should not count calories, and should not be considered a substitute for a professional nutritionist's or doctor's counseling.