Thick yet airy, this deceptively simple pizza has a focaccia bread crust, a tangy sauce, and tasty layers of mozzarella cheese and pepperoni.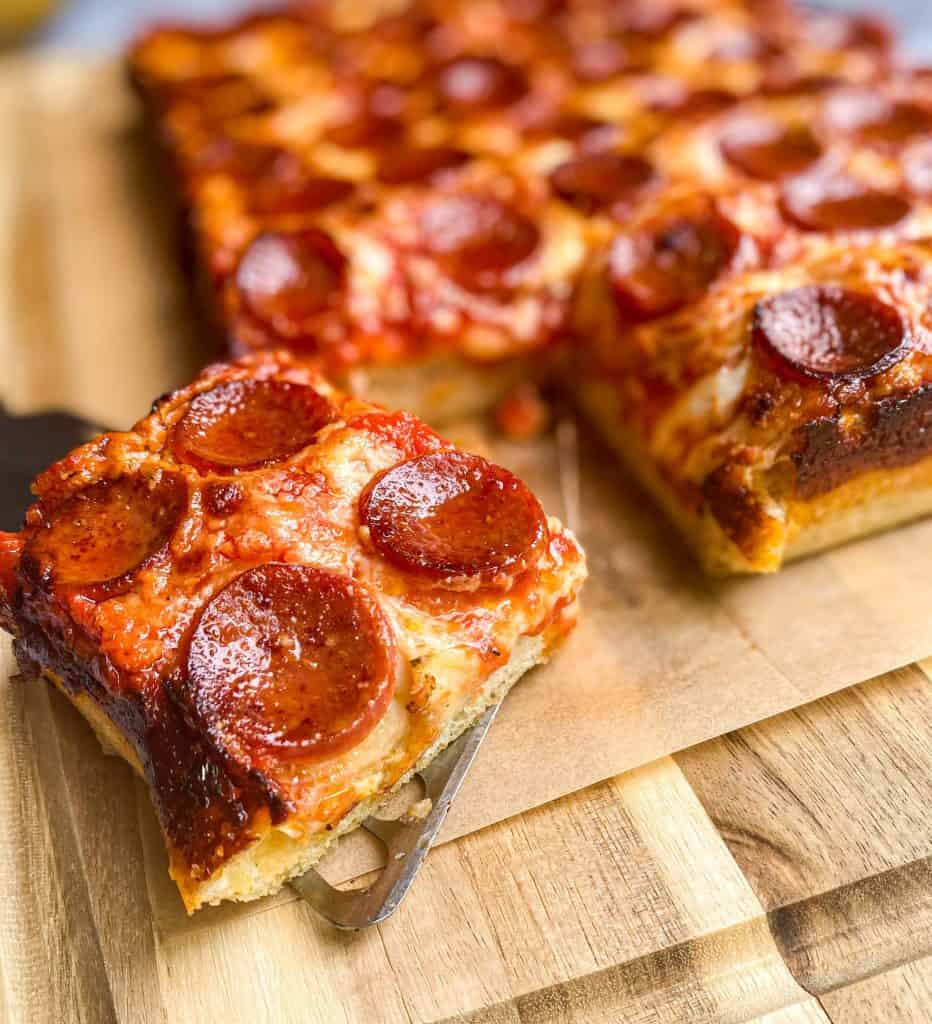 Pizza is a beloved food in America, and each region of this country has their own take on it. In Chicago, deep dish is King. With its tall walls of crust and a sauce-first architecture, one might argue that it is more of a pizza casserole (though I wouldn't say that in Chicago 😳).
In New York (and New Jersey, if we're being honest) a slice of pizza is more of a thin triangle of sauce and cheese (maybe a topping or eight) that can be easily folded and eaten on the go, like a pepperoni taco (don't repeat that on Mulberry Street NYC 🥺). And Detroiters prefer a thick crust pan pizza that's all flipped around, with the sauce on top. No matter where you come from in America, you think your pizza is the best. Well, you're wrong, because you haven't tried my Pizza al Taglio!
What is Pizza al Taglio?
Being married to The Boy means eating a lot of pizza. For any newbies here, The Boy is an Italian-American, born on Staten Island, raised in New Jersey. His first teething ring was a stale slice of cheese pizza. Learning to make my own pizza was as much an economic decision as a culinary choice.
For my Pizza al Taglio (literally translated to "pizza slice"), I take the best of thick, cheesy Sicilian pizza, merge it, just a bit, with Detroit Pizza, and serve it Roman-style on a square slice of focaccia-like crust. This pizza is King in my house. Ask The Boy.
Is it difficult to make Pizza al Taglio?
A lot of people shy away from making their own pizza because they're afraid of yeast. I know this because I was one of them. I was afraid of making a mistake with the yeast, and ending up with something like those viral pictures of alien-like blobs of pizza dough growing far beyond the confines of huge dumpsters behind a pizza shop. AAAAHHHHH! After surviving (🤞) 2020, I'm not ruling anything out. But, so far, I've been blob free. Fear no more! If I can tackle yeast, so can you.
What are the components of My Pizza al Taglio?
Yeast based pizza dough. The base of this Pizza al Taglio is a variation on my own Focaccia Bread, which requires very little kneading.
No-cook pizza sauce. My sauce is a no-cook version that uses high quality San Marzano tomatoes and herbs you probably already have in your pantry. This is already such a budget-friendly dish, please don't skimp on the tomatoes because their natural sweetness makes such a huge difference!
Cheeses! My Pizza al Taglio is covered more mozzarella and Pecorino romano than you could possibly dream of! All of that cheese is ooey gooey in the middle but crispy on the edges. Yum!
Natural casing pepperoni. The natural casing pepperoni (the slice it yourself links found in the deli department) curls up into amazing little cups that hold all the orangey pepperoni grease that I better not catch you blotting up with a paper towel! Trust me, my Pizza al Taglio is very low-work and very high-reward.
Notes on making Pizza al Taglio:
If you were going to take any shortcuts or make any adjustments, here's where I think they could be made. Still frightened by the thought of using yeast? Go to a local pizza parlor and ask them for a couple of balls of their dough! I've done it when my time was limited and been very happy with the results. It wasn't as fluffy as my recipe, but delicious nonetheless.
As for the pepperoni topping, what can I say? I'm a fan. But this pizza would be equally (though differently) good with any variation on the toppings. Go for all veggie, make it a Meaty Deluxe, even (GASP!) go Hawaiian. The world is your pizza!
Some of my other Italian meals you'll love
Makes one 13x9" pan of ultra thick pizza. Enough to satisfy any one Jersey Boy, or a family of 4.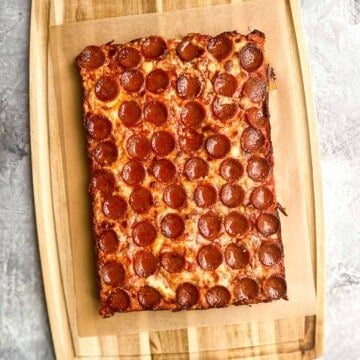 Pizza al Taglio (Thick Crust Pizza)
Thick yet airy, this deceptively simple Pizza al Taglio has a focaccia bread crust, tangy sauce, and tasty layers of mozzarella cheese and pepperoni.
Ingredients
Dough
1

cup

warm water

(240 ml/g) (110°-120° is the optimal range for yeast growth)

1

teaspoon

honey

1

teaspoon

tsp active dry yeast (not instant yeast)

2

tablespoon

olive oil (plus 3 tbs for oiling the pan)

1 ¼

cup

all-purpose flour

(163 g)

1 ¼

cup

extra fine flour

(163 g) (if you don't have/can't find 00 flour, the same amount of all-purpose flour will be fine)

1 ½

teaspoon

kosher or sea salt
No-Cook Pizza Sauce
28

oz

can whole San Marzano tomatoes

2

tablespoon

fresh basil, minced (if using dry basil, decrease to 2 tsp)

1

teaspoon

dried Italian seasoning

1

teaspoon

garlic powder

1

teaspoon

brown sugar (dark or light)

½

teaspoon

kosher or sea salt
The Rest of the Story
1

lb

sliced whole milk mozzarella cheese (deli sliced, not fresh mozzarella, which is too wet)

12

oz

natural casing pepperoni, cut in ⅛ inch slices (or as much as it takes to completely cover your pizza!)

4

oz

(115g) grated Pecorino Romano cheese
Instructions
Generously oil or butter a metal 13x9" baking pan (preferably a darker, nonstick pan. Never glass.) Pour 3 tbs of olive oil in the bottom of the pan. Set aside.

In a small mixing bowl, stir together lukewarm tap water, honey, yeast, and olive oil. Let sit for 5-10 minutes until it becomes foamy on top and smells "bready". Stir into flour and salt in a medium bowl. Mix with your hands, danish dough whisk, or a wooden spoon until just combined, approximately 2-3 minutes, then let the mixture rest for 15 minutes.

After resting the dough, you will fold it to strengthen the gluten and develop an airy crust. Starting at the twelve o'clock 🕛 position, use a slightly wet hand, or a flexible dough scraper, to grab the edge of the dough, pull it toward the center, and over to the other side of the dough.

Turn the bowl a quarter turn and do it again, and continue until you've done four folds, all the way around the dough. Cover the dough again and allow it to rest for 5 minutes. Repeat the folding technique 2 more times (for a total of three times) 5 minutes apart.

Place in your generously oiled baking pan. Before covering with plastic wrap, spray the dough side of the plastic with nonstick spray. Cover with the wrap and let rest and rise in the oven (not turned on), or another warm spot, for 1 hour. 

Hot Tip: I buy cheap clear plastic shower caps and use those to cover bowls and pans when proofing dough. I get 15 caps in a package for about $2. So much easier than wrestling with plastic wrap that won't stick.

Cold kitchen proofing hack: If you have a gas oven, an easy way to do this is to turn your oven on to 350° for exactly one minute. Turn it off and your oven will be a nice warm environment that your dough will love. Electric oven? Turn on your oven light before starting the dough making process and leave it on the whole time the dough is rising. It gives a nice gentle warmth to the oven.

After 1 hour, remove the plastic wrap and set aside. Using oiled hands, and working as gently as possible to maintain air bubbles, push and stretch dough into the corners of the pan by pressing out from the center and nudging it to the edges of the pan. It will bounce back, but just keep nudging and you should get it to stay pretty close to all edges and corners. Re-cover with the plastic and let rise another 2-3 hours, or until it has reached about halfway up the sides of the pan. When it's risen, set aside on the counter while you preheat the oven and make the sauce.

Preheat oven to 500°. If you have an oven that heats from the bottom, set the rack to the lowest level. If you have a baking steel or a pizza stone, warm that up with the oven to place the pan on while baking (it's all about that crust folks!)

Pour the can of tomatoes into a medium bowl. Using your hands (your best tools) crush the tomatoes as small as possible. Mix all the other ingredients in and allow to sit for about 10 minutes for the herbs to bloom and the flavors to marry. Slice your pepperoni and sneak a few pieces while you wait for the oven to heat up.

Shingle the mozzarella across the entire surface of the pizza dough, going all the way to the edges.

Spoon the sauce over the top. You want to cover the cheese, but not make it soupy. You won't use all the sauce, but it'll be delicious added to pasta later in the week!

Sprinkle with grated Pecorino Romano cheese, reserving some for after it comes out of the oven, if you'd like. Evenly cover the top with pepperoni slices, giving really good coverage. Remember, pepperoni shrinks, so you want to really cover the whole pizza!

Bake at 500° for 20-25 minutes or until pepperoni is curled into cups and filled with that delicious grease (yay!) and cheese edges are browned. Run a thin metal spatula or thin paring knife all the way around the edges of the pan to loosen the pizza. Carefully lift it out using 2 spatulas and slide it onto a cutting board.

Let cool for a little bit (it's molten lava under there) and then slice into big ol' squares. Serve with more romano. Enjoy that crispy cheese skirt on the side. Share if you're feeling generous. Don't share if it's been a rough week.
Nutrition
Calories:
434
kcal
|
Carbohydrates:
27
g
|
Protein:
22
g
|
Fat:
26
g
|
Saturated Fat:
11
g
|
Trans Fat:
1
g
|
Cholesterol:
69
mg
|
Sodium:
1326
mg
|
Potassium:
354
mg
|
Fiber:
2
g
|
Sugar:
4
g
|
Vitamin A:
457
IU
|
Vitamin C:
6
mg
|
Calcium:
328
mg
|
Iron:
3
mg
The nutritional and caloric information shown is an estimate provided by an online nutrition calculator. It does not assert or suggest that readers should or should not count calories, and should not be considered a substitute for a professional nutritionist's or doctor's counseling.