Light, fluffy, and moist, these sky high Bakery Style Triple Chocolate Muffins will beat any store bought muffin by a mile! Easy to make, and even easier to devour!
Leveling up my Bakery Style Muffins
One of my jobs at the bakery was to make muffins every morning. So many muffins. They were these big, oversized muffins, defying gravity with their high fluffy tops. The kind you see in a bakery case and think "I gotta get me one of these!"
Unfortunately, unless we ran out of blueberries, I usually only made blueberry muffins. Don't get me wrong, I love a good blueberry muffin, but some days call for even more indulgence. Some days call for chocolate.
Actually this day called for all the chocolate! I wanted every bite to be an "I'm having chocolate cake for breakfast" kind of bite. I used my Buttermilk Muffins recipe as a base and I incorporated a really good quality cocoa powder, bittersweet chocolate chunks, and semisweet mini chocolate chips to really declare that my Bakery Style Triple Chocolate Muffins are indeed the chocolate muffins you've been waiting for!
These muffins are jumbo sized muffins, baked in a standard size muffin pan. Lining the pan with parchment muffin liners and filling them to the top with batter guarantees those oversized muffins you've been eyeing in the bakery case. Get ready for oversized flavor too!
Key ingredients in these Triple Chocolate Muffins
Why use room temperature ingredients?
Using room temperature ingredients in baking is very important. Cold ingredients don't mix together very well (imagine adding melted butter to cold water), and therefore, your batter won't be as smooth and your muffins could bake up dense or lumpy. Ingredients at similar temperatures mix together more completely, which in turn helps them to bond together better and trap air in the batter more efficiently. When your batter hits the hot air of the oven, that air expands, producing light, airy, and fluffy treats!
All-purpose flour Just standard all-purpose flour does the trick here, giving you a great base for the chips and chunks you'll be folding in.
Cocoa powder I get the most chocolate flavor by using a good quality cocoa powder, but any dutch process cocoa (Hershey's calls their version "Dark") from the grocery store will work too. If yours doesn't say "Dutch", it's probably a natural cocoa powder. King Arthur Baking has a great article on the differences between dutch process and regular cocoas, but I usually prefer the darker color I get from dutch process. Since I use both baking powder and baking soda in my muffins, you can use either natural or dutch process cocoa with good results.
Sugar White granulated sugar is what almost everyone has in the pantry, but light brown sugar can be used in a pinch.
Baking powder and baking soda For various technical reasons I use both leavening agents in this recipe. Without getting too technical, the baking soda reacts with the buttermilk and the baking powder reacts with the cocoa powder. These reactions are what makes these muffins rise to great heights!
Buttermilk The acidity of the buttermilk helps to balance the sweetness of the muffins, but it also helps to tenderize them by snipping some of the gluten strands to make the muffins softer. They'll not only be more fluffy, but they'll also have a more tender crumb.
Vanilla Did you know that vanilla has been used as a flavor enhancer in chocolate dishes since at least the 15th century? It's true! So I am not arguing with over 700 years of culinary knowledge. I add vanilla paste, but extract is also good.
Hot espresso Some people don't think that coffee or espresso really make chocolate taste more chocolatey, but it's true for science reasons! Cocoa beans and coffee beans actually share some of the same flavor profiles and act on our flavor receptors in a similar manner. Therefore, adding just a bit of coffee or espresso will give the chocolate a richer and deeper chocolate flavor. This is the one ingredient that isn't added at room temperature.
Chocolate I like the way a chopped up bar of bittersweet chocolate really melts into these muffins, giving you waves of really chocolatey flavor in the midst of a chocolate ocean. The mini chocolate chips start out melty, and when cool they firm up, giving you a mixture of different chocolate textures. And more chips on top just wave hello, to let you know you're in for a real chocolatey ride!
Parchment muffin liners I'm including these as an ingredient because to be able to make these oversized muffins in a standard size muffin pan you need liners that stick up over the top of the muffin cups.
Make your own parchment paper liners
If you don't have/can't find parchment muffin liners, you can easily make your own! Just cut some parchment paper into 5 inch squares (you'll need 16 squares). Place 2 squares, offset from each other, centered over a muffin cup. Press a small jar or can (a tomato paste can fits perfectly!) into the muffin cup and press the liner around it. That's it!
How to make Bakery Style Triple Chocolate Muffins
Dry ingredients Using a large whisk, mix together all of the dry ingredients; flour, cocoa powder, sugar, baking powder and soda, and salt.
Wet ingredients In a medium bowl or a large measuring cup, whisk together the all of wet ingredients, except the espresso; eggs, buttermilk, melted butter, vegetable oil, and vanilla.
Combine Add the whisked wet ingredients to the dry ingredients and, using a large silicone spatula, fold together until almost completely combined. Stir in the warm espresso.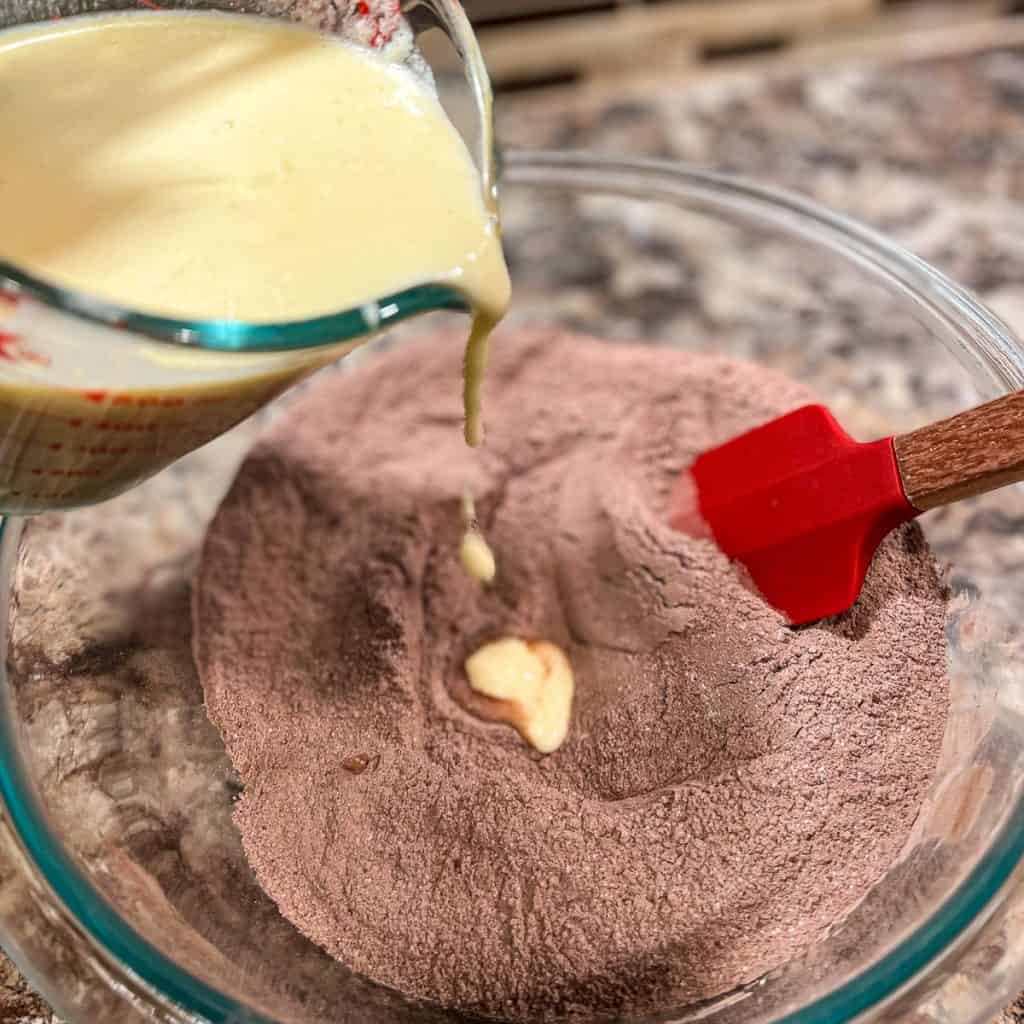 Chocolate Fold in the chopped chocolate and mini chocolate chips, leaving some chips to scatter on top of the muffins, if you like.
Bake Using a large scoop, or a couple of large spoons, portion the batter evenly into 8 parchment muffin liner lined muffin cups of a standard size muffin pan. Scatter more chips on top, if desired. Bake in a preheated 425°F oven for 5 minutes, then turn oven temperature down to 350°F and bake for another 20-25 minutes. The initial high temperature will give the muffins a jump start on rising. Let cool a bit before diving in!
Tips & Tricks to Better Triple Chocolate Muffins
Don't overmix your batter! Just fold everything together until just combined. If you mix too vigorously, you'll encourage the gluten strands in the batter to join together, giving you a dense, tough muffin.
Adding hot espresso helps to activate and bloom the cocoa powder. Adding it after all of the other ingredients, except the chocolates, have been mixed in, keeps the eggs in the batter from cooking.
Use a large scoop to portion out your batter. It's a no-mess way of filling your muffin liners and all of your muffins will be the same size, and will bake more evenly.
Leave room between your muffins for more even baking. If possible, leave every other muffin cup empty, or use only the outer cups for your muffins. This way, the heat of the oven has a better shot at surrounding each muffin and having them all bake at the same rate.
Craving more chocolate?
Bakery Style Triple Chocolate Muffins
Light, fluffy, and moist, these extra chocolatey muffins will beat any store bought muffin by a mile! And they're easy to make!
Ingredients
Dry Ingredients
1 ½

cups

(

180

g

)

all purpose flour

½

cup

(

44

g

)

cocoa powder

¾

cup

(

150

g

)

granulated sugar

2

teaspoon

baking powder

½

teaspoon

baking soda

½

teaspoon

kosher salt
Wet Ingredients
2

large eggs

room temperature

1

cup

(

240

g

)

buttermilk

room temperature

¼

cup

(

56

g

)

unsalted butter

melted and cooled to room temp

¼

cup

(

60

g

)

vegetable oil

1

teaspoon

vanilla extract

or paste

3

tbs

(

15

g

)

espresso

hot
More chocolate
½

cup

(

90

g

)

mini chocolate chips

4

oz

(

114

g

)

dark chocolate

chopped
Instructions
Preheat oven to 425° Line 8 cups of a standard muffin pan with parchment muffin liners or handmade liners (see post above for instructions)

Whisk dry ingredients together in a medium bowl. 

Whisk together all of the wet ingredients, except the espresso, in another bowl. 

Add wet to dry and mix until just combined. Don't over mix. Just bring together until all the dry flour disappears. A few lumps are okay. Stir in the espresso.

Gently fold in the mini chocolate chips and the chopped chocolate, saving about ¼ cup of chips to sprinkle on top of the muffins if you like.

Using a large scoop, fill muffin cups to the top. Sprinkle top with more chips, if desired.

Bake at 425° for 5 minutes. After 5 minutes turn the oven down to 350°, without opening the oven door.

Bake for another 15-18 minutes, or until a clean toothpick inserted into the center muffin comes out with few or no crumbs attached.
Notes
Note on Buttermilk: When it comes to the liquid I use in muffins, I sometimes make adjustments based on what I have in the fridge at the moment. I don't recommend making your own "buttermilk" by mixing lemon juice or vinegar with milk, as the acidity won't be the same as true buttermilk. You can absolutely use Greek yogurt or sour cream in place of the buttermilk, if that's what you have on hand.
If you substitute with milk – whole milk, skim milk, or almond milk for instance – remove the baking soda from the recipe and increase the baking powder to 3 teaspoons.
Nutrition
Calories:
405
kcal
|
Carbohydrates:
57
g
|
Protein:
8
g
|
Fat:
17
g
|
Saturated Fat:
10
g
|
Polyunsaturated Fat:
1
g
|
Monounsaturated Fat:
4
g
|
Trans Fat:
1
g
|
Cholesterol:
62
mg
|
Sodium:
381
mg
|
Potassium:
333
mg
|
Fiber:
4
g
|
Sugar:
31
g
|
Vitamin A:
317
IU
|
Vitamin C:
1
mg
|
Calcium:
138
mg
|
Iron:
4
mg
The nutritional and caloric information shown is an estimate provided by an online nutrition calculator. It does not assert or suggest that readers should or should not count calories, and should not be considered a substitute for a professional nutritionist's or doctor's counseling.