Better than Basic Brown Butter Blondies start with a blondie recipe that you can make your own. Then just look in your pantry and let the adventure begin!
Why you need Better than Basic Blondies
There are few things I like less than starting to cook or bake something and realizing I don't have all the ingredients. It's happened to me more times than I care to admit. It's also the main reason I always tell you to gather and prep all of your ingredients before you start anything in the kitchen (mise en place, en français 🇫🇷).
But sometimes we forget to remember. Sometimes we don't want to put on outside pants and go to the Mega market. And sometimes we just don't want to go anywhere. Whatever the reason, we are caught unprepared. And what do you do when you're caught unprepared? That's right, you improvise!
I'm here to help you perfect the basics so you can show off your improv skills. So, over the next few months I will be sharing a new series of recipes for the forgetful, for the poor planner, for the lazy, for the pants averse, and even for the adventurous culinary soul.
I believe that having a handful of solid base recipes can lay a terrific foundation for anyone who is just trying to figure it out; so let's jump into my collection of base recipes for those of us who do what we can with what we have, starting with my Better than Basic Blondies!
What are Blondies?
Good question, Young Padawan. Blondies are essentially brownies without the chocolate. While brownies are all about that rich chocolate, blondies are more reliant on vanilla for their warm flavor. They are also popular for their deep molasses taste from the brown sugar. Really, blondies and brownies are like second cousins, twice removed.
What are the main ingredients in Blondies?
Flour This recipes uses plain old all-purpose flour. The workhorse of the flour family. Simply put, the protein content of all-purpose flour will give us the structure we need to hold all the stuff you're going to want to put in these blondies.
Sugar Traditionally, Blondies are made with just brown sugar. The deep tones of the molasses in brown sugar combine with the warmth of vanilla extract to make for an unforgettable combination. I like to take out half of the brown sugar and replace it with white granulated sugar, to give the blondie more of a chewy texture and bring down the richness just a smidge, so I can eat more! Also adding in the granulated sugar gives the blondie a bit more body, to hold on to all the goodies you're going to mix in!
Unsalted butter All of my recipes, whether sweet or savory, call for unsalted butter. Why? I like to control the salt levels in all of my recipes. Sometimes the ingredients in a recipe bring their own level of saltiness to the party, and using salted butter would push it over the edge. Other times, you want the natural sweetness in butter to play the starring role, like in shortbread cookies. In this recipe we'll be browning the butter (see note on brown butter below) and, if we were using salted butter, that salt would be even more concentrated during the browning process, and that would completely change the flavor of the blondies. So, unsalted butter. Get into it! But if all you have for now is salted butter, decrease the salt in this recipe by half.
Eggs Whenever I write a recipe with eggs, I always mean large eggs. It's an industry standard and makes writing and cooking from recipes easier. If you only have medium eggs, use the same number of eggs. If you have small eggs, use one more egg than the recipe calls for. And next time, just buy large eggs . It'll make both our lives easier 😘
Vanilla The main flavoring used in blondies is traditionally vanilla. You can use vanilla extract, vanilla paste, or even scrape out the seeds of a vanilla pod. If you are changing up the base flavor with an add-in like almond, coconut, or lemon zest, you might change to almond, coconut, or lemon extracts, but be sure to cut the amount in half, as these extracts pack a punch.
Do I have to use brown butter in these Blondies?
If you're not comfortable trying to make brown butter today, that's okay. Your blondies will still be amazing with good ol' reliable melted butter! However, to maintain the same fat proportion in your blondies you'll need to decrease the amount of butter listed in the recipe by 3 tablespoons. Why? Good question. This is because the volume of butter decreases by about 20% when you are browning it, as the water portion evaporates during the process (science is cool 🧪). So, if you decide to use regular butter instead of browned butter, you will need to decrease the amount of butter by 3 tablespoons to account for that 20%. Make sense? Cool. Still confused? Just follow the directions. You'll be fine.
What can I add to my Better than Basic Blondies?
What do you want to add? I would say you can add almost anything you want as long as the add-ins: Add up to 2 cups and don't add extra liquid to the blondie batter (for example, adding one small banana should be fine, a glass of strawberry milk probably won't). I couldn't possibly think of every single blondie add-in combination, but here's a list of fun ideas, along with a few of my own batches of deliciousness:
For starters, check out my Brown Butter Cookies and Cream Blondies!

Peanut butter and Nutella Because of the fat content in nut butters, you'll want to use it to replace half the butter called for in the recipe. In this case you'll use one stick of butter (½ cup) and ½ cup of peanut butter. Creamy or chunky is up to you. Just add in the peanut butter to the browned butter and continue on from there. Then swirl warmed spoonfuls of peanut butter and Nutella into the top of the blondies before baking. You can even add some chocolate and/or peanut butter chips into the blondie base. Oh. My. Word.
Chocolate chips or any other chips you like. I've added butterscotch chips, dark and milk chocolate, peanut butter, and white chocolate. I once added unicorn chips. I don't know why I had them. M&M's are kinda like chips, right? Add 'em.
Halloween Candy Blondies Or anytime you have a bunch of candy bars, nuts, marshmallows, broken waffle cones, etc that you wanna toss in your blondies! Just add most of 2 cups of your favorite candies, chopped up, to the blondie batter. Save a bit for the top, so everyone knows what they're getting inside!
Nuts and dried fruit Any combo would be amazing, but I'm partial to cranberry and pecan or cherry and pistachio. Just remember to toast and cool the nuts before using to bring out their... nuttiness.
Fresh fruit Oh my, can you just imagine a blueberry blondie made with fresh blueberries, shredded coconut, and a touch of coconut extract? You don't have to, because I did that. And it was so good.
Peanut Butter or any other nut butter. Remember to use your chosen nut butter to replace half the butter called for in the recipe. I used peanut butter in these and then added chocolate and peanut butter chips, Reese's Peanut Butter Cups, and Reese's Pieces! I went nutty 🥜
Streusel topping With your fingers, rub 6 tbs softened butter into a mixture of ⅔ cup flour, ⅔ cup brown sugar, ⅔ cup whole oats, ¼ teaspoon cinnamon, and a pinch of salt. Sprinkle all over the top of the blondie before baking. Some toasted chopped pecans and mini chocolate chips wouldn't hurt either!
Anything and everything you want If you want it in your blondies, put it in your blondies. You've survived a Pandemic, I'm not telling you want you can't put in your baked goods.
That should get you started on a few ideas. First, make sure you have butter, sugar, eggs, vanilla, and flour. After that, your only limit is your imagination, and your pantry!
This recipe makes one 13X9 pan of blondies. If that sounds like too much, all of the ingredients are listed by weight. Just halve the recipe and bake in an 8X8 or 9X9 inch square pan for 20-25 minutes.
Looking for more easy baked snacks?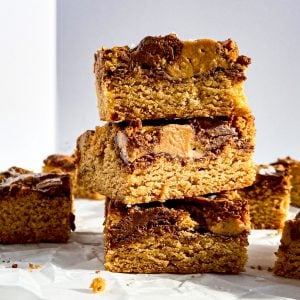 Brown Butter Blondies: Better than Basic
Better than Basic Brown Butter Blondies start with an easy blondie that you can make your own. Just look in your pantry and let the adventure begin!
Ingredients
1

cup

(226g) unsalted butter

¾

cup

(150g) brown sugar (light or dark)

¾

cup

(150g) white granulated sugar

2

large eggs

room temperature

2

teaspoon

vanilla extract or vanilla paste

2 ¼

cups

(293g) all-purpose flour

1 ½

teaspoon

baking powder

1

teaspoon

kosher or sea salt

2

cups

whatever add-ins your heart desires

chocolate chips, nuts, dried fruit, coconut flakes, whatever!
Instructions
Preheat oven to 350°F

Spray a 13X9 pan with nonstick spray. Line the inside of the pan with parchment paper, leaving some to hang over the sides to act as a sling to removed the finished blondies.

Melt butter in a light colored skillet or sauce pan over medium heat, swirling the pan often. (The light color makes it easier to see the browning!) It will become foamy and turn golden as the milk solids begin to toast. Keep swirling! After about 5 - 7 minutes it will start to smell nutty and delicious, and that's your cue to remove it from the heat and pour it into a medium sized bowl to stop the cooking. Allow to cool for a few minutes.

In a small bowl, whisk together your all-purpose flour, baking powder, and salt. Set aside.

Whisk sugars, vanilla and eggs into the cooled brown butter until light and fluffy. Then fold in the flour mixture, until just a few streaks of visible flour remain.

Fold in your add-ins, reserving some to sprinkle on top for the beauty factor.

Spread your mixture into your prepared 13X9 inch pan. You can use your hands or a small offset spatula to coax the batter into the corners, but give them a spritz with nonstick spray first!

Sprinkle the top with your leftover add-ins and bake for 30 - 35 minutes until golden and set, but still slightly gooey in the middle. A toothpick inserted in the middle should come out clean, or with a few moist crumbs.

Allow to cool at least an hour before slicing and devouring.
Nutrition
Calories:
223
kcal
|
Carbohydrates:
29
g
|
Protein:
2
g
|
Fat:
11
g
|
Saturated Fat:
7
g
|
Trans Fat:
1
g
|
Cholesterol:
45
mg
|
Sodium:
176
mg
|
Potassium:
40
mg
|
Fiber:
1
g
|
Sugar:
17
g
|
Vitamin A:
342
IU
|
Calcium:
36
mg
|
Iron:
1
mg
The nutritional and caloric information shown is an estimate provided by an online nutrition calculator. It does not assert or suggest that readers should or should not count calories, and should not be considered a substitute for a professional nutritionist's or doctor's counseling.