The best Flaky Buttermilk Biscuits you'll ever devour! Easy to customize and make your own, you can bake these anytime! It's biscuit o'clock somewhere!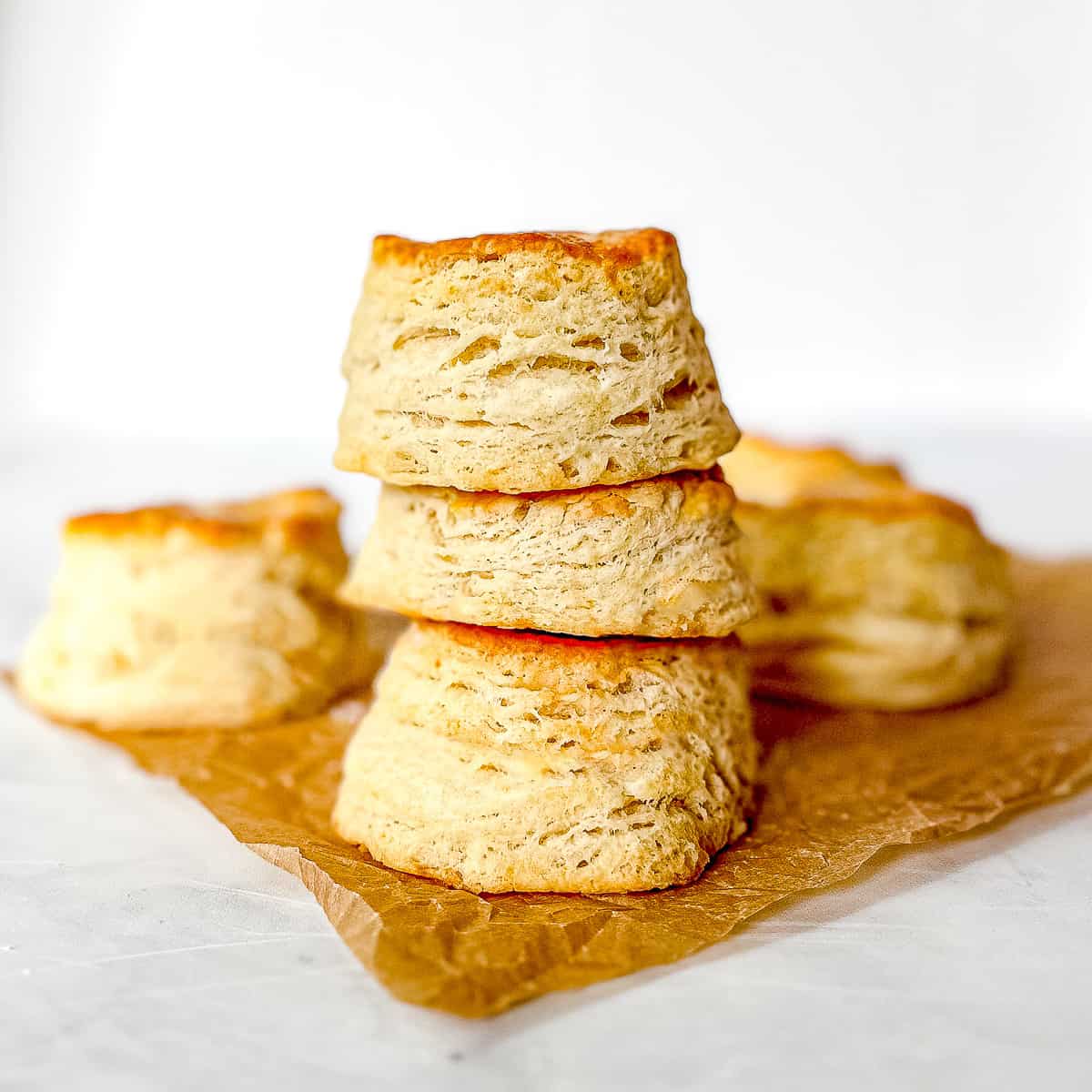 My Road to Biscuit Town
You'd think that by being born in Chattahoochee County, Georgia, I'd have had my Flaky Buttermilk Biscuit game down years ago. Sadly, no. Most of my childhood biscuits came out of a can. Poppin' Fresh was my buddy.
Occasionally, I was completely spoiled by enjoying my Grandma Olga Mae's incredible buttermilk biscuits. Every Sunday morning, before she left for church, she would whip up those flaky, buttery beauties like it was nothing. I had dreams of recreating her all butter biscuits, with layer on layer on flaky layer.
When I became a "grown-up" I put my mind on figuring out how to get the biscuits of my dreams out of my head and onto a plate. I read a lot of recipes, tried a lot different techniques, and made some truly heinous hockey pucks. But I never gave up! I kept trying, and I finally brought all my hard work together into what I believe are some of the fluffiest, flakiest, most tender biscuits outside of the South.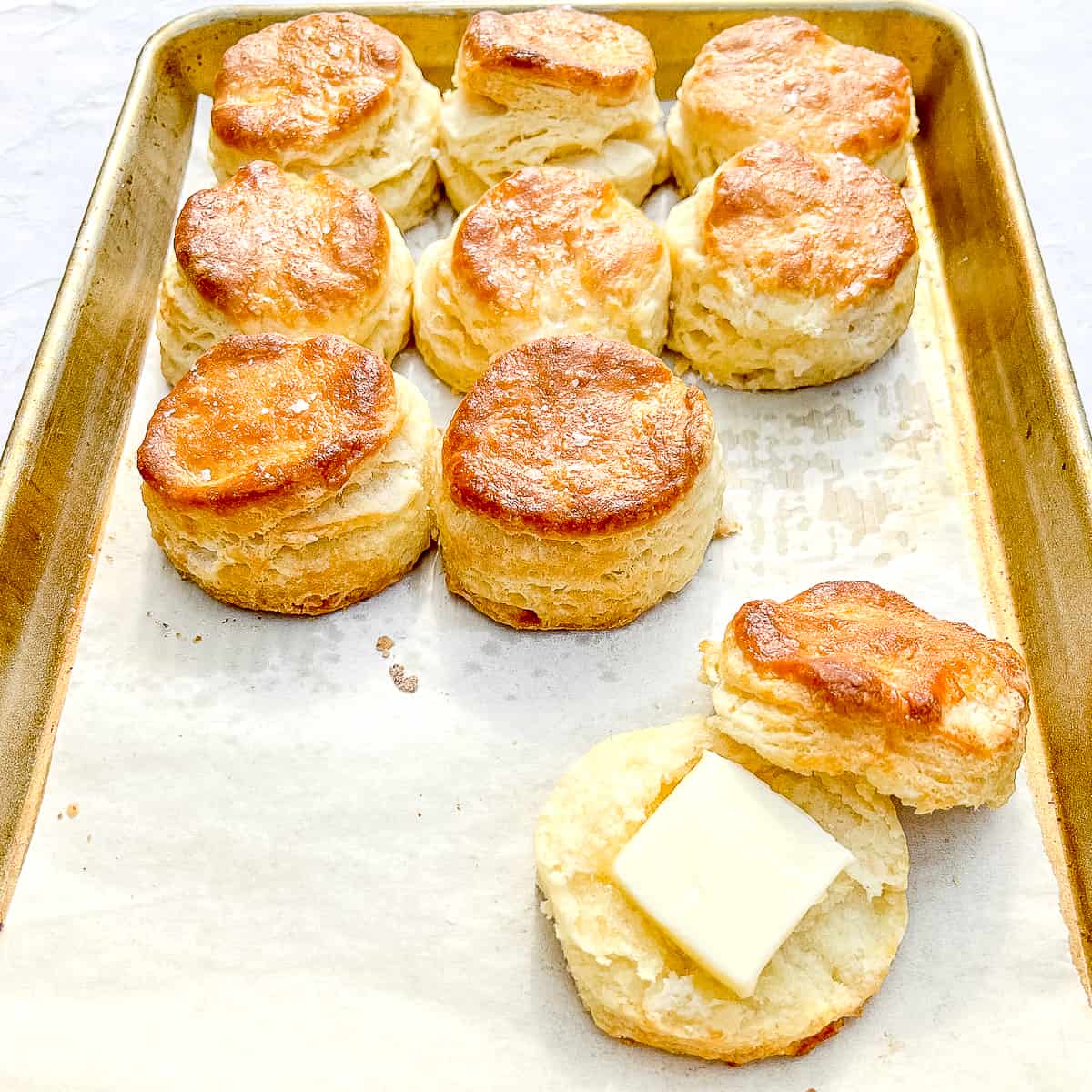 Jump to:
Ingredients
All-purpose flour No fancy flours here. I use King Arthur Unbleached All-Purpose Flour, but any brand will do.
Baking soda Baking soda reacts with the buttermilk right away to give your biscuits a nice lift.
Baking powder Baking powder also works immediately when combined with liquid (the buttermilk), but is "double acting", meaning it also lifts your biscuits when it hits the heat. To ensure you get all that lift, check the expiration date of your baking powder. You want to use the freshest possible to ensure you get tall biscuits!
A touch of sugar The biscuits I love the most always have just a touch of sugar. Sugar not only balances the tartness of the buttermilk, it helps cut down on gluten formation, making a more tender biscuit.
Salt Unless your doctor told you to leave out salt, don't ever leave out salt. Whether baking or cooking, salt enhances the flavor of all the ingredients. Friend not foe, unless otherwise directed.
Buttermilk Buttermilk helps to create an overall taller, tastier, flakier, fluffier biscuit. Who doesn't want that? I always have buttermilk in my fridge, but if you don't, making your own substitute is easy. For every cup of buttermilk you need, add 1 tablespoon of white vinegar or lemon juice to a cup of whole milk and let it sit for 5 minutes to thicken.
Butter Cold. Cold. Cold 🥶 The high heat of your oven hits the cold, cold butter. The butter releases steam that pushes up and out of the dough, creating flaky layers as a fabulous side effect. I love science!
Instructions
Biscuits are sooo beautiful. With their flaky layers, they look almost unattainable. Like most things, they take practice to make perfect. But using my techniques will give you flaky, fluffy, buttery clouds of biscuity love ❤️
Mixing the dough
1a. Whisk together the flour, baking powder and baking soda, sugar, and salt.
1b. Add in cold butter cut into cubes. Using your fingers, or a pastry cutter, mash or "cut" the butter into the flour.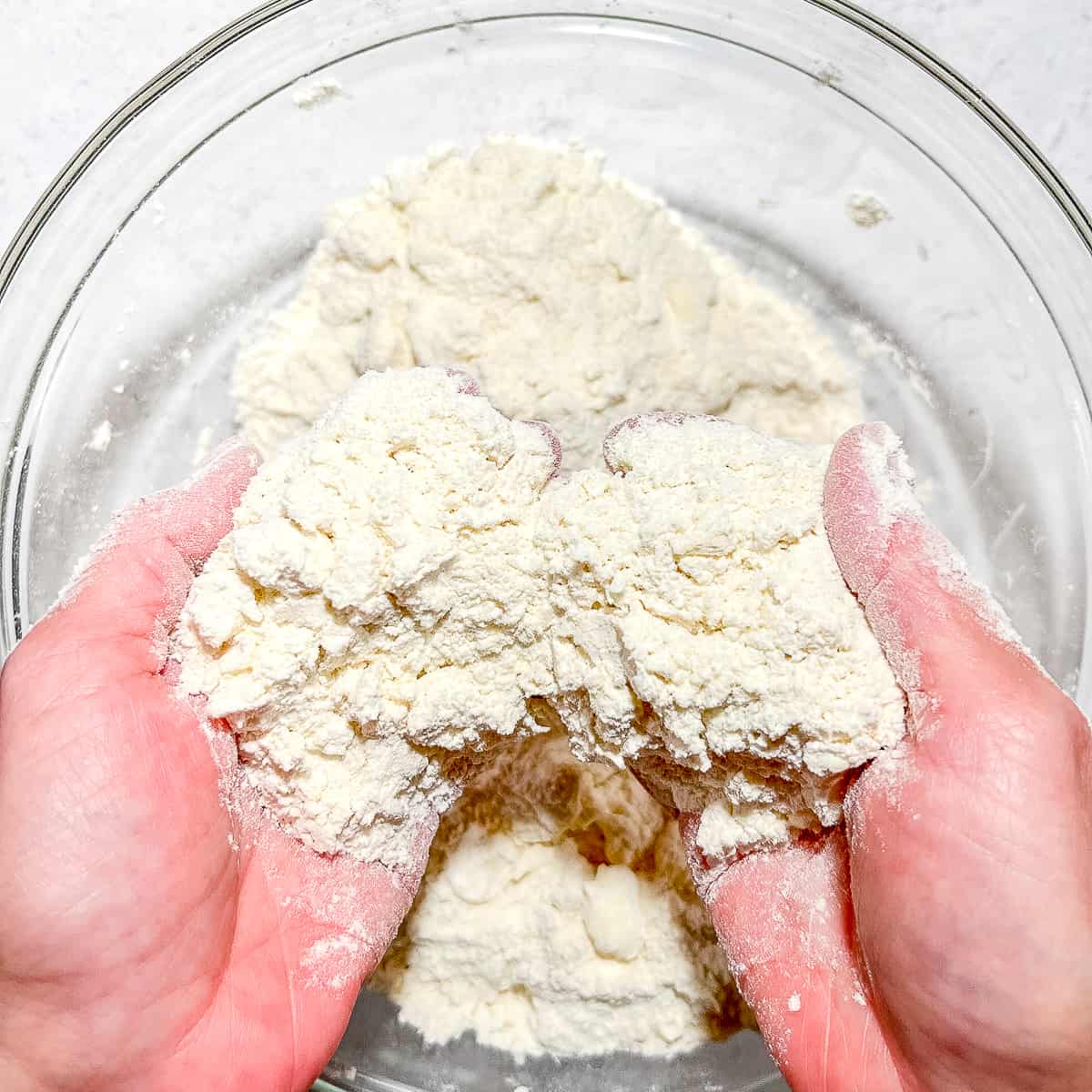 1c. You should end up with small and large pieces of butter incorporated into flour with the texture of cornmeal. You can use a food processor for this step, giving it just 5 or 6 pulses.
1d. Pour cold buttermilk all over the butter and flour mixture.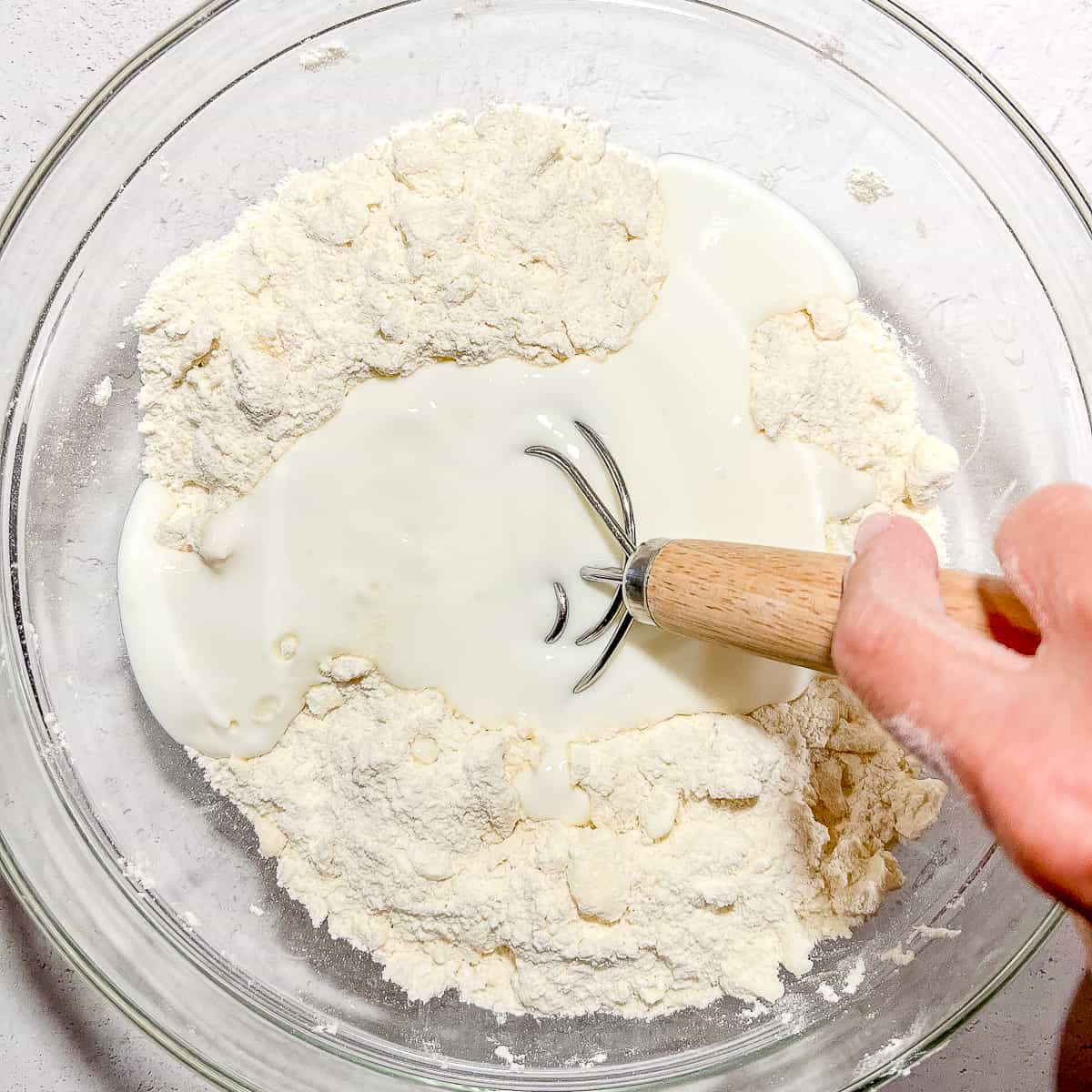 1e. Using a danish dough whisk, or sturdy wooden spoon, mix the buttermilk and flour mixture together.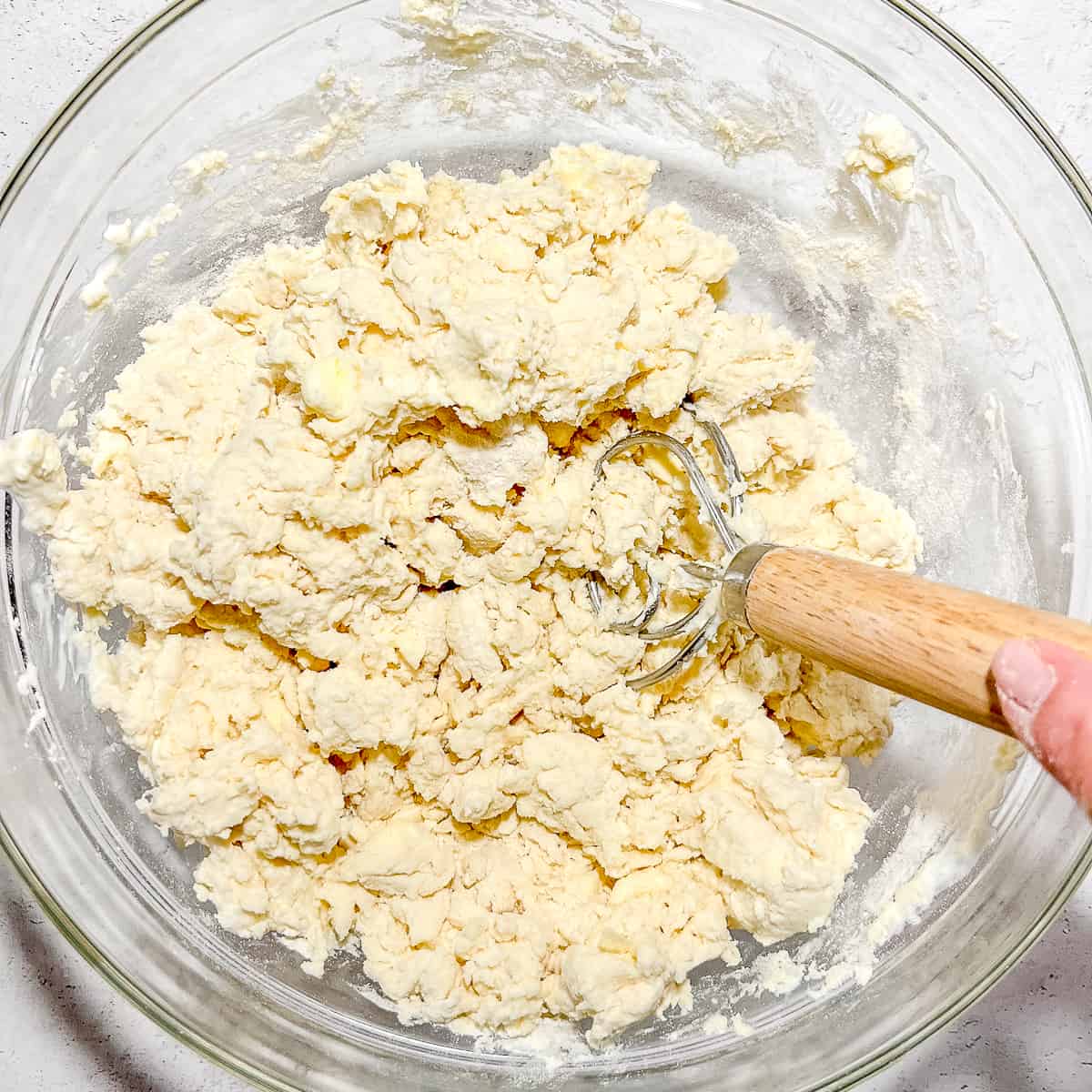 1f. You will make a shaggy dough, with dry floury bits at the bottom of the bowl. That is fine. It will all combine in the next steps.
1g. Lightly dust your counter with flour and dump the shaggy dough out.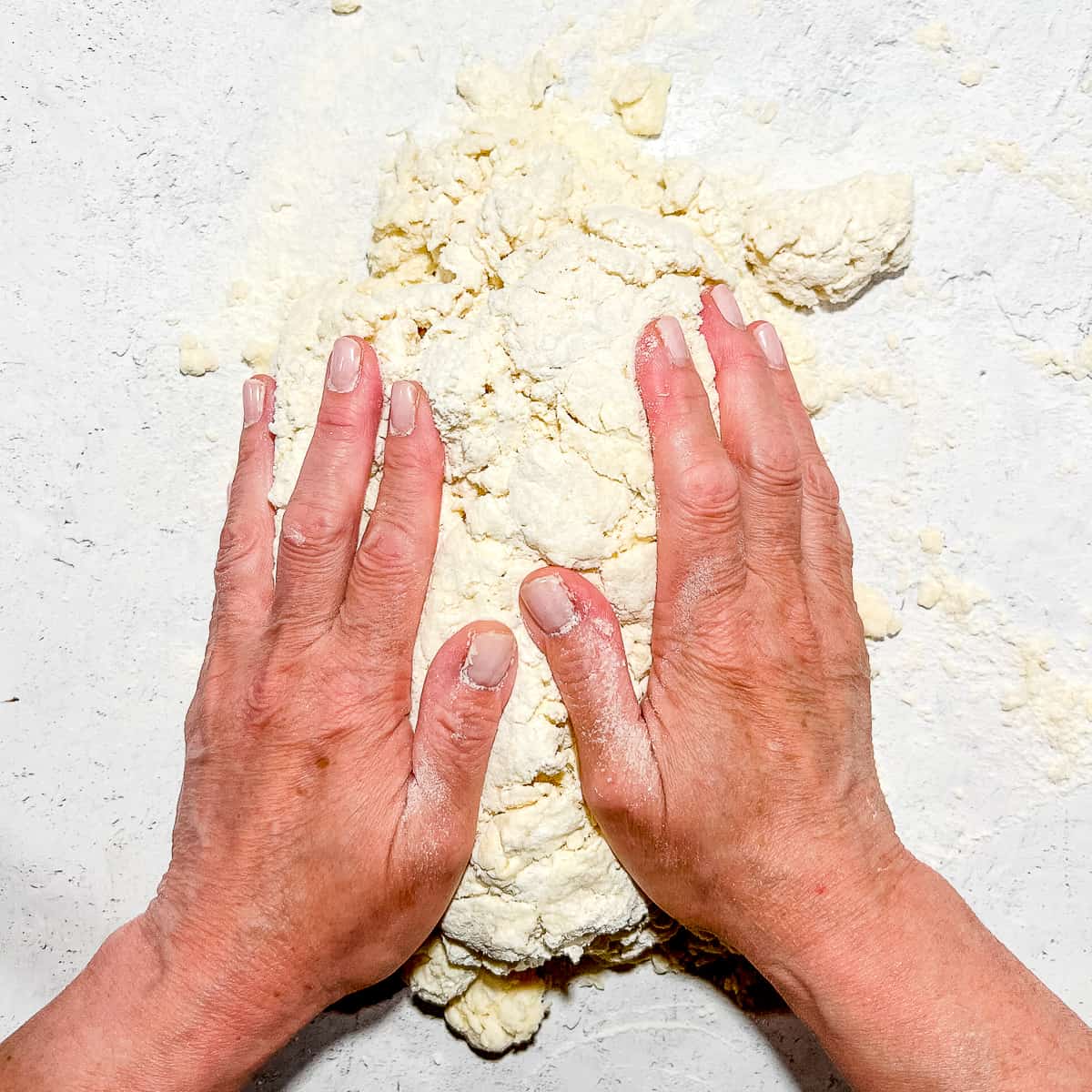 1h. Working quickly, to avoid melting the butter chunks, press the dough into a rough square.
Cut and Stack
2a. Using a bench scraper, or sharp knife, cut the dough into four pieces.
2b. Stack the dough quarters on top of each other and press down, forming another square. Repeat 2 more times, for a total of 3 cut and stacks.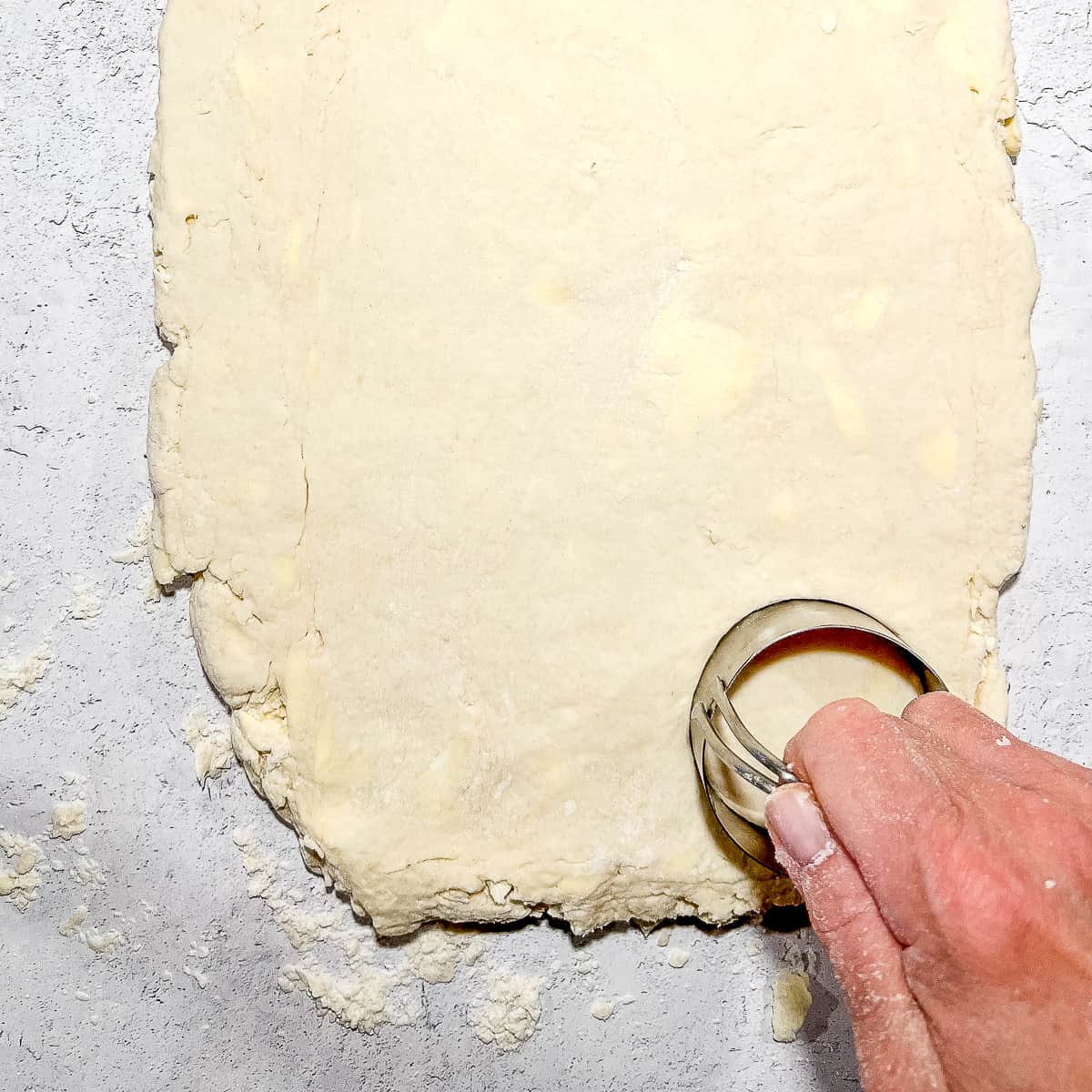 2c. Press or roll out to ½ inch thickness. Using a 2 ½ inch biscuit cutter or cookie cutter, cut out biscuits. You should get 6 to 8 biscuits.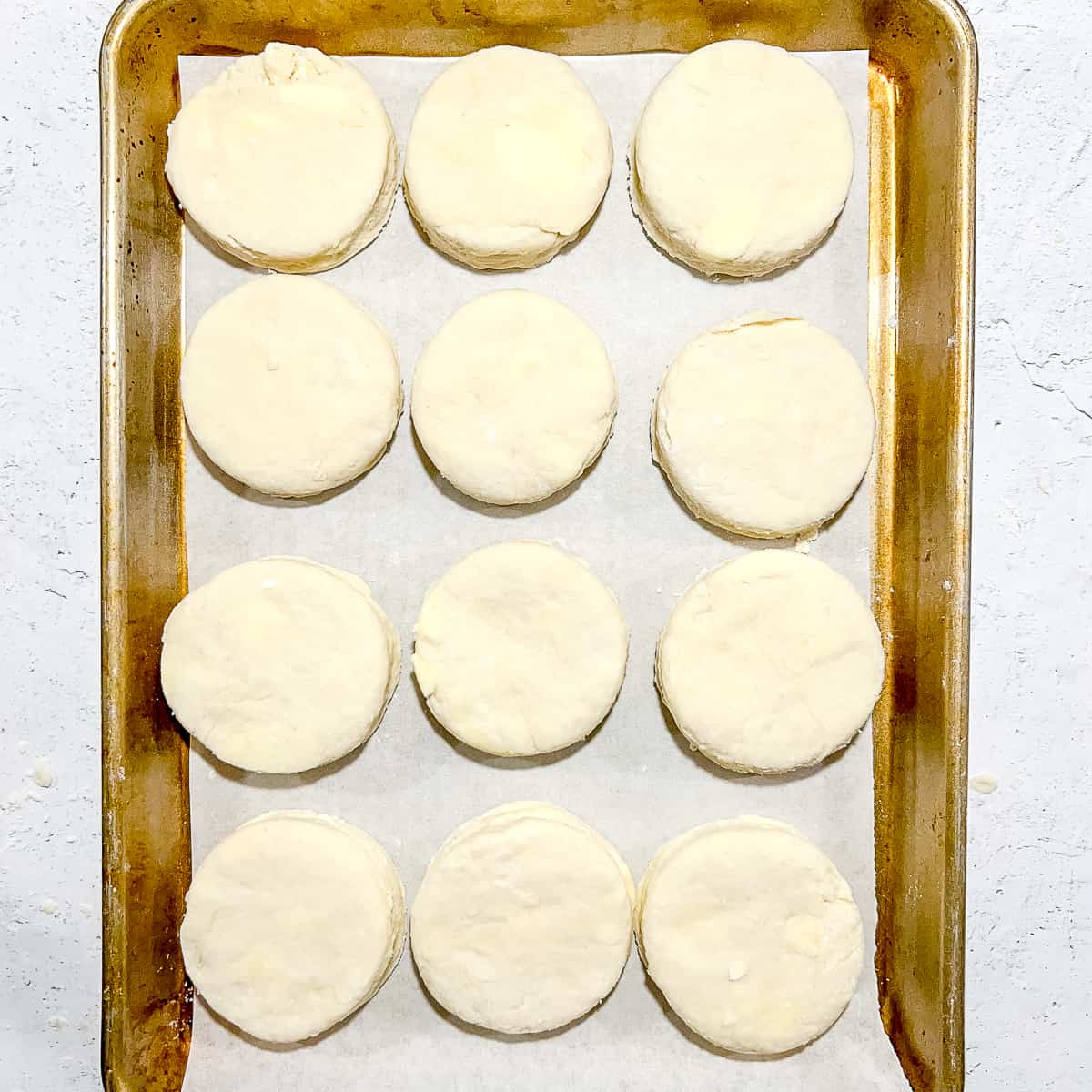 2d. Place biscuits on a parchment paper lined cookie sheet and place in freezer while you preheat your oven. You can double (or more!) your recipe to make even more biscuits.
Baking time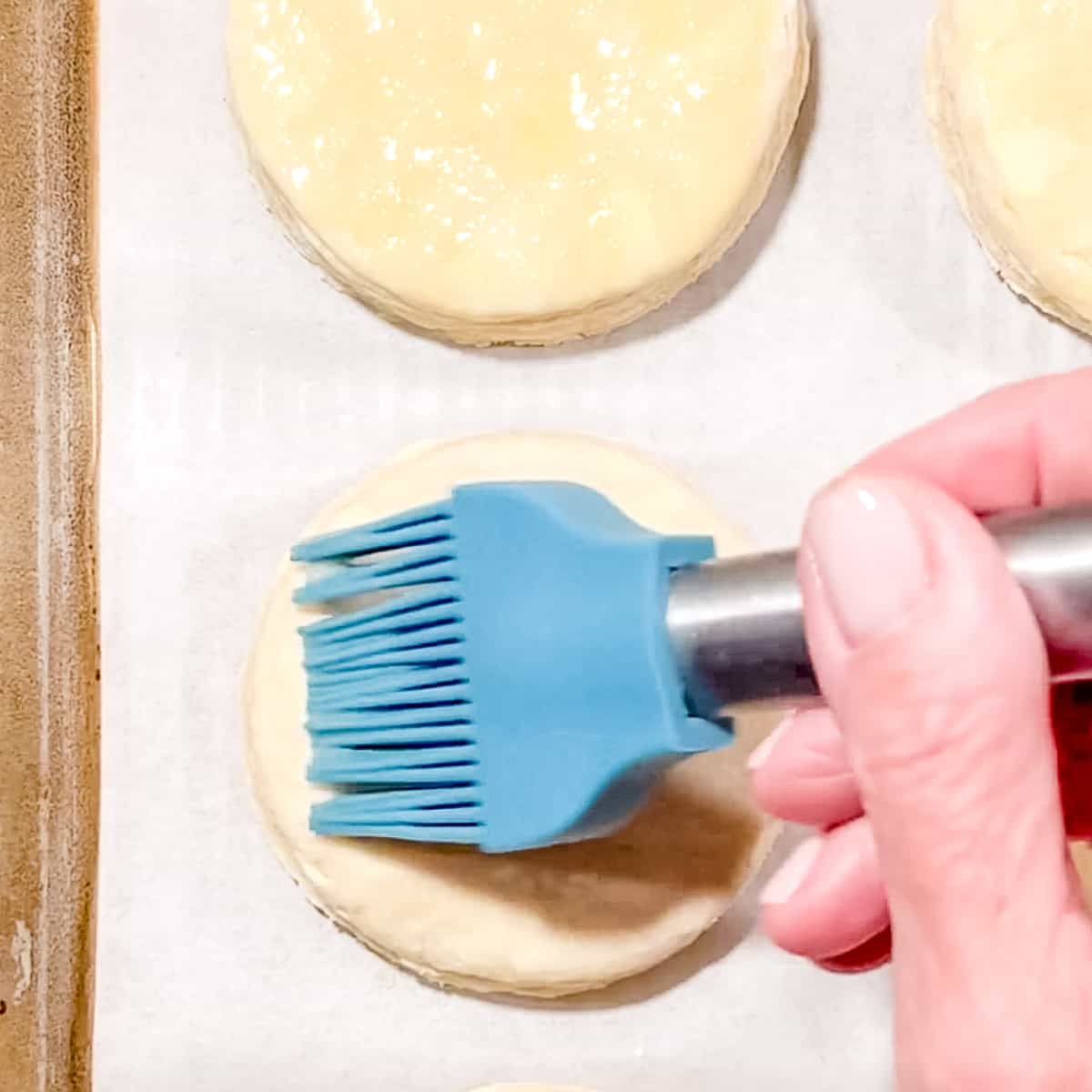 3a. When the oven is ready, brush biscuit tops with egg wash and sprinkle with flaky salt, if desired.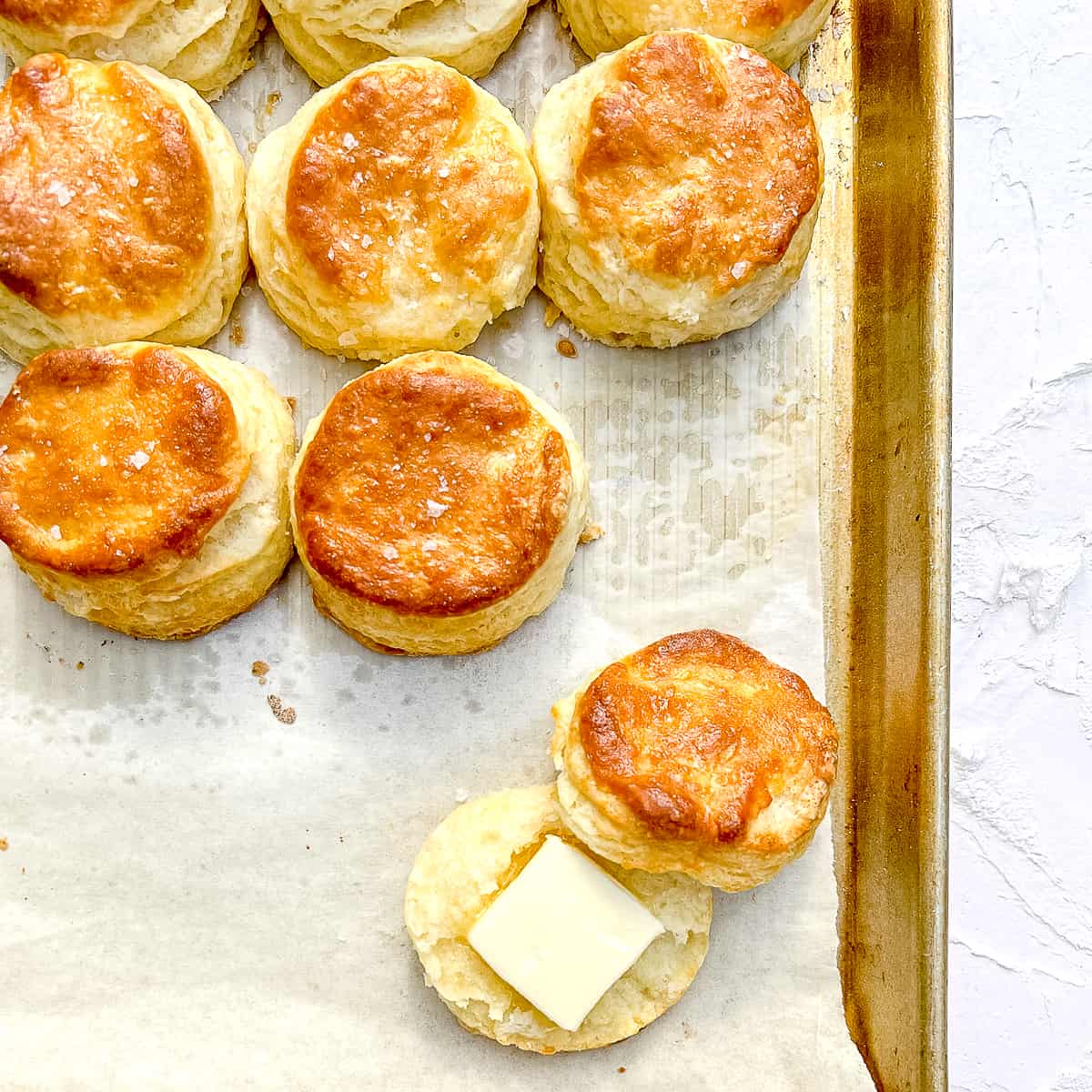 2b. Bake in an oven preheated to 450°F for 15 to 20 minutes, or until tall, flaky, and golden brown.
Variations
Now that you know how to make Flaky Buttermilk Biscuits, you can play around with them and make them your own!
1. Small batch - You don't have to make a huge batch of anything. My Small Batch Biscuit recipe makes just 4 biscuits and I also have a Small Batch Gravy for you to top them!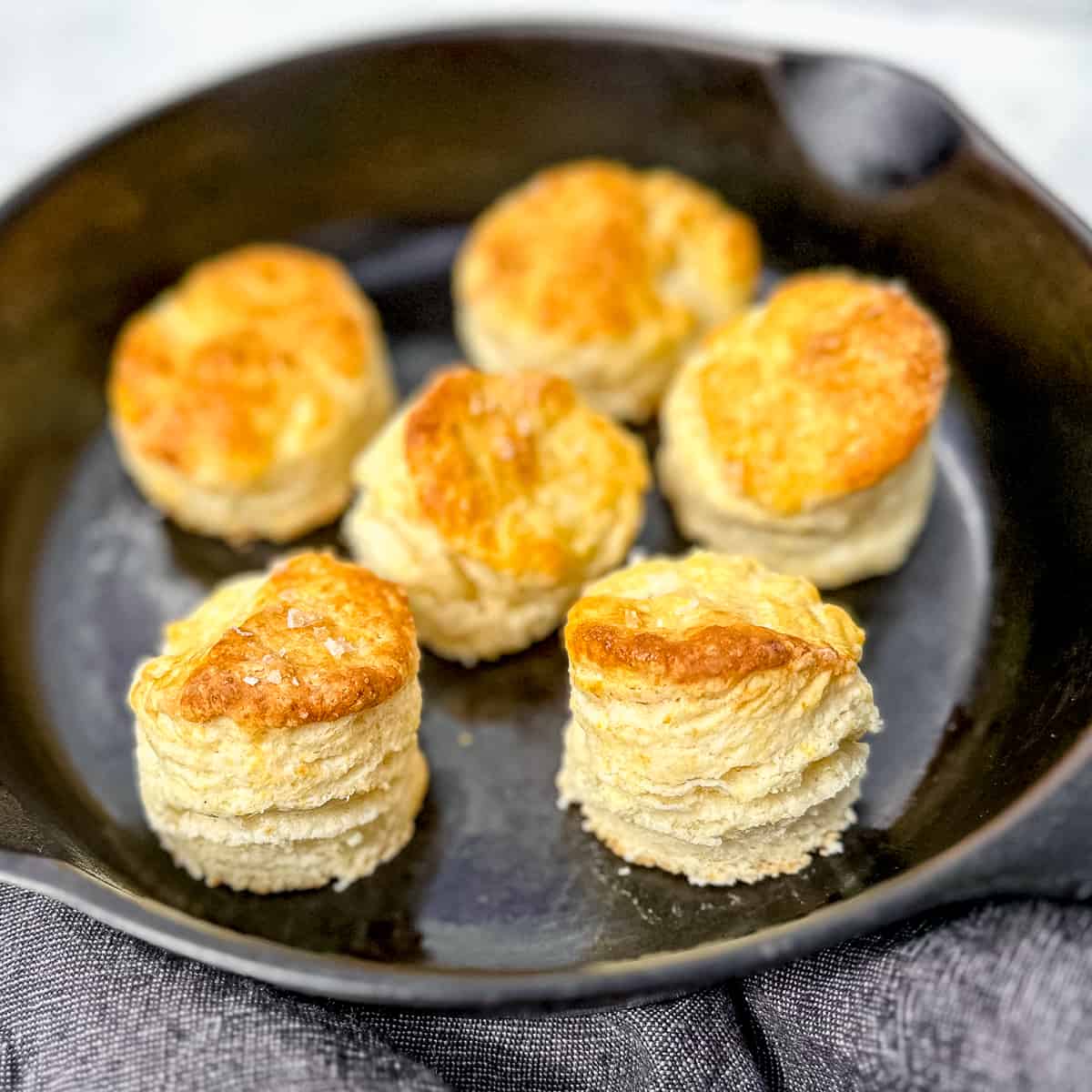 2. Biscuits and Gravy
What else is there to say? Flaky Buttermilk Biscuits with sausage gravy. Even better with my homemade breakfast sausage... but store-bought is fine!
3. Mix-ins
I like to toss in herbs and cheese, as well as different proteins to my dry mix, just before I add in the buttermilk, to jazz up the flavor! I've made Ham and Swiss, Bacon and Gruyere, rosemary and romano cheese, and my Cheddar and Chive, and Cacio e Pepe Biscuits are always a huge hit!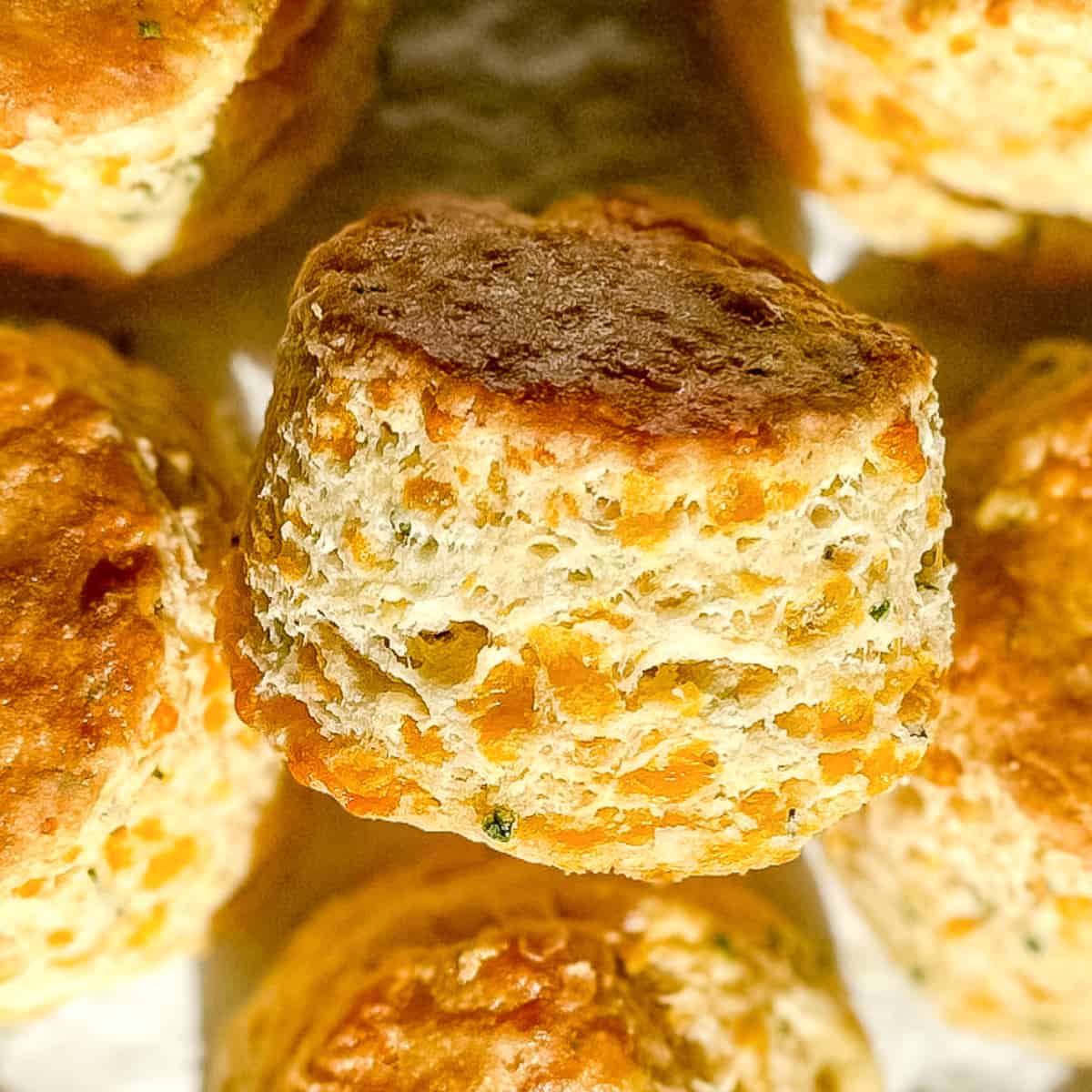 4. Drop Biscuits
Okay, I think I've made biscuits sound a little less scary. However, if you don't feel up to all the rolling out and cutting out (or are feeling a bit lazy this morning 🥱), I've got you covered. One of the most common biscuits in the South are simple drop biscuits, where you literally mix everything up and "drop" spoonfuls into your skillet, or on a sheet pan, and bake.
5. Blueberry Drop Biscuits
My new favorite drop biscuit is studded with blueberries and topped with a sweet vanilla drizzle. It's like all the best parts of a blueberry muffin and a scone, covered in a delicious glaze! Simply make the drop biscuits above and drizzle with glaze made of 1 cup of powdered sugar, 2 tablespoons of cream, and ½ teaspoon of vanilla.
6. Strawberry Biscuits
My Strawberry Biscuits are studded with red, ripe strawberries and are drizzled with a vanilla glaze. Tender and flaky and a little bvit sweet, these are gonna be your new favorite!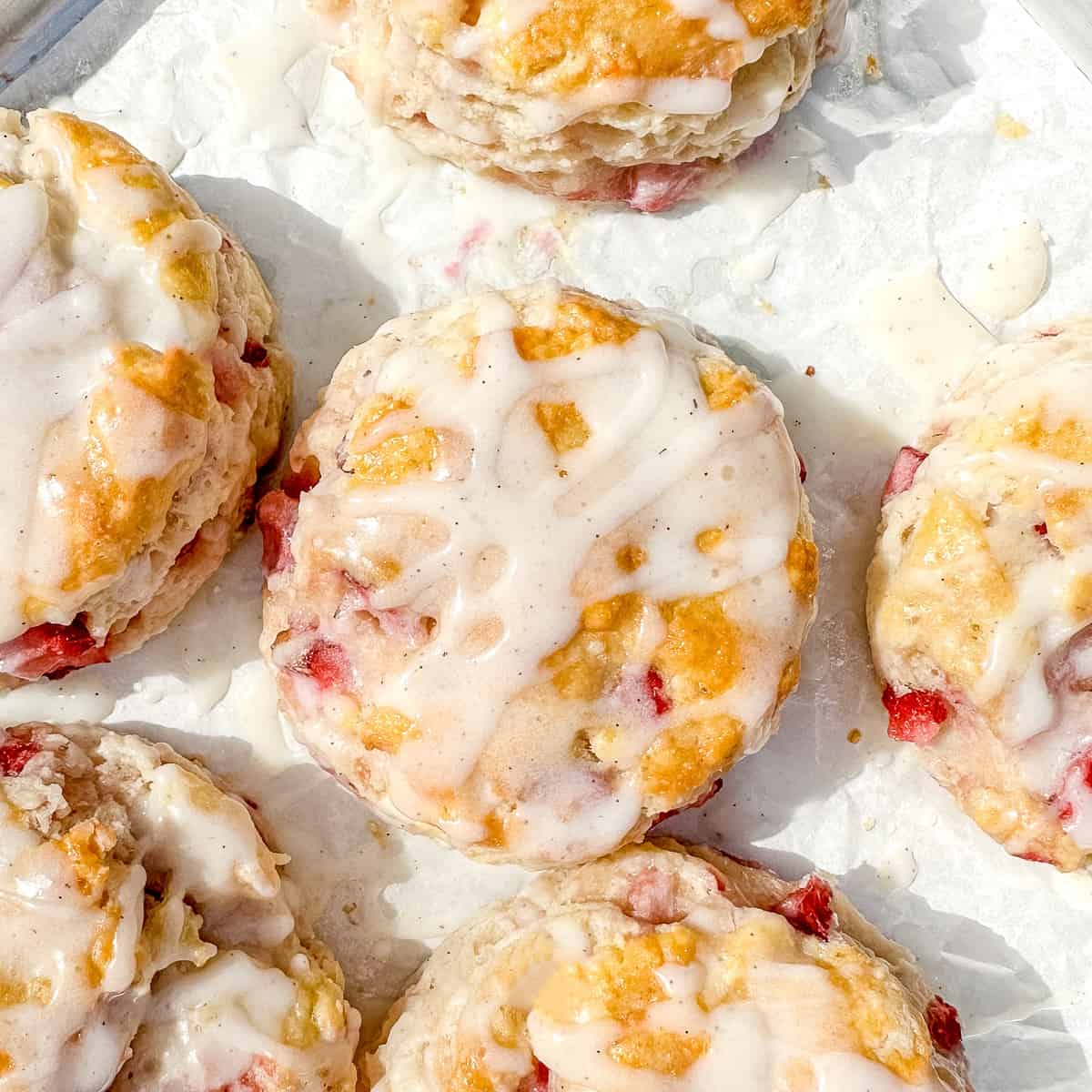 Biscuits in a hurry: Out of butter, buttermilk, or time? Make my 5 Ingredients Cream Biscuits, made with just the dry ingredients and heavy cream. In 20 minutes you can have light and fluffy biscuits on the table!
Expert tips
Don't twist the cutter when cutting out biscuits. Doing so will press the layers shut, and your biscuits won't reach their tall and flaky potential! Press straight down and pull straight back up!
If you don't have a biscuit or cookie cutter, resist the urge to use a drinking glass, or any old round thing, to cut out your biscuits. You need a crisp, sharp edge to cut them or you will seal the layers and they won't fully rise. If you don't have a biscuit cutter, remove both the top and the bottom from a clean food can (like a tomato can) and use that, or make square biscuits by cutting with a bench scraper or knife.
Unless you are making big biscuits (3 inches or larger), don't make your biscuits thicker than ½ inch. If you do, they will have a tendency to fall over due to their flaky layers. Still delicious, in a Leaning Tower of Pisa kind of way.
Recipe FAQs
Can I use milk instead of buttermilk?
You can, although your biscuits won't have the same fluffiness as they would with buttermilk. If you use milk, use the highest fat content you can, which contributes to the tenderness. Or read the substitutions section above for making your own buttermilk substitute with milk.
How long do baked biscuits last?
Your biscuits are best eaten the day they are baked. If you have leftovers, store in an airtight container for up to 3 days.
How do I reheat cold biscuits?
Because butter is a solid at room temperature, they will feel and taste "dry" if eaten cold. Wrap your biscuits in aluminum foil and reheat in a 350°F oven for 10 minutes, or until warmed through, or heat in microwave for 15 seconds.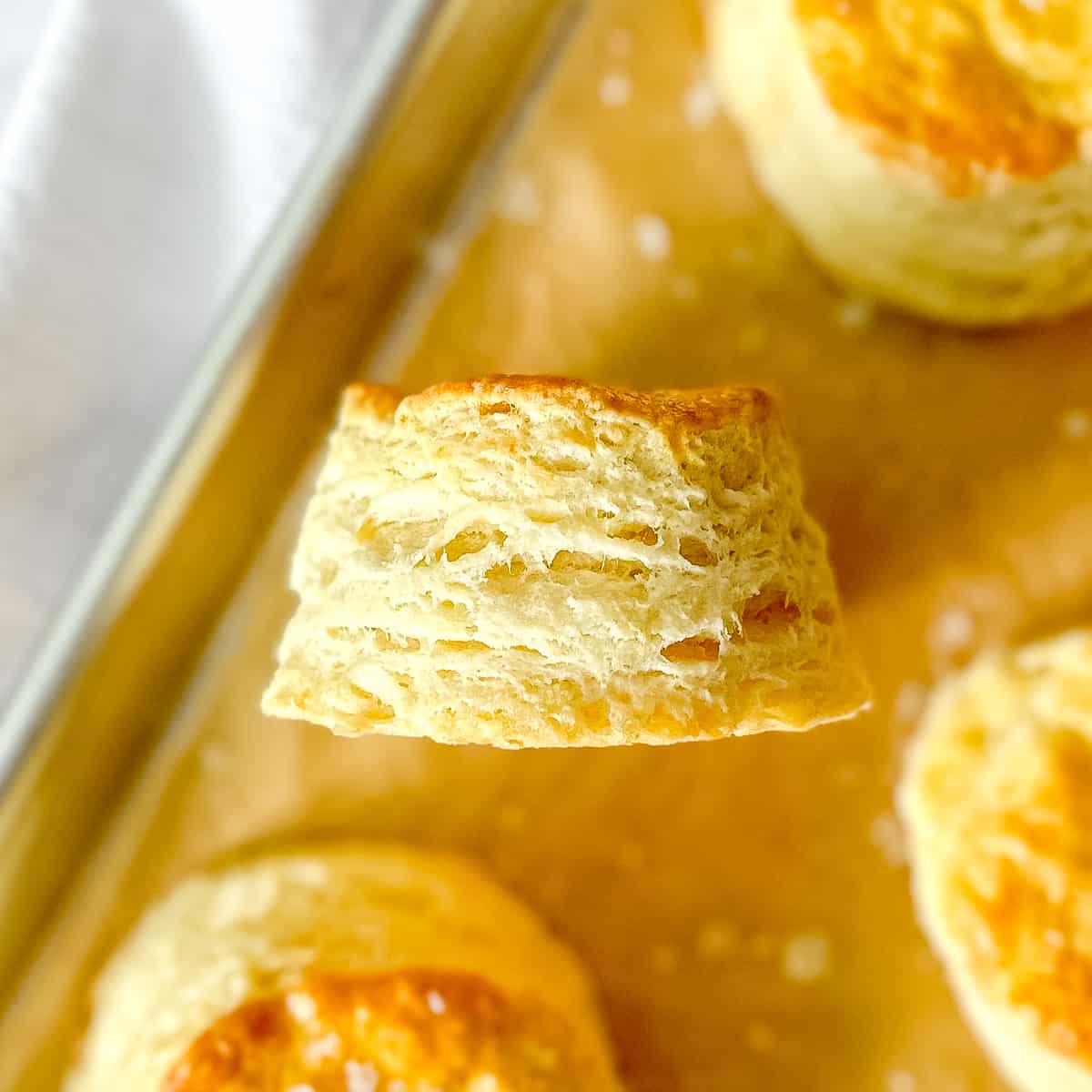 More biscuit recipes
Did you try this recipe? Tell me all about it!
Leave a ⭐️ review and comment below!
Take a pic and tag @butfirst_webrunch on Instagram!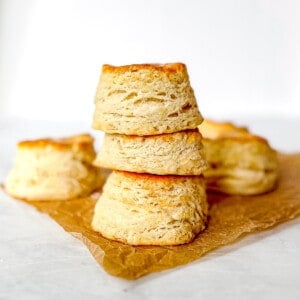 Flaky Buttermilk Biscuits
Cold butter and an easy stacking technique make these the tallest, flakiest biscuits you'll ever devour! Make them anytime. It's biscuit o'clock somewhere!
Ingredients
2

cup

(

240

g

)

all-purpose flour

1

tablespoon

baking powder

¼

teaspoon

baking soda

2

teaspoon

sugar

1

teaspoon

salt

8

tablespoon

(

113

g

)

unsalted butter

very cold and cut into small cubes

¾

cup

(

180

g

)

buttermilk

very cold

1

large

egg

whisked with 1 tbs water, for egg wash
Instructions
Preheat oven to 450°F. Line a large baking sheet with parchment paper or butter a cast iron pan and set aside.



In a mixing bowl, whisk together all the dry ingredients.

Toss cold butter cubes into the dry ingredients and, using a pastry cutter or your fingers, mix in the cold butter until you have a mixture of flat pieces and crumbly, pea sized bits of butter mixed into the flour.

ALTERNATIVE FOOD PROCESSOR INSTRUCTIONS: Place cubed butter in the freezer for 10-15 minutes while you get all your other ingredients together. Measure all of your dry ingredients into the bowl of your food processor. Pulse a few times to mix. Add chilled butter to the dry ingredients and pulse 5-6 times, or until most of the butter is in pea sized, or smaller, pieces. Pour into a mixing bowl and proceed with the rest of the instructions.

Make a well in the center of the mixture and add the cold buttermilk. Gently bring the wet and dry together until you have a fairly uniform, loose dough. The flour won't look all mixed in and that's okay. It will come together.

Dump the butter/dry ingredient mix out onto a lightly floured surface. Using your hands, gently bring it everything together into a rough square.

With a bench scraper or knife, cut into four smaller squares. Stack the pieces of biscuit dough on top of each other. Smush it all down into a square again. Repeat this cutting and stacking procedure 2 more times. 

Pat the dough into a rectangle at least ½ inch thick. Using your bench scraper or a knife, cut into square biscuits and place each piece on your parchment lined baking sheet. Place sheet pan in the freezer for 10-15 minutes before baking.

(If you're baking your biscuits in a cast iron pan, you'll want to freeze your biscuits on a sheet pan (or other stable surface like a cutting board. Don't freeze the cast iron! Icy cold cast iron pan = delayed cook time!)

Round biscuits: Using a biscuit or cookie cutter, cut out your biscuits. Do not twist the cutter when cutting them out! That will effectively seal the edges of the biscuits, keeping them from fully rising. Just press straight down and lift straight up. Gather your scraps as you go and gently re-form them together and cut as many biscuits as you can. Place in freezer as above.

Remove biscuits from the freezer. Brush the tops of the biscuits lightly with an egg wash and sprinkle with flaky salt, if desired.

Bake in a 450° oven for 15-18 minutes, or until golden brown.
Nutrition
Calories:
242
kcal
|
Carbohydrates:
26
g
|
Protein:
5
g
|
Fat:
13
g
|
Saturated Fat:
8
g
|
Polyunsaturated Fat:
1
g
|
Monounsaturated Fat:
3
g
|
Trans Fat:
1
g
|
Cholesterol:
56
mg
|
Sodium:
519
mg
|
Potassium:
76
mg
|
Fiber:
1
g
|
Sugar:
2
g
|
Vitamin A:
421
IU
|
Calcium:
126
mg
|
Iron:
2
mg
The nutritional and caloric information shown is an estimate provided by an online nutrition calculator. It does not assert or suggest that readers should or should not count calories, and should not be considered a substitute for a professional nutritionist's or doctor's counseling.