In this Blackberry Peach Cobbler, the sweetness of the peaches is perfectly balanced by the tartness of the blackberries and the whole thing is topped with a fluffy brown sugar biscuit topping.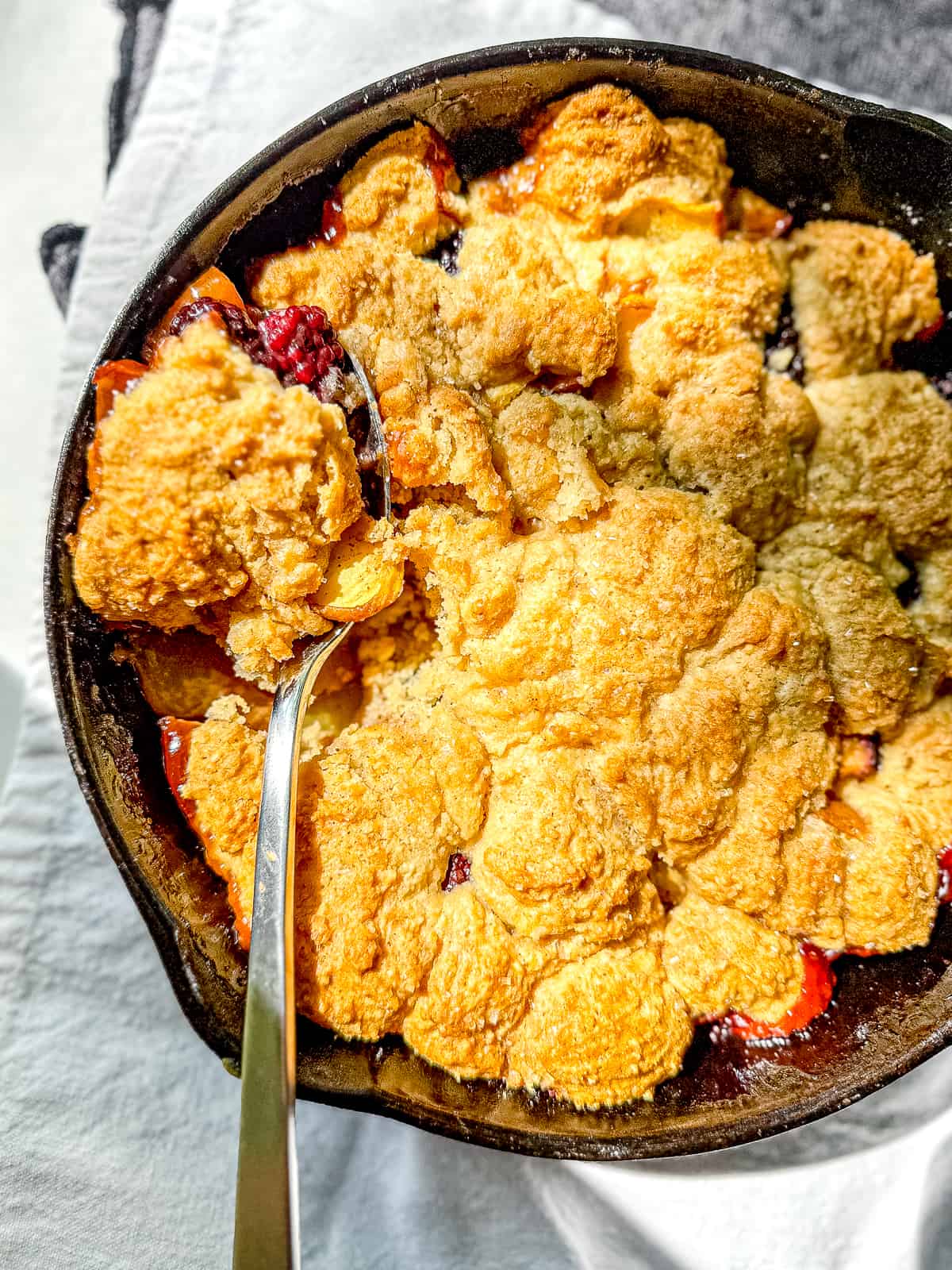 How to be a Southern food lover: Step 1 - dream about peaches all year. Step 2 - always think of ways to eat more biscuits. Step 3 - put biscuits on top of peaches and bake. Mission accomplished with this Blackberry Peach Cobbler topped with brown sugar biscuits!
I grew up in the South. Born in Georgia, raised in Texas, family in Mississippi. I have peaches and biscuits running through my veins. As much as I love peaches, I have never loved the cobblers that are made with that runny batter that somehow rises above the peaches. It's too soft and just doesn't have the rib stickiness of a cobbler that I'm looking for.
That's when I decided to develop this recipe for a peach cobbler with blackberries. Using all peaches, I find cobblers can be too sweet. So, rather than cut down the sugar, I'm a Southerner y'all, I added tart blackberries for balance. Then I took my regular biscuit recipe and added brown sugar, to bring it all home. It's kinda perfection you guys. For real.
Jump to:
❤️ Why you'll love this recipe
Balanced - The peach and blackberry filling has the perfect balance of sweet and tart. The blackberries bring a tartness to the peaches that keeps it from being a too-sweet dish. We only need 2 tablespoons of sugar in the filling and 2 tablespoons in the biscuit topping.
Easier than pie - Stir together the fruit, stir together the biscuit dough, top, and bake. So simple! No need to worry about rolling out dough or the dreaded "soggy bottom".
Can feed a crowd - As written, the recipe serves 8, but you can easily double this and bake it in a large baking dish to feed an army!
Can be made year round - By freezing your fresh Summer fruit, and I tell you how, you can make and enjoy this Blackberry Peach Cobbler any day of the year. You can even use store-bought frozen fruit. No need to thaw!
Ingredients
Get yourself some peaches and blackberries. It's cobbler time!
See recipe card below for quantities.
Substitutions
If you want Peach cobbler, we're gonna make this work!
Peaches - One of my daughters immediately asked if they could use nectarines and yes you can! A nectarine is missing the fuzzy gene. It also runs more towards tart than sweet and stays more firm when baking. I would add another tablespoon of brown sugar when using nectarines in this recipe, but otherwise it would be the same.
Frozen peaches - Out of season, you can definitely use frozen peaches, either store-bought or peaches you sliced and froze from the Summer. I'll tell you how to do that below.
Blackberries - If you don't like or don't have, blackberries you can replace them with the berry of your choice, blueberries and raspberries are great ideas, or leave them out for a full Peach Cobbler situation.
Brown sugar biscuits - If you prefer a more traditional biscuit topping, you can use my drop biscuit recipe and add 2 tablespoons of granulated sugar to the dry ingredients
Variations
Giving the visitor ideas on how they can change this recipe to better suit their dinner guests, or their cultural cuisine, is a great way to increase the chances they make the recipe
Crisp topping - A great twist on a cobbler topping is to change it out for a crisp topping. Try using the one in my Mixed Berry Crisp recipe.
Apple - I'm in the mood for an apple cobble all year round. Just change out the peaches and the blackberries for apples!
Blackberry - Go for an entire blackberry cobbler or a mixed berry situation!
Clingstone vs Freestone Peaches
The names might be a big giveaway, but there are generally two types of peaches, clingstone and freestone. Simply put, a clingstone has a pit that is holds tightly to the flesh of the peach. A freestone has a pit that easily removes, sometimes just falls out of a peach when cut in half.
Clingstone peaches are those that are available early in the season, mid-May through June. Mid-June through the end of August you are more likely to see freestone peaches. Although some people claim that clingstones are sweeter and juicier than freestone, but I haven't noticed the difference and they will both work great in your Blackberry Peach Cobbler.
Peach Selection Tips
For a great Blackberry Peach Cobbler you want the best peaches. You want them to be ripe, but not mushy. When you look at the peach, it should dark yellow, with orange and red areas, and not at all green. Gently squeeze the peach in the palm of your hand, not with your fingertips, as peaches bruise easily. The peach should give way just a bit, like an avocado.
If you plan to make this cobbler more than 3 to 4 days from when you are selecting your peaches, get them a bit harder and ripen them on the counter. If you need to ripen them even faster, place your peaches in a brown paper bag along with an apple or a banana. Both of these fruits release ethylene as they ripen, which will help ripen the peaches.
How to freeze peaches for a Winter cobbler
Freezing your own peaches is so easy and they're even better than store-bought frozen peaches. Here's how I do it:
Wash - Remove any surface dirt or contaminants by rinsing well with plain tap water and drying with a clean cloth or paper towel.
Slice, freestone - There is no need to peel your peaches and, as a matter of fact, when your peach slices thaw, the peel will probably just come right off. To slice a freestone peach, just run a knife all the way around the peach, stem area to bottom, twist, and remove the pit, and slice.
Slice, clingstone - Slice around the peach as above, and make slices all around the outside of the peach by using a paring knife to cut each slice away from the pit (see photos below in instructions).
Soak - To prevent peach slices from turning brown, soak them for 5 minutes in acidulated water consisting of 4 cups of water and the juice of one lemon (about 2 to 3 tablespoons).
Drain - Remove the peaches to a paper towel lined baking sheet to remove excess water. Don't forget to pat them dry on top as well.
Freeze - Replace the paper towel with parchment paper and lay the peaches in a single layer. Freeze until solid, about 4 to 6 hours, up to overnight.
Store - Transfer to a labeled freezer bag, using a straw to suck out excess air. You can also store portions in vacuum sealable bags once frozen. These can be stored in the freezer for up to 6 months.
How to slice a peach
Depending on where you are in peach season, you might get a clingstone, or a peach with a stubborn pit, or a freestone, a peach that has a pit that comes out easily. Here's how to slice both varieties.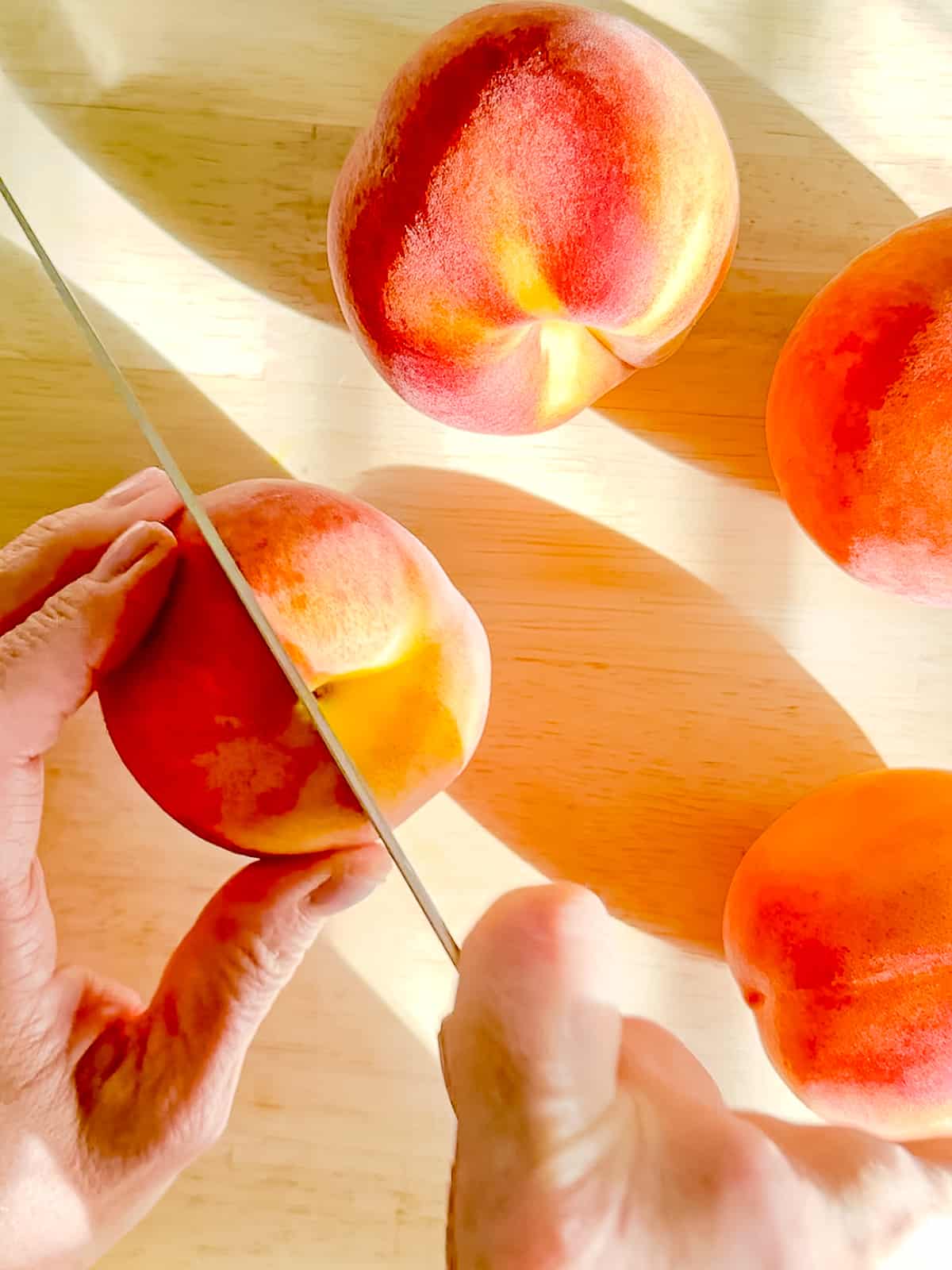 1. Slice your peach, starting at the stem end and working your way all the way back around.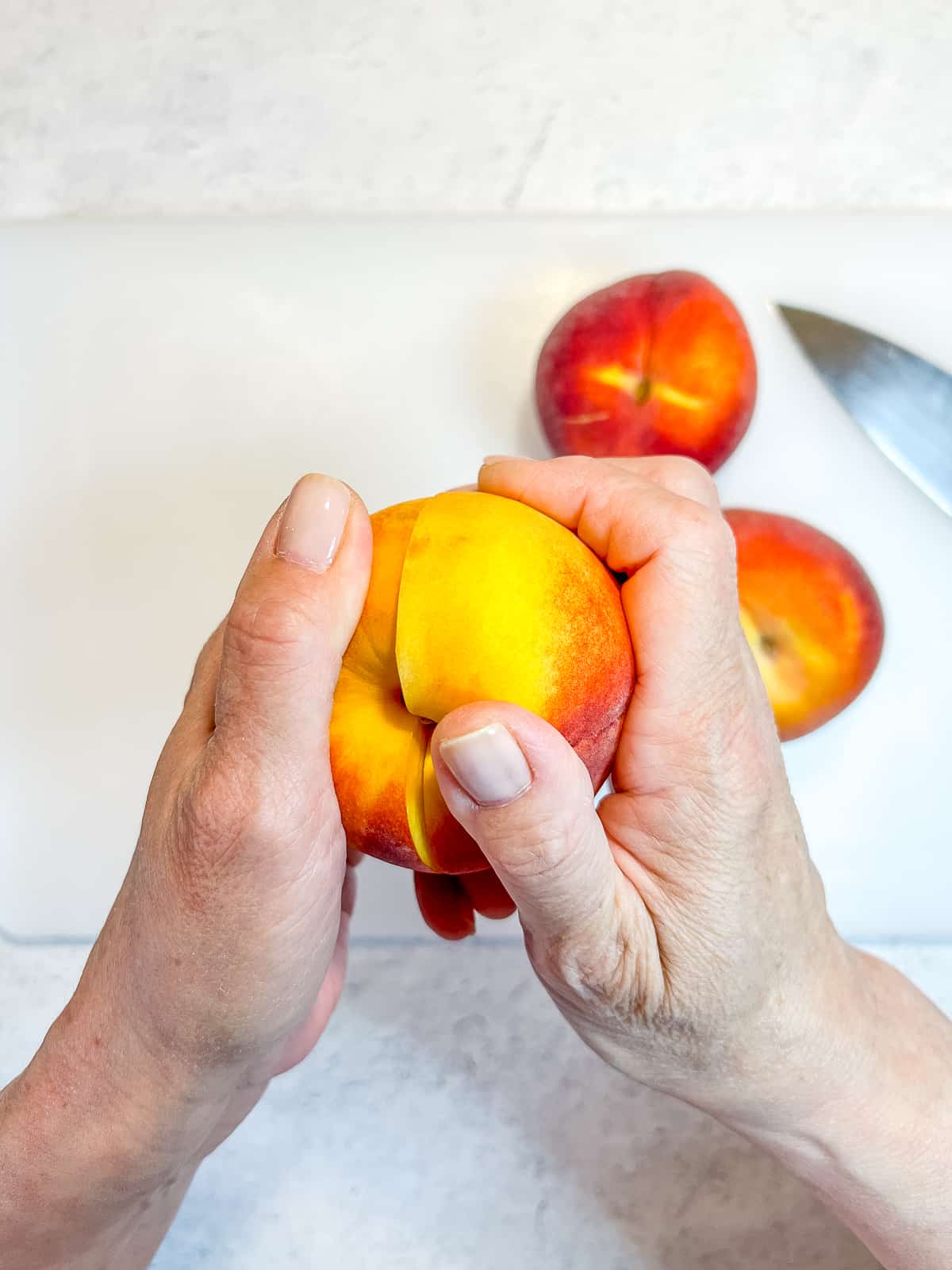 2. Try to twist your peach, to see if the pit will easily detach. If it does, simply remove the pit and slice into pieces about ¼ inch thick.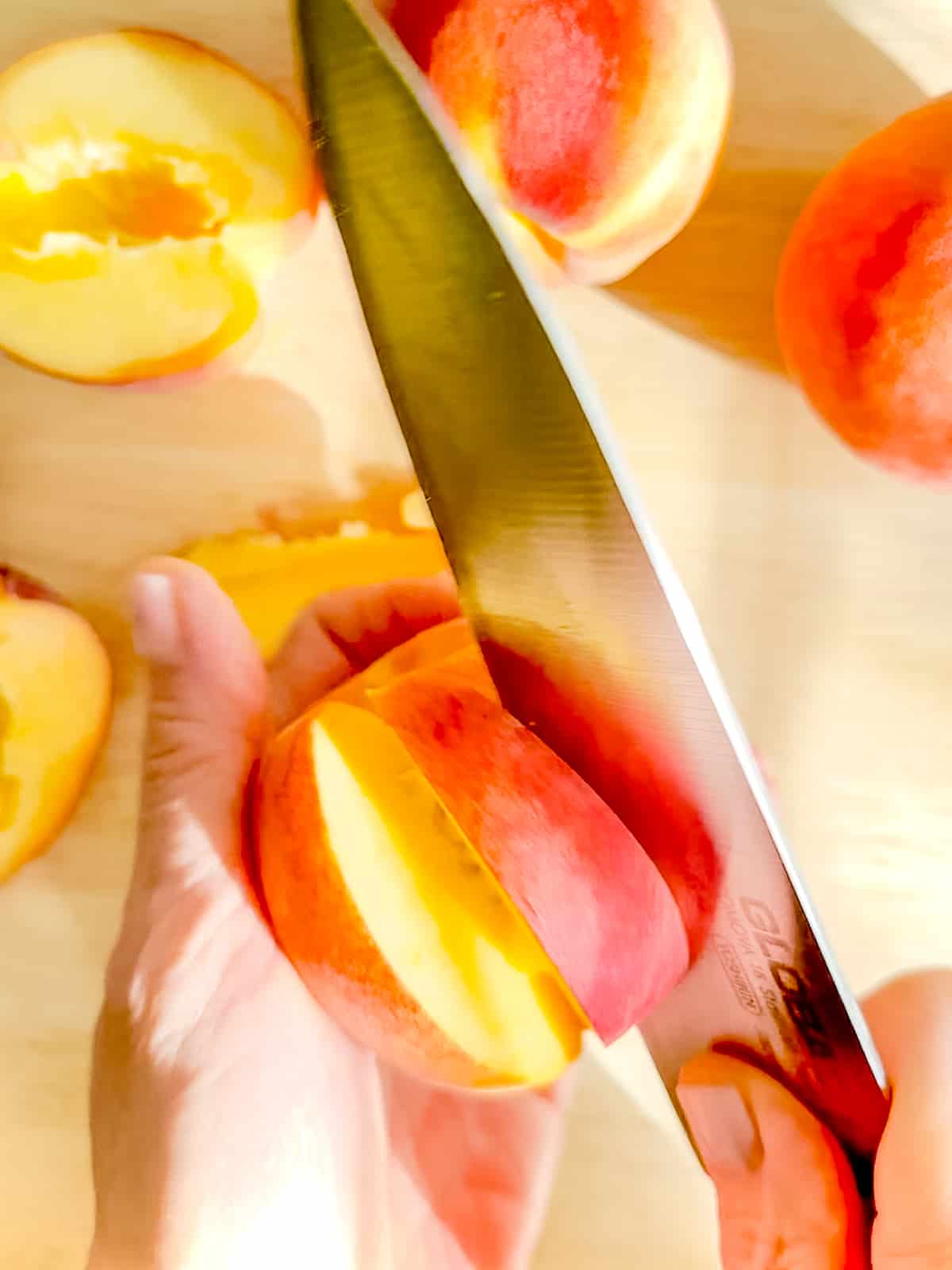 3. If you peach does not easily twist apart, you have a clingstone peach, Simple use a knife to make slices up against the pit and use pull slices away from it.
4. Congratulations! You have successfully sliced your peaches!
Instructions
Making a biscuit topped cobbler is so simple, you'll want to cobble everything, all the time. We start by making our simple biscuit topping, then we dress our peaches and assemble. You'll be tucking in in no time!
1. Start by placing your blackberries in the freezer to harden (I have you freeze your blackberries for a bit so they don't fall apart during assembly or baking, but you don't have to). Preheat your oven to 375°F. Butter the inside of a 10 inch cast iron skillet or another 2 quart pan, like a square baking pan, or 9 inch cake pan.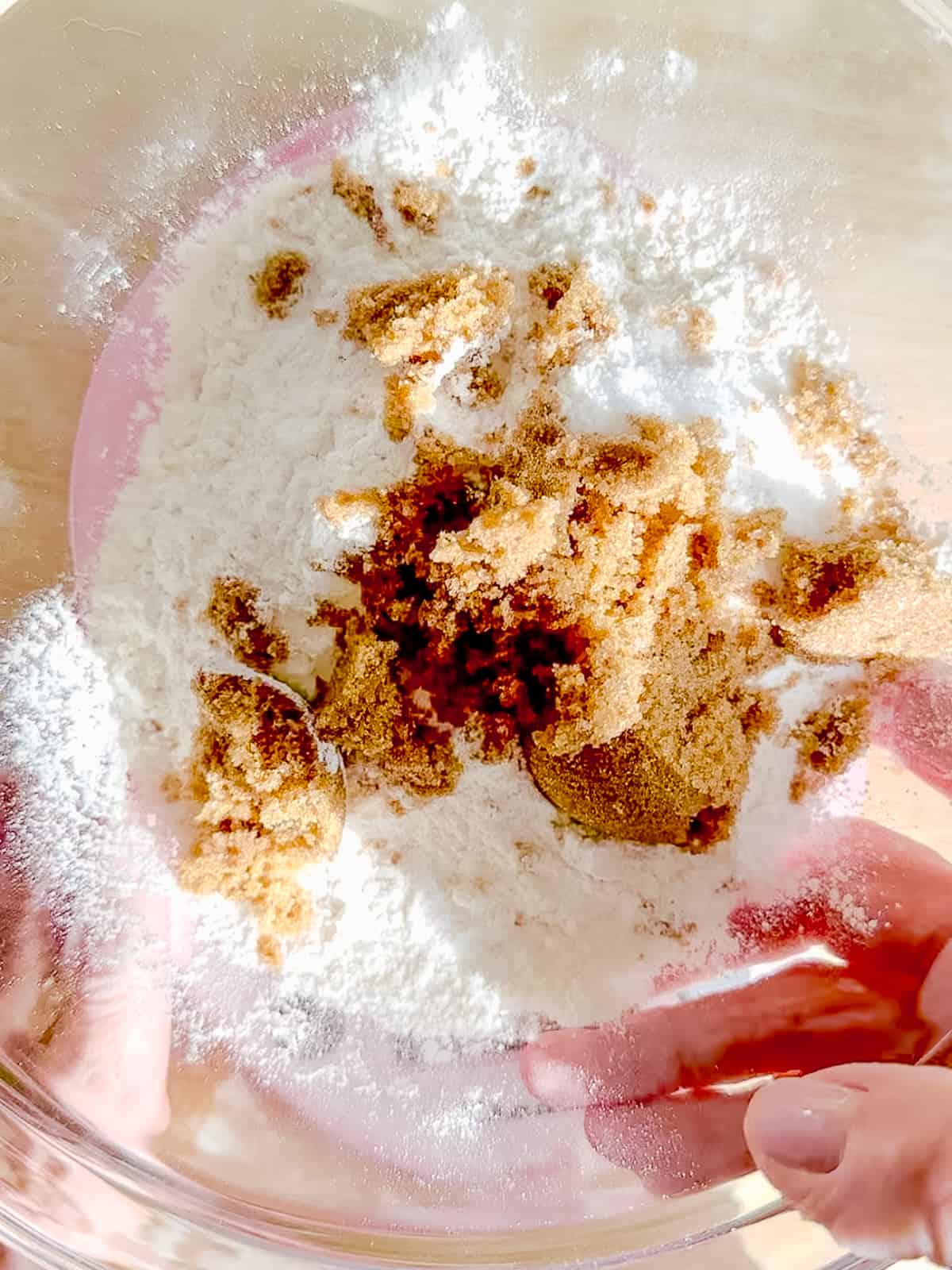 2. Mix all of your biscuit dry ingredients together in a medium bowl.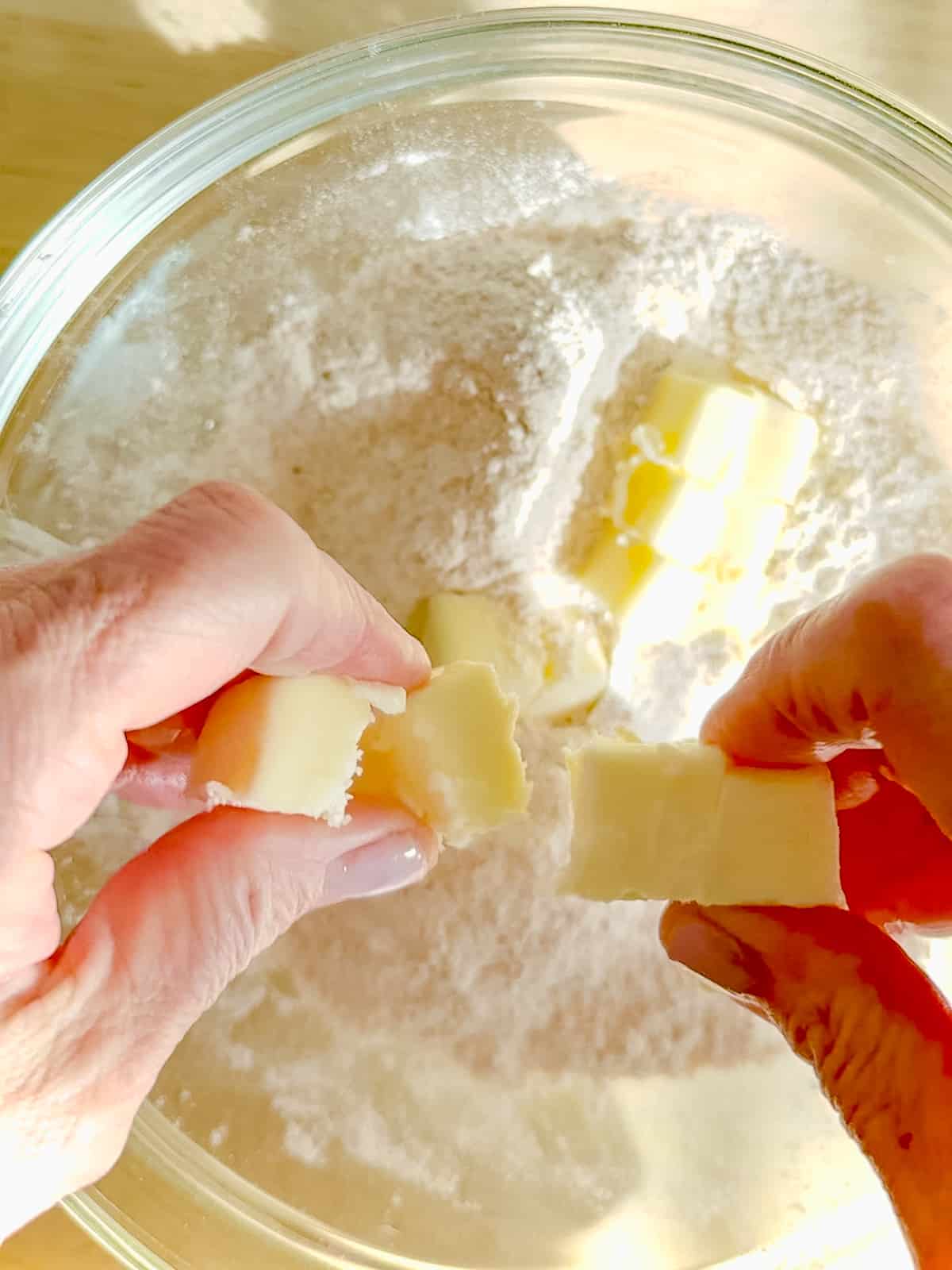 3. Add cold cubed butter.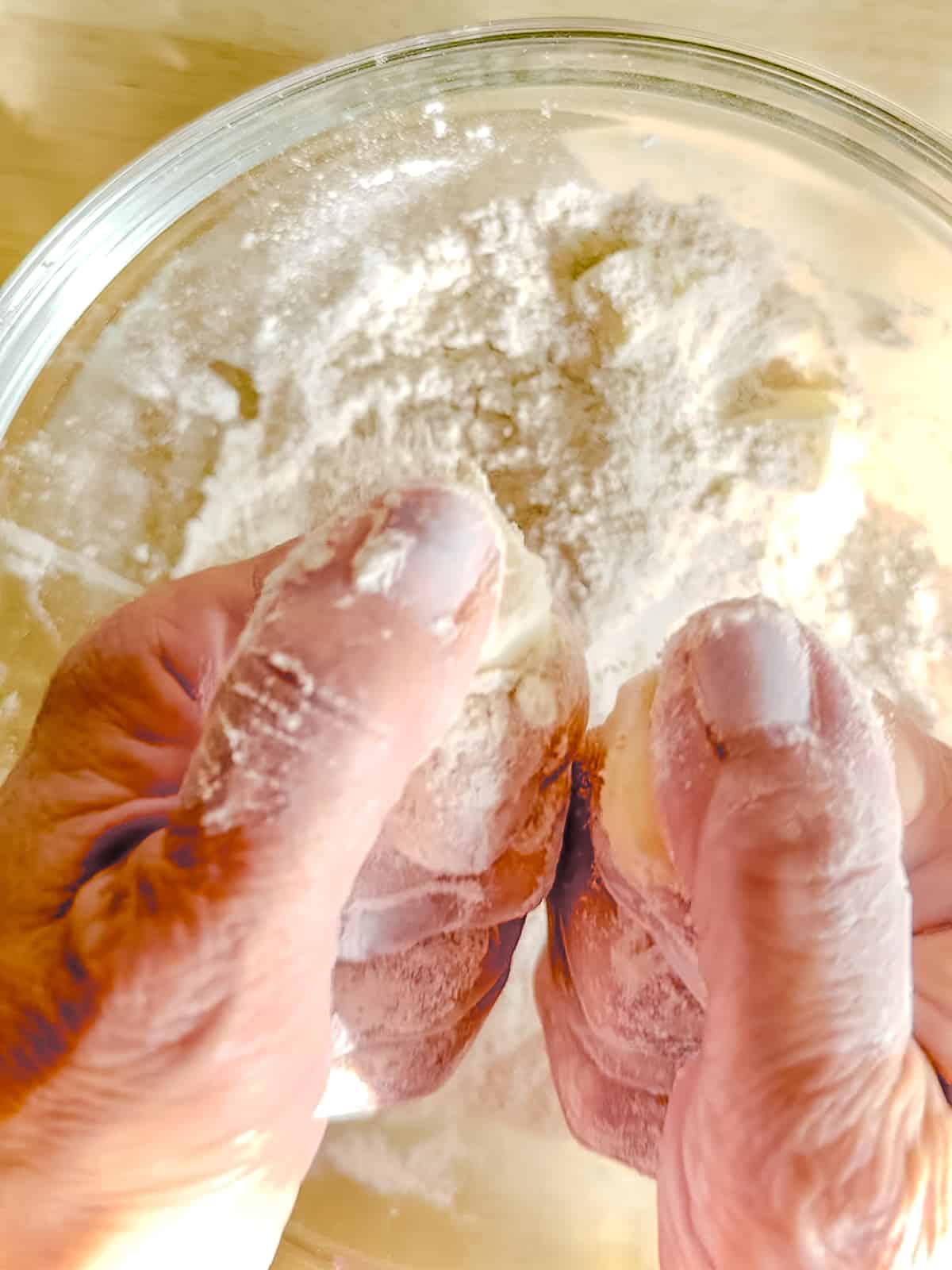 4. Use a finger snapping motion to cut the butter into the dry ingredients.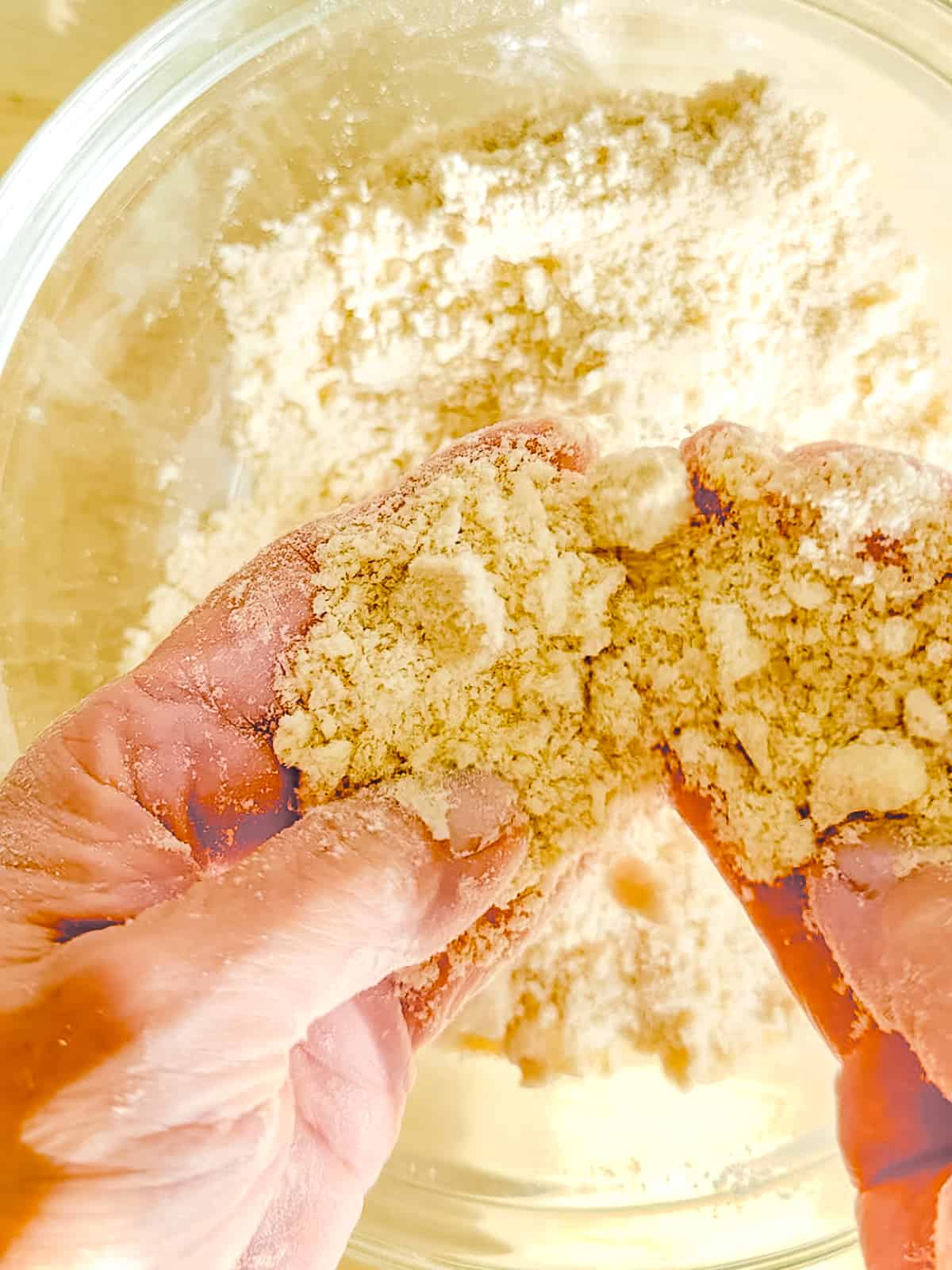 5. You should be left with a moistened cornmeal texture with some larger pieces of butter.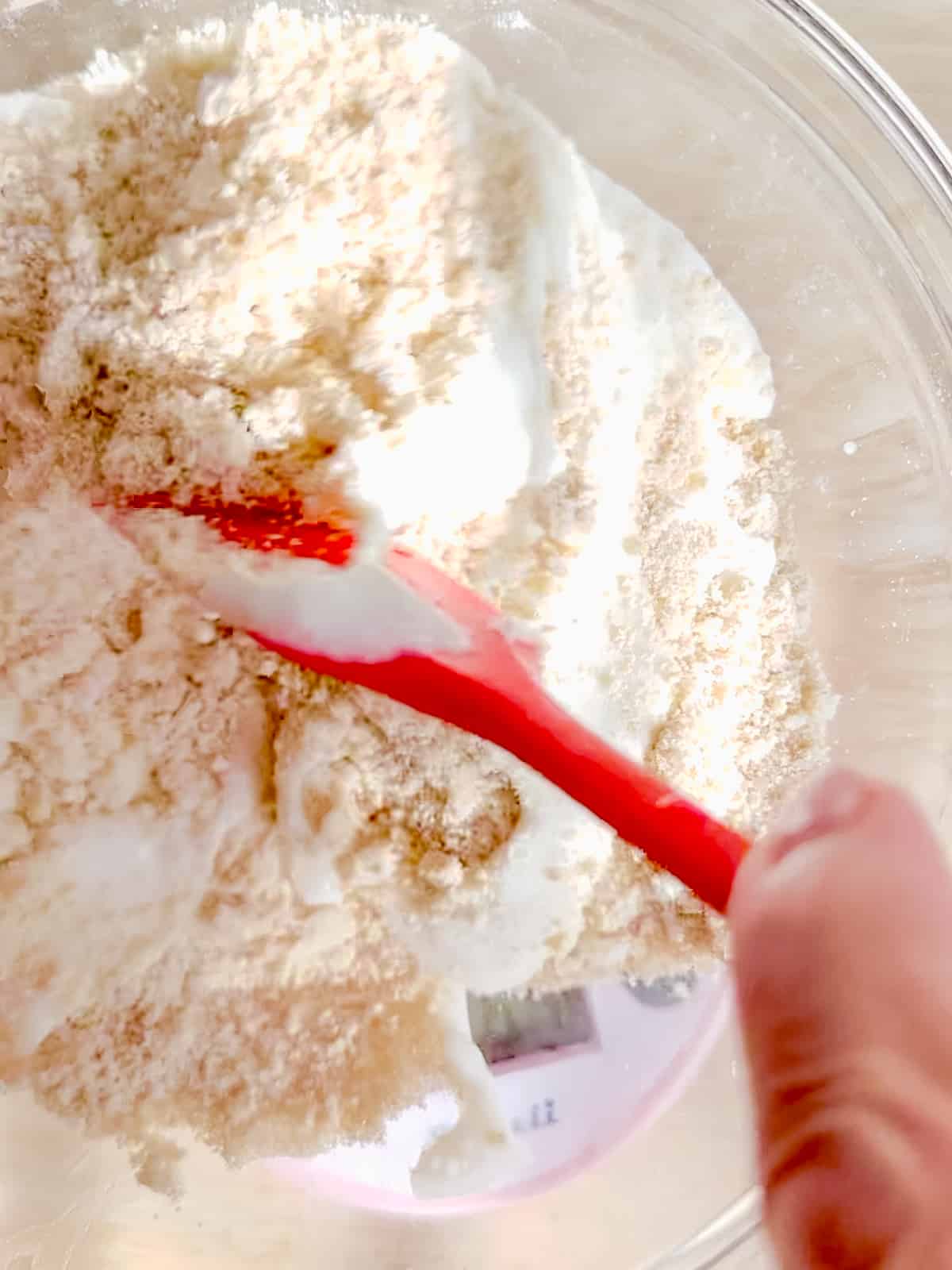 6. Add in your cold buttermilk.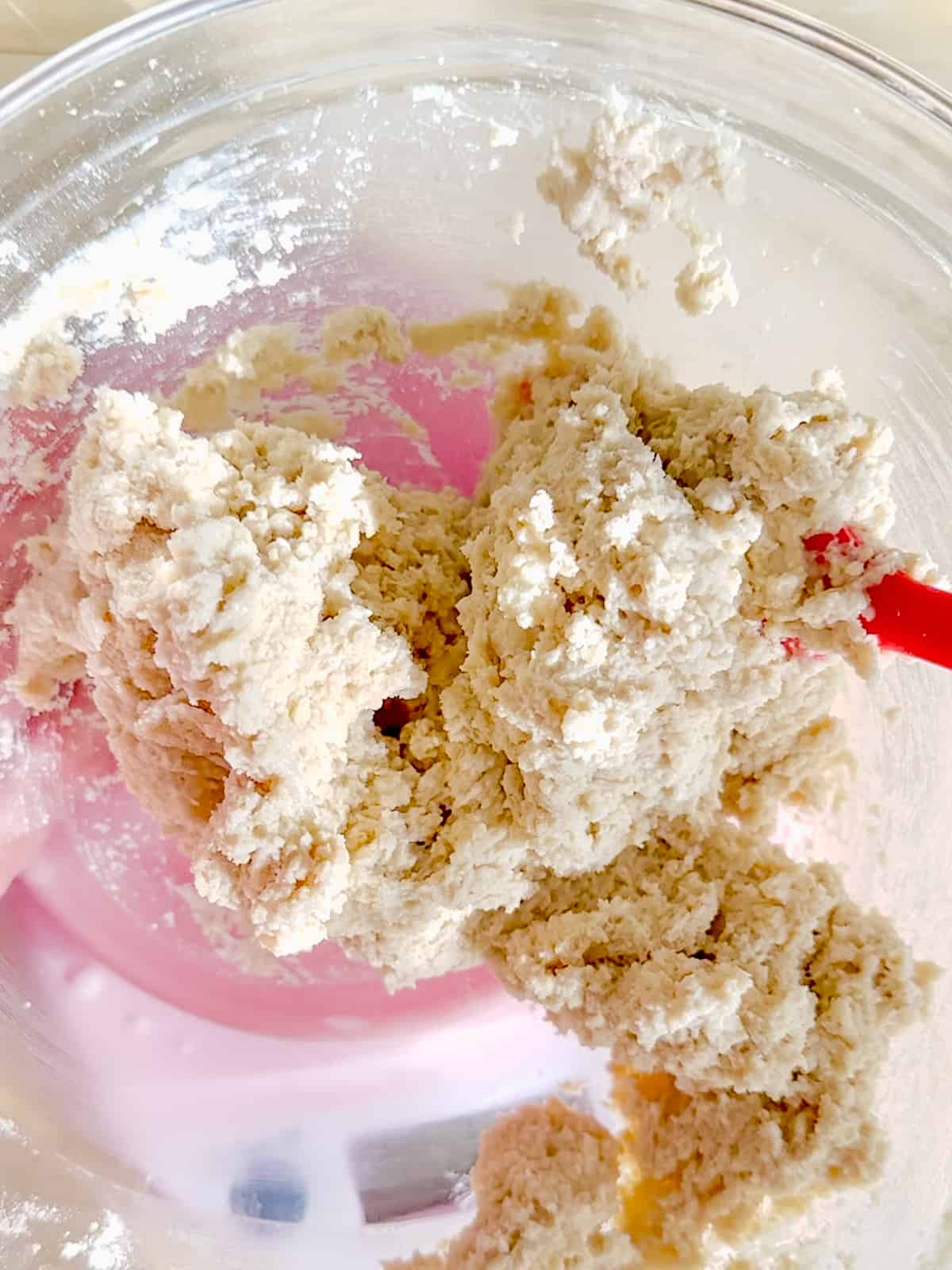 7. Mix until you have a slightly sticky dough.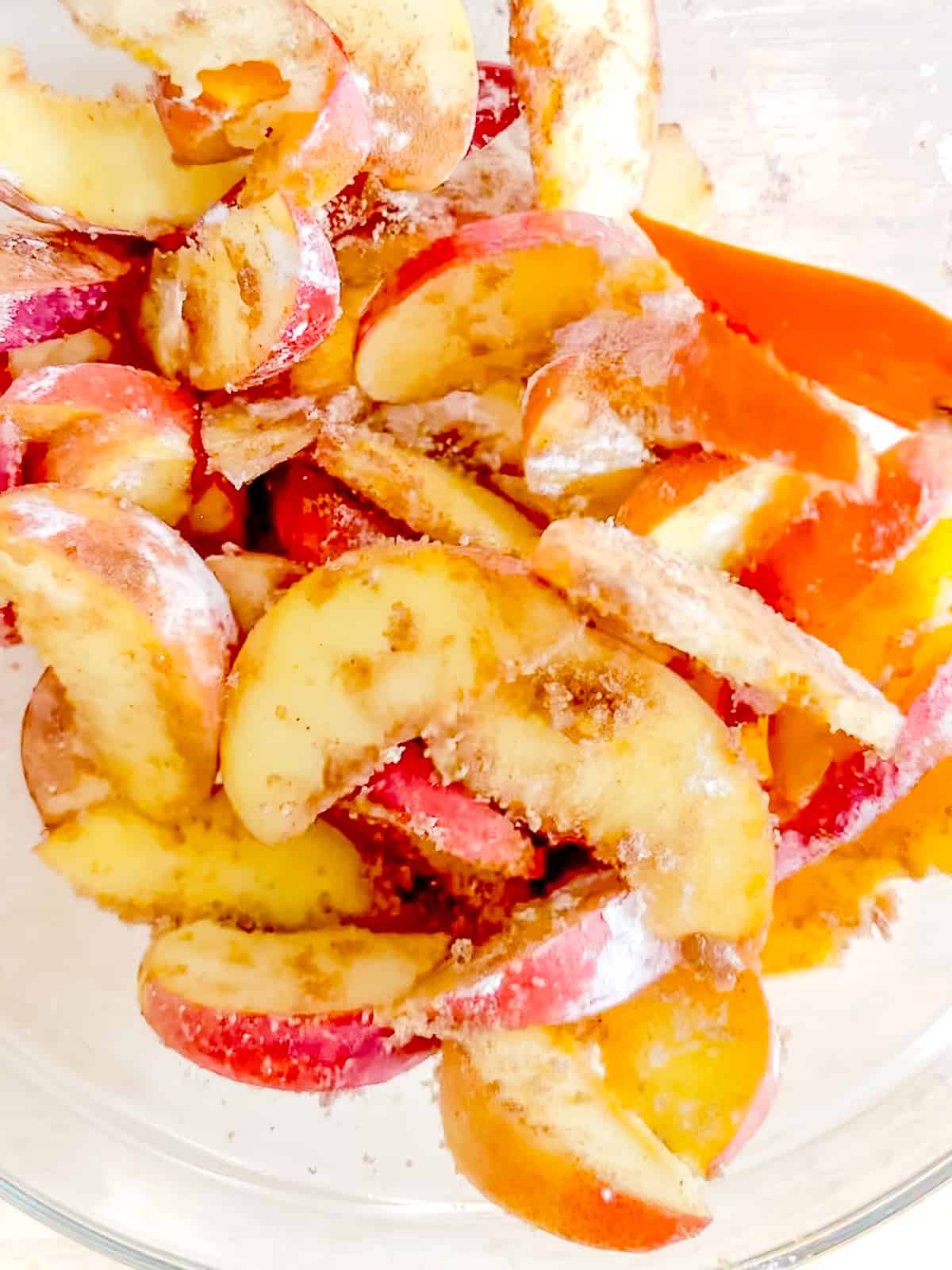 8. In a large bowl, toss your peaches with sugar, cornstarch, lemon juice, and spices.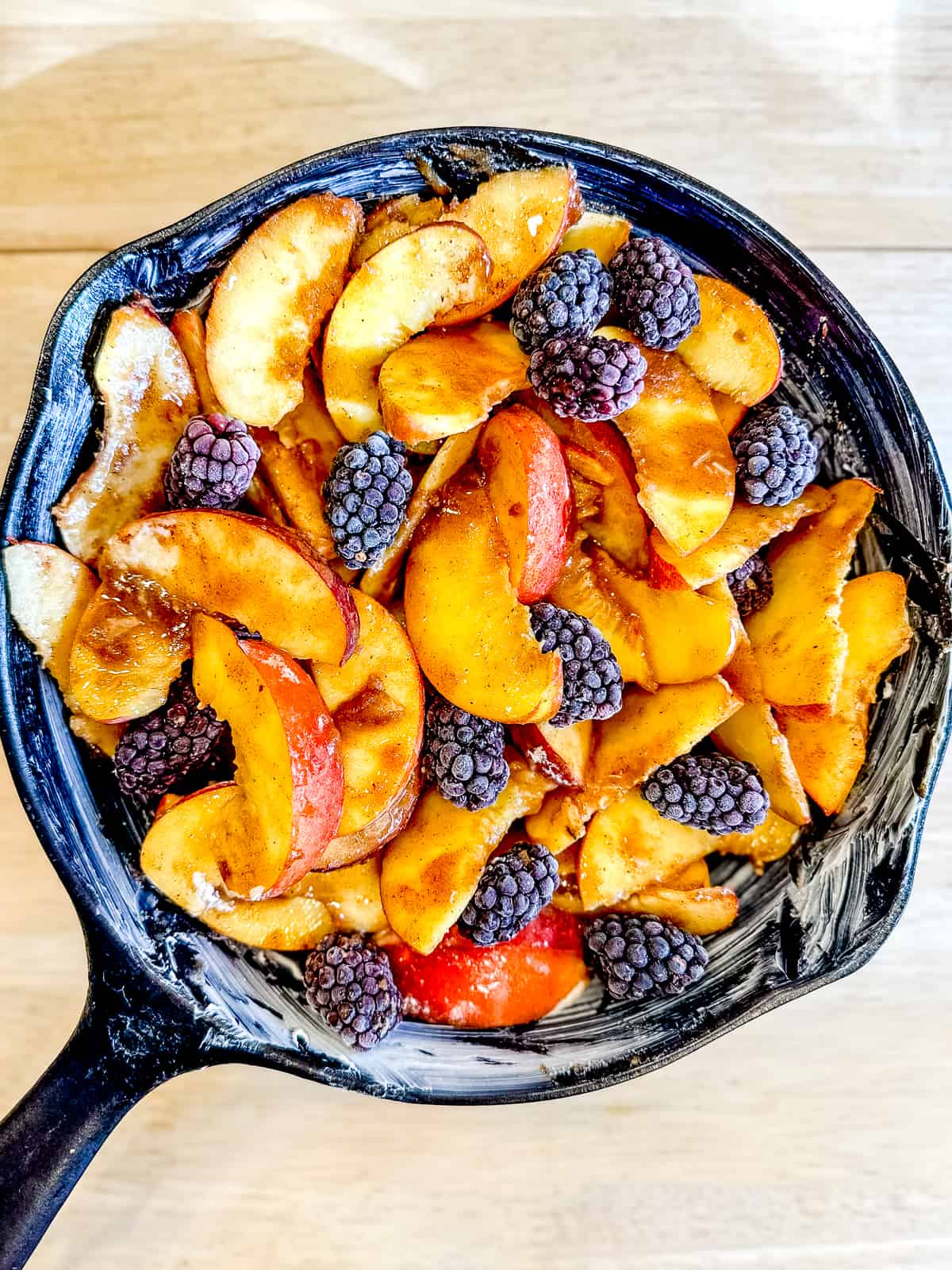 9. Transfer your peaches into your baking dish and dot all over with your frozen blackberries.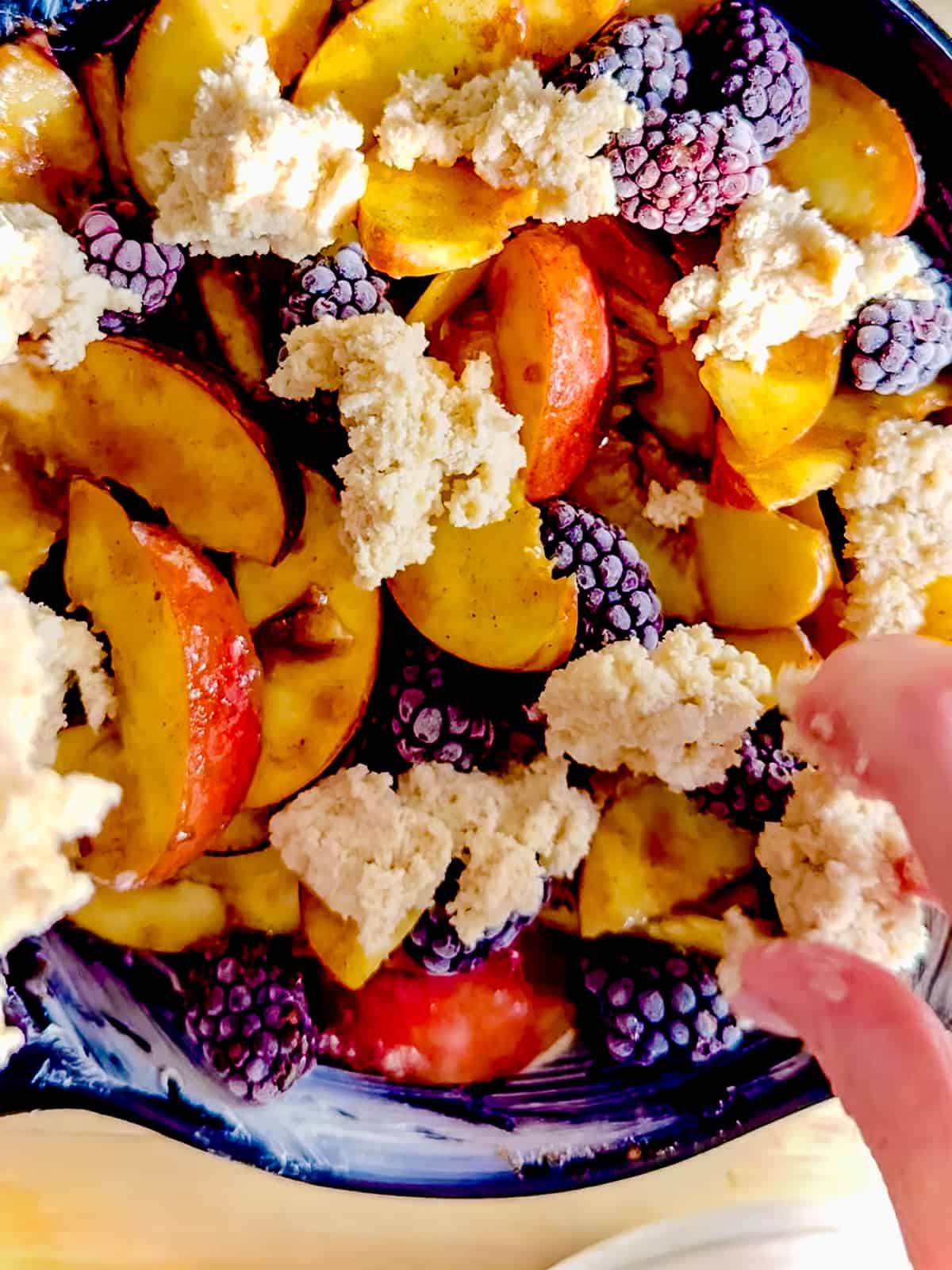 10. Using your fingers, dollop the top of your fruit with pieces of your brown sugar biscuit dough, leaving some areas open for fruit to peek out.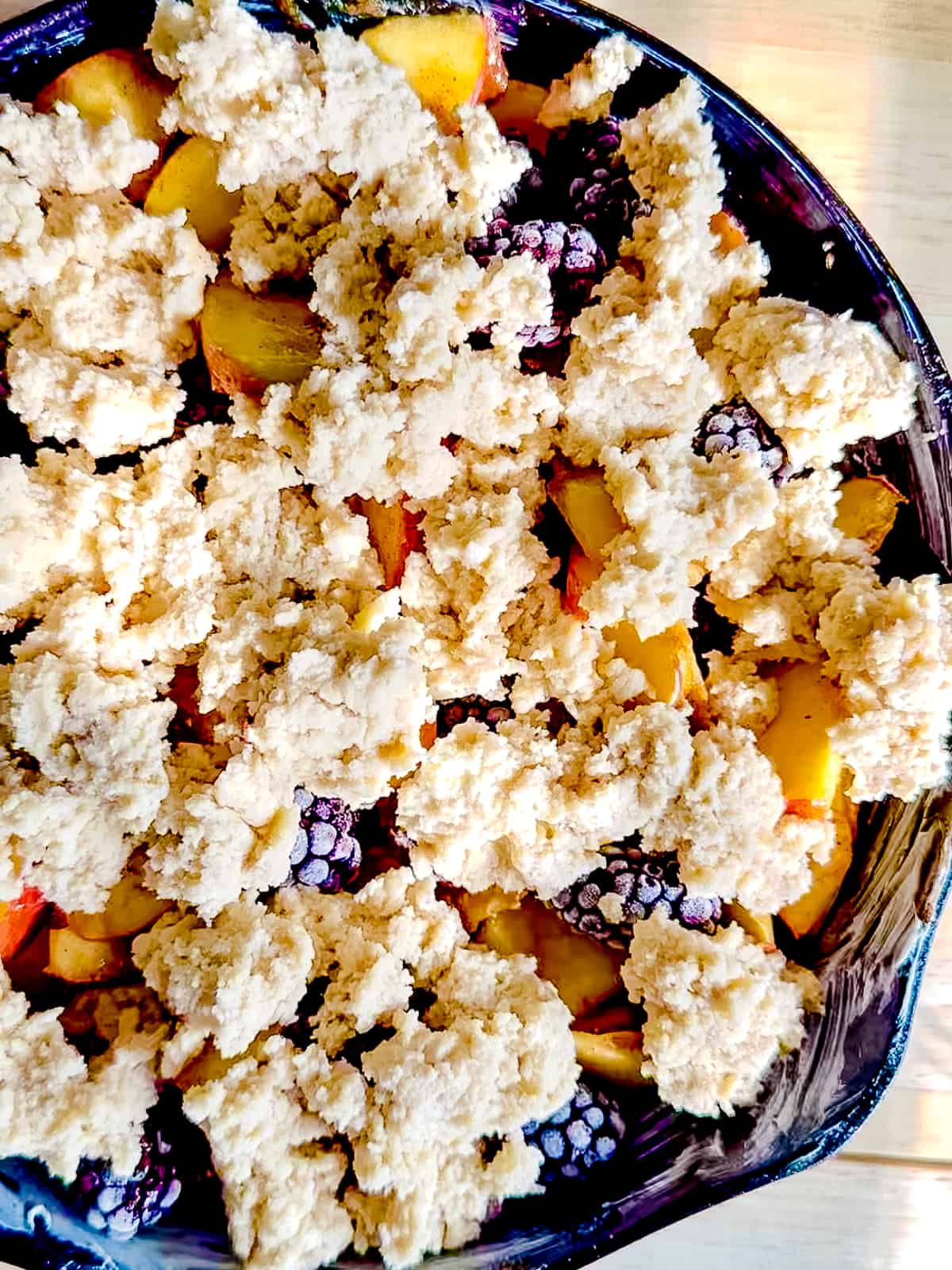 11. Brush the tops of your biscuit dough with an egg wash made of 1 egg whisked with 1 tablespoon of water then sprinkle with coarse or granulated sugar.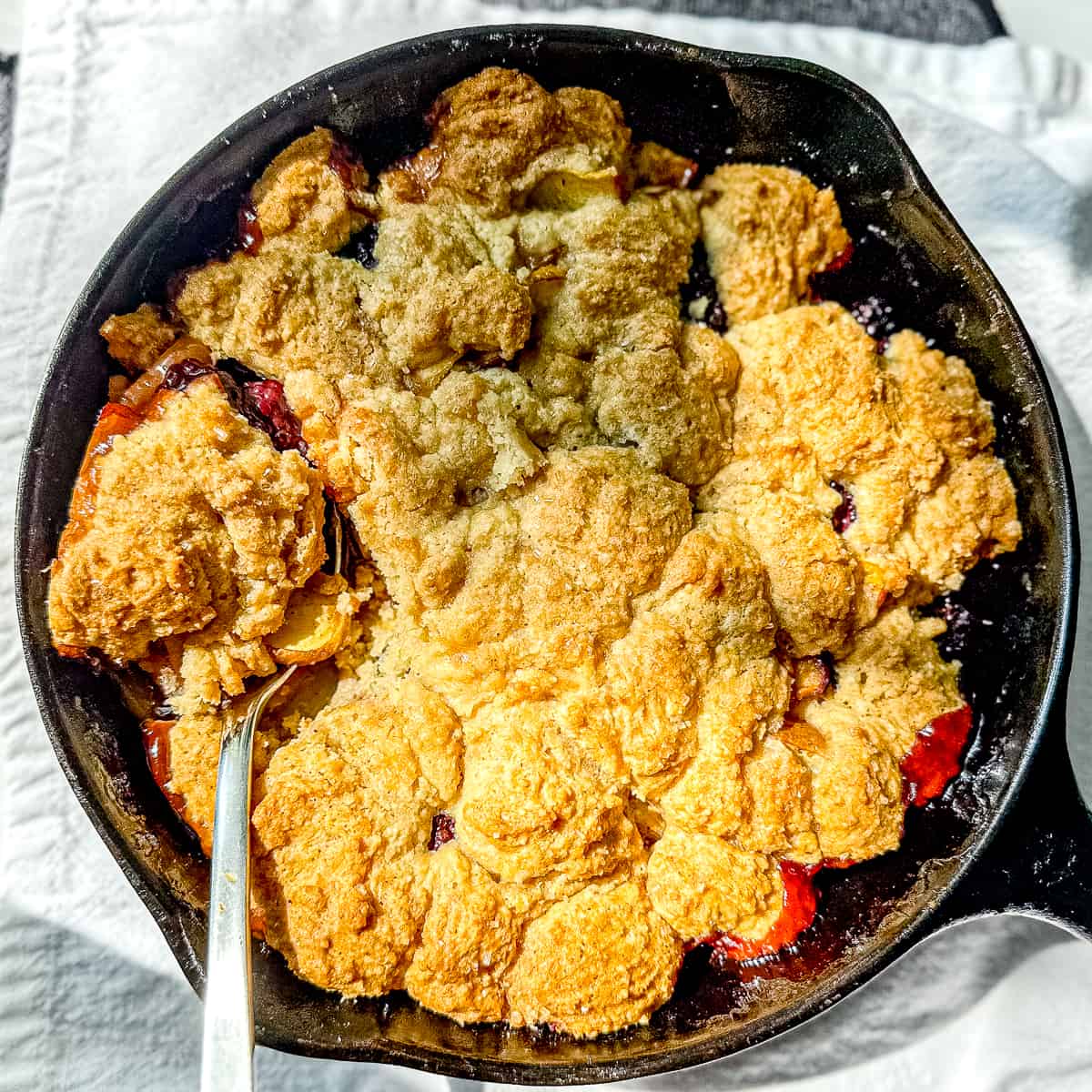 12. Bake at 375°F for 40 to 50 minutes, or until the biscuit topping is golden brown and the filling is bubbling around the edges. Let cool at least 10 minutes before serving.
Recipe FAQ's
Can I use canned peaches in my cobbler?
Although it can be done, I find that cobblers made with canned peaches come out too mushy. If peaches aren't in season, frozen peaches are the better option, and you don't even have to thaw them before using.
Can I used canned biscuits on my cobbler?
Yes you can. After you add your fruit to the baking dish, open you can of biscuits. You can place whole biscuits, or cut them into pieces for a more "cobblestone" appearance. Brush with egg wash and sprinkle with sugar and bake as directed in the recipe.
Do I need to cook the peaches before adding the biscuit topping?
No, you don't need to. Because we are slicing the peaches fairly thin, they will be fully cooked, but have a little bit of a bite to them. If you really prefer a softer filling, you can bake the filling alone for 15 minutes, then add the cobbler topping and bake as directed in the recipe.
Should I cover the cobbler when baking to make sure the peaches cook?
You shouldn't cover your cobbler when baking. Doing so will cause the cobbler to steam, making the filling too loose and the biscuits soggy and unappetizing.
How do I know my cobbler is ready?
The cobbler is ready when the biscuits are golden brown and fluffy and the fruit is bubbling on the edges and between the biscuits. If you are unsure, a thermometer inserted in the center of your cobbler should read 200°F.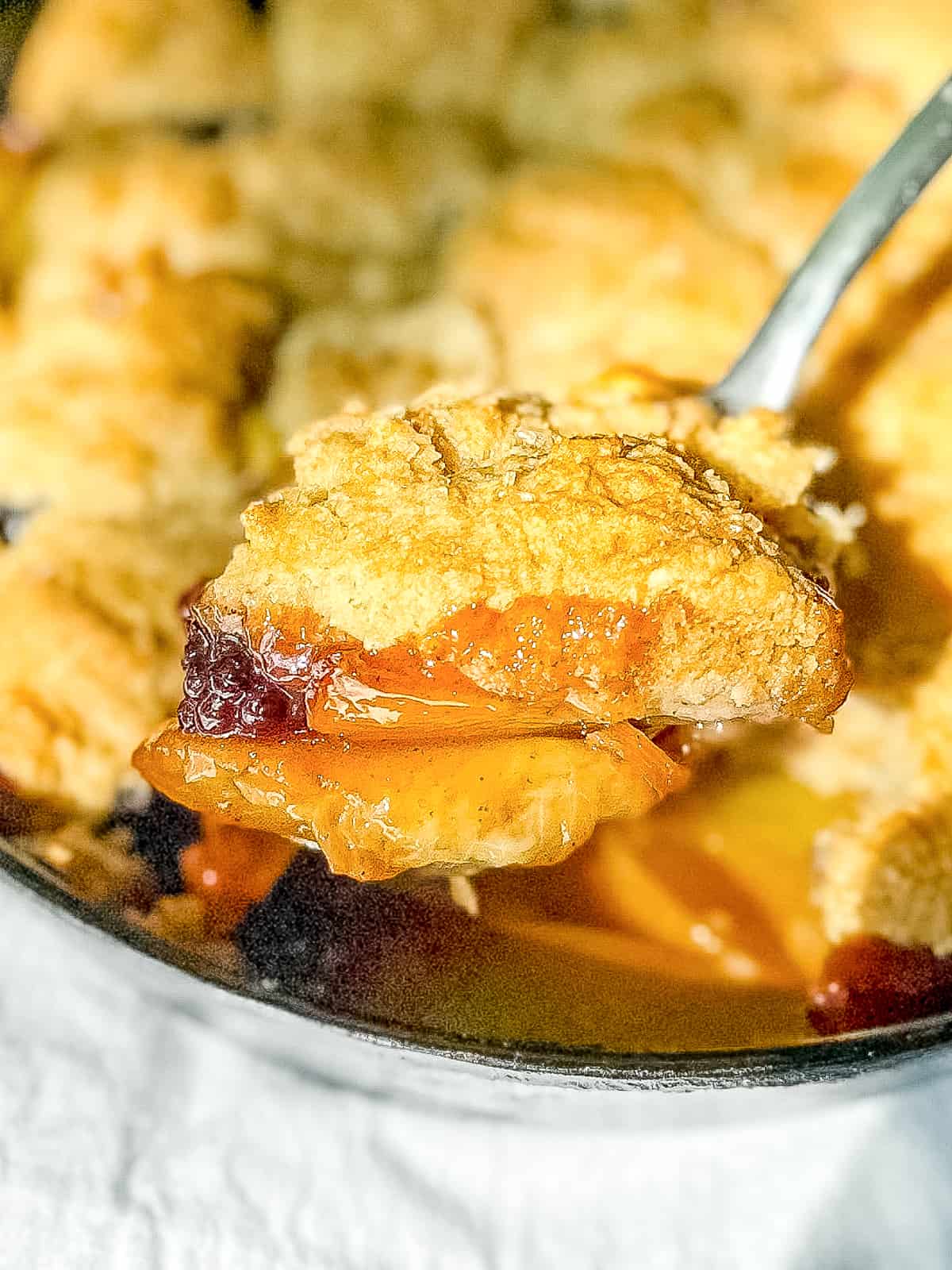 Storage and Reheating
Storage
Store leftover cobbler, if you have any, either covered with plastic wrap or in an airtight container in the refrigerator for up to 3 days. I don't recommend freezing as the biscuits will become too soggy when thawed and reheated.
Reheating
Reheat the entire pan of cobbler in a 350°F oven for about 20 to 30 minutes, or until hot. Individual servings can be reheated in oven safe dishes at 350°F for 10 to 15 minutes.
Did you try this recipe? Tell me all about it!
Leave a ⭐️ review and comment below!
Take a pic and tag @butfirst_webrunch on Instagram!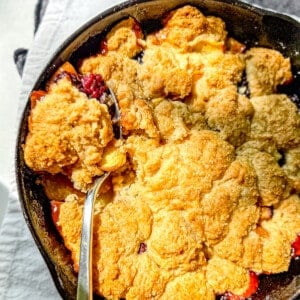 Blackberry Peach Cobbler
In this Blackberry Peach Cobbler, the tartness of the blackberries is perfectly balanced by the sweetness of the peaches and the whole thing is topped with a fluffy brown sugar biscuit topping.
Ingredients
Blackberry Peach Cobbler Filling
4

peaches

cut into ¼ inch slices

2

tablespoons

brown sugar

light or dark

1

tablespoon

cornstarch

1

teaspoon

vanilla

½

teaspoon

ground cinnamon

⅛

teaspoon

ground nutmeg

⅛

teaspoon

ground ginger

⅛

teaspoon

kosher salt

1

tablespoon

lemon juice

1

cup

blackberries
Brown Sugar Biscuit Topping
2

cups

all-purpose flour

2

tablespoons

brown sugar

1

tablespoon

baking powder

¼

teaspoon

baking soda

1

teaspoon

salt

8

tablespoon

unsalted butter

very cold and cut into small cubes

¾

cup

buttermilk

very cold

1

large

egg

whisked with 1 tbs water, for egg wash

1

tablespoon

coarse sugar

or granulated sugar
Instructions
Preheat oven to 375°F. Butter the inside of a 10 inch cast iron pan or a 2 quart baking pan, such as a 9 inch square pan. Place 1 cup of fresh blackberries on a small sheet pan and place into the freezer.
Make the biscuit topping
Place flour, brown sugar, baking powder, baking soda, and salt into the bowl of a fodd processor. Pulse to comnbine. Add in cubed cold butter and pulse 4 to 5 times, until the butter is about the size of peas.

Pour cold buttermilk through the opening on top and pulse just until the dough comes together. Dump the dough into a bowl, knead to incorporate any dry bits and place in the refrigerator while you prepare your fruit.
Mix fruit filling
Peel peaches if desired. I prefer to leave the skins. Remove pit from peaches and slice in ¼ inch slices. Add to a large bowl.

Sprinkle over top of the fruit with brown sugar, cornstarch, vanilla. cinnamon, nutmeg, ginger, and kosher salt. Add lemon juice and toss to combine. Add frozen blackberries and gently fold in.
Assemble the cobbler
Place fruit in the bottom of the prepared baking dish. Take handfuls of dough and place all over the top of the blackberry peach filling. Just pinch of pieces of dough and dot to cover most of the fruit.

Brush the top of the biscuit dough with egg wash, then sprinkle with coarse or granulated sugar, if using.

Bake for 40-50 minutes, or until the biscuit topping is golden brown and peach filling is bubbling around the edges. To test for doneness, stick a toothpick into the biscuit topping and if it comes out clean, it's done.

Remove cobbler from the oven, and set the pan on a wire rack. Cool for 10 minutes before serving. Serve warm with sweetened whipped yogurt for breakfast or vanilla ice cream for dessert.
Nutrition
Calories:
306
kcal
|
Carbohydrates:
42
g
|
Protein:
6
g
|
Fat:
13
g
|
Saturated Fat:
8
g
|
Polyunsaturated Fat:
1
g
|
Monounsaturated Fat:
3
g
|
Trans Fat:
0.5
g
|
Cholesterol:
56
mg
|
Sodium:
567
mg
|
Potassium:
209
mg
|
Fiber:
3
g
|
Sugar:
14
g
|
Vitamin A:
704
IU
|
Vitamin C:
8
mg
|
Calcium:
140
mg
|
Iron:
2
mg
The nutritional and caloric information shown is an estimate provided by an online nutrition calculator. It does not assert or suggest that readers should or should not count calories, and should not be considered a substitute for a professional nutritionist's or doctor's counseling.