My Fluffy Drop Biscuits are made with melted butter and super cold buttermilk for a light and airy biscuit - no need to cut in cold butter. The result is a light and fluffy biscuit like no other!
These Drop Biscuits are a close cousin to my Buttermilk Biscuits, but using melted butter, they are practically foolproof. If you can melt butter and stir with a spoon, you are more than halfway to fluffy biscuits.
Drop biscuits got their name because, after mixing, they require nothing more than to be dropped in mounds on a pan and baked. My recipe is unique in that I took all of the hands-on work out of the process.
In this recipe I have you melt some butter, chill some buttermilk, and mix the two together. Like magic, the butter hits the cold buttermilk and clumps up, making butter bits that you mix right into the dough! The result is fluffy, airy biscuits with tons of butter flavor that pair perfectly with sausage gravy. I ain't mad at that!
Jump to:
Ingredients
If you do any type of baking, this drop biscuit recipe uses ingredients that are probably pantry staples in your kitchen. If you're not normally a baker, you will be after this, so stock up!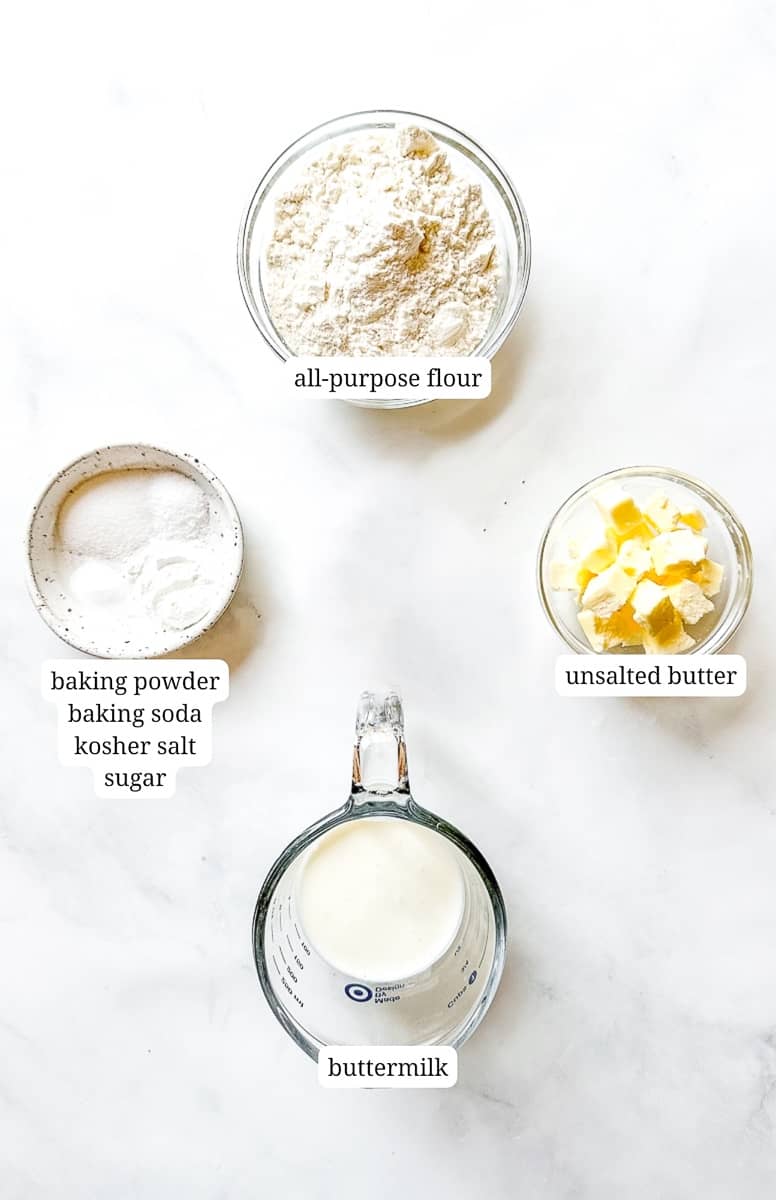 See recipe card for quantities.
Substitutions
My goal is to make it easy for you to make my recipes. If you are missing something to make my drop biscuits, I've probably already thought of it.
Buttermilk - I get it. Not everyone has buttermilk in their refrigerator. If you don't have access to buttermilk you can make your own substitute. For the 1 cup of buttermilk needed in this recipe, place 1 tablespoon of lemon juice or vinegar into a measuring cup. Add enough whole milk to add up to 1 cup or 240 grams. Stir and let stand for 5 minutes, or until it looks thick and curdled.
Buttermilk (continued) - Alternatively, you can replace the buttermilk with either plain or Greek yogurt or kefir. Because of the thickness of yogurt, you'll need to thin it to properly hydrate the flour. To do this, replace 1 cup of buttermilk with ¾ cup of yogurt and ¼ cup of milk or water. The amount of kefir remains the same at 1 cup.
Buttermilk (one last thing) - Sometimes my Grandma Olga Mae just used milk. Nowadays, some people prefer to use milk alternatives. Both will work. I just happen to think that a liquid with a bit of acidity, like buttermilk or yogurt, adds a distinctive flavor to biscuits that I otherwise miss.
Melted Butter - These drop biscuits will work just as well with melted margarine or shortening. Olga Mae was even known to use lard or bacon fat in her biscuits from time to time and they were darn good!
Why use melted butter?
Most biscuits, even my sweet biscuits, require that you cut cold butter into the dry ingredients either with your hands, some sort of pastry cutter, or a food processor, until the butter is in pieces about the size of peas. When your biscuits encounter the heat of the oven, those pieces of butter release their water portion as steam and that steam causes the biscuits to separate into layers.
Sometimes hand mobility issues can make cutting butter into dry ingredients, rolling out dough, even cutting out biscuits, difficult. Whether those issues are due to injury, disability, age, or any other reason, nothing should stop you from making and devouring delicious biscuits.
This drop biscuit recipe skips the butter cutting step that can be difficult for some. By adding cooled melted butter to super cold buttermilk, the butter coagulates into smaller, semi-solid pieces that will still evaporate into steam in the hot oven. The pieces aren't big enough to give you distinct flaky layers, but they will give you nice tall, fluffy biscuits that everyone will love.
Variations
Drop Biscuits are just the beginning. Like any base recipe, what you do with them from there is limited only to your imagination. I'll start:
Spicy - add a diced jalapeño and some shredded cheddar for a drop biscuit version of my Jalapeño Cheddar Biscuits.
Cheddar Bay Biscuits - add shredded cheddar cheese and ½ teaspoon of garlic powder to the dry ingredients. After baking, brush with melted butter mixed with a little more garlic powder and parsley mixed in.
Use as a topping - use these drop biscuits as a topping for pot pies or for sweet fruit cobblers.
No variation - I gotta say, my favorite way to eat a biscuit is to split it open, schmear a little butter on there, and nestle a piece of ham in to warm up from the heat of the biscuit. Slam dunk!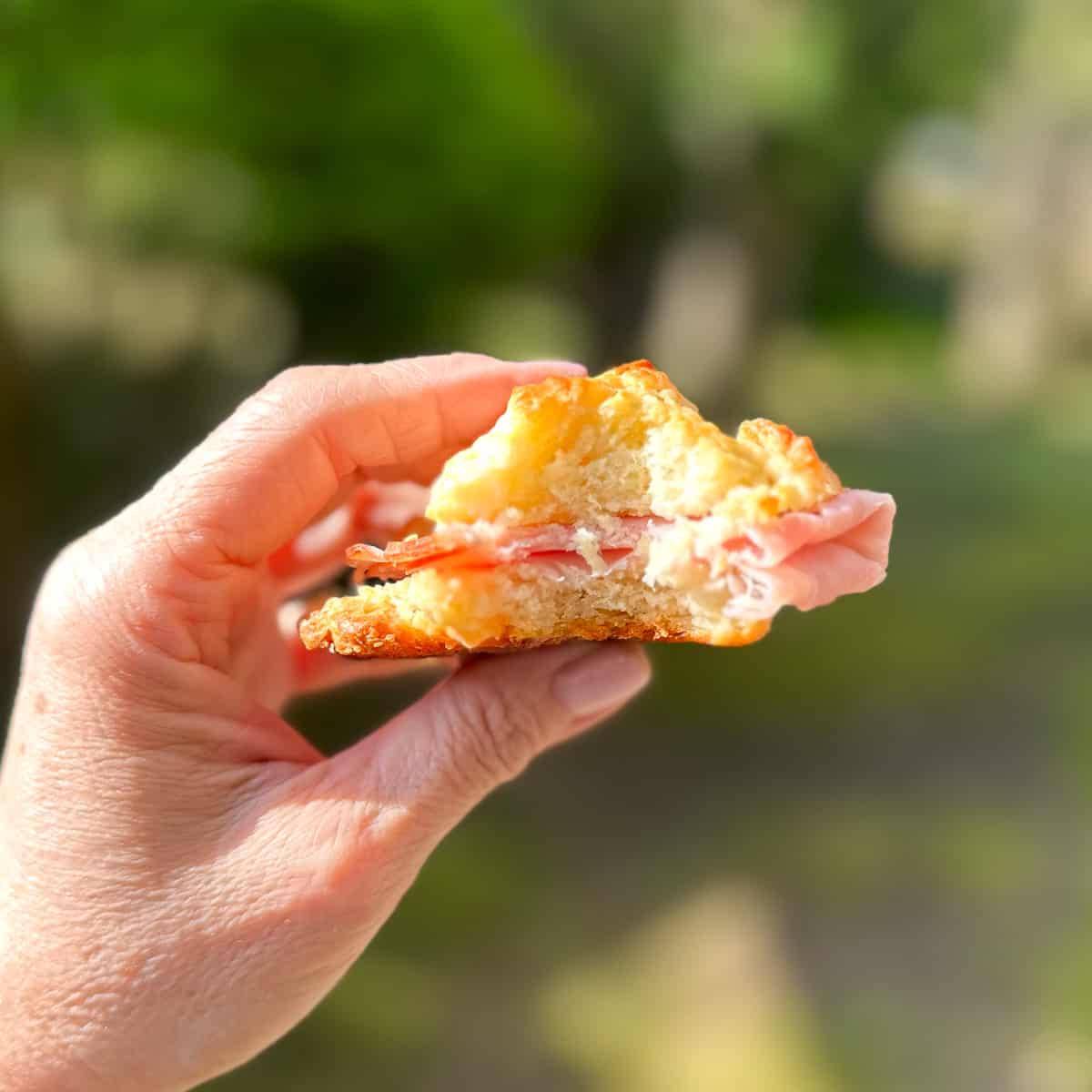 Instructions
By using melted butter, and removing the step of cutting in the butter, I've eliminated at least 5 minutes prep time, as well as the need to scrape flour and dough bits off your countertop. You're welcome.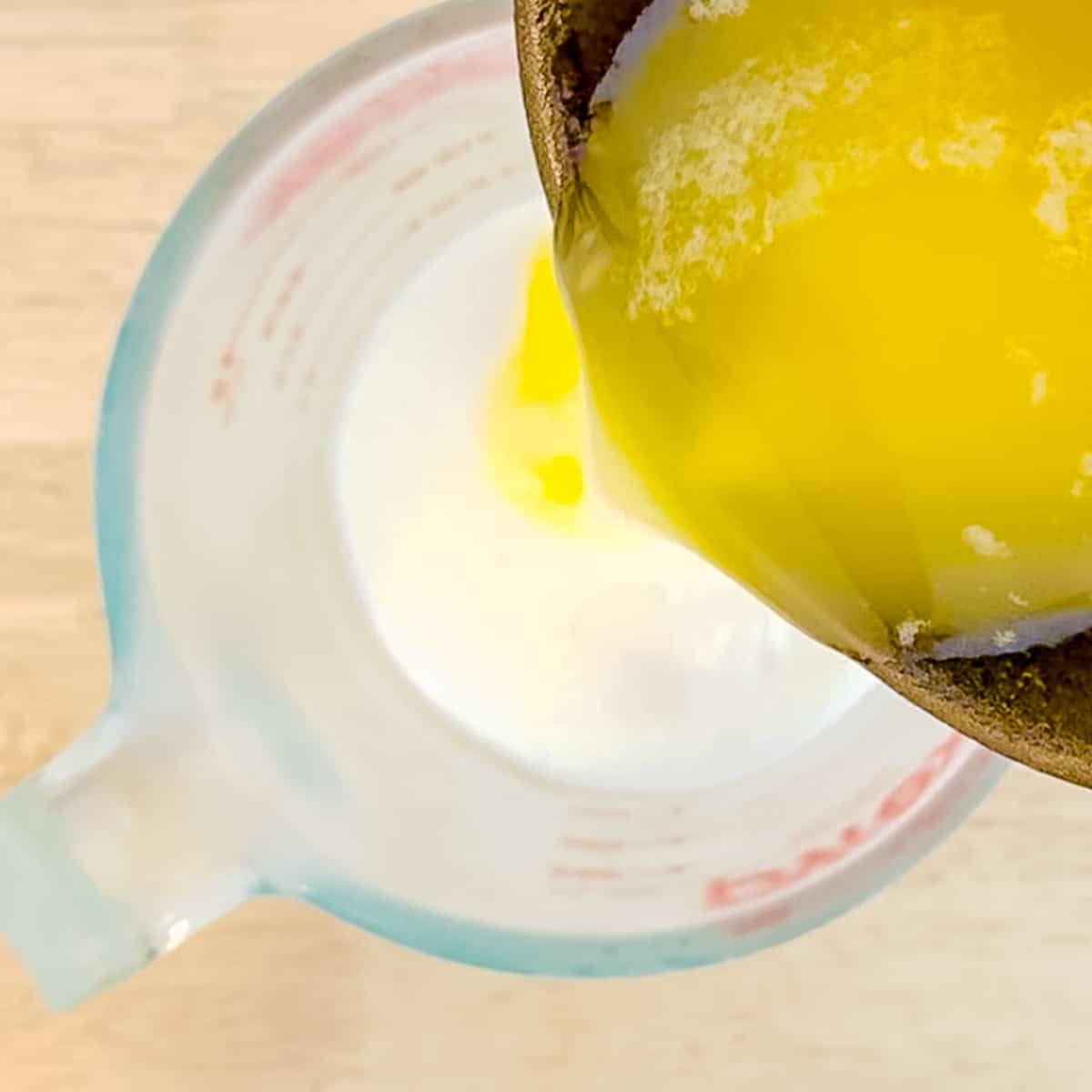 1. Melt butter and take it off the heat. While it is cooling, place your buttermilk into the freezer for 15 minutes. Pour the cooled butter into the icy cold buttermilk.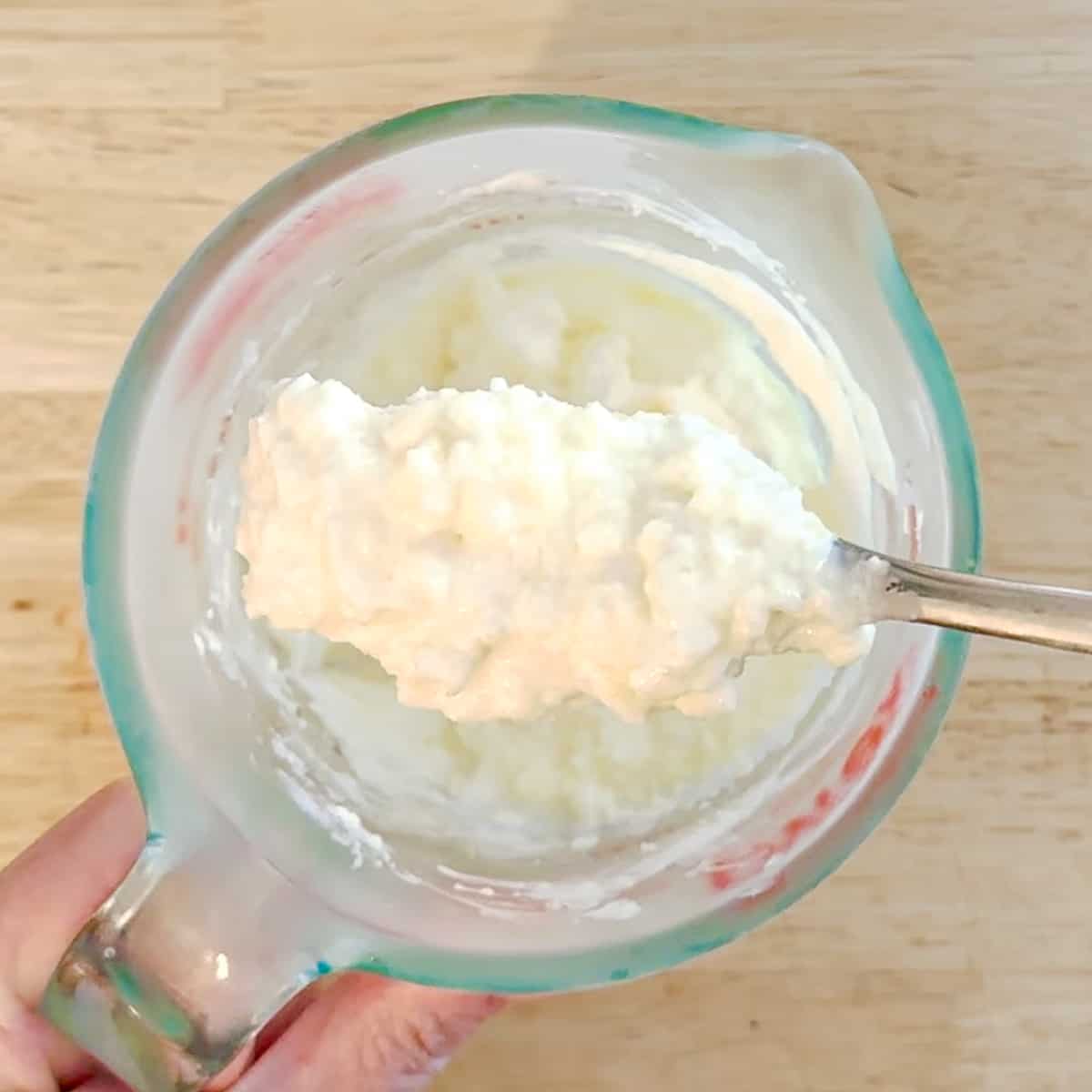 2. Stir the butter and buttermilk together with a fork until the butter clumps up.
3. Add your clumpy buttermilk to your whisked dry ingredients. Mix together with a spatula or spoon.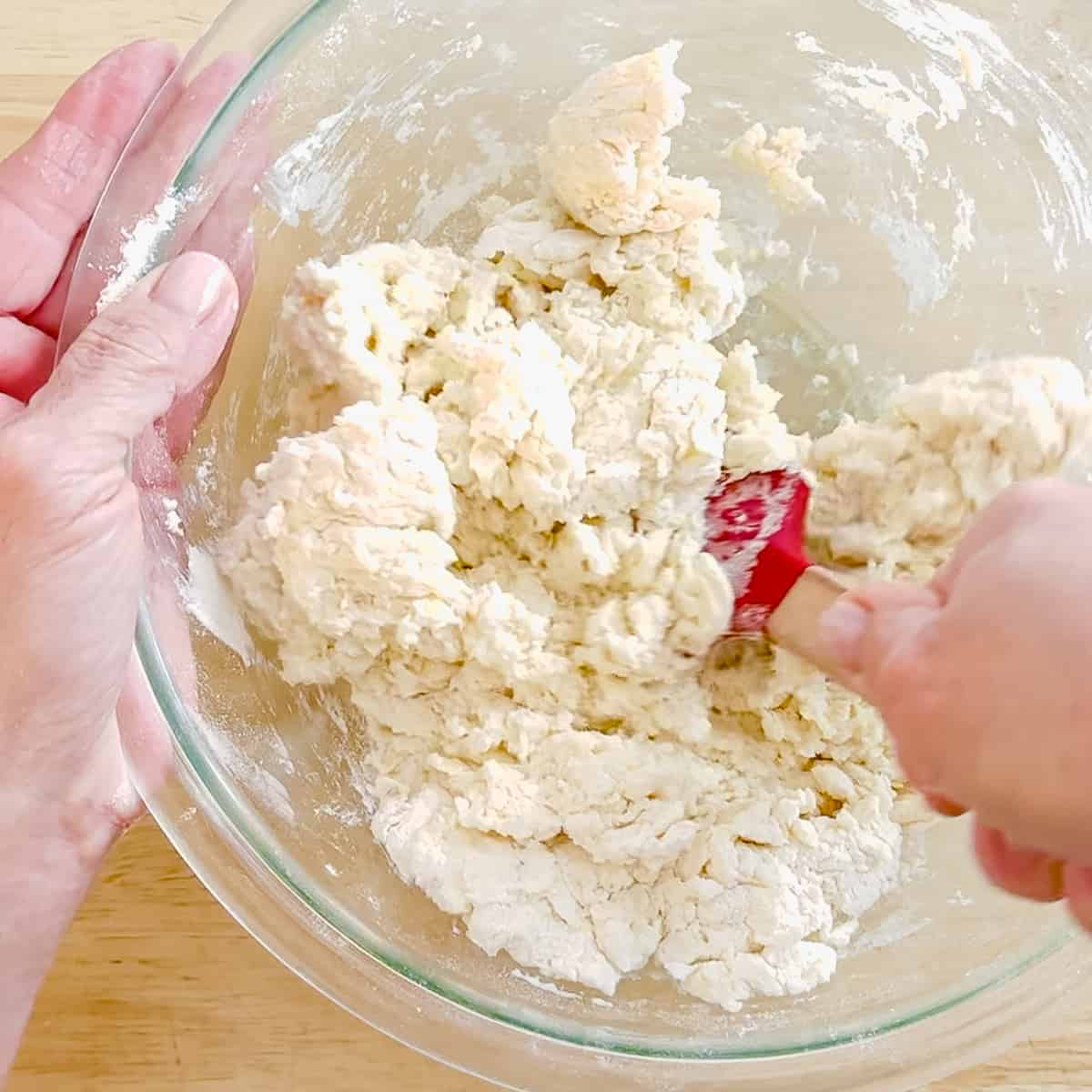 4. Stop just as the last of the flour is incorporated. Overmixing can lead to dense biscuits.
5. Scoop out portions of dough onto a parchment paper lined large sheet pan. Place the sheet pan into the freezer while you preheat the oven to 450°F. (see my expert tips below for more on scooping)
6. Remove the tray of biscuits from the freezer and brush with a little more buttermilk. Place into oven at 450°F for 15 to 18 minutes, or until golden brown.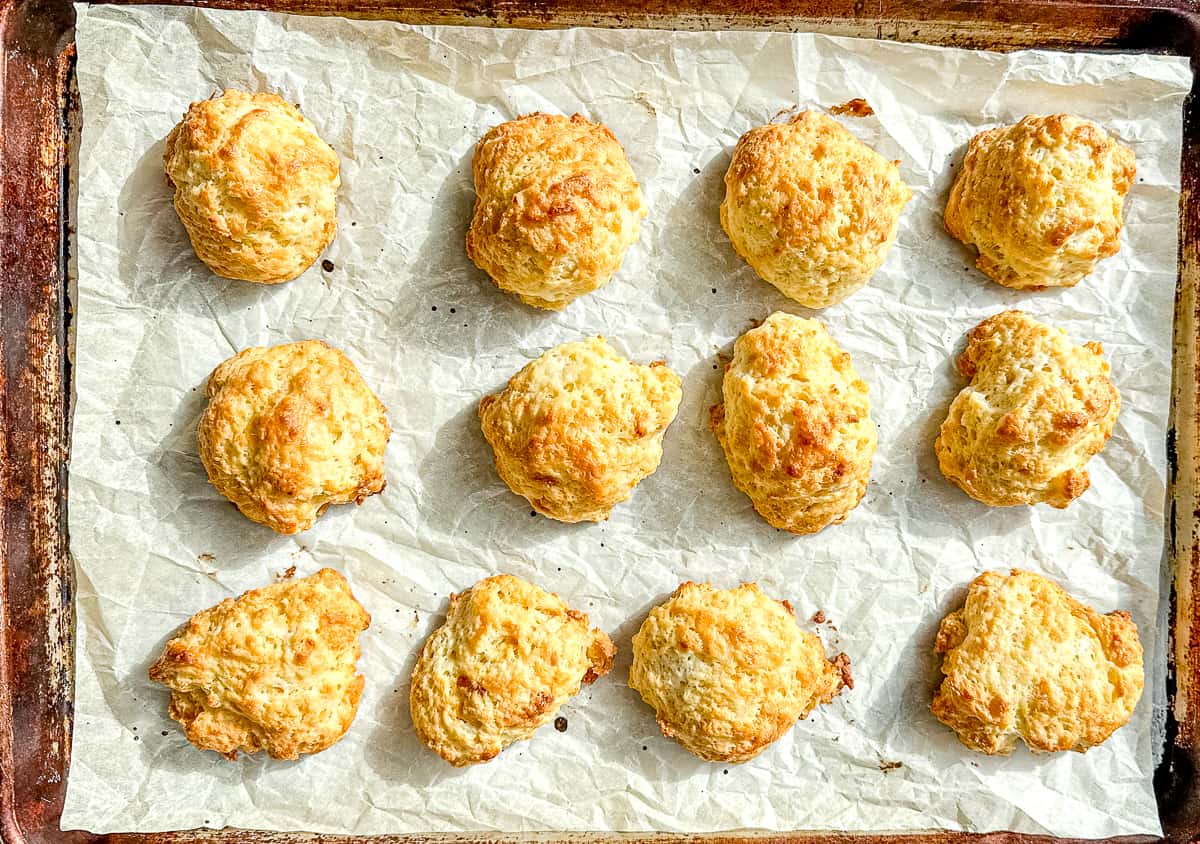 7. Brush your finished drop biscuits with a little more melted butter and sprinkle with flaky sea salt, if you like.
Equipment
Your freezer is the second most important piece of equipment in making these drop biscuits (after your oven, of course). Don't sleep on the two freezer moments listed in the instructions. You might want to skip them to save a little time, but both steps add to the fluffiness and airiness of your finished biscuit.
Placing the buttermilk into the freezer ensures that the cooled butter quickly clumps up into chunks. Placing the scooped, but unbaked, biscuits into the freezer, rechills the butter.
When those solid bits of cold butter hit that hot oven, they will release their water portion as steam. That steam will help give you fluffy biscuits, instead of dense biscuits.
Biscuits in a hurry: Out of butter, buttermilk, or time? Make my 5 Ingredients Cream Biscuits, made with just the dry ingredients and heavy cream. In 20 minutes you can have light and fluffy biscuits on the table!
Expert tip
How you scoop your drop biscuits is a matter of personal preference and what scooping tool you have on hand. To be honest, I once saw my grandma just grab small handfuls of biscuit dough and drop them into a cast iron skillet. Here are three less... handsy ways of scooping:
1. You can use a medium scoop to portion your biscuit dough onto a sheet pan lined with parchment paper.
2. You can also use a ¼ cup measuring cup to do it, using a spoon or spatula to pull out the dough.
3. Finally, you can use 2 large spoons, one for scooping and one for scraping it off the first spoon onto the pan.
Recipe FAQ's
How do I store leftover biscuits?
You can keep leftover biscuits in an airtight container on the counter for up to 2 days. After that, they will begin to go stale. Don't store in the refrigerator or they may harden too much.
How do I reheat my drop biscuits?
I recommend wrapping them in aluminum foil and heating at 350°F for about 10 minutes. Unwrap and heat for another minute or two.
Can I reheat biscuits in the microwave?
Please never (ever) reheat bread products in the microwave. Despite what you might read on the interweb about using a damp paper towel to stop it, the microwaving process robs any bread of essential moisture, leaving you with a hard, chewy, and eventually inedible rock. Save yourself, and your biscuits, the headache and don't microwave it.
Can I freeze these biscuits to bake later?
Absolutely! Just freeze them right on the pan until hard. Then transfer the biscuits to a zip top bag for up to 3 months. To bake, place on a parchment lined sheet pan and allow them to thaw while you preheat the oven to 450°F. Then bake as directed, adding on just a few more minutes.
More biscuit recipes
Did you try this recipe? Tell me all about it!
Leave a ⭐️ review and comment below!
Take a pic and tag @butfirst_webrunch on Instagram!
Fluffy Drop Biscuits
My Fluffy Drop Biscuits are made with melted butter and super cold buttermilk for a light and airy biscuit with no need to cut in cold butter. The result is a light and fluffy biscuit like no other!
Ingredients
2

cups

all-purpose flour

1

tablespoon

baking powder

¼

teaspoon

baking soda

2

teaspoon

sugar

1

teaspoon

salt

8

tablespoon

unsalted butter

1

cup

buttermilk

plus more for brushing the tops of biscuits

Flaky sea salt

optional
Instructions
Whisk flour, baking powder, baking soda, sugar, and salt together in a large bowl and set aside.

Melt butter in either a small saucepan and remove from the heat. Place one cup of cold buttermilk into the freezer and set a timer for 15 minutes.

After 15 minutes, pour the cooled butter into the cold buttermilk and stir with a fork. The butter will clump up into small solid pieces. Perfect.

Make a well in the center of the mixture and add the cold buttermilk and butter mixture. Use a sturdy wooden spoon to bring the wet and dry together until you have a fairly uniform dough with no obvious dry flour.

Using your choice of scooping utensil (a four tablespoon ice cream/cookie scoop, a ¼ cup measuring cup, or two large spoons) portion biscuit dough onto a parchment paper lined large sheet pan. (see recipe post above for more information on scooping)

Place the sheet pan of biscuits in the freezer while you preheat the oven to 450°F. When the oven is fully heated, remove biscuits from the freezer and brush the tops lightly with more buttermilk.

Bake in 450°F oven for 15 to 18 minutes, or until golden brown. If desired, brush with more melted butter and sprinkle with flaky sea salt.
Nutrition
Calories:
158
kcal
|
Carbohydrates:
18
g
|
Protein:
3
g
|
Fat:
8
g
|
Saturated Fat:
5
g
|
Polyunsaturated Fat:
0.4
g
|
Monounsaturated Fat:
2
g
|
Trans Fat:
0.3
g
|
Cholesterol:
22
mg
|
Sodium:
345
mg
|
Potassium:
52
mg
|
Fiber:
1
g
|
Sugar:
2
g
|
Vitamin A:
266
IU
|
Calcium:
87
mg
|
Iron:
1
mg
The nutritional and caloric information shown is an estimate provided by an online nutrition calculator. It does not assert or suggest that readers should or should not count calories, and should not be considered a substitute for a professional nutritionist's or doctor's counseling.