BLT Panzanella Salad is a play on a traditional Italian Panzanella salad of tomatoes and bread, with the addition of a roasted Tomato Bacon Vinaigrette.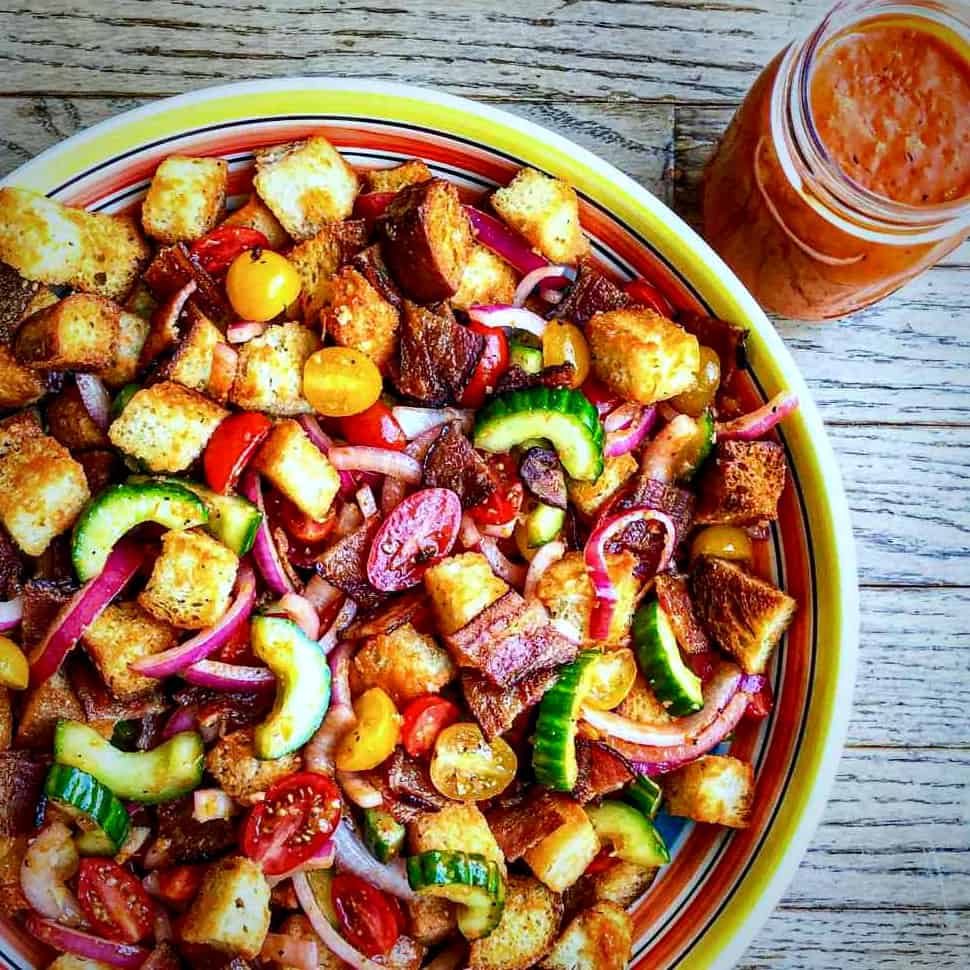 I know that when most people think "salad" they think of lettuce and tomato, maybe a few carrots, some store bought croutons, and a jar of salad dressing. Not me. Since I'm really not all that crazy about lettuce, I have to think of ways make the salad more appealing to my taste buds.
A Panzanella salad is one amazing way to do that. Panzanella is a traditional Italian bread salad, normally just bread and tomatoes dressed with olive oil and vinegar. I take mine to the next level by merging it with The World's Greatest Sandwich, the almighty BLT. There are multiple moving parts to this salad, but follow along and you'll see that none of them are complicated, and the payoff is DELICIOUS!
Holy Heck, it's hot (day) tip
Some days when it's hot as 🤬, turning on the oven is something I try to avoid during the day. On those days I'll cook the bacon and make the croutons in the morning, when it's cooler. Later, when it's time to eat, I'll just zap the bacon in the microwave to warm it. I also like to add some mixed greens to lighten things up a bit.
Finally, I forgo the oven roasted tomato dressing and sub in my easy poppyseed dressing. It has mayonnaise, but it's still light and zingy! I added the recipe for the Poppy Seed Dressing to the recipe card, so you can have a bacon and bread salad anytime!!
Want to chill out with more salads?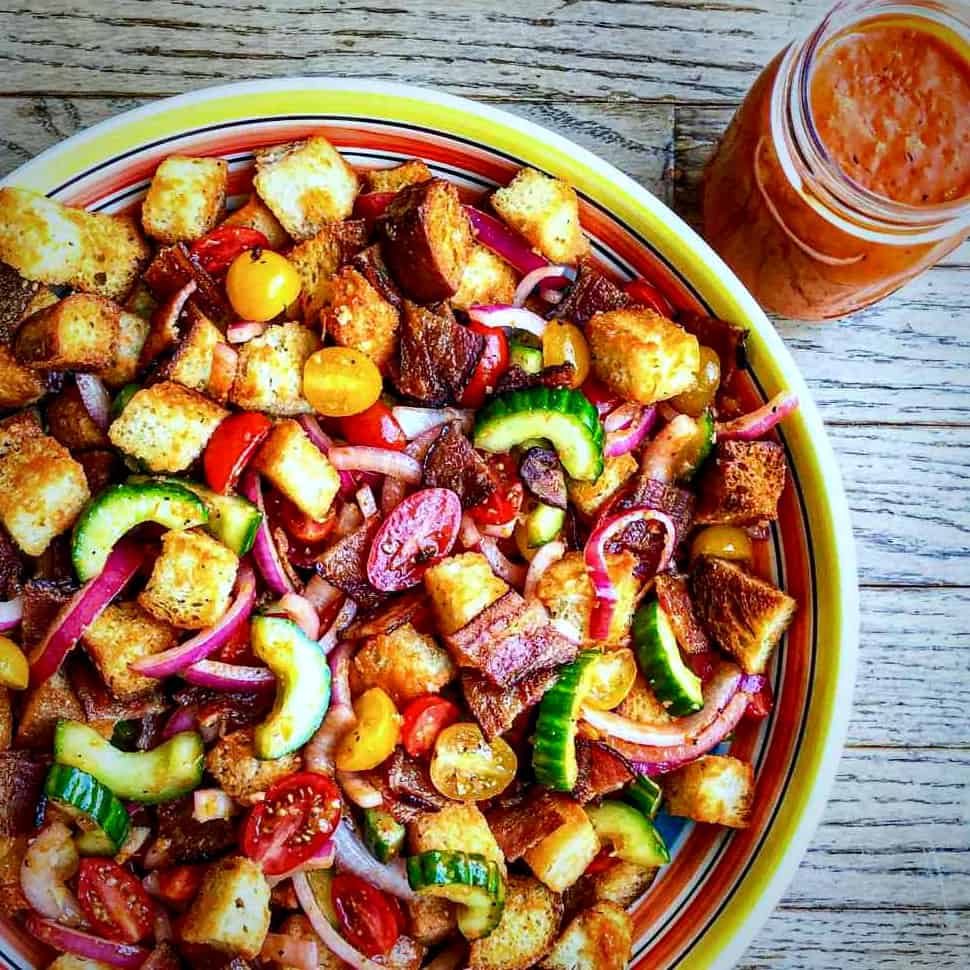 BLT Salad with Tomato Bacon Vinaigrette
BLT Panzanella Salad is a play on a traditional Italian Panzanella salad of tomatoes and bread, with the addition of a roasted Tomato Bacon Vinaigrette.
Ingredients
1

pkg thick sliced bacon

1

pint red grape tomatoes

1

pint yellow grape or pear tomatoes (the tiny ones)
Quick Marinated Cucumbers and Onions
1

English cucumber (the long ones, sold individually wrapped in plastic)

½

red onion, thinly sliced in half moon shapes

¼

cup white vinegar

½

cup water

2

tablespoon

vegetable oil (canola is great)

2

tablespoon

granulated sugar

1

teaspoon

salt

½

teaspoon

ground black pepper
Roasted Tomato Bacon Vinaigrette
1

pint of red tomatoes

1

shallot, very finely chopped

½

tsp fresh thyme (you can use dried if you can't find fresh, just use ¼ teaspoon instead)

A sprinkle of salt and pepper and a drizzle of olive oil

3

tablespoon

Red wine vinegar

2

teaspoon

Dijon mustard

1

teaspoon

honey

3

tablespoon

reserved bacon drippings

⅓

cup olive oil

½

teaspoon

salt

¼

teaspoon

black pepper
Croutons
1

loaf of unsliced bread, cut into one inch cubes. I prefer semolina or a good crusty Italian loaf, but a French baguette would work well.

the rest of your reserved bacon drippings
Optional Poppy Seed Dressing
½

cup

olive oil

3

tbs

white balsamic vinegar

3

tbs

mayonnaise

1

teaspoon

dijon mustard

1

tbs

honey

2

teaspoon

poppy seeds

¼

tsp

kosher salt
Instructions
To start off, chop your bacon into 1 inch pieces. In a pan, fry until nice and crispy. Drain the bacon on a plate lined with paper towel, and reserve the drippings for later.

Now we're going to marinate the cucumbers and onions. The English cucumber has a very thin skin and does not need to be peeled, so that's easy! Slice the cucumber in half, lengthwise. Using a small spoon, gently scoop out any seeds along the length. There shouldn't be many, but let's get them out or they'll water down the marinade. Slice the cucumber in ¼-1/2 inch pieces and put in a bowl with your sliced onions. Mix the water, vinegar, sugar, oil, salt, and pepper until the sugar dissolves. Pour over the cucumbers and onions and set aside while you do everything else. They don't have to be refrigerated unless you're not eating the salad right away.

Preheat oven to 425°. Spray a baking sheet with non-stick spray. In a large bowl combine your bread cubes with all but 3 tablespoons of the reserved bacon drippings. Toss to combine. Pour the coated bread on the baking sheet and bake for 20-25 minutes, turning the bread cubes once part-way through. You want them to become lightly golden brown, but they do not need to be rock hard or completely dried out. Remove from the oven and set aside. Their chewiness will be further enhanced with the addition of the delicious dressing to come!

Spread one pint of your grape tomatoes, fresh (or dried) thyme, and the chopped shallots on a sheet pan that you have sprayed with non-stick spray. Drizzle with a little bit of olive oil and sprinkle with a pinch of salt and a smaller pinch of pepper. Roast for about 20 minutes, or until the tomatoes are beginning to burst and juices are running out. A few dark spots on the tomatoes are ideal for great flavor!

Time to make the dressing! Put your warm tomatoes into a food processor, and scrape in all those juices with a rubber spatula, too! Add the red wine vinegar, Dijon mustard, honey, bacon drippings, olive oil, and salt and pepper and pulse the processor until everything is smooth. This makes about 1 ½ cups of dressing. You won't use all of it in this salad, but the rest is AMAZING tossed with pasta!

Chop the remainder of your red and yellow tomatoes in half. Drain your cucumbers and onions and place them in a large bowl with your croutons, red and yellow tomatoes, cooked and chopped bacon, and croutons. Drizzle with about ⅓ cup of the Tomato Bacon Vinaigrette and toss everything together.Let the salad sit for about 5 minutes to let the dressing permeate the croutons. You want them to have a bit of crunch and a bit of a bready bite at the same time. The salad tastes exactly like a BLT, but better! Get ready to have your mind blown!
Optional Poppy Seed Dressing (for 'it's too hot for the oven' days)
Whisk the olive oil, balsamic vinegar, mayonnaise, mustard and honey in a small bowl until emulsified. Stir salt and poppy seeds. Drizzle the dressing over everything, toss, let the flavors combine for a few minutes (while you pour yourself a nice cold beverage), and enjoy!
The nutritional and caloric information shown is an estimate provided by an online nutrition calculator. It does not assert or suggest that readers should or should not count calories, and should not be considered a substitute for a professional nutritionist's or doctor's counseling.