Tender and flaky Cheddar and Chive Biscuits are filled with aromatic chives and pockets of melty cheddar cheese. Perfect for breakfast and brunch or as a side with dinner!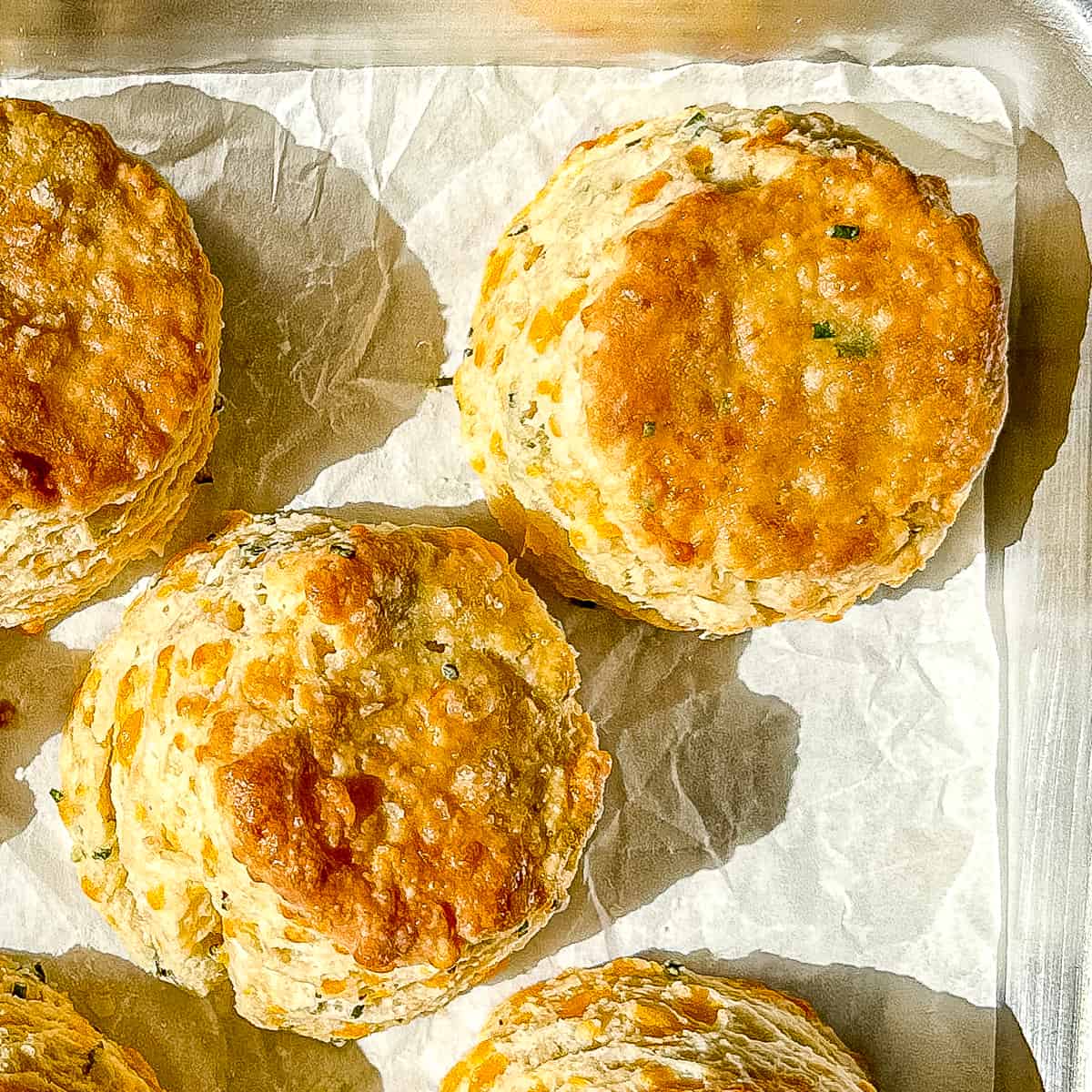 I am the Biscuit Queen. This is not a self-proclamation, but a title that has been bestowed upon me by family, friends, chefs, and even other food bloggers. With this title comes great responsibility: creating amazing biscuit recipes that everyone will crave. These Cheddar and Chive Biscuits definitely fit the bill!
It starts with my classic Buttermilk Biscuits and then an entire cup of cheddar cheese joins the party. Next I add in a quarter cup of finely chopped chives for a mild, but not overwhelming, oniony flavor. The resulting Cheddar and Chive Biscuits are out of this world!
You end up with ultra flaky biscuits with pockets of melted cheddar and fragrant chives that cry out for a schmear of butter or a piece of salty ham or bacon. Make them big (3 inch or more) and they make the perfect base for the best breakfast sandwich you'll ever encounter!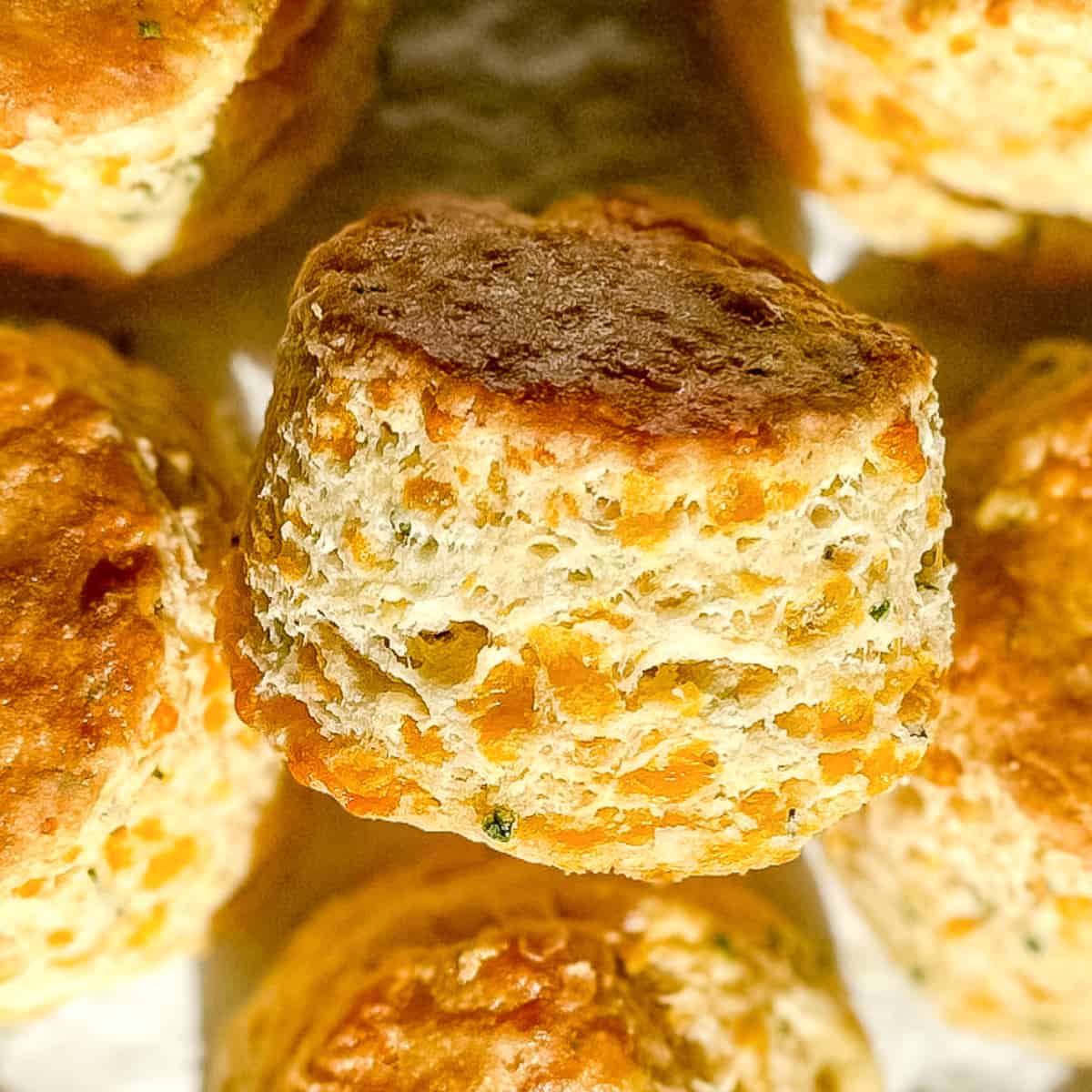 Jump to:
Ingredients
These buttermilk biscuits are created with the usual biscuit suspects, with the addition of cheddar cheese and chives, both of which are readily available at the grocery store.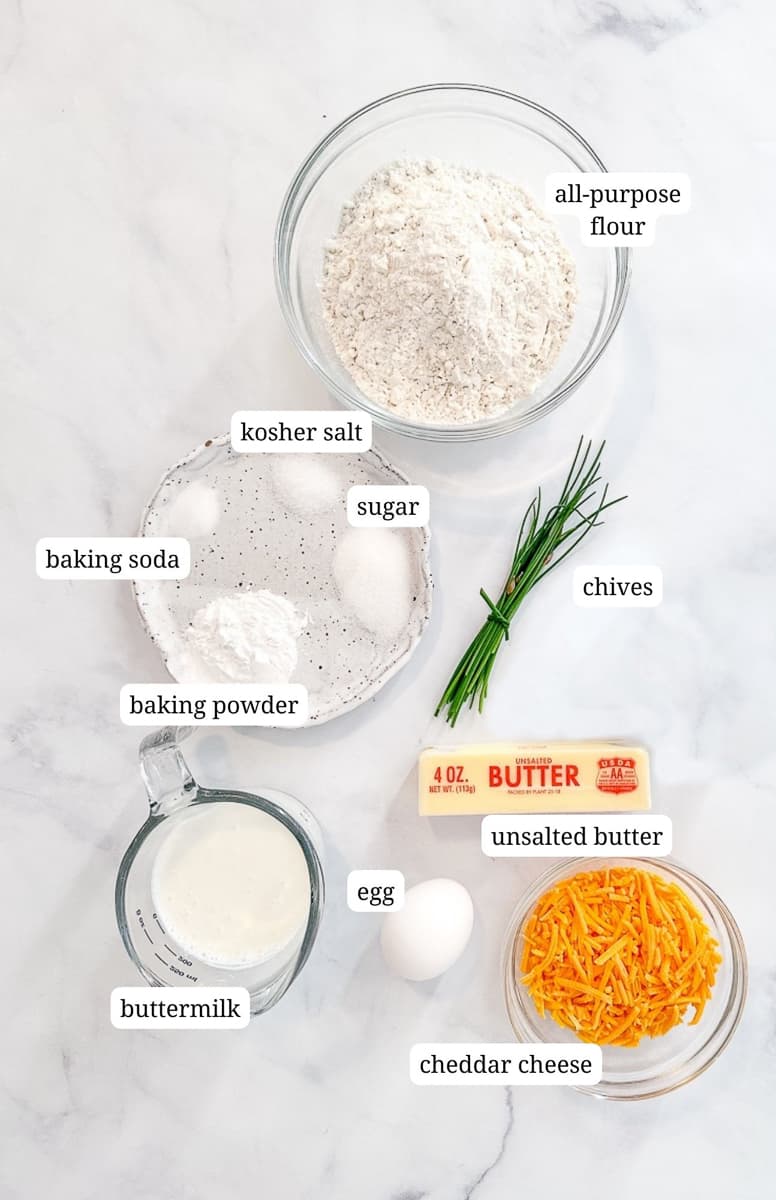 See recipe card for quantities.
Substitutions
Cheddar cheese - I like a good sharp cheddar in these biscuits, but you can use any sharpness you prefer. You can buy it pre-grated or grate it yourself.
Chives - Once in a while, when I've used all my Aerogarden chives, I'm unable to find them in my local market. In that case, you can substitute with very finely chopped green onions (scallions). They have a stronger onion flavor than chives, so you may want to reduce the amount to 3 tablespoons.
Buttermilk - If you don't have access to buttermilk you can make your own substitute. For the ¾ cup of buttermilk needed in this recipe, place 1 tablespoon of lemon juice or vinegar into a measuring cup. Add enough whole milk to add up to ¾ cup or 180 grams. Stir and let stand for 5 minutes, until it looks thick and curdled.
Buttermilk (continued) - Alternatively, you can replace the buttermilk with either plain or Greek yogurt or kefir. Because of the thickness of yogurt, you'll need to thin it to properly hydrate the flour. To do this, replace ¾ cup of buttermilk with ¾ cup of yogurt and ¼ cup of milk or water. The amount of kefir remains at ¾ cup.
Variations
Cheesy, but different cheesy - If cheddar isn't your cheese of choice, feel free to use your semi-hard cheese of choice. I've made these with Gruyère, parmesan, romano, colby, and even pepper jack. My Cacio e Pepe Biscuits are one heck of a cheesy twist!
Spicy - Add a finely diced jalapeño to create a spicy cheddar biscuit.
Drop it like it's hot - Add an extra four tablespoons of buttermilk and drop or scoop dough onto your sheet pan, for Drop Biscuit version of these cheddar and chive biscuits.
Instructions
My Cheddar Chive Biscuits are made using the same techniques as my classic Buttermilk Biscuits. The cheddar and chives get tossed into the mix before adding the buttermilk.
1. Combine all the dry ingredients in a large bowl. Add in cold cubes of butter and use a finger snapping motion to "cut" the butter into the flour. You should end up with pea sized and flat pieces of butter and flour that has a sort of cornmeal texture.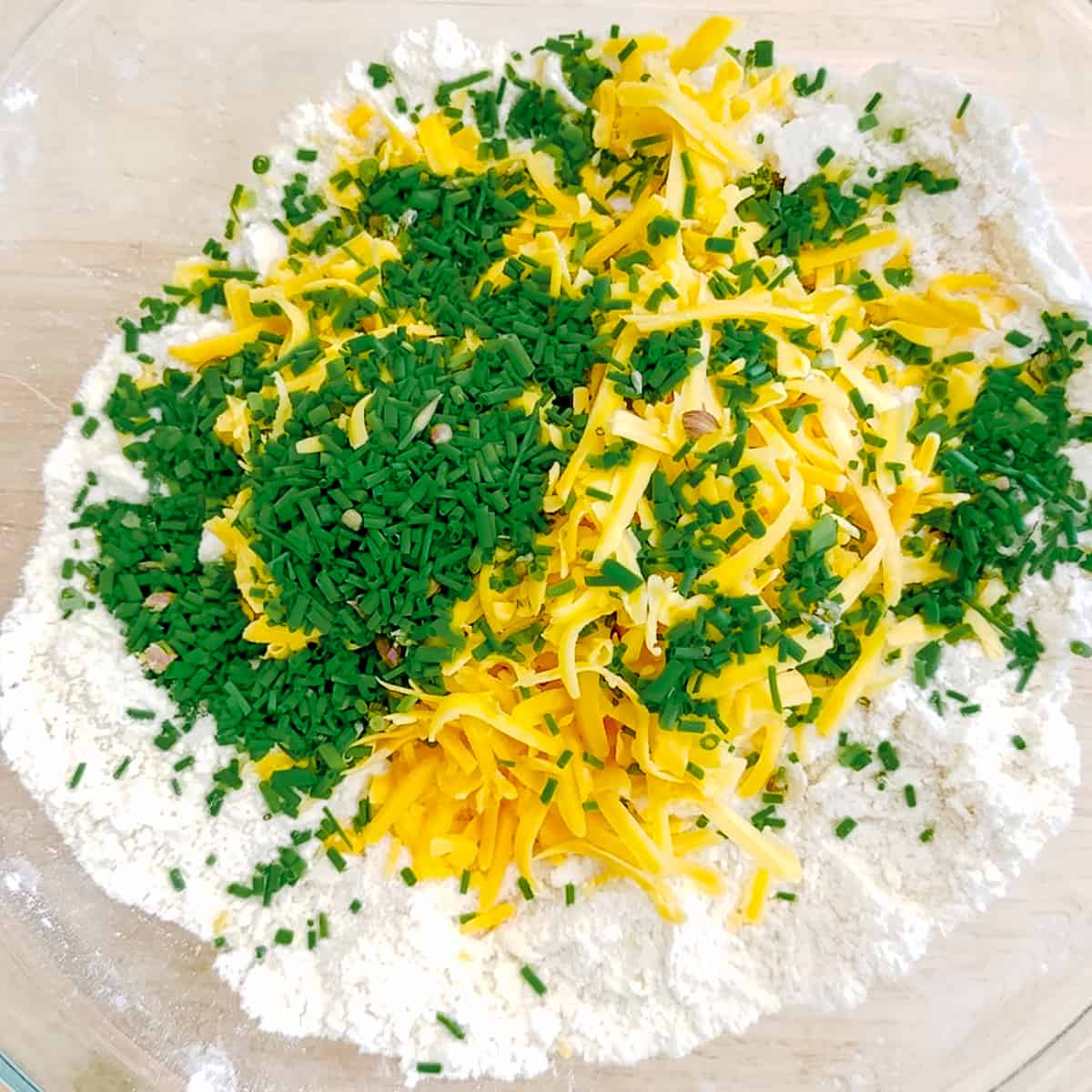 2. Add in your cheddar and chives and use your hands to toss them in the flour/butter mixture. This will ensure even distribution of cheese and chives throughout all the biscuits.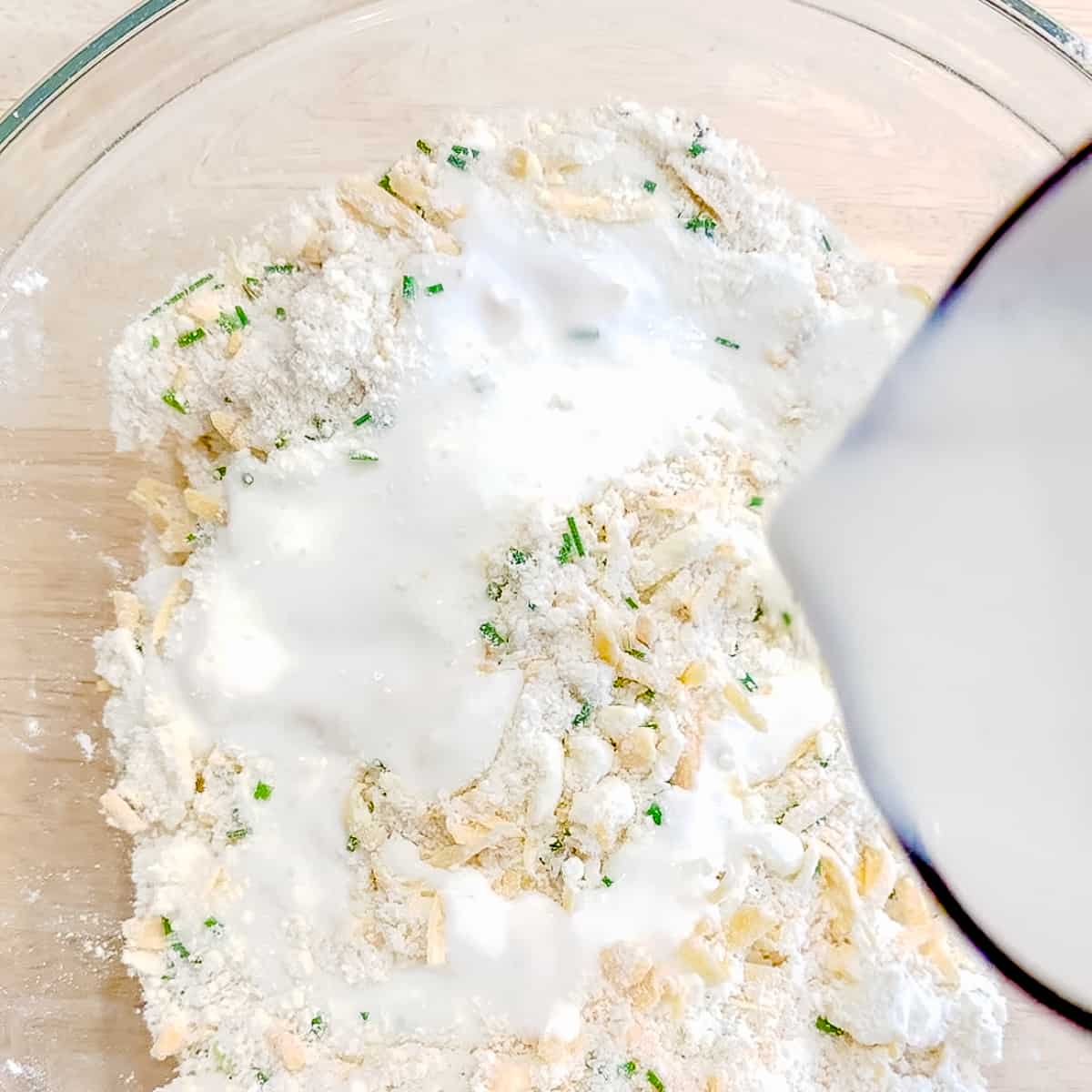 3. Pour in your buttermilk and use a Danish dough whisk or spatula to combine into a shaggy dough. It will look loose and like it won't all come together, but it will. Trust the process!
4. Dump the dough onto a lightly floured counter and gather into a rough square. Cut into quarters, stack them on top of each other, and smash back down into a square. Repeat two more times. This is when your layers are created.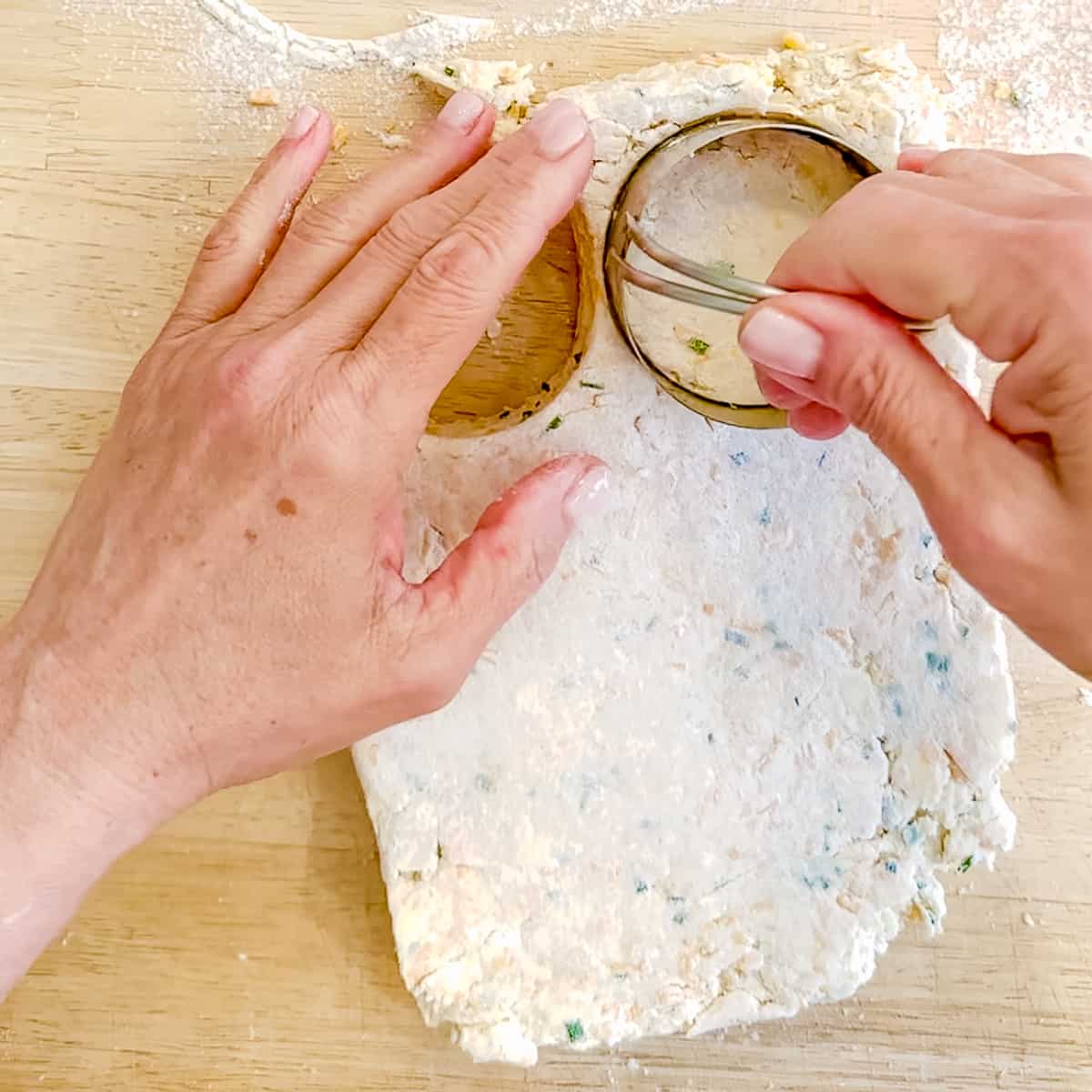 5. Roll the dough into a ½ inch rectangle and use a biscuit cutter or cookie cutter to cut out rounds. Place on a parchment lined baking sheet and place in the fridge or freezer while you preheat the oven to 450°F.
6. Make an egg wash by whisking an egg with 1 tablespoon of water or milk. Brush the top of each biscuit with the egg wash and sprinkle with flaky salt, if desired. Bake at 450°F for 18 to 20 minutes, or until golden brown.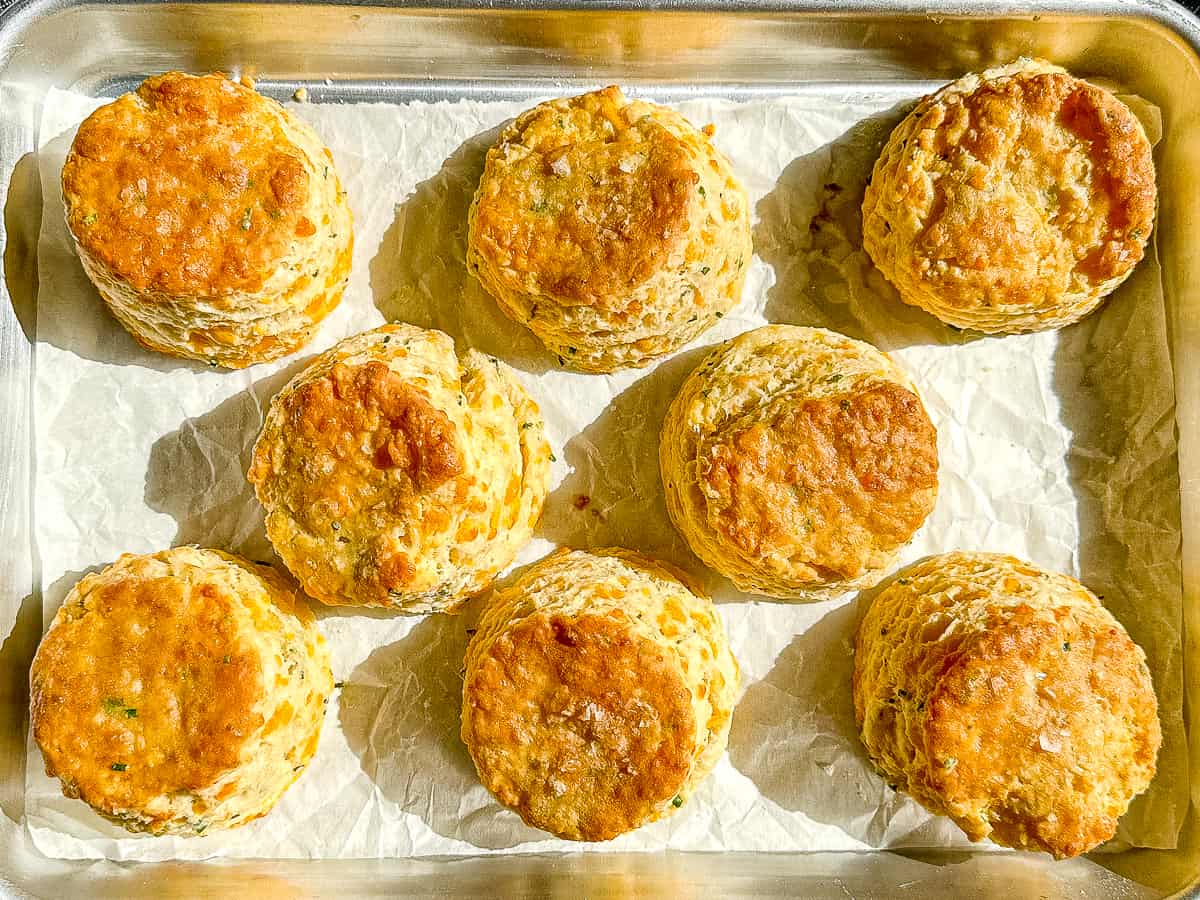 Equipment
Sometimes I have mobility issues with my hands, making cutting the butter in with my fingers difficult. On those days I utilize my food processor to incorporate the butter into the dry ingredients. Here's how I do it:
Measure all of the dry ingredients into the bowl of your food processor. Pulse a few times to mix it all together. Add cold, cubed butter to the dry ingredients and pulse 5 to 6 times, or until most of the butter is in pea sized or smaller pieces. Pour into a mixing bowl and proceed with the rest of the cheddar chive biscuit recipe.
Expert tip
Do not twist the biscuit cutter when cutting your cheddar chive biscuits out. That will effectively seal the edges of the biscuits, keeping them from fully rising. Just press straight down and lift straight up.
You can also use a sharp knife to make square or rectangular biscuits. Ween I do this I like to trim the edges of my rectangle before slicing. This will ensure that all four sides of each biscuit has flaky layers.
Want more flavorful biscuits? Try my Everything Seasoning Cream Cheese Biscuits!
Recipe FAQ's
How do I store leftover cheddar chive biscuits?
You can keep your leftover biscuits in an airtight container on your counter for up to 3 days.
Can I reheat my biscuits?
Yes! Wrap your biscuits in aluminum foil and heat at 350°F for 10 minutes. Uncover and heat 2 or 3 minutes more.
Can I make these biscuits ahead and freeze them?
Yes, you can. Make and cut out your biscuits and freeze them on a parchment lined baking sheet until hard. Store in a zip top bag in the freezer for up to 3 months. Allow to defrost while you preheat the oven and egg wash and bake as usual, adding a couple of minutes to the baking time.
More biscuit recipes
Did you try this recipe? Tell me all about it!
Leave a ⭐️ review and comment below!
Take a pic and tag @butfirst_webrunch on Instagram!
Cheddar Chive Biscuits
Tender and flaky buttermilk biscuits are filled with aromatic chives and pockets of melty cheddar cheese. Perfect for breakfast and brunch or as a side with dinner!
Ingredients
2

cups

all-purpose flour

1

tablespoon

baking powder

¼

teaspoon

baking soda

1

tablespoon

granulated sugar

1

teaspoon

kosher salt

8

tablespoons

unsalted butter very cold and cut into small cubes

1

cup

cheddar cheese

shredded

¼

cup

chives

finely chopped

¾

cup

buttermilk very cold

1

large egg whisked with 1 tablespoon water for egg wash
Instructions
Measure all of your dry ingredients into a large bowl. Add cold butter cubes to the dry ingredients and, using a pastry cutter or your fingers, squeeze, pinch, and mix in the cold butter until you have a mixture of flat pieces and crumbly pea sized bits of butter mixed into the flour. Add the cheddar and chives and toss to combine.

Make a well in the center of the mixture and add the cold buttermilk. Gently bring the wet and dry together until you have a fairly uniform, loose dough. The flour won't look all mixed in and that's okay. It will come together.

Dump the dough out onto a lightly floured surface. Using your hands, gently bring it together into a rough square. With a bench scraper or knife, cut into four smaller squares. Stack the pieces of biscuit dough on top of each other. Smush it all down into a square again. Repeat this cutting and stacking procedure 2 more times.

Pat the dough into a rectangle at least ½ inch thick. Using a 2 or 3 inch biscuit or cookie cutter, cut out your biscuits. Gather your scraps as you go, gently re-form them together, and cut as many biscuits as you can. You should get 6 to 8 biscuits, depending on the size of your cutter.

Place your biscuits on a parchment paper lined small sheet pan. Put the sheet pan of biscuits in the freezer or refrigerator to chill while you preheat the oven to 450°F.

Remove biscuits from the freezer and brush the tops of the biscuits with an egg wash of one egg whisked with one tablespoon of water or milk. Bake in a 450° oven for 18-20 minutes, or until golden brown.
Notes
Do not twist the biscuit cutter when cutting your biscuits out. That will effectively seal the edges of the biscuits, keeping them from fully rising. Just press straight down and lift straight up.
Nutrition
Calories:
302
kcal
|
Carbohydrates:
27
g
|
Protein:
8
g
|
Fat:
18
g
|
Saturated Fat:
11
g
|
Polyunsaturated Fat:
1
g
|
Monounsaturated Fat:
4
g
|
Trans Fat:
0.5
g
|
Cholesterol:
70
mg
|
Sodium:
611
mg
|
Potassium:
91
mg
|
Fiber:
1
g
|
Sugar:
3
g
|
Vitamin A:
617
IU
|
Vitamin C:
1
mg
|
Calcium:
227
mg
|
Iron:
2
mg
The nutritional and caloric information shown is an estimate provided by an online nutrition calculator. It does not assert or suggest that readers should or should not count calories, and should not be considered a substitute for a professional nutritionist's or doctor's counseling.