Using frozen puff pastry and an easy, no-cook pizza sauce, these Copycat Pepperidge Farms Croissant"Pizzas are better than the original!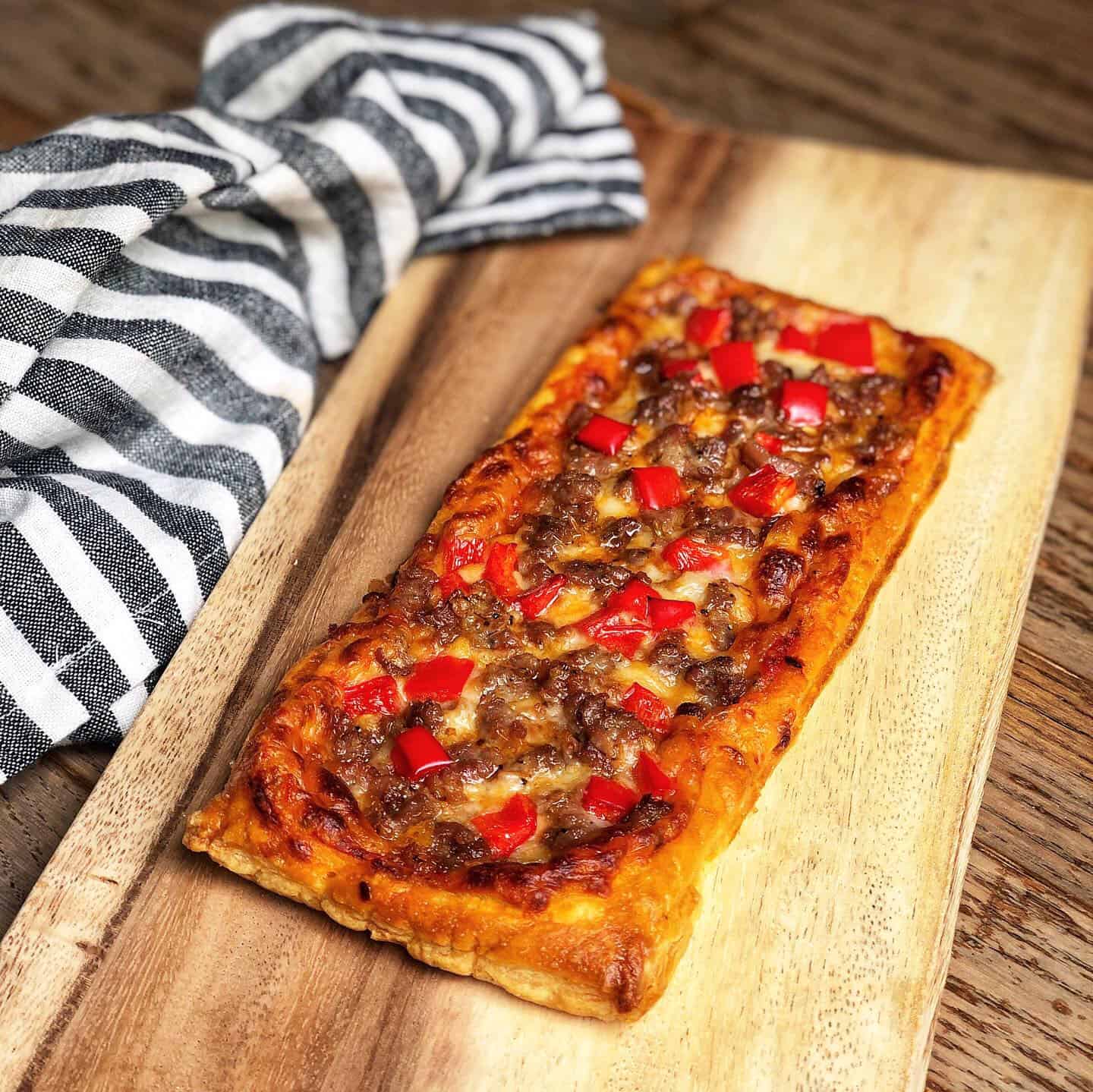 This is possibly the easiest pizza recipe you'll ever try that doesn't start with the phrase "open the pizza box", but that doesn't make it any less delicious than my pizzas with fresh dough and all the fancy toppings. The base of everything is puff pastry, which gives you an almost croissant like experience, with all the flaky layers.
Next you add a no-cook pizza sauce, which is so ridiculously easy I almost hate taking the time to actually type out the words. I'm exhausted 😩 Let's get started. Try to follow along 😉
Still craving pizza?
Copycat Pepperidge Farms "Croissant" Pizza
Using frozen puff pastry and an easy, no-cook pizza sauce, these Copycat Pepperidge Farms Croissant"Pizzas are better than the original!
Ingredients
Easy No-Cook Pizza Sauce
15

ounce

can tomato sauce

½

teaspoon

Granulated sugar

1

tablespoon

Olive oil

½

teaspoon

Garlic powder

½

teaspoon

Dried oregano

½

teaspoon

Dried basil

½

teaspoon

Dried parsley

½

teaspoon

Onion powder
Pizza Toppings can be ANYTHING you want on a pizza (even pineapple 🤭) I used:
Sliced pepperoni

Chopped red bell pepper

Browned ground Italian sausage

2

Cups shredded mozzarella cheese

Egg wash: 1 egg whisked with 1 teaspoon of water
All Laid on a Bed of
1

package

thawed frozen puff pastry
Instructions
I like to start any recipe by getting ALL the ingredients out and ready before starting. This is called "mise en place" in the culinary world, a fancy French phrase for putting everything in place. Ready? Let's start! First, the really hard pizza sauce. Mix all of the sauce ingredients together in a bowl and set aside. Done! 😅 The "set aside" part is actually very important. It allows the dried herbs to hydrate and the sugar to kind of counteract the acid in the tomatoes.

Sprinkle a little flour on the counter and gently roll out your thawed puff pastry just a bit. What you want is to kind of get rid of the fold lines a little and widen each "slice" just a touch. Slice the pastry sheet into 3 even pieces.

Using the dull edge of a paring knife, make some score marks all around the edge of your dough, about ¼ inch in, without actually cutting the dough. It's just decorative, but also gives you an actual border to work with as you move forward. Lightly brush your egg wash along the score marks. This will give you a nicely browned crust. Place about 3 tablespoons of pizza sauce (don't use any more sauce than this or your crust will get soggy.) down the center of your dough, using the back of the spoon to evenly spread the sauce within the borders you made. Pretty!

Sprinkle ¼ cup of mozzarella cheese, or the cheese of your choice (fly free, my pizza friend!) right on top of the sauce. See where we're going with this?

Evenly distribute your toppings, on top! I used a classic sausage and bell pepper motif here. I use red bell pepper because I'm not a fan of the traditional green bell. Plus, it's prettier 😊

Bake at 425° for 20-25 minutes, or until the crust is beautifully puffy and your cheese is bubbly and browned a bit. Here I did pepperoni, sausage and bell pepper, and the classic "Deluxe" combination! 😋 Go on now. Make some pizza and let me know how it goes! Tell me all about it in the comments! (Fun note: I experimented, and you can freeze these pizzas, fully dressed, and bake them at 425° for 30 minutes with fantastic fresh pizza results! YAY!! More Pizza, later on!!)
Nutrition
Calories:
492
kcal
|
Carbohydrates:
41
g
|
Protein:
7
g
|
Fat:
34
g
|
Saturated Fat:
8
g
|
Polyunsaturated Fat:
4
g
|
Monounsaturated Fat:
19
g
|
Cholesterol:
0.3
mg
|
Sodium:
542
mg
|
Potassium:
270
mg
|
Fiber:
2
g
|
Sugar:
3
g
|
Vitamin A:
314
IU
|
Vitamin C:
5
mg
|
Calcium:
25
mg
|
Iron:
3
mg
The nutritional and caloric information shown is an estimate provided by an online nutrition calculator. It does not assert or suggest that readers should or should not count calories, and should not be considered a substitute for a professional nutritionist's or doctor's counseling.