My No-Knead Rosemary-Garlic Focaccia Bread has a crispy crust, is soft and fluffy, and has a lovely rosemary and garlic flavor. Easily doubled, you can make enough focaccia for everyone!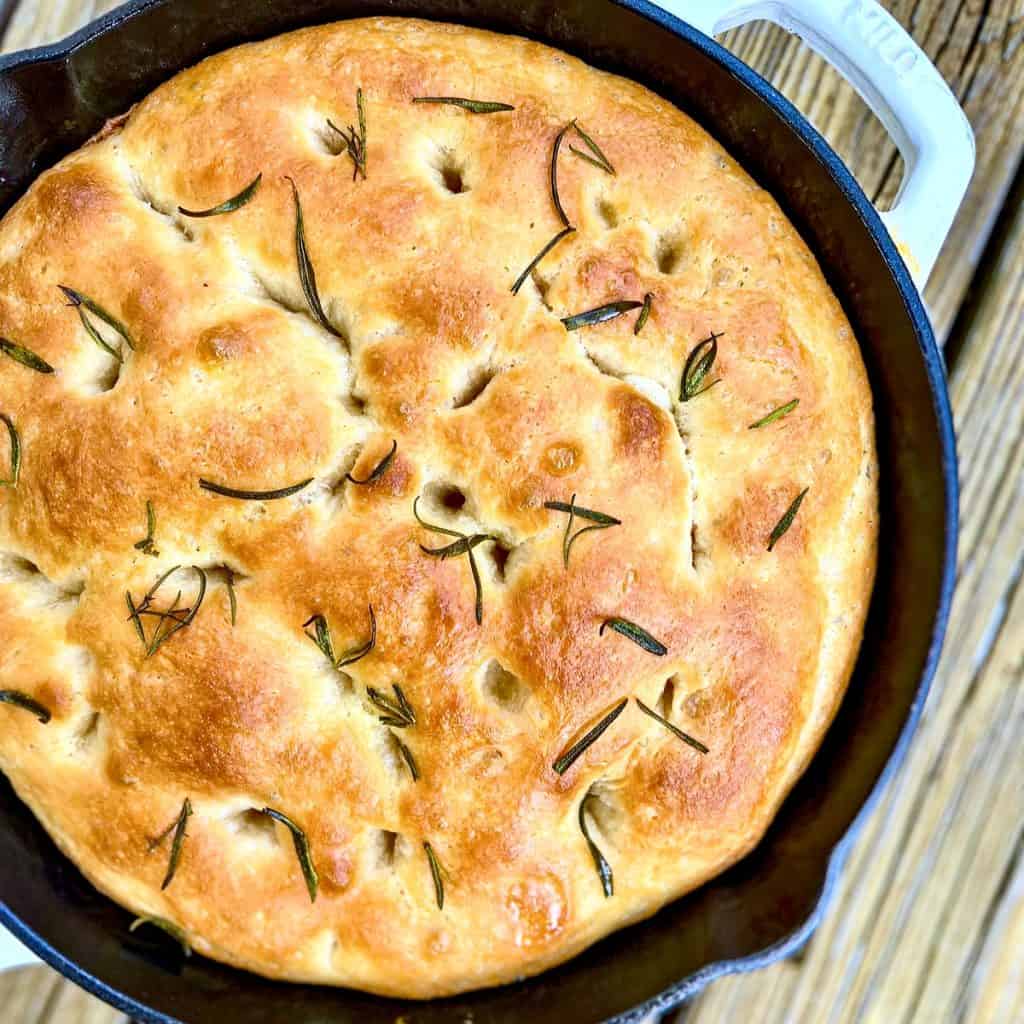 Making bread can seem like a daunting task. I know, I've been there. But I've been working on this focaccia recipe for a looong time and I've updated it to made it as easy and foolproof as bread can be.
Focaccia is a fairly high hydration dough, which means that it is wetter and looser than most bread doughs. That is normal and just what you want! The high ratio of water to flour, along with the fat from olive oil, gives you a lighter, more tender bread. Exactly what you came for!
As if that weren't enough, the top of this focaccia is covered in a delightful mix of rosemary, garlic, and olive oil, to make sure you come back for another piece. And another.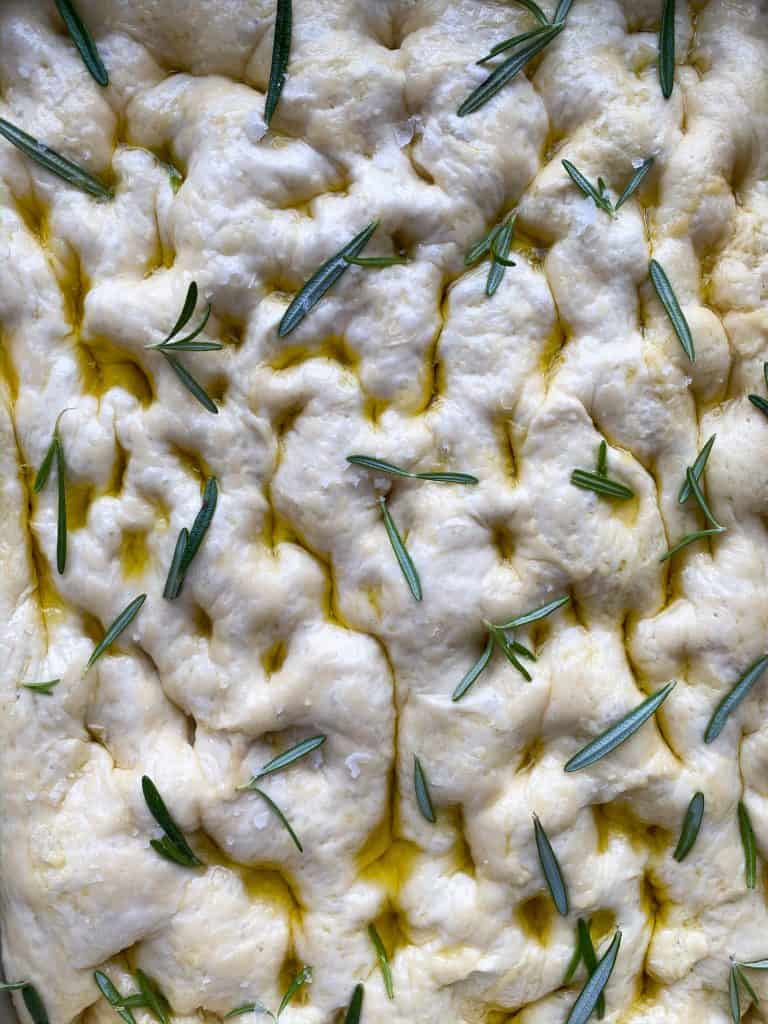 Instead of having you knead the dough, I've borrowed the folding method from Bon Appetit's Basically recipe, which is a different technique from the usual "punching down" that you always hear about in bread making. When you punch down dough, you push out most of the carbon dioxide that the yeast has released while rising. That carbon dioxide actually prevents the yeast from continuing to work, so pressing it out is a good thing. When folding the dough, the same thing happens, but you are also strengthening the dough by realigning the gluten strands, and you're also creating the air pockets and holes that are traditionally found in the crumb of a focaccia. All this leads to a more tender and airy bread. Yay!
Adding this folding technique, along with using a combination of all-purpose flour and extra fine flour, gives you a consistently fluffy and delicious bread with amazing texture, inside and out!
For a thicker bread, with a crispier bottom, I like to bake my focaccia in a 12 inch cast iron pan. For a focaccia that can feed a crowd, you can double the recipe and bake it in a 13X9 pan or make it a bit thinner and bake it on a half sheet pan. Because sometimes you need more bread. A lot of the time you need more bread 😉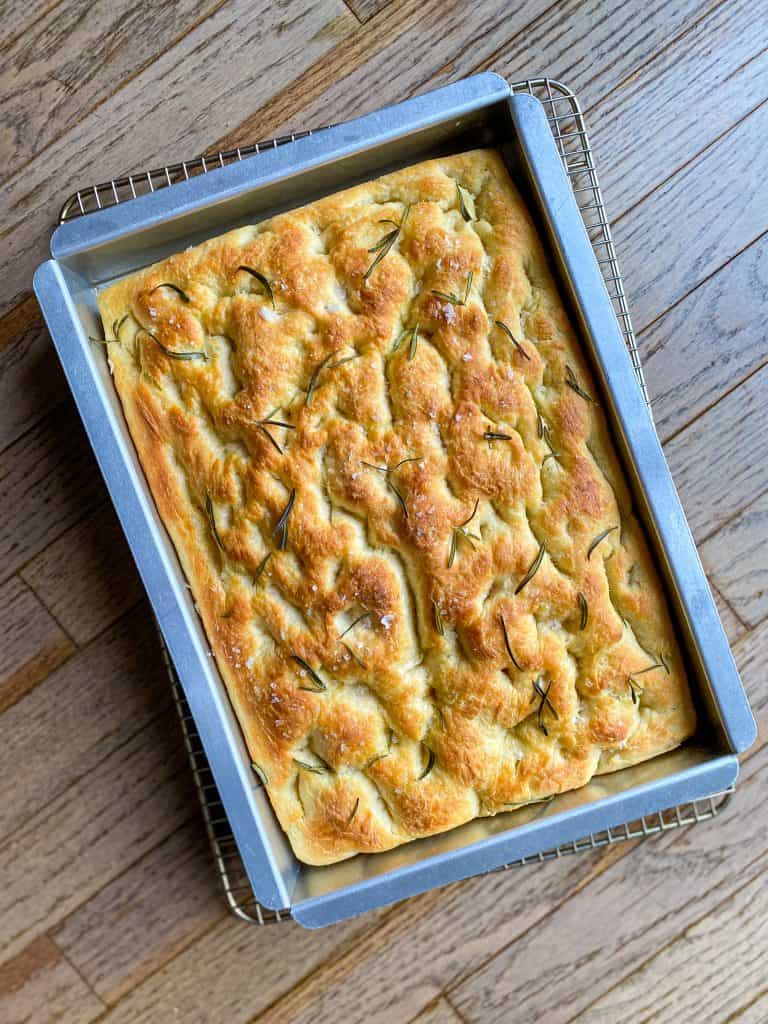 Want more easy yeast recipes?
Rosemary-Garlic Focaccia Bread
My No-Knead Rosemary Garlic Focaccia Bread has a crispy crust, is soft and fluffy, and has a lovely rosemary and garlic flavor. Easily doubled, you can make enough focaccia for everyone!
Ingredients
1 ¼

cups

warm water (110°-120° is best)

300 g

1

teaspoon

honey

1 ⅛

teaspoon

active dry yeast

6

tablespoon

olive oil, divided

82 g, plus more for finishing the bread after baking

1 ¼

cups

all-purpose flour

162 g

1 ¼

cups

extra fine-flour

162 g (also known as 00 flour) If you can't find this, just use more all-purpose flour

2 ½

teaspoon

kosher salt

(this will also be divided in the recipe, 2 teaspoon in the dough and ½ teaspoon in the mixture we'll make for the top of the bread)

1

sprig

fresh rosemary

about 1 ½ teaspoon when chopped

2

cloves

garlic

Flaky sea salt

for finishing baked focaccia
Instructions
Place warm water in a large bowl, along with one teaspoon of honey and 2 tbs of olive oil. Add the yeast and stir gently. Allow to sit for 5-10 minutes, or until the surface looks foamy (this is called "proofing" your yeast.) 

Once the yeast is proofed, add flour and 2 teaspoon salt and mix well with a dough whisk, wooden spoon, or rubber spatula until a shaggy loose dough forms and no big flour pockets remain. Cover and allow to sit for 15 minutes.

After resting the dough, you will fold it to strengthen the gluten and develop an airy crust. Starting at the twelve o'clock 🕛 position, use a slightly wet hand, or a flexible dough scraper, to grab the edge of the dough, pull it toward the center, and over to the other side of the dough.

Turn the bowl a quarter turn and do it again, and continue until you've done four folds, all the way around the dough. Cover the dough again and allow it to rest for 5 minutes. Repeat the folding technique 2 more times (for a total of three times) 5 minutes apart.

Transfer your dough to another large bowl that has been coated with 2 tablespoons of your olive oil. Roll the dough in the oil to coat it all over and cover the bowl with a piece of plastic wrap that has been sprayed with a little non-stick spray. Allow the dough to rise for 1-2 hours in a warm spot in your kitchen, or until it has doubled in size.

Cold kitchen proofing hack: If you have a gas oven, an easy way to do this is to turn your oven on to 350° for exactly one minute. Turn it off and your oven will be a nice warm environment that your dough will love. Electric oven? Turn on your oven light before starting the dough making process and leave it on the whole time the dough is rising. It gives a nice gentle warmth to the oven.

Overnight proofing option: After mixing the dough as directed and placing it in your oiled bowl, cover the bowl with plastic wrap and place in the refrigerator overnight or up to one full day. Allow to come to room temperature for 30 minutes and then carry on with the rest of the recipe as written.

Grease the sides and bottom of a 12 inch cast iron pan, or a large, deep cake pan, with 2 tablespoons of the flavored oil. Transfer your dough to the pan. It will be very loose, but that is absolutely normal. This is a wet dough and that's what makes it so soft and fluffy! 

Using your fingertips, gently nudge the dough to fill the pan as much as you can. Don't worry if it doesn't fill the pan completely. Cover again with plastic, set aside on the counter, and allow to rise for 60-90 more minutes, or until the dough fills the dimensions of the pan.

To make the topping, strip the rosemary from the stems and chop. Using a fine zester, grate the garlic. Add rosemary, grated garlic, and ½ teaspoon kosher salt to 2 tablespoon of olive oil and mix well. Allow to sit while your dough makes its final rise. This will allow the oil to really absorb the flavor of the rosemary and garlic.

While your dough makes its final rise, preheat your oven to 450° and place the rack in bottom third of the oven.

Spoon the rosemary garlic olive oil all over the surface of the dough and gently spread around. With your fingertips, press deeply into the top of the dough, almost to the bottom, to make the traditional dents found on the surface of focaccia.

Bake for 25-28 minutes or until the top is golden brown. Remove from the oven and brush the top with a little more olive oil and sprinkle with flaky sea salt, if desired.

Run a thin metal spatula along the edges of the pan to loosen the bread and place it on a wire rack to cool.

It's perfect dipped in a little olive oil and balsamic vinegar, sliced in half for a delicious sandwich, or just eaten on its own.
Notes
Nutrition information provided is only an estimate and will vary based on cooking methods and brands of ingredients used.
Nutrition
Calories:
163
kcal
|
Carbohydrates:
21
g
|
Protein:
3
g
|
Fat:
7
g
|
Saturated Fat:
1
g
|
Sodium:
487
mg
|
Potassium:
41
mg
|
Fiber:
1
g
|
Sugar:
1
g
|
Vitamin A:
1
IU
|
Vitamin C:
1
mg
|
Calcium:
6
mg
|
Iron:
1
mg
The nutritional and caloric information shown is an estimate provided by an online nutrition calculator. It does not assert or suggest that readers should or should not count calories, and should not be considered a substitute for a professional nutritionist's or doctor's counseling.