Perfect for breakfast or dinner, these Crispy Sheet Pan Potatoes are crispy on the edges and creamy in the middle. They go great alongside eggs or steak, and everything in-between. They are destined to be your new go-to potato!
Mmm... crispy potatoes
In our house, there has always been a fight to see who can get the crispiest of almost anything we eat. The edge pieces of brownies, tuna casserole, lasagna... we all want it. These sheet pan potatoes solve the crispy potato crisis by putting crispy edges in every serving.
What kind of potato should you use?
In order to get the best browning and crisping of the potato, I prefer to use russet potatoes. Their high starch, low water content enables them to cook up lighter and crispier than other, more waxy potatoes like red skin or yukon gold. And to be honest, I just really prefer the taste and texture of a russet potato.

How to get thin, even slices
I like to use a mandolin slicer to get my potato slices uniformly thin. If you don't have/don't want to purchase one, a good sharp knife and a careful hand are time honored tools for slicing. If you get some more thin than others, that just gives you a variety of textures, some more crispy, some more creamy. Ain't nothing wrong with that!
How to make Crispy Sheet Pan Potatoes
It really couldn't be simpler.
Slice and dry your potatoes In this recipe, I go as thin as possible, setting my mandolin to 1/16 inch. You could even go up to ⅛ inch, but the edges might not get as many chip-like crunchy bits. I then lay my potato slices on a sheet of paper towel and pat them dry with another towel. This will allow the oil and seasonings to stick better and for the potatoes to get crispier.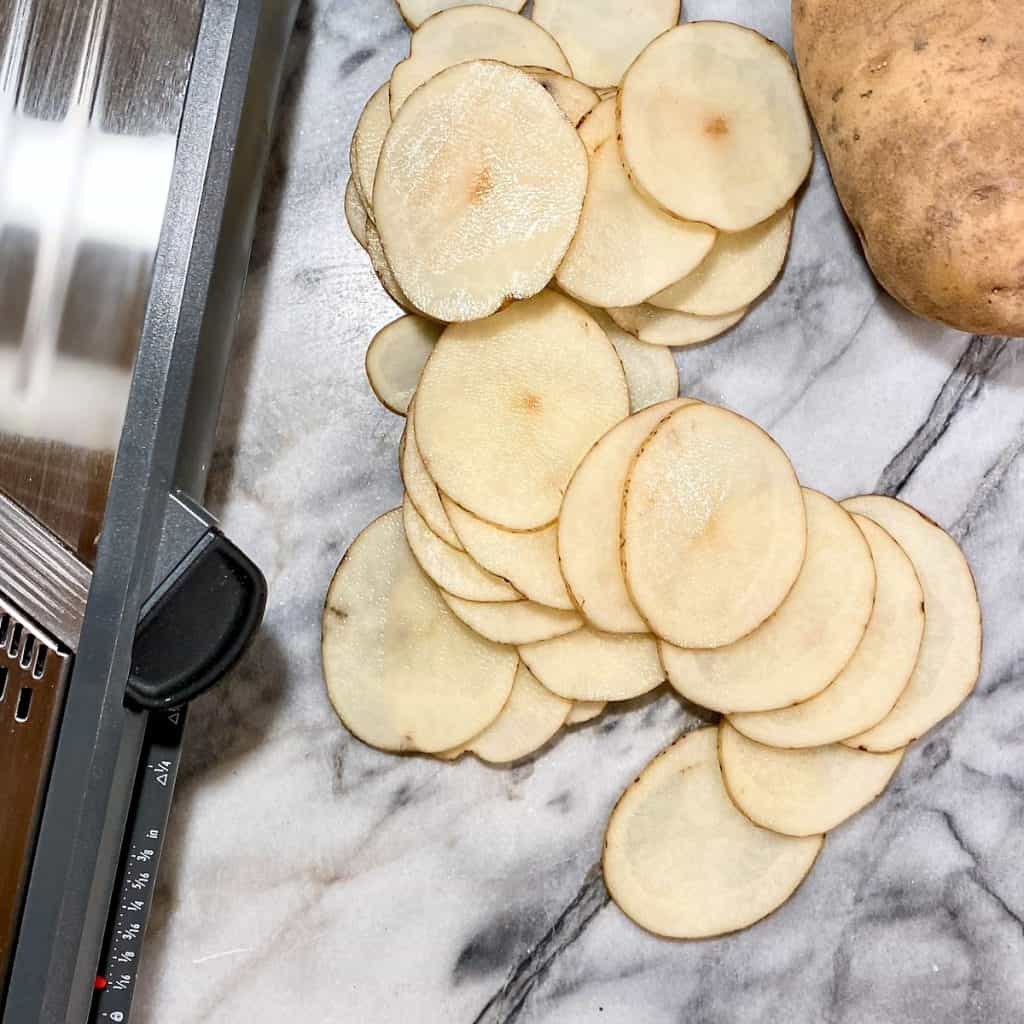 Season I normally go au naturel with sheet pan potatoes because I really, really love the flavor of potato. I place the potatoes in a large enough bowl to mix the slices with salt, pepper, olive oil, and fresh thyme. Get in there with your hands and make sure that each individual slice has oil and seasonings. You can also add any other seasonings you might want to add at this point; lemon pepper, adobo, cajun and taco seasonings would all be great choices. Just check the salt content of those spice blends before adding additional salt. Remember, you can always add more salt, but you can't remove it.
Shingle Spray a half sheet pan with nonstick spray. Nothing is worse than making something delicious that you can't remove from the pan 😩 I use a good nonstick half sheet pan from USA Pan and it never lets me down. Lay the potatoes in an overlapping pattern, much like the shingles on a roof. Some parts will lay over others and that will give you the variety of textures that you're looking for, some crispy, some creamy.
Bake Preheat oven to 425°F while you are shingling your potatoes. When the oven comes to temperature, place the tray in the lower third of your oven and bake, undisturbed, for 30-40 minutes, or until you see brown and crispy edges on your potatoes.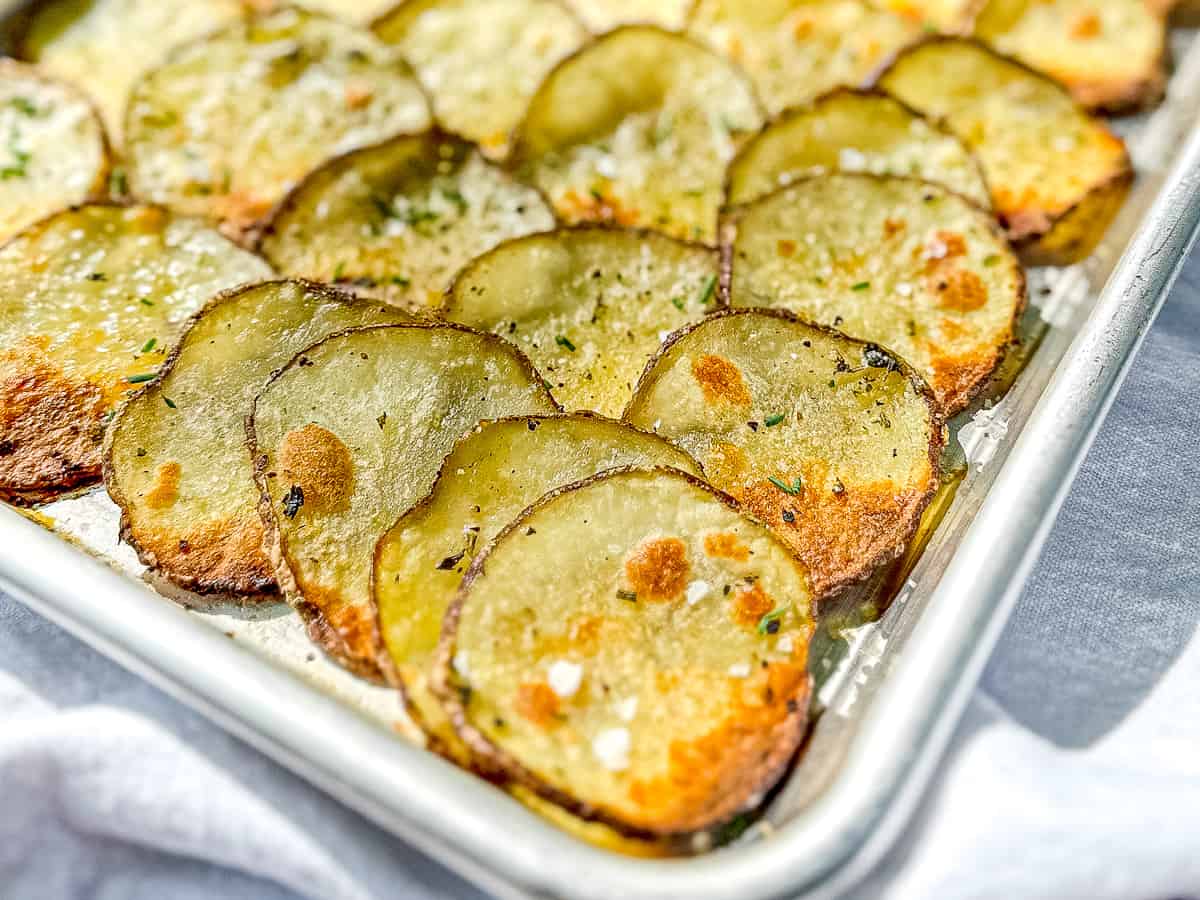 What should I serve with these potatoes?
Sour cream and chopped chives These sheet pan potatoes are amazing with just a spoonful of sour cream and some fresh chopped chives. Totally gives you that potato chip and dip vibe! I just get a forkful of potatoes and drag them through and let my eyes roll back in my head 🙄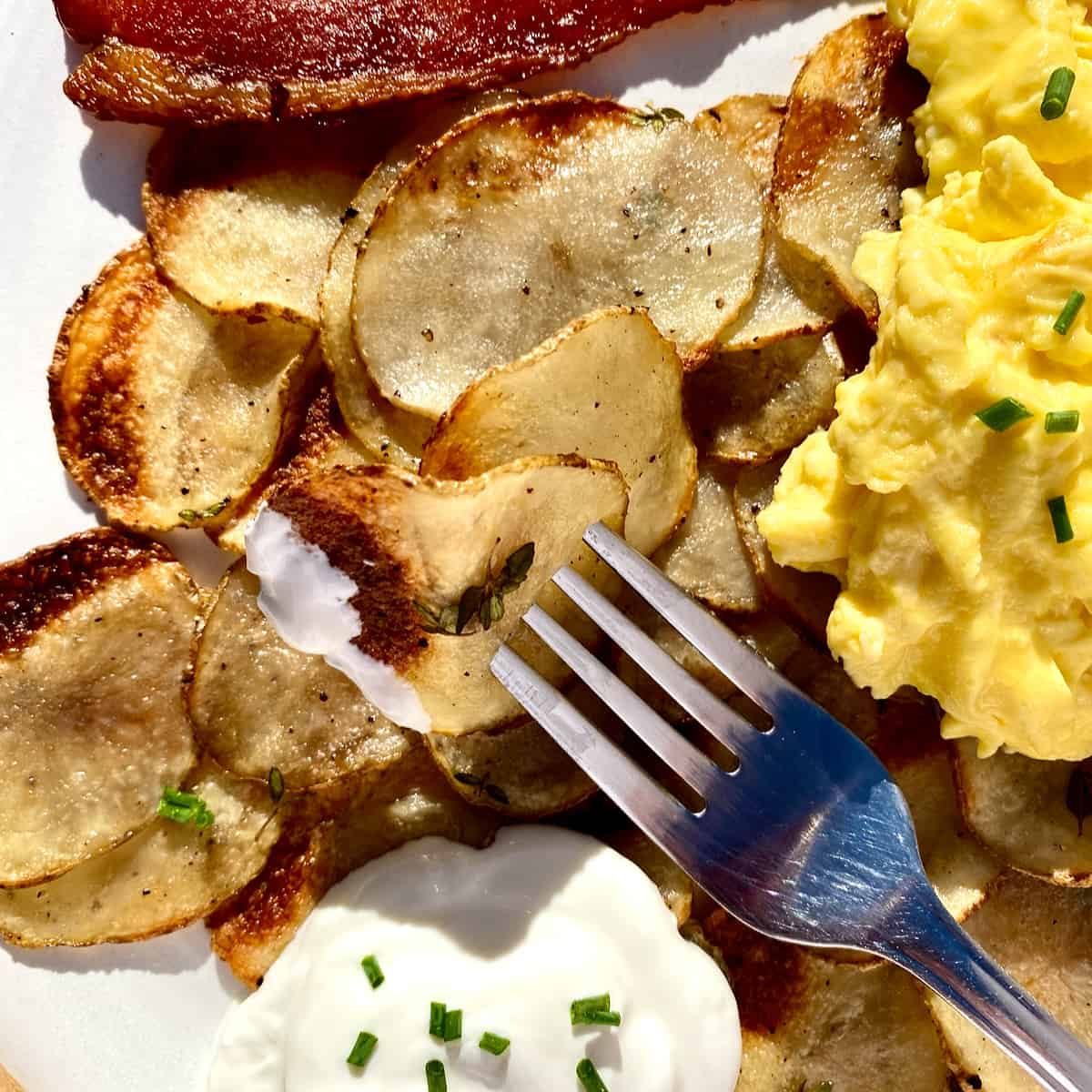 Eggs Over-easy, sunny side up, scrambled, or frambled, these potatoes were born to be eaten with eggs.
Steak The creamy parts of the sheet pan potatoes soak up the juices of a steak for a crave-worthy bite. Oh my.
Steak and eggs See above and drool.
With my Herb Salsa Verde from another popular potato recipe.
Looking for more potato recipes?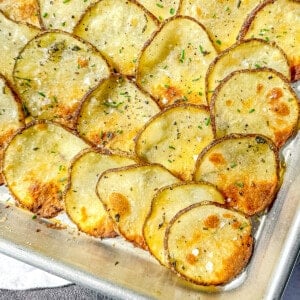 Crispy Sheet Pan Potatoes
Perfect for breakfast or dinner, these versatile sheet pan potatoes are crispy on the edges and creamy on the inside. They go great alongside eggs or steak, and everything in-between and are destined to be your new go-to potato!
Ingredients
4

large

russet potatoes

4

tbs

olive oil

1

teaspoon

kosher salt

¼

teaspoon

ground black pepper

1

teaspoon

fresh thyme

chopped
Instructions
Preheat your oven to 425°F and place a rack in the lower third of your oven. Spray a half sheet pan with nonstick spray and set aside.

Using your mandolin slicer, or a very sharp knife, slice your potatoes ⅛-1/16 inch thick. Lay the slices, in a single layer, on paper towel to remove surface moisture.

Place potato slices in a large bowl and drizzle with olive oil and season with salt, pepper, and fresh thyme. If you want to use any other seasonings, this would be the time to add them. Skip the kosher salt if your seasoning already contains salt.

Using your hands, rub the oil and seasonings onto the surfaces of each slice of potato. As the slices are very thin, they sometimes stick together, so you need to manually pull them apart and get the oil and seasoning on there.

Lay the potatoes on your half sheet pan in a shingled pattern. They can (and will) overlap eachother, but don't pile them up. Keep to one layer of overlapping potato slices (see photo in post).

Bake at 425° for 30-40 minutes, or until the edges of most of the slices are a dark golden brown and the centers are creamy and soft.

Serve with sour cream and chopped chives or as an accompaniment to eggs or meat.
Nutrition
Calories:
277
kcal
|
Carbohydrates:
45
g
|
Protein:
5
g
|
Fat:
10
g
|
Saturated Fat:
1
g
|
Polyunsaturated Fat:
1
g
|
Monounsaturated Fat:
7
g
|
Sodium:
400
mg
|
Potassium:
1029
mg
|
Fiber:
3
g
|
Sugar:
2
g
|
Vitamin A:
19
IU
|
Vitamin C:
15
mg
|
Calcium:
34
mg
|
Iron:
2
mg
The nutritional and caloric information shown is an estimate provided by an online nutrition calculator. It does not assert or suggest that readers should or should not count calories, and should not be considered a substitute for a professional nutritionist's or doctor's counseling.