This Crispy Roasted Potatoes with Herb Salsa Verde is going to be your new favorite way to eat potatoes with every meal. So delicious and so easy to make - it's going to become your new obsession!
Confession: I love potatoes. Like, a lot. During one of my pregnancies all I could eat was potatoes and instead of making me sick of them it made us best friends. These Crispy Roasted Potatoes with Herb Salsa Verde are my newest potato obsession and I feel like I'm never going to stop making them!
Oddly enough, these potatoes were inspired by Jonathan Waxman's Roasted Chicken with Salsa Verde. I saw a YouTube video of Jonathan making that recipe and I had to replicate it immediately. I freestyled a bit by adding some potatoes to the pan with the chicken, and when I tasted those potatoes with some herb salsa verde on them, I was hooked!
In addition to the herbs, the salsa verde has arugula for a peppery bite, some garlic, and (gasp 😱) anchovy paste. The result is a salsa verde you'll want to put on everything, chicken, fish, steak, eggs, POTATOES, or even to mix with mayonnaise for an incredible sandwich spread... the list is endless!
The first thing you'll do is make the salsa verde. It is a simple process of chopping all the herbs and mixing them with the other ingredients, including olive oil, then letting it sit to develop flavor. While that is happening, you can make your potatoes. The potatoes are roasted simply with salt, pepper, rosemary, and olive oil, but at a high temperature to really get them crispy. Put them together and it's magic!
Jump to:
❤️ Why you'll love this recipe
Quick and easy - Both components of this recipe are so simple to make, take hardly any time at all, and require no complicated knife skills. Got 20 minutes? Can you chop? You can make this.
Affordable - All of the ingredients for this recipe are easy to find at the store and are not expensive at all!
Convenient - These Crispy Roasted Potatoes with Herb Salsa Verde can be served with absolutely any meal, are just as delicious room temperature as they are hot, and compliment any dish they are served with!
Versatile - Although this is my new preferred way to eat potatoes, you can, and will, be roasting the potatoes alone some days and just making the salsa verde other days. They are both that good on their own!
Inspiration
A quick note: My husband and I finally had a chance to eat at Jonathan Waxman's flagship restaurant Barbuto in New York City. Of course I had the roasted chicken with salsa verde and I can only hope I've done that dish proud with my version of his sauce. We had the best meal of our lives there and it continues to be a huge inspiration in my cooking.
What is Salsa Verde?
When most people think of salsa verde, they think of the Mexican tomatillo salsa that goes so well in chilaquiles, but there are so many different varieties; Argentinian chimichurri, Moroccan chermoula, and zhoug from Yemen, just to name a few. Even the common Italian pesto is technically a salsa verde, or a green sauce that is most often uncooked and usually served cold or at room temperature.
The Herb Salsa Verde you'll be making in this recipe is actually in the sauce verte family, but now I'm just showing off all the fancy food words I know. It's delicious, so let's make it
Ingredients
Fresh herbs, some potatoes, some oil, a few odds and ends. Nothing rare or hard to find. It's almost as if I want you to make this immediately and often!
See recipe card below for quantities.
Substitutions
I really want you to make this recipe. Not just because I want visitors to my blog. I want you to make this because I think it's too delicious not to share. So let's make it work. Keep it Italian by serving with my Ricotta Scrambled Eggs!
Potatoes - In my opinion, russet potatoes make the best crispy roasted potatoes. Period. But I have tried this recipe with fingerling potatoes, yellow and white potatoes, and eastern potatoes. They are best with starchy potatoes, but an all-purpose potatoes, like yukon gold, will work too.
Herbs - This is not the recipe to try and substitute with dried herbs. Salsa verde is a fresh herb driven condiment and just won't work with dried or even freeze dried herbs. That being said, the herbs in the ingredient list can be changed out for other soft herbs, like tarragon, mint, chervil, and oregano, if that's what you have.
Anchovy - I get it that some people don't even like the idea of using anchovy, even if they've never tasted one. Poor little fishies don't get any respect. If you want, you can substitute the anchovies in the salsa verde with very finely minced olives to get a bit of the umami flavor, but otherwise just leave the it out. You won't know what you're missing. I'll know, and it'll make me sad, but I'll recover.
Sauce variations
Italian Part 2 - My Italian chimichurri is also another very good idea if you want a little heat.
Argentina - Adding this classic Argentinian sauce to your potatoes would give it a more zingy, acidic twist that I'm not mad at.
Mexican - The salsa verde in my Chilaquiles would be an amazingly tangy and spicy accompaniment to your potatoes.
Storing leftover herbs
Although this recipe uses a good amount of fresh herbs, unless you are doubling or tripling the recipe, you are likely to have some leftover. So, what's the best way to store them? Here are a few:
On the counter - If you still have the stems attached, just place your herbs in a small glass with water covering the stems and keep them on your counter, just like you would keep fresh flowers. Change the water daily and they can keep for up to 3 days.
Refrigerator - If I want to keep them longer, or they are delicate herbs like dill, I put them into a zip top bag, along with a piece of paper towel that I have spritzed with a bit of water, to keep them from drying out. Herbs stored this way can keep up to 5 days.
Freezer - For longer storage, I like to chop or mince my herbs and place about a teaspoon or tablespoon of each into a one of the compartments of an ice cube tray (the amount depends on the size of your tray compartments). Then I pour olive oil to cover and freeze. When frozen, I transfer the cubes to labeled zip top bags and store for up to 6 months. To use, just add the desired frozen herb straight into your recipe. It will thaw as you cook.
Equipment
Sheet pans are the undisputed hero of the kitchen. They are not only good for making cookies, they are unbeatable for roasting vegetables, entire sheet pan dinners, and my easy sheet pan french toast. But be aware that not all sheet pans are created equal.
The cheap sheet pans you get at discount stores, or in "starter baking sets" are usually thin and of poor quality and workmanship. I also do not like using nonstick sheet pans, as the coating can become sticky over time and scratch easily.
Rimmed aluminum sheet pans are economical and versatile and are used most often in professional kitchens. In most of my recipe process shots you'll see me use a large sheet pan, which measures 13 by 18 inches, but I also use my small sheet pan, which is 13 by 9 inches, quite a bit.
I tell you all of this because using a good quality aluminum sheet pan in this recipe will get you the best results. The instructions will call for you to preheat the pan in the oven before roasting the potatoes, and most discount store sheet pans will warp at high heat. You can get a 2 pack of the large sheet pan for less than $30 and it's well worth the investment. I have 8 of them 🤭
Instructions
Two very simple parts to a very delicious recipe. I understand that you might want to save time by using your food processor for the salsa verde, but I urge you not to give in. The texture will not be the same. This is meant to be a rustic, hand chopped sauce, not a puree.
Start your recipe by preheating your oven to 425°F and placing a large sheet pan on the lowest rack of your oven.
Making the salsa verde
1. Squeeze anchovy paste into the bottom of a medium bowl. Grate in your garlic cloves.
2. Gather all of your herbs and arugula onto your cutting board and place the capers into a nest in the center.
3. Use a chefs knife to chop all of the herbs as finely as you can. Start by running your knife through at one angle, turn the board and go through at another angle. Keep going until you have a uniformly fine texture.
4. Place all of the herbs into the bowl with the anchovy and garlic.
5. Season with ½ teaspoon of salt and a pinch of fresh ground black pepper, then add ½ cup of your olive oil. Stir through the herbs and add as much of the remaining oil to get a nice loose consistency, similar to a spoonable sauce.
6. Taste and add more salt and pepper to your liking. Allow to sit for at least 20 minutes to let the flavors to meld and become their most delicious.
Making the potatoes
1. Wash your potatoes. Peel if you prefer. Cut into large dice, between ½ and 1 inch square.
2. Place potatoes into a large bowl and mix with salt, pepper, finely chopped rosemary, and olive oil.
3. Carefully remove your sheet pan from the oven and pour your potatoes onto the surface. Spread evenly. Roast for 10 to 15 minutes and flip. Roast for another 10 to 15 minutes, or until potatoes are crispy on the outside and tender on the inside. It may take up to 40 minutes to get them fully cooked and crispy, depending on your oven.
4. Drizzle all over with about half of the salsa verde and toss to coat. Drizzle with more as desired. Serve warm or room temperature.
Hint: A little sprinkle of flaky sea salt finishes off your Crispy Roasted Potatoes with Herb Salsa Verde perfectly. I guess that's why they call it finishing salt 😉
Serving Suggestion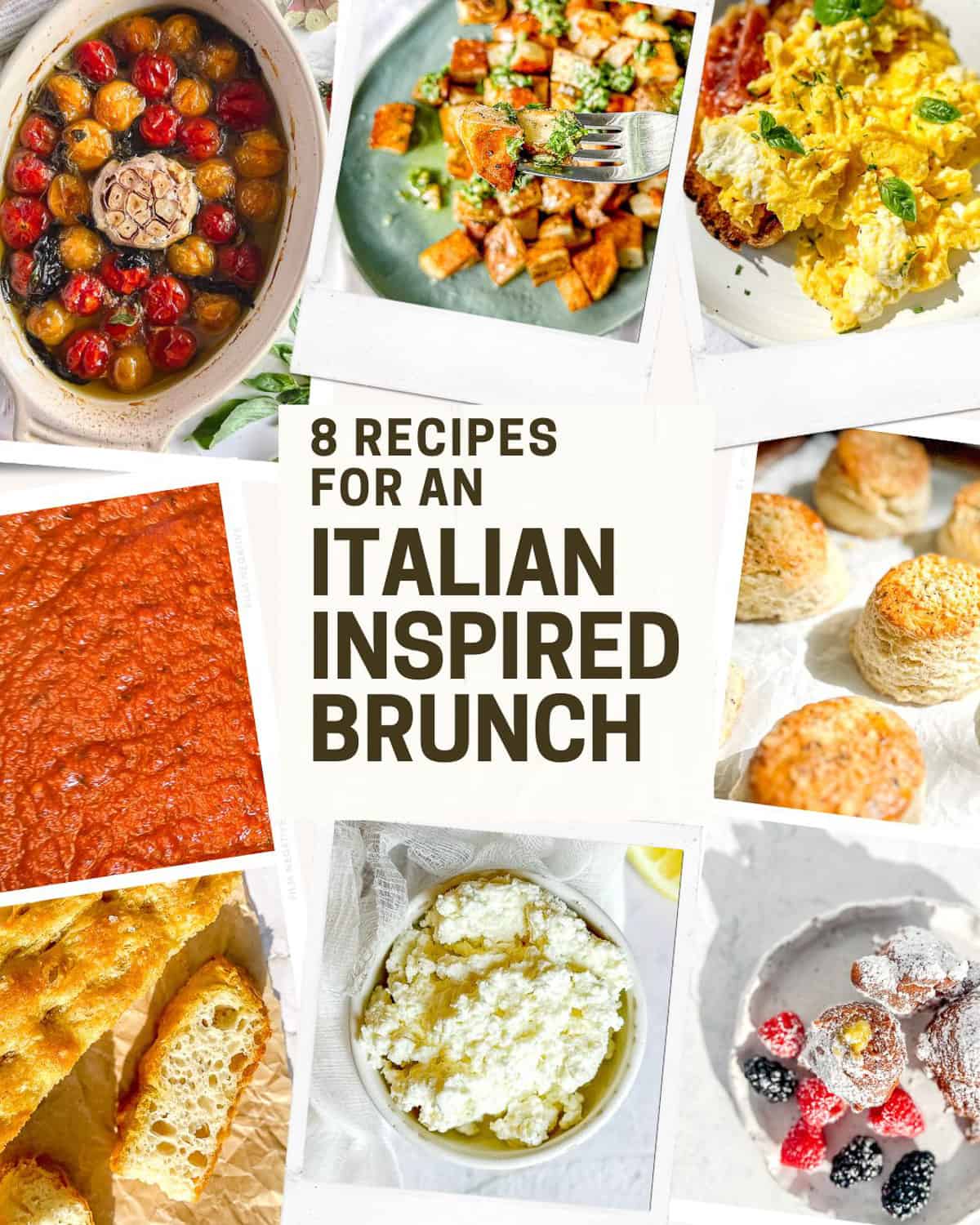 Sunday Brunch is a great time to catch up with family and friends over great food. Bring home the dream of an Italian Inspired Brunch, including this recipe!
Expert tip
Sometimes I place my sheet pan on top of my baking steel when roasting vegetables. A large sheet of steel that resides permanently in my oven, I use it to crisp up the bottoms of my pizzas and focaccias, and its heat retention even helps to regulate the temperature of my terrible oven. I put my baking steel on the rack that I have placed in the bottom third of my oven. It gives a consistent, semi-direct heat source to give you extra crispy vegetables.
Recipe FAQ's
Can I use dried rosemary in my roasted potatoes?
I'm gonna have to give a big thumbs down on that. I use a lot of dried herbs in my cooking, but never, ever do I use dry rosemary. In my experience, even a brand new bottle is full of sharp, unrelentingly dry shards of rosemary. They never hydrate and are unpleasant to eat. If you don't have fresh rosemary, you can use fresh thyme, or just stick with salt and pepper.
What potatoes should I use?
Russet and Yukon gold are great choices. The best thing about starchy potatoes like these is that they crisp up so nicely on the outside, while remaining creamy and fluffy on the inside. A waxier potato, like red or fingerling potatoes, can get a bit gluey when baked and never get that good crisp, so I would avoid them here.
How do I know when my roasted potatoes are done?
We want that sweet spot where our potatoes are super crispy, but not mushy inside. If your potatoes look brown and crispy, see if you can stick a knife or a cake skewer easily into your potato. If you can, you're done.
Can I use while anchovy filets instead of the anchovy paste in my salsa verde?
Yes you can. For each teaspoon of anchovy paste you would need 2 anchovy filets. So for this recipe, you would need 4 filets. Mash them directly on the cutting board with a fork and then chop the herbs on top of them, incorporating them into everything.
Storage and Reheating
Storage
Store leftover potatoes in an airtight container for up to 5 days. Store leftover salsa verde by drizzling the surface with more olive oil, just until the herbs are covered. Keep covered in the refrigerator for up to 5 days. The oil will solidify when cold, so allow it to come to room temperature before using.
Reheating
To reheat your roasted potatoes, you can place them on a sheet pan in a 350°F oven for 10 to 15 minutes, or until warm. They won't re-crisp very much, but they will still be delicious. You can also pop them in the microwave until hot.
Did you try this recipe? Tell me all about it!
Leave a ⭐️ review and comment below!
Take a pic and tag @butfirst_webrunch on Instagram!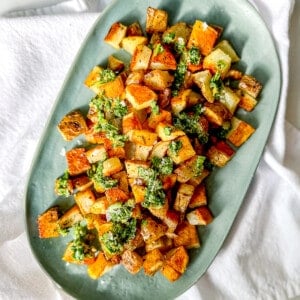 Crispy Roasted Potatoes with Salsa Verde
This Crispy Roasted Potatoes with Herb Salsa Verde is going to be your new favorite way to eat potatoes with every meal. So delicious and so easy to make - it's going to become your new obsession!
Ingredients
Salsa Verde
2

tablespoons

(

20

g

)

capers

rinsed and drained

2

teaspoons

(

12

g

)

anchovy paste

2

cloves

(

10

g

)

garlic

grated

½

ounce

(

14.17

g

)

fresh parsley

½

ounce

fresh dill

½

ounce

(

15

g

)

arugula

½

ounce

(

15

g

)

fresh basil

½

ounce

(

15

g

)

fresh cilantro

½

ounce

(

15

g

)

fresh chives

⅔

cup

(

144

g

)

extra virgin olive oil

½

teaspoon

kosher salt

Pinch

freshly ground black pepper

Kosher salt and freshly ground black pepper to taste
Roasted potatoes
2

pounds

(

900

g

)

russet potatoes

about 4 medium potatoes

2

tablespoons

(

30

g

)

olive oil

1

teaspoon

kosher salt

½

teaspoon

freshly ground pepper

1

sprig fresh rosemary

leaves removed and chopped

Flaky sea salt

optional
Instructions
Preheat oven to 425°F. Place large sheet pan onto the lowest rack in your oven.
Make salsa verde
Grate garlic with a microplane into a medium bowl. Add anchovy paste.

Rough chop your herbs and arugula and place on a cutting board along with rinsed and drained capers. Chop until thoroughly minced and add to the bowl with the garlic and anchovy. Add ½ teaspoon of kosher salt and a pinch of fresh ground black pepper.

Add ½ cup of the olive oil and mix. If you want it looser, add more, up to ⅔ cup total. Season with kosher salt and black pepper to taste. Set side. Can be made up to 4 days ahead. Allow to come to room temperature before using.
Roast potatoes
Wash potatoes. Peel them if you prefer. Dice into pieces ½ to 1 inch in size. Place in a bowl with 1 sprig of chopped rosemary, salt, and pepper. Add olive oil and toss.

Carefully remove sheet pan from the oven and spread potatoes on the pan. Place in 425°F oven for 10 to 15 minutes, toss, and return to the oven. Roast another 10 to 15 minutes (depending on the size of the dice), until crisp.

Place crispy roasted potatoes in a bowl or platter and drizzle all over with salsa verde. Sprinkle with flaky sea salt, if desired. Serve warm
Notes
Salsa verde can be made ahead. Cover the top with a thin layer of olive oil and store in an airtight container. Store in the refrigerator for up to 5 days. Olive oil may solidify when refrigerated. Allow to come to room temperature before using.
Nutrition
Calories:
382
kcal
|
Carbohydrates:
28
g
|
Protein:
4
g
|
Fat:
29
g
|
Saturated Fat:
4
g
|
Polyunsaturated Fat:
3
g
|
Monounsaturated Fat:
21
g
|
Cholesterol:
2
mg
|
Sodium:
546
mg
|
Potassium:
695
mg
|
Fiber:
2
g
|
Sugar:
1
g
|
Vitamin A:
648
IU
|
Vitamin C:
15
mg
|
Calcium:
43
mg
|
Iron:
2
mg
The nutritional and caloric information shown is an estimate provided by an online nutrition calculator. It does not assert or suggest that readers should or should not count calories, and should not be considered a substitute for a professional nutritionist's or doctor's counseling.