Leftover meat and vegetables get a new life when crisped up in a pan with roasted potatoes. With an easy base recipe, you'll find yourself making Breakfast Potato Hash for every meal!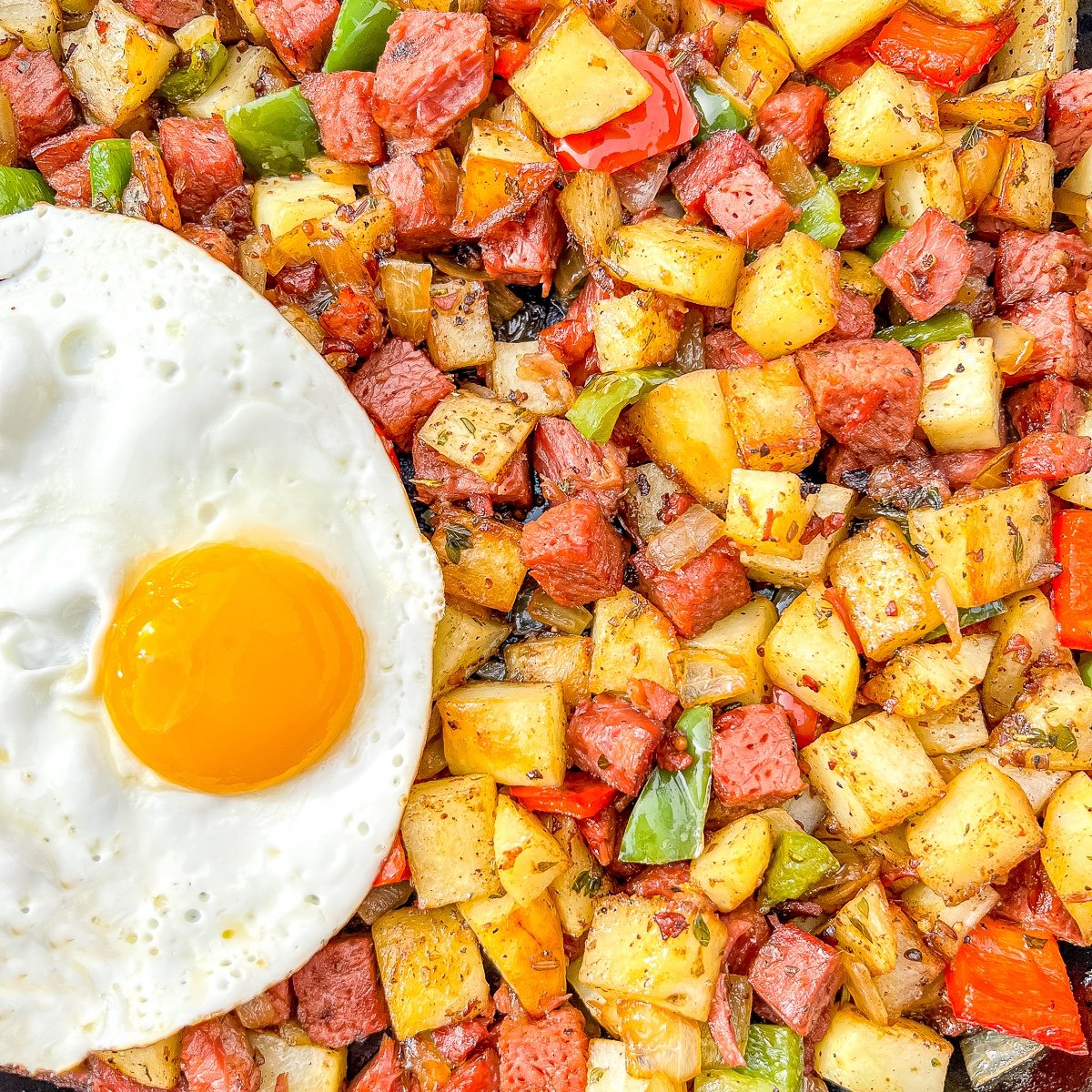 My Breakfast Potato Hash solves a very first world problem for me. I don't really like leftovers. But listen, as a food blogger, and the person who does all the recipe testing, and tasting, I can only eat something so many times. I get antsy for the next thing.
So, what to do with just a bit of meat, a container of leftover vegetables, half an onion, and a limp red bell pepper? Make potato hash! A meat, some vegetables, and your imagination are all you need to cure food fatigue!
Jump to:
Ingredients
This is, in no way, an exhaustive ingredient list. I sometimes add 3 or 4 different vegetables, if that's what I have. Here's my basic hash-enario along with some simple substitutions:
Potatoes My potato preference is always going to be russets, but you can use whatever potato you prefer, and you can peel them or not. It's up to you.
Herbs and spices If you want to bring more zing to your hash, adding some herbs and/or spices to your potatoes is a good place to start. A potato is a blank slate, just waiting for you to bring it to life. I sometimes add some fresh chopped herbs, like rosemary or thyme, and sometimes I add spice blends, like adobo or cajun spice.
Onions I believe that most soups, stews, roasts, and hash recipes can benefit from a bit of onion. If you don't like onions, or you have an allium allergy (onion, garlic, scallion, shallot, etc...) you can replace them with more vegetables. I've heard, though I haven't tried it myself, that a bit of caramelized fennel can be quite flavorful in hash. Add one cup of onion or a substitute.
Other vegetables You want something that hold its shape when cooked, and maybe adds a pop of color to your hash. The standard veggie is a bell pepper, but switch out with carrots, broccoli, asparagus, brussels sprouts, or even apples (not a vegetable, I know) for a change of pace!
Protein We're going on the assumption that you want meat in your hash, but remember, it's not required. I find that 8 ounces (about 225 grams) of pre-cooked meat is just the right amount. Some, but not all, of the meats I've added to my hashes are corned beef, all the sausages, chorizo, shredded chicken, shredded pork, diced brisket, crab, leftover turkey, and so, so many others. I really like hash.
Substitutions
Potatoes You can also use sweet potatoes, butternut squash, or acorn squash. I've even heard of people who follow the keto diet using turnips.
Herbs and spices Use about a teaspoon of your choice of fresh herbs or ½ teaspoon of spices to get you started and you can adjust to your preference from there. You can also season with simply salt and pepper, as long as you just remember to season and to taste.
Vegetables Sometimes I'll add in a few cups of leafy green vegetables like kale or swiss chard and let it wilt in. Two cups of leafy greens should do it.
Meat Of course, I'm coming at this from a carnivorous viewpoint, but you can absolutely make an all-vegetable hash. You could swap out the meat with caramelized mushrooms or even season and sear extra-firm tofu and add it into your hash. All's fair in the hash game!
Instructions
I'm going to walk you through what you need to make a basic Breakfast Potato Hash to serve four hungry people. The one rule in making hash is to try to cut everything in similar sizes. I like to dice my potatoes and my vegetables in ½ inch dice, so they all cook, and look, uniform in the pan.
Season and par-roast potatoes I like to par-roast, or partially cook, my potatoes, so I don't end up with mushy taters in my hash. Not my thing. Here's how I do it: Preheat oven to 425°F and place a large sheet pan in the oven to preheat. In a medium bowl, toss diced potatoes with 2 tablespoons of canola oil or other liquid fat, one teaspoon of fresh herbs, and/or ½ to 1 teaspoon of your desired spices. Add to preheated sheet pan and roast for 10 minutes, toss, and roast another 10 minutes. They will not be completely done, but will finish cooking, and get nicely browned, in the pan with the vegetables.
Cook onions and vegetables I use a 12 inch cast iron skillet, over medium high heat, to sauté my onions and vegetables, until they begin to take on some brown color and start to get tender, about 3-4 minutes.
Add protein Toss your meat in with the vegetables, and cook to warm through and get some color n the meat, another 3-4 minutes.
Add potatoes Sauté the potatoes, vegetables, and meat together for about 5 minutes, allowing it to cook undisturbed for a couple minutes at a time, so it can caramelize against the surface of the pan. Some people like to give their hash a bit of a press with a spatula, to mush the potatoes a bit, and make more of a smashed hash, but I like mine with all the individual components recognizable. Do what makes you happy. Hash should make you happy!
Variations
Corned Beef Hash You can make your own corned beef up to 2 days before, or ask at the deli counter for 8 ounces of unsliced corned beef. Season potatoes with salt, pepper, rosemary, and thyme before roasting. Dice up your corned beef and proceed with the recipe. If you're feeling wacky, you can toss some sauerkraut and shredded swiss cheese into the finished hash, then drizzle over top with thousand island dressing, for a Reuben Sandwich twist.
Crab and Corn Hash Season potatoes with ½ teaspoon of Old Bay Seasoning and chopped fresh thyme before roasting. Add crab to vegetables, including ½ cup of corn kernels, along with 1 teaspoon of grainy mustard and 1 tablespoon of water. Add potatoes and finish cooking hash as directed.
Cajun Hash Season potatoes with ½ teaspoon of cajun seasoning (or more to taste) before roasting. Sauté onions with red bell peppers and jalapeños. Add andouille sausage and cook until flavors are all melded together. Garnish with fresh herbs, if desired.
Fajita Hash Season potatoes with adobo seasoning or a mixture of ½ teaspoon chili powder, ¼ teaspoon dried oregano, ¼ teaspoon cumin, and ¼ teaspoon garlic powder. Shred or dice cooked beef or chicken into cubes and cook along with onions and multicolor bell peppers. Serve with a sprinkle of cilantro and some salsa, if desired.
Fall Harvest Hash Season sweet potatoes or butternut squash with ½ teaspoon dried sage, ¼ teaspoon dried or fresh thyme, and a pinch of cinnamon and nutmeg. Roast as directed. Brown 8 ounces of crumbled breakfast sausage in your 12 inch cast iron skillet. When the sausage is almost fully cooked, with just a bit of pink in parts, add in onion and a diced apple and sauté until sausage is well browned, onions are soft, and apple has some nice caramelization. Add sweet potatoes or squash and finish cooking as directed. Before serving, add in 2 cups of torn kale or chard and continue sautéing until wilted. Garnish with crumbled goat cheese or feta, if desired.
Expert tip
This hash is perfect for topping with my Foolproof Poached Eggs. If you want to cook an egg (or eggs) directly into your potato hash, use the back of a large spoon to create wells to crack your eggs in, so they stay put. Start by turning your stove down to medium-low. Crack an egg into each well, cover the pan, and cook until the whites are set and the yolks are still jiggly. Cook longer if you prefer your eggs harder.
Do I need a cast iron pan to make this recipe?
No, you can use a large nonstick pan or stainless steel skillet. If using a regular skillet, make sure to preheat it according to manufacturer instructions so that your hash won't stick.
Can I use frozen diced potatoes?
Yes, you can, but I would thaw them overnight in the refrigerator. They won't get as crispy, but with proper seasoning, this will still be a delicious hash!
How do I store leftovers?
Place all leftovers in an airtight container and store in the refrigerator for up to 3 days.
How should I reheat my hash?
To reheat, put back into the skillet, or another ovenproof container, with 1-2 teaspoons of water. Cover and bake at 350°F until warmed throughout, or about 15 minutes.
More potato recipes
Hash by any other name: One more thing. I really am a potato lover at heart and I also want you to try my Hash Brown Avocado Toast with Poached Egg. I mean, if I have an opportunity to potato something, I'm gonna do it. Bread is great, but a hash brown patty as the base for avocado toast? I'm in!
Did you try this recipe? Tell me all about it!
Leave a ⭐️ review and comment below!
Take a pic and tag @butfirst_webrunch on Instagram!
Breakfast Potato Hash: Better than Basic
Leftover meat and vegetables get a new life when crisped up in a pan with roasted potatoes. With an easy base recipe, you'll find yourself making hash for every meal!
Ingredients
Potatoes
2

cups

diced potatoes

2

tbs

canola oil or other liquid fat

1

teaspoon

herbs or spices

½

teaspoon

salt

¼

teaspoon

black pepper
Other stuff
2

tbs

canola oil or other fat

1

cup

onion

diced

1

cup

other vegetable or fruit

diced OR

2

cups

leafy vegetable

such as kale, chard, or spinach

2

cups

meat

about 8 ounces, diced or shredded

Salt and pepper to taste
Instructions
Roasting the potatoes
Preheat oven to 425°F place a large sheet pan in the oven to heat up. Dice potatoes and place in a medium bowl. Toss with olive oil, desired herbs or spices, salt and pepper.

When oven is preheated, remove sheet pan from the oven and quickly spray with nonstick spray. Pour potatoes onto hot sheet pan and carefully make sure that it's in one layer.

Bake at 425° for 10 minutes, toss the potatoes, and return to the oven for another 10 minutes. Remove from oven and set aside while you prepare your vegetables and meat.
Making the hash
Dice meat and chosen vegetables in similar sizes. Heat a large cast-iron pan, or other large skillet, over medium high heat. Heat oil and then add onions and chosen hard vegetables to skillet. Sauté for a few minutes, or until just starting to soften a bit, about 3-4 minutes. Toss in your meat and sauté until warmed through and beginning to caramelize on the edges, probably another 3-4 minutes.

Add potatoes to the pan and continue to sauté for about 5 more minutes, or until potatoes have desired color, vegetables are tender but still have a little bite, and everything is warm through.

If using leafy vegetables, add at this time and sauté until wilted.

Serve alone, with hot sauce, or with an egg on top.
Notes
Can use any potato desired, or even a hard squash, such as butternut or acorn.
To season your potatoes, herbs like thyme, oregano, or rosemary are great, or spices like a Cajun spice, seasoning salt, or adobo.
Nutrition
Calories:
214
kcal
|
Carbohydrates:
17
g
|
Protein:
13
g
|
Fat:
11
g
|
Saturated Fat:
1
g
|
Polyunsaturated Fat:
3
g
|
Monounsaturated Fat:
6
g
|
Trans Fat:
1
g
|
Cholesterol:
32
mg
|
Sodium:
262
mg
|
Potassium:
595
mg
|
Fiber:
3
g
|
Sugar:
3
g
|
Vitamin A:
946
IU
|
Vitamin C:
51
mg
|
Calcium:
21
mg
|
Iron:
1
mg
The nutritional and caloric information shown is an estimate provided by an online nutrition calculator. It does not assert or suggest that readers should or should not count calories, and should not be considered a substitute for a professional nutritionist's or doctor's counseling.