My Maple Apple Breakfast Chops are marinated in maple syrup and apple juice and topped with maple apples, for an unforgettable sweet and savory combo!
Southern Pork Chops
As someone who absolutely loves breakfast, even I occasionally feel uninspired by the same old breakfast meats. Bacon, sausage, ham, maybe the occasional steak; I've made them all. Then, I remembered one of my favorite Southern breakfast delights: Pork chops.
I've definitely eaten pork chops for breakfast. Quite a few, not to brag. They're a staple in the South. If you've ever been to The Waffle House or Cracker Barrel, you've probably seen them on the menu. Breaded, grilled, or pan fried, pork chops can be a great addition to your morning menu!
My Breakfast Chops are thin. As thin as you can find. This makes them cook up faster than any other breakfast meat, bringing breakfast to your mouth that much quicker. In order to bring tons of flavor to a meat that cooks in less than 5 minutes, let's brine it!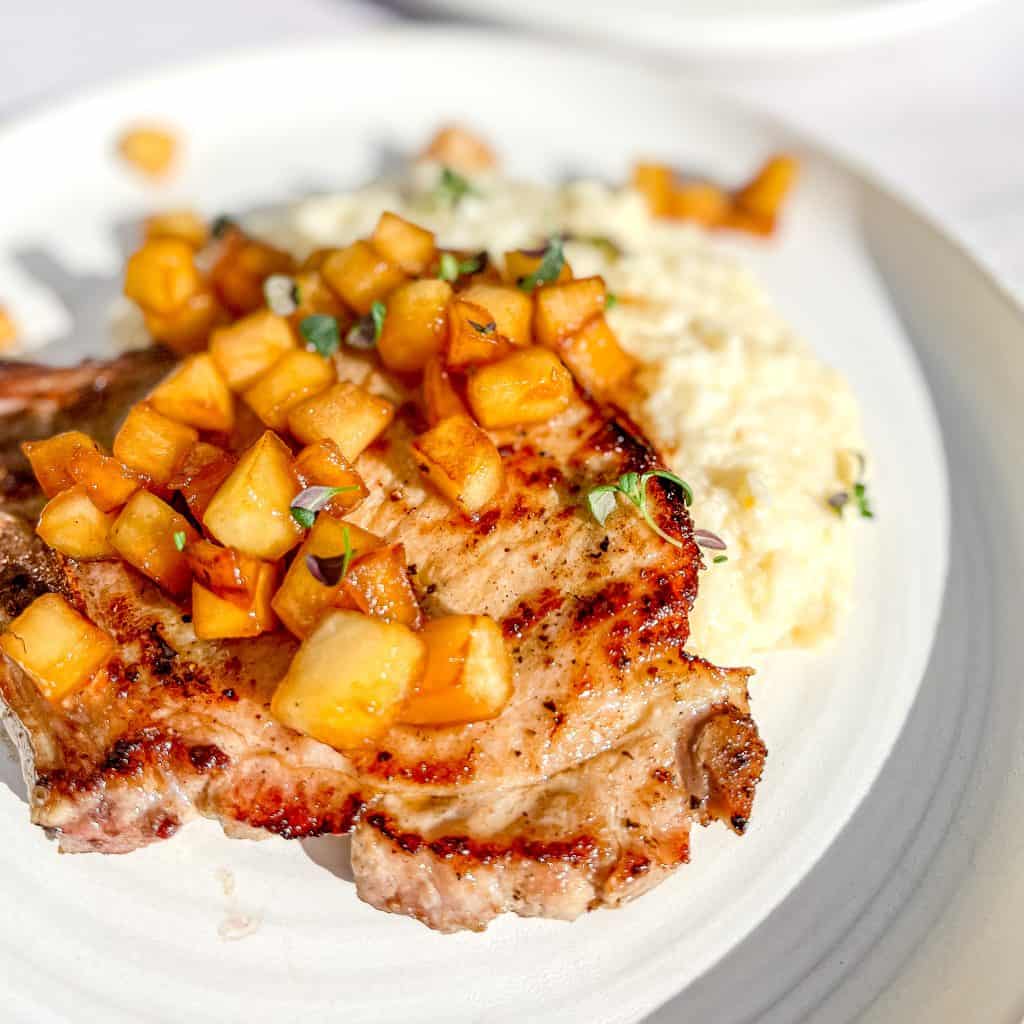 What is brining?
Brining is the process of submerging a meat in a liquid containing salt. Over time, the salt, bringing its best friend, liquid, with it, increases the flavor, moisture, and tenderness of your meat.
The brining process contributes not just moisture to your meat, but highlights any other seasonings or flavorings that you add to your brining liquid.
In the case of my Breakfast Pork Chops, instead of water, I use apple juice. In addition to salt, I add maple syrup for sweetness, and rosemary for an herby note.
The apple juice and maple syrup not only make your pork chops delicious, they help the meat caramelize while it cooks. Since these chops cook for such a short time, this is the best way to get some color on your chops without overcooking.
Ingredients for this breakfast pork chops recipe
Apple juice Apple juice is 88% water, but that means the rest of it is made of appley goodness, and everyone knows that apples and pork chops are BFF's. Have apple cider? It brings even more apple flavor.
Maple syrup Real maple syrup, not the fake corn syrup stuff, brings a smoky sweetness to your chops that screams breakfast. It also contributes in another important way: Normally a pork chop cooked for just 5 minutes would be a bit pale. Delicious, but pale. Here, the natural sugars in the maple syrup (and the apple juice!) allow your pork chops to take on some color, even as they cook quickly.
Salt Salt carries its seasoning, piggybacked on the apple juice, into every fiber of the meat, ensuring a delicious bite, every bite.
Rosemary This is the perfect hardy herb to compliment the flavors of pork, apple, and maple. What a combo! This is an optional ingredient that I highly recommend.
Ice Ice as an ingredient? Yes! The ice not only cools down the brine (so you don't accidentally cook your meat in it), but it also brings all the salt and sugars to the correct ratio for proper brining. Don't skip the ice!
How do I make Maple Apple Breakfast Chops?
How do I make the Maple Apples
Dice two apples, I prefer envy or honeycrisp apples, into a ¼ to ½ inch dice. In the same skillet that you cooked your pork chops, melt butter over medium heat. Add apples and cook, turning often, until golden brown on the edges, about 5 minutes total.
Stir in syrup and salt; reduce heat to low. Simmer until apples are soft, about 5 minutes. Serve warm on top of the rested pork chops.
What can I serve with these chops?
Biscuits My Flaky Buttermilk Biscuits are the perfect vehicle for carrying a piece of these pork chops to your mouth. Cut a piece of chop and nestle it right into the flaky layers and... It's just too much. You must try it. And a pork chop biscuit sandwich on a long road trip is one of life's great joys!
Eggs I just love to drag a piece of my pork chop through a runny egg yolk! I swoon.
Potatoes There's something to be said for "the perfect bite". For me, it's a hunk of one of these pork chops, a bit of yolky egg, and a couple of slices of my Crispy Sheet Pan Potatoes. Uh oh. Swooning again. Prepare my fainting couch and smelling salts.
Cheesy grits These pork chops with apples are perfection on top of cheesy grits. Chef's kiss 😘
Can I make these pork chops for dinner?
Pork chops make for a great dinner! If preparing these chops for dinner, try adding a bit of black pepper and a smashed garlic clove to the brine for a more savory preparation. Because you might like a larger portion for dinner, I would recommend chops at least ½-1 inch thick.
At that thickness you will want to brine your chops for at least 8 hours. Placing your pork chops in the brine in the morning will allow the meat to take in all the flavor while you go about your day, knowing delicious pork chops await!
(P.S. Serve your dinner chops with my Cheesy Hash Brown Casserole. You can thank me later!)
Looking for more recipes using pork?
Maple-Apple Breakfast Chops with Maple Apples
Breakfast pork chops are a Southern Staple. In this version, I turn up the breakfast vibe by brining thin cut pork chops in maple syrup and apple juice, for a sweet and savory chop you'll never forget!
Ingredients
4

bone in pork chops

about ¼-1/2 inch thick

½

cup

apple juice

½

cup

real maple syrup

1

tbs

kosher salt

1

sprig

rosemary

optional, around 3-4 inches long

1

cup

ice

about 235 grams
Maple Apples
2

medium

apples

2

tbs

maple syrup

1

pinch

kosher salt
Instructions
In a small saucepan, combine apple juice, maple syrup, and kosher salt. Add one sprig of fresh rosemary if desired. It is delightful.

Bring to a simmer until salt is dissolved. Remove from heat and add in 1 cup of ice. Stir until the ice is completely melted. It should feel cool to the touch.

Place pork chops in a zip top bag, or shallow airtight food container, and cover with the brine. Place in the refrigerator for a minimum of one hour, up to overnight. The thicker the chop, the longer you will need to brine.

Remove pork chops from brine and discard remaining brine. Place chops on a paper towel lined sheet pan and pat dry with more paper towels. Season with salt and pepper.

Heat a 12 inch cast iron skillet, or other heavy-bottomed pan, over high heat. Add ½ tablespoon of neutral oil and place pork chops in the pan. Sear for 2-3 minutes on the first side, or until the chops begin to turn golden brown. Flip the chops and finish cooking for 90 seconds - 2 minutes on the second side. Let rest 5 minutes.

Serve with eggs and potatoes, or biscuits.
Making maple apples
Peel and dice your apples into ¼ to ½ inch dice.

In the same skillet that you cooked your pork chops, melt butter over medium heat. Add apples and cook, turning often, until golden brown on the edges, about 5 minutes total.

Stir in syrup and salt; reduce heat to low. Simmer until apples are soft, about 5 minutes. Serve warm on top of the rested pork chops.
Notes
Although these chops are so thin it's nearly impossible to undercook them, the internal temperature of the meat should be 145°F with an instant read thermometer.
Can be made with thicker chops. Just allow chops to brine for at least 8 hours.
If preparing these chops for dinner, try adding a bit of black pepper and a cracked garlic clove to the brine, for a more savory preparation.
Nutrition
Calories:
211
kcal
|
Carbohydrates:
31
g
|
Protein:
35
g
|
Fat:
15
g
|
Saturated Fat:
5
g
|
Polyunsaturated Fat:
2
g
|
Monounsaturated Fat:
6
g
|
Trans Fat:
1
g
|
Cholesterol:
117
mg
|
Sodium:
1845
mg
|
Potassium:
704
mg
|
Fiber:
1
g
|
Sugar:
27
g
|
Vitamin A:
11
IU
|
Vitamin C:
1
mg
|
Calcium:
82
mg
|
Iron:
1
mg
The nutritional and caloric information shown is an estimate provided by an online nutrition calculator. It does not assert or suggest that readers should or should not count calories, and should not be considered a substitute for a professional nutritionist's or doctor's counseling.