These fluffy and moist Strawberry and Rosemary Scones, with vanilla glaze, are elegant enough for company, but simple enough for an everyday breakfast or brunch.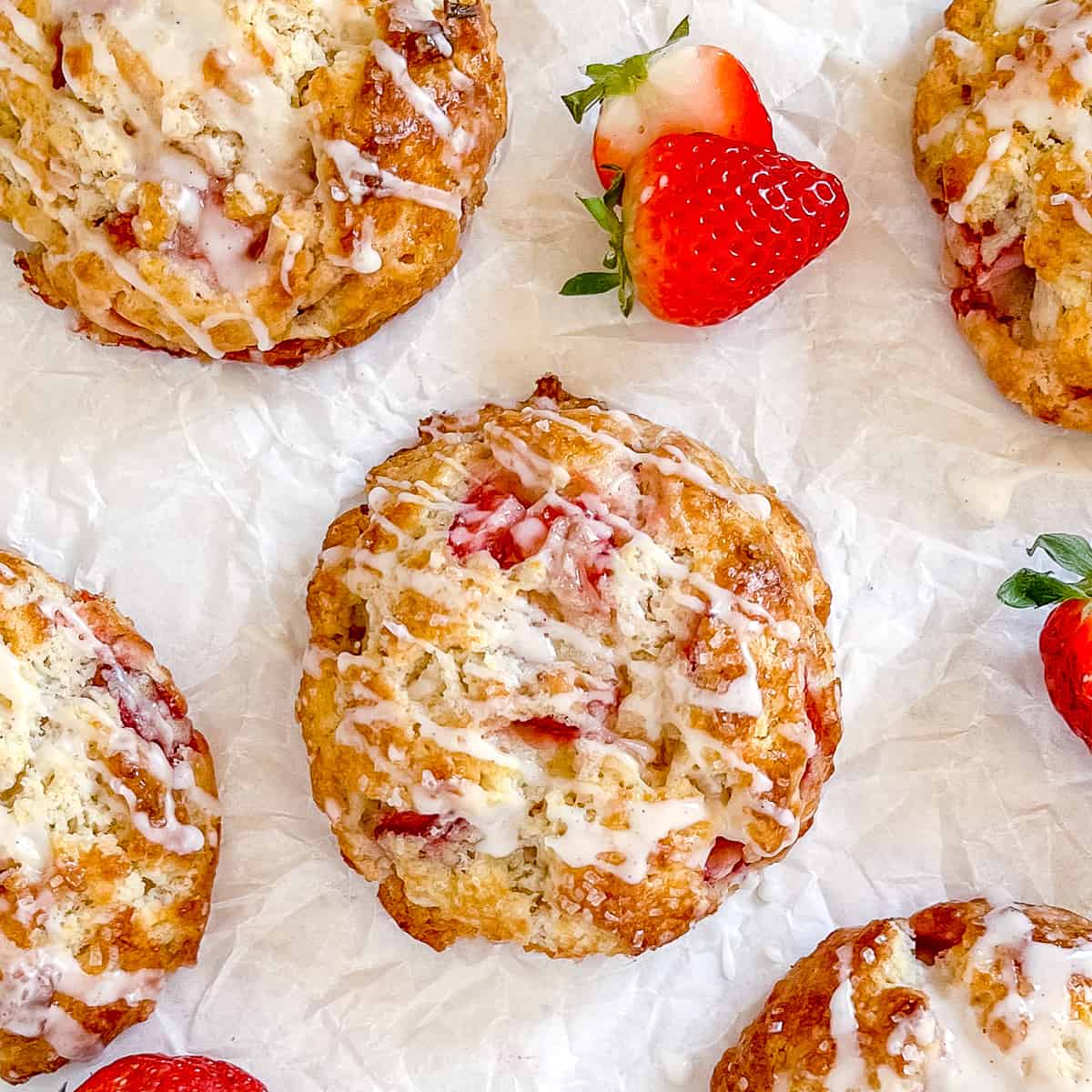 Thousands of scones
At every bakery where I have worked, I was the scone girl. I made so many scones. At my first job, I made dozens of scones before the store even opened at 7 a.m. I thought that was a lot. No no no. At my next bakery job, I sometimes made hundreds of scones every weekend. In addition, I made, on average, 48 pounds of scone mix (dry ingredients cut with butter) for the coming week. I know scones.
My mother-in-law had a dry scone decades ago and she still talks about it. She swore them off forever. As a matter of fact, the number one reason I hear that people don't like or don't try scones is, they think they're too dry. This is the scone recipe that changes that. A moist, craveable scone that will change even my mother-in-law's mind.
Ingredients in Strawberry and Rosemary Scones
All-purpose flour These are such delightfully moist scones that you need the strength of a good all-purpose flour to hold it all in.
Sugar Regular granulated sugar goes into the scone mix. Coarse or raw sugar gets sprinkled on the top. Powdered sugar goes into the vanilla bean glaze. Despite all those sugar additions, these are not overly sweet scones. The strawberry shines through!
Fresh strawberries Whatever time of year it is, strawberries are welcome in my home. Although Spring and Summer strawberries are sweeter, my technique of compressing out some of the moisture, before adding to the scone mix, intensifies the final fruit flavor. Do not try frozen strawberries. They're just too wet and will make a very wet scone, and not in a good way.
Baking powder These make your scones soft and fluffy.
Unsalted butter I always use unsalted butter in my baking recipes, so that I'm in control of the salt content.
Salt I exclusively use Diamond Crystal Kosher salt in all of my recipes. Morton's Kosher salt is actually more salty than diamond crystal, so if that's what you have, use half the amount listed in the recipe.
Fresh rosemary You really must use fresh rosemary, which is usually available in those plastic packs in your produce department. If you can't find fresh rosemary, please don't use dry rosemary. It's too brittle and prickly and will never soften up. These scones are amazing even without the rosemary.
Heavy cream Because we use heavy cream and an egg in this recipe, the dough is very rich and retains its moisture very nicely.
Eggs The fatty egg yolk helps to add richness and flavor to the dough, while the white helps build structure.
Vanilla bean paste Vanilla bean paste is essentially vanilla extract with sweetened vanilla seeds added in, for a real blast of vanilla flavor. In addition, the little flecks of vanilla are very adorable. You can absolutely use vanilla extract in its place, but don't underestimate the flavor of adorability.
Weighing your ingredients makes a difference!
I include both volume (cups) and weight (grams) for most of my baking recipes, but I personally always measure by weight. I used to just scoop my flour and go, but my baking results were never consistent. When I went to work in professional bakeries, they all used a scale for weighing major ingredients, with much more consistent results. If you try one of my baking recipes and it doesn't turn out just right, chances are that our measurement of a "cup" is just a little different. When you measure by weight, 100 grams is 100 grams every single time. Accurate measurements lead to consistently good baked goods. My favorite scale is accurate and inexpensive.
How to make Strawberry and Rosemary Scones
Pat strawberries dry Place cut strawberries on a paper towel-lined small sheet pan or cutting board. Cover with another paper towel and place another sheet pan, or another flat object, on top. This will lightly compress any excess surface moisture from the strawberries so that your scones won't become mushy from the fruit while baking.
Mix dry ingredients and butter In the bowl of your food processor, measure your flour, sugar, baking powder, and salt and give them a whirl. Add your cold, diced butter and pulse the food processor 4 or 5 times, or until the butter is mostly the size of peas or smaller.
Add strawberries and rosemary Dump the contents of your food processor into a large bowl and add your strawberries and chopped rosemary, tossing them a bit to coat them in the dry ingredients.
Add wet ingredients and mix Whisk together the heavy cream, egg, and vanilla in a measuring cup. Make a well in the center of your dry ingredients and pour in your cream mixture. Using a danish dough whisk, or large spatula, mix everything until it just comes together, remembering to include everything from the bottom of the bowl.
What is a Danish Dough Whisk?
A Danish Dough Whisk is a mixing tool with multiple stiff metal loops that makes mixing anything from pancake batter to bread dough easy and efficient. Its spaced-loop design mixes from the bottom of the bowl and throughout without overworking the glutens or your arm muscles! It's also ideal for baked goods with fruit or chocolate chips since its low surface area prevents the ingredients from being broken up during mixing, as they pass right through!
Scoop and egg wash Use a large scoop, or a couple of spoons, to portion your scone dough (about ½ cup each) onto a parchment paper lined large sheet pan, leaving at least 2 inches between each ball. Whisk together a large egg with 1 teaspoon of milk. Brush this egg wash over the top of each scone ball and sprinkle with coarse sugar, if desired.
Bake Bake on the center rack of a preheated 400°F oven for 20-25 minutes, or until the tops are golden brown and a skewer inserted in the center of a scone comes out clean. Allow to cool for 15 minutes while you make the glaze. In a small bowl, whisk together the powdered sugar, vanilla bean paste, and 2 tablespoons of milk, until it is a thin, "drizzleable" consistency. Use a spoon or fork to drizzle the glaze all over the tops of the scones.
Enjoy! These scones are amazing for breakfast or brunch, or even as a light dessert with coffee! My mother-in-law loves them ❤️ I win!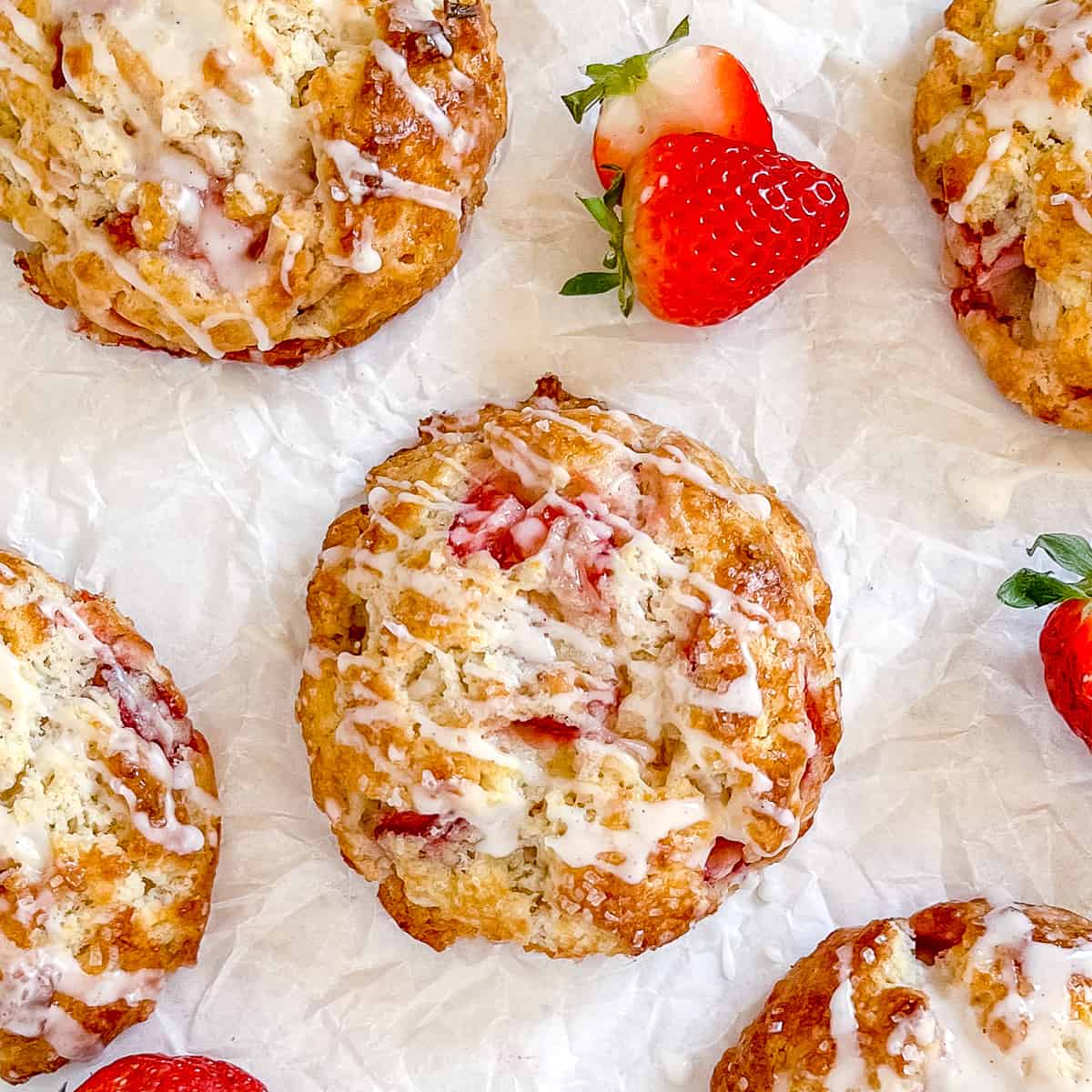 Storage and freezing instructions
To store, place in a paper lunch bag or wrap very loosely in plastic wrap. If you wrap them too tightly, with no airflow, the strawberries may release more moisture and the texture of the scones may become very moist. Delicious, but moist.
If you want to make these scones ahead and bake them another day, you can easily freeze them. Make the dough, scoop into portions, and place into the freezer. When they are frozen solid, place them into a zip-top bag and keep them in the freezer for up to two months. When you're ready to bake them, just remove them from the freezer and place them on a parchment paper lined large sheet pan. Egg wash and sprinkle the scones with coarse sugar and bake as directed, adding another 5-10 minutes to the bake time.
Looking for more morning sweet treats?
Strawberry and Rosemary Scones
These fluffy and moist Strawberry and Rosemary Scones, with vanilla glaze, are elegant enough for company, but simple enough for an everyday breakfast or brunch.
Ingredients
Scones
2

cups

(

240

g

)

all-purpose flour

¼

cup

(

50

g

)

granulated sugar

1

tablespoon

baking powder

¾

teaspoon

kosher salt

8

tablespoon

(

113

g

)

cold unsalted butter

diced

1

cup

(

150

g

)

diced fresh strawberries

1

teaspoon

fresh rosemary

finely chopped

⅔

cup

(

160

g

)

heavy cream

1

large

egg

1

teaspoon

vanilla bean paste

or vanilla extract

1

large

egg

beaten with 1 teaspoon of milk, for egg wash

Coarse sugar or granulated sugar

to sprinkle on top of scones before baking (optional)
Vanilla bean glaze
1 ½

cups

(

180

g

)

powdered sugar

1

teaspoon

vanilla bean paste

or vanilla extract

2-3

tbs

milk
Instructions
To remove excess liquid from your fruit, place diced strawberries on a paper towel lined quarter sheet pan. Place more paper towel on top of them and then place another quarter sheet pan on top. Let sit while you gather your other ingredients and start the scones.

Preheat your oven to 400°. Line a large sheet pan with parchment paper and set aside.

In a food processor mix flour, sugar, baking powder, and salt. Add the cold butter and pulse briefly until the butter is the size of peas - about 4-5 pulses.

Pour the dry ingredients into a medium bowl and add diced strawberries and rosemary, tossing them around to coat in the flour. Make a well in the center with your fingers. Whisk together one egg, the heavy cream, and the vanilla and pour into the well. Mix everything with a spatula or danish dough whisk until fully blended.

Using a large scoop (or a medium scoop for smaller scones), scoop out dough and place on your prepared baking sheet. Place the scones in the freezer for 15 minutes to firm the butter back up.

Whisk together your last egg with a teaspoon of milk. Brush the tops of the scones with the egg wash and sprinkle with coarse sugar or granulated sugar, if desired, Bake for 20 to 25 minutes, until the tops are golden brown.

While the scones are baking, make your vanilla glaze. Place sifted confectioners' sugar in a small bowl and add 2 tablespoons of milk and vanilla bean paste. Mix until all of the sugar is incorporated and it has a drizzling consistency If glaze is on the thick side, add additional milk as needed. Allow the scones to cool for 15 minutes before glazing.
Nutrition
Calories:
376
kcal
|
Carbohydrates:
49
g
|
Protein:
5
g
|
Fat:
18
g
|
Saturated Fat:
11
g
|
Polyunsaturated Fat:
1
g
|
Monounsaturated Fat:
5
g
|
Trans Fat:
1
g
|
Cholesterol:
93
mg
|
Sodium:
362
mg
|
Potassium:
91
mg
|
Fiber:
1
g
|
Sugar:
27
g
|
Vitamin A:
638
IU
|
Vitamin C:
10
mg
|
Calcium:
110
mg
|
Iron:
2
mg
The nutritional and caloric information shown is an estimate provided by an online nutrition calculator. It does not assert or suggest that readers should or should not count calories, and should not be considered a substitute for a professional nutritionist's or doctor's counseling.