This Zeppole recipe makes the most delicious, fluffy Italian donuts, with the addition of tangy lemon curd. Simple to make, they are amazing for breakfast or dessert.
Jump to:
Zeppole
I had my first ever zeppole, fried Italian donuts, with The Boy on one of our first dates. He took me to an Italian bakery that reminded him of the ones he grew up with on the East Coast. Oh my. The Boy may have won my heart right there in that bakery.
The girl at the counter handed me a crumpled paper bag. Apparently, that's an Italian bakery thing. I reached in and took out a round fried donut, absolutely covered in powdered sugar. One bite and I groaned... and then coughed from all the powdered sugar I inhaled. Then I went in for another one and another one, until the bag was empty. Wouldn't you?
Since we were still in the "impress" each other stage of our relationship, I wanted to be able to make these for The Boy. Well, it took 30 years, but here we are. To avoid being compared to all the old school bakeries in Little Italy, I decided to fill mine with lemon curd, because that's a total Cynthia move. The Boy was impressed. No paper bag required. Worth the wait.
Ingredients for making Zeppole
Water and milk Traditional zeppole calls for a simple dough, made with water, but I added milk to make it richer and sweeter. This isn't pizza dough, and I wanted to make that clear.
Active dry yeast To support yeast newbies, I like to use active dry yeast. This is a yeast that needs to be activated, or "proofed", in warm liquid, to wake it up. I feel like, when someone isn't used to working with yeast, seeing it actually foaming up, makes you feel like everything is going to be okay.
Sugar The real sweetness will come from the powdered sugar on the outside of the zepploe, so this sugar is really just to give your yeast something to snack on when it wakes up.
All-purpose flour Bread flour would be too chewy, and cake or pastry flour too doughy. All-purpose flour is the Goldilocks of flour.
Salt I always use salt when making sweets. Just a pinch enhances all the other flavors. Salt, not salty.
Olive oil It's gonna be hard to find an Italian yeast dough that doesn't have at least a smidge of olive oil. This isn't pizza dough, but it imparts a little Italian flavor.
Powdered sugar Let it snow!!
Oil I use a neutral flavored oil with a high smoke point, in this case canola oil. Peanut oil would also work, but is a little more pricey in my area.
Lemon curd See below for all the tangy deets.
Tips for using yeast
For best results, buy and use yeast before the expiration date. Yeast loses its potency over time, resulting in longer rising times, or no rise at all. We proof active dry yeast to determine whether it is still alive. To proof, add your yeast to warm liquid, as directed in your recipe. If your yeast doesn't start to foam up within 5 minutes of adding it to the liquid, your yeast is probably deceased. You'll need to buy more, then start again.
Make sure the liquid you are using, to proof your yeast, is between 100°F and 110°F. Any hotter and you risk killing the yeast; colder and the yeast won't wake up. If you don't have a thermometer, the liquid should feel warm to the touch - not too hot and not too cold. Goldilocks.
If you don't have active dry yeast, you can use the same amount of instant yeast. Instant yeast may also be labelled as bread machine yeast or rapid rise yeast. They're all the same, just different names. Instant yeast does not have to be proofed. Just add it to the dry ingredients and go!
Ingredients for making Lemon Curd
Egg yolks Lemon curd is essentially a custard, and egg yolks give it its thickness and body.
Sugar This adds the sweetness that you need to the curd.
Lemon juice and zest We use both the juice and the zest to flavor the curd.
Salt Balances all the flavors.
Butter Adds creaminess and body to the finished curd.
Making Zeppole dough
Don't fall for the hype. Making both the lemon curd and the fried zeppoles are so much easier than you've been led to believe. One step at a time, baby.
Make the dough After activating your yeast, add it to the flour, salt, and olive oil and mix until you have a shaggy, sticky dough. I use my danish dough whisk, so I don't get a dough covered spoon or spatula. Cover with plastic wrap and allow to rise in a warm-ish spot for 1 to 1 ½ hours, or until doubled in size.
Making Lemon Curd
Make curd Over medium-low heat, continuously whisk all the curd ingredients, except the butter, until it begins to thicken, about 5-8 minutes. Do not allow to boil. If it looks rowdy, remove it from the heat for a moment to let it calm down, but keep whisking. After the mixture has thickened enough to coat the back of a spoon and leave a line when you run your finger through it, remove from heat. Add butter, one small bit at a time, until the curd looks creamy and glossy. Strain with a wire mesh strainer into a bowl. Place plastic wrap directly against the surface of the curd and place in the refrigerator until needed.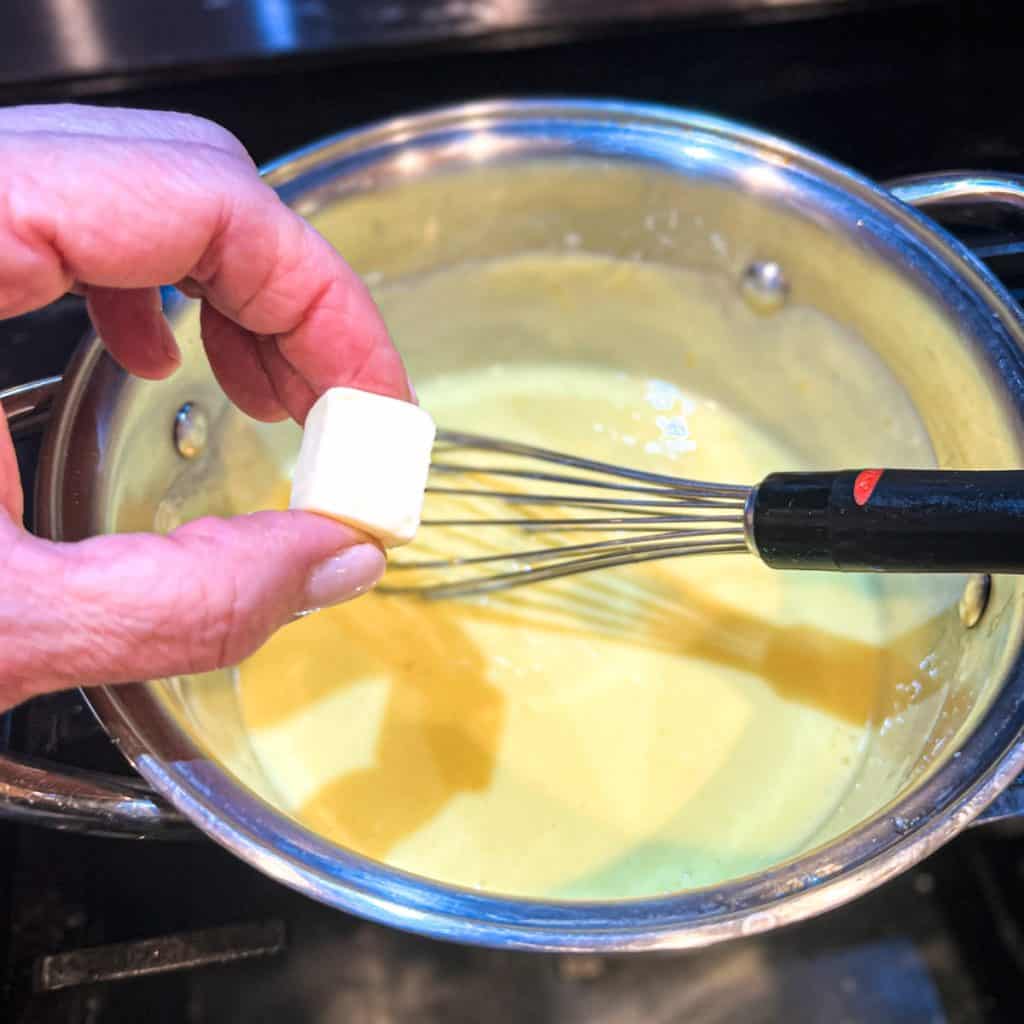 Frying your Zeppole
Prepare to fry zeppole - Heat 2 inches of oil in a medium dutch oven and heat to 350°F. Line a large sheet pan with paper towels and lay a wire rack in the pan upside down. Doing this will allow the zeppole to remain fluffy, while the paper towel pulls some of the excess oil from them.
Fry - Using a small scoop, dipped in oil, drop portions of dough into the hot oil. Don't overcrowd the pot or the temperature will drop, leading to oily, underdone zeppole. Allow the zeppole to fry for about 3 minutes, then flip them over, using a slotted spoon or tongs. Continue frying on the other side for another 3 minutes, then remove to your prepared sheet pan and repeat with the rest of the zeppole.
Finishing Touches
Fill - Place cooled lemon curd in a piping bag fitted with a small piping tip. (You really need use a piping tip for this, because you need to insert it deep into the zeppole, but see note below if you don't have one.) Use a chopstick, or the handle of a spoon, to poke a hole into the side of your zeppole. Place the piping tip in the hole and squeeze until you meet resistance and curd starts to come out of the hole. Fill the rest of the zeppole the same way.
Eat - Sprinkle all of the zeppole generously with powdered sugar. If you want to go Old School, place 3 or 4 zeppole in a small paper bag (think lunch sack), dump some powdered sugar on top, roll the bag shut, and shake shake shake. Wait for the blizzard to clear and dig in!
Zeppole FAQ's
Can you fill zeppole with anything else?
Absolutely! If you can fit it through the piping tip, you can add it to your zeppole. Try Nutella, chocolate ganache, your favorite jelly, pastry cream, or keep the Italian vibes going with a fluffy cannoli filling!
Can I save leftover zeppole?
Like most donuts, zeppole are best eaten soon after frying. That being said, my husband has eaten many a cold donut, zeppole or otherwise.
Do I have to fill zeppole?
Absolutely not! Zeppole are the ultimate Italian Donut all on their own!
Serving Suggestion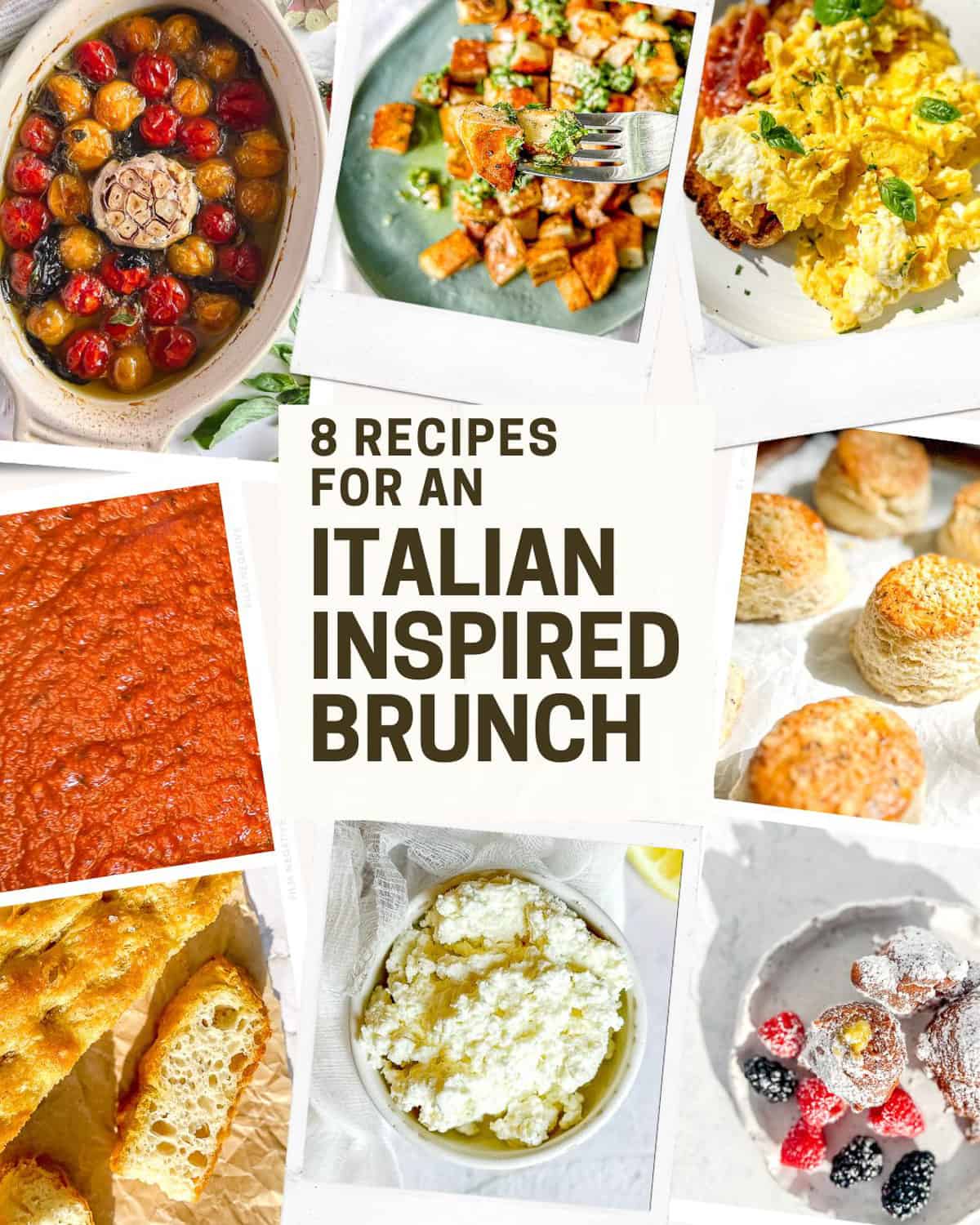 Sunday Brunch is a great time to catch up with family and friends over great food. Bring home the dream of an Italian Inspired Brunch, including this recipe!
Storage of leftover frying oil
Cool Allow the oil to cool completely. I place a lid on the pan I was using to fry and deal with it the next day.
Strain I strain the oil, using a wire mesh strainer and a funnel, directly into a container with a tight lid. I line the strainer with cheesecloth or paper towel, place that in the funnel, and pour the oil back into the bottle the oil originally came from.
Store I keep mine in my pantry and store it for up to 5-6 uses, with limits. Remember that oil retains some of the odors and flavors of whatever you cook. Reuse accordingly. I would never reuse fried chicken oil to cook donuts, but I might use it to fry hush puppies or fish. If I use oil to fry fish, I will usually only use it to fry more fish. After 3 months, I discard the oil, no matter what.
Discard Some municipalities have oil recycling, but most do not. The most common recommendation is to put the old oil back into a resealable container and throw it away in your general trash. Follow the rules in your area, but never, NEVER pour your oil down the drain. Thank you. Now, go make some Zeppole!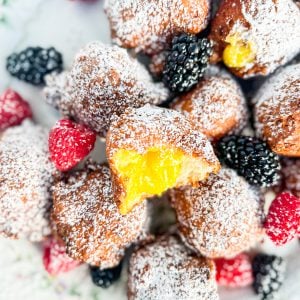 Zeppole with Lemon Curd
This zeppole recipe makes the most delicious, fluffy Italian donuts, with the addition of tangy lemon curd. Simple to make, they are amazing for breakfast or dessert.
Ingredients
Zeppole Dough
½

cup

(

120

g

)

warm water

½

cup

(

120

g

)

warm milk

1

teaspoon

(

4

g

)

active dry yeast

1

tablespoon

(

12

g

)

sugar

2

cups

(

240

g

)

unbleached all-purpose flour

1

teaspoon

(

6

g

)

salt

1

tablespoon

(

14

g

)

olive oil

Vegetable oil for frying

Powdered sugar
Lemon Curd
2

large egg yolks

⅓

cup

(

67

g

)

granulated sugar

⅓

cup

(

82

g

)

lemon juice

(or juice of one lemon)

Zest of one lemon

Pinch

of salt

2

tablespoons

(

28

g

)

unsalted butter

cut in small pieces
Instructions
Make the dough
In a small bowl, add the yeast and sugar warm water and milk. Let stand until foamy, about 5-10 minutes

In a large mixing bowl whisk together the flour and salt. Add in the olive oil and the yeast mixture. Stir with a danish dough whisk or a wooden spoon until a nice sticky dough forms. Cover with plastic wrap and let rise in a warm place for 1 to 1 ½ hours.
Make the curd
In a small saucepan, vigorously whisk together the egg yolks and sugar until it is lightened in color and most of the sugar is dissolved. Place saucepan over medium-low heat and add in the lemon juice, zest, and a small pinch of salt. Continuously whisk until the mixture begins to thicken, about 5-8 minutes. Do not allow the mixture to boil or the eggs may curdle. If you see any bubbles start to rise, turn the heat down further.

After the mixture has thickened enough to coat the back of a spoon and leave a line when you run your finger through it, remove from heat. Add butter, one small piece at a time, until completely incorporated. Strain into a small bowl, to remove any egg solids and zest, and cover with plastic wrap pressed directly against the surface of the curd. Refrigerate until needed.
Frying the zeppole
Set wire rack in a large sheet pan, lined with a triple layer of paper towels. Add oil to medium Dutch oven, or deep, heavy bottomed skillet until it measures about 1 ½ inches deep. Heat over medium-high heat to 350°F.

Use a small scoop, or a soup spoon, to scoop up a portion of dough and gently drop it into the hot oil. Drop 4 at a time, so you don't crowd them in the pan. Cook until golden brown and puffy, turning with a slotted spoon to fry evenly on all sides, about 3 minutes per side.

Remove the zeppole from the oil with a slotted spoon, and transfer to the prepared sheet pan.
Filling with curd
Place curd in a piping bag fitted with a small tip. Using the end of a spoon or chopstick, poke a hole in the zeppole. Place the piping tip into the hole and squeeze the bag just until you meet resistance. Fill the rest of the zeppole and, dust with powdered sugar, and serve.
Optional, no curd
When all zeppole are fried and drained sprinkle generously with powdered sugar and serve hot. If desired, go really traditional and place a few zeppole in a paper bag with powdered sugar, close the bag, and shake to coat.
Nutrition
Calories:
112
kcal
|
Carbohydrates:
18
g
|
Protein:
3
g
|
Fat:
3
g
|
Saturated Fat:
1
g
|
Polyunsaturated Fat:
1
g
|
Monounsaturated Fat:
1
g
|
Trans Fat:
1
g
|
Cholesterol:
29
mg
|
Sodium:
151
mg
|
Potassium:
42
mg
|
Fiber:
1
g
|
Sugar:
5
g
|
Vitamin A:
89
IU
|
Vitamin C:
2
mg
|
Calcium:
15
mg
|
Iron:
1
mg
The nutritional and caloric information shown is an estimate provided by an online nutrition calculator. It does not assert or suggest that readers should or should not count calories, and should not be considered a substitute for a professional nutritionist's or doctor's counseling.