Topped with a tangy and sweet orange glaze, my Orange Buttermilk Scones are your best bet for a perfect breakfast or afternoon snack!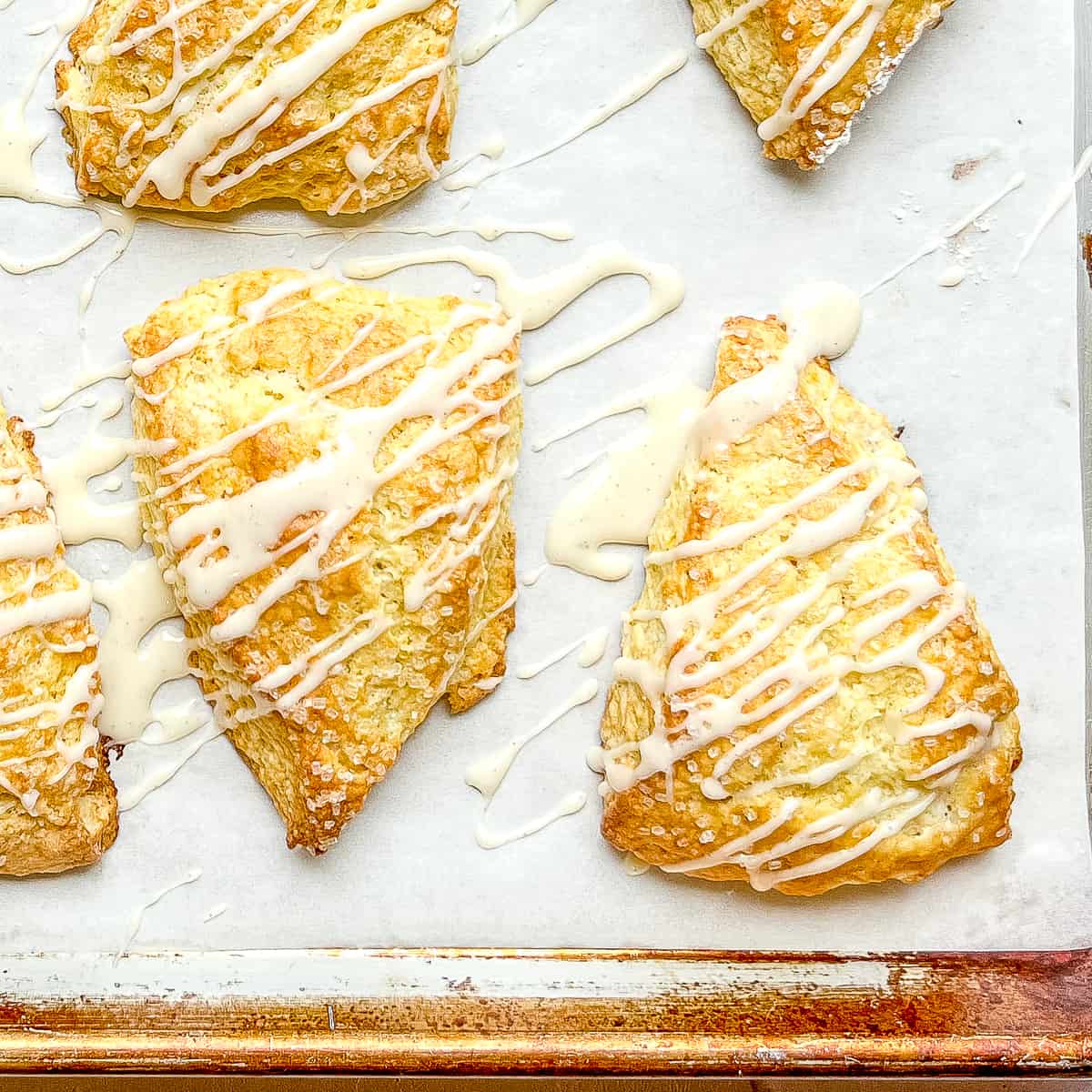 Name a scone flavor or ingredient and I'll bet you I've made it. Yet my favorite scones, by far, have always been the simplest ones. Just the addition of some orange zest and orange juice makes these Orange Buttermilk Scones stand out.
When I tell you that I've made thousands of scones, I mean thousands. At the bakeries where I worked, scones were the biggest seller both in the bakery case and for catering. So, I am just the person to lead you through a simple and delicious scone experience.
Jump to:
Scones vs Biscuits
Recently, my Flaky Buttermilk Biscuits recipe went viral, with over 4 million reel views on Instagram, and the number 2 and 3 comments (after "where's the recipe") were "Isn't this just a scone?" and "That's not a biscuit!" I have feelings. Let's talk.
In America (and Canada) we say cookie. In England, and most other English speaking countries, they say biscuit. French fries, chips. Cilantro, coriander. Dessert, pudding. Is it delicious? Do you want to make it? Then it doesn't matter what you call it, let's make it!
As for scones, what Americans think of as a biscuit definitely has its roots in the traditional Scottish/British/Irish scone. They both contain flour, a leavener,a fat, and dairy, but at that point, they really begin to take on their own identities.
A biscuit is most commonly made with buttermilk, is savory, and has a distinctive flaky and layered texture. They long to be opened up and slathered with butter, and maybe a drizzle of honey. Scones are sweet, dense, and rich and are usually made with heavy cream and the addition of an egg. Their texture is perfect for the application of clotted cream and curd or jam.
No matter the ingredients, I have found that people are very sure of what they believe to be a scone or a biscuit. And they will defend their position... to the bitter end. But, at the end of the day, it's your food and you're making it in your house, so you can call it whatever you like. But you should definitely make these scones!
Ingredients
I can almost guarantee that you have all the ingredients in your kitchen right now, so making scones is destined to happen.
See recipe card for quantities.
Substitutions
Most of the ingredients are the same as in my Flaky Buttermilk Biscuits, with a few additions. Diet, or pantry limitations, should be no deterrent to getting these scones into your mouth.
All-purpose flour - at my first bakery job, we used Gluten Free 1-to-1 Baking Flour instead of all purpose flour, with very good results.
Butter - if you cannot tolerate butter, feel free to use vegan butter or margarine in its place. Make sure to fully chill the cut scones before baking.
Buttermilk - if you don't have buttermilk, you can use heavy cream. You can also add 1 ½ teaspoons of vinegar to a half cup of whole milk and make an easy buttermilk substitute. If you want to keep these vegan, you can swap out with coconut or almond milk.
Variations
The best thing about my buttermilk scones, besides their fluffiness, is that they are blank slates for whatever your mood, or your pantry, demands.
Citrus - In place of orange zest in the dough and orange juice in the glaze, try any other citrus. Lime and lemon, or even grapefruit, are delicious alternatives.
Fruit - Orange cranberry scones are a Winter classic, but you can use any dried fruit you prefer. If using fresh fruit be sure to pat dry with paper towel first, as they may bring added moisture to your scone.
Nuts- Pecans, almonds, walnuts, and pistachios have all found their way into my scones with equal amounts of delight!
Drop scones - One of the easiest ways to make scones is to use a scoop to portion. Adding 2 tablespoons of extra liquid, like orange juice to cranberry orange scone dough, helps the dough to better hold its shape when scooping.
Instructions
Making scones need not be difficult, As a matter of fact, you can gather the ingredients, make them, bake them, and be eating them in under an hour - and 20 minutes of that is chilling time!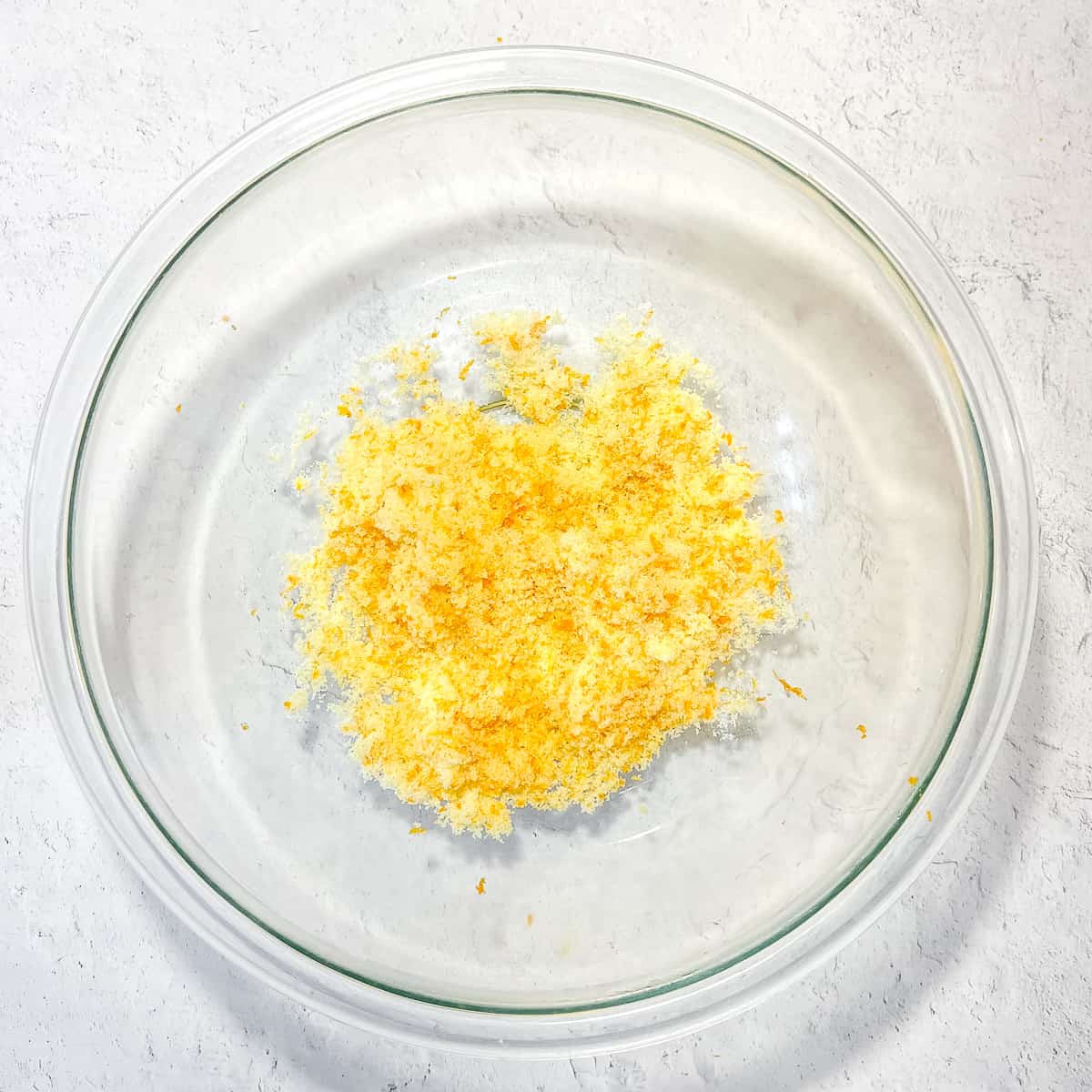 1. Using your fingers, scrinch the zest of an orange into the granulated sugar, releasing all the fragrant orange oils.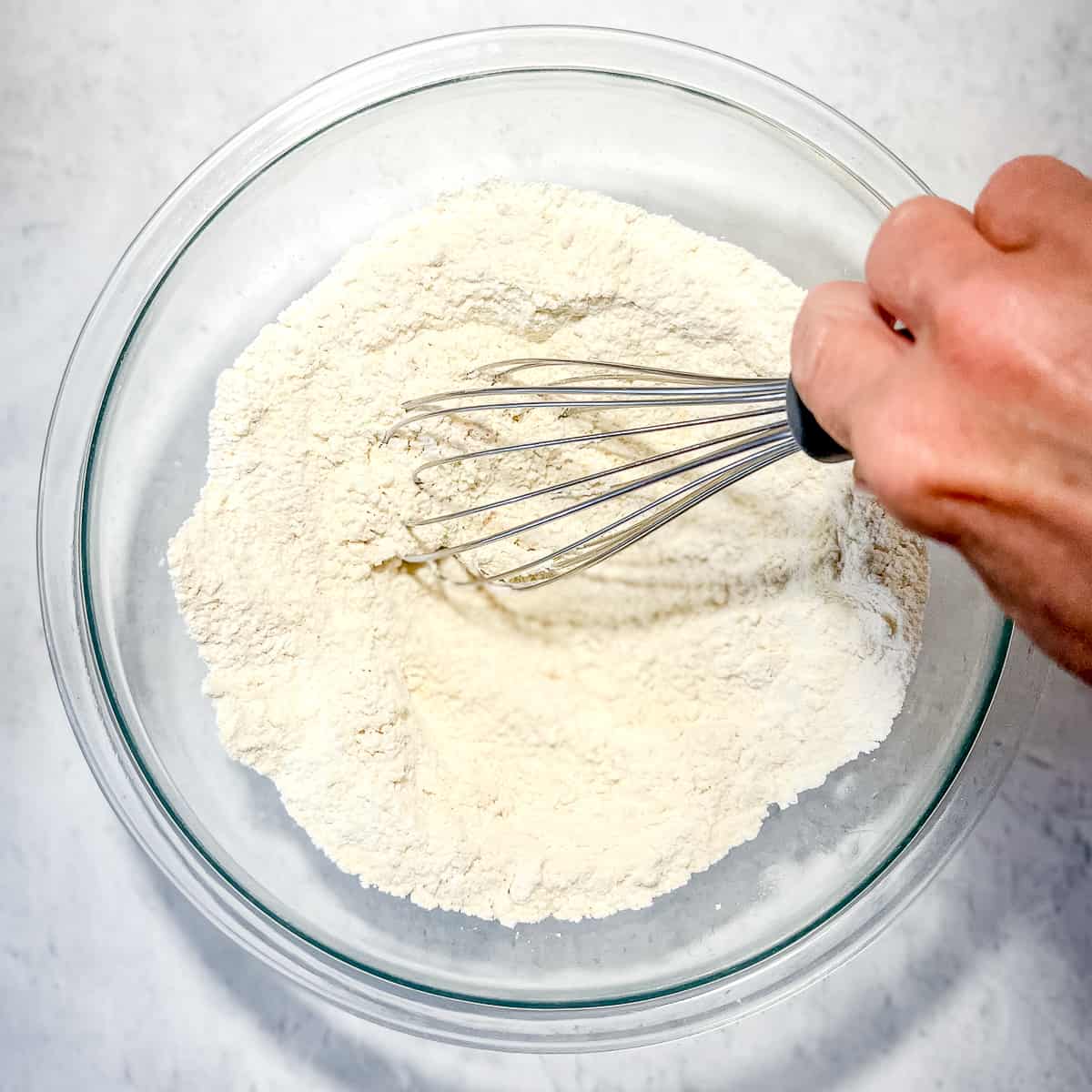 2. Add in the rest of the dry ingredients and whisk to combine. Next dump in your cold cubes of butter.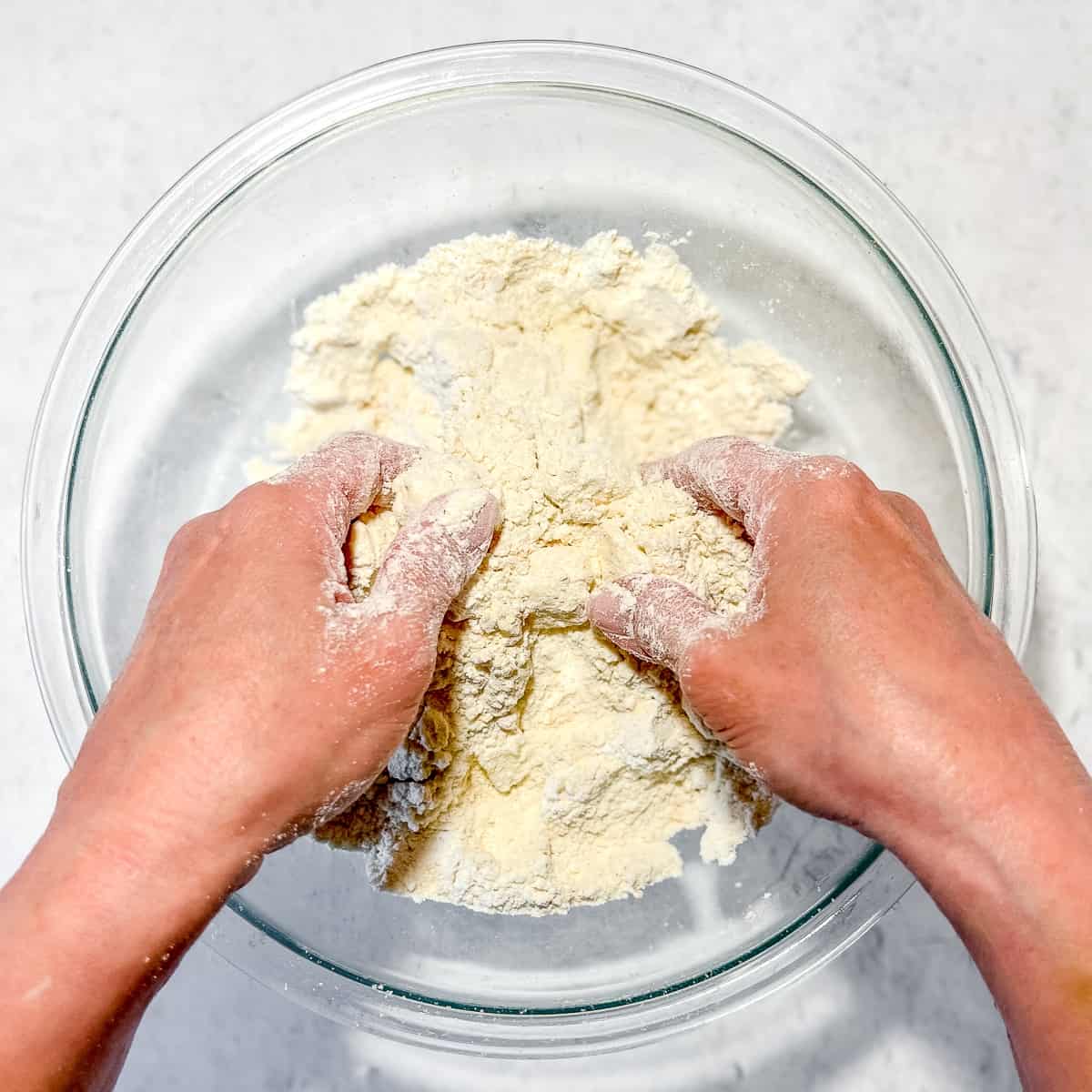 3. Use your fingers, pinching and squeezing the butter, to work the butter into the flour until it is the size of small peas.
4. Alternatively, you can use a fork, two knives, or a pastry cutter to combine to dry ingredients with the butter.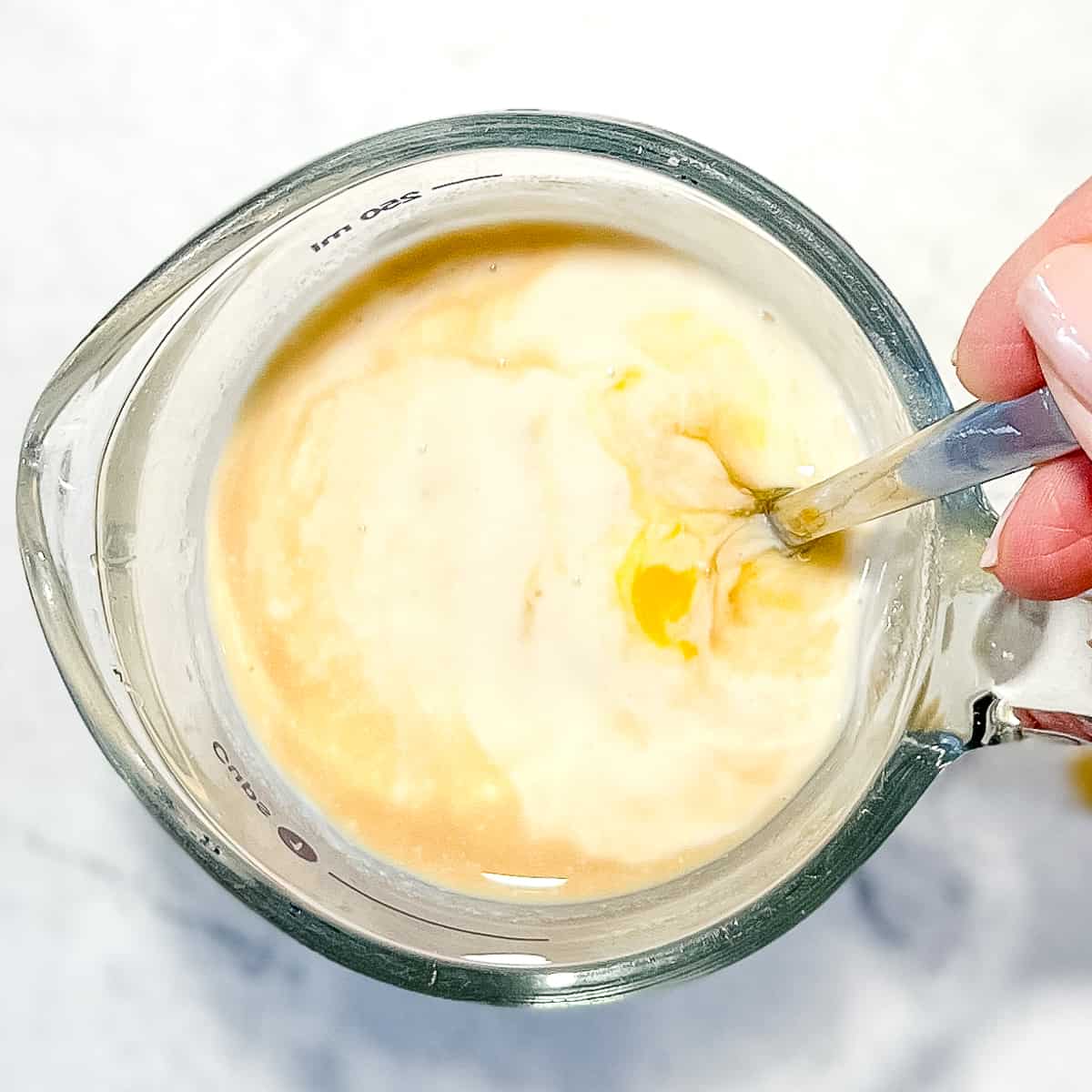 5. Whisk together the buttermilk, vanilla, and egg and pour over the dry ingredients.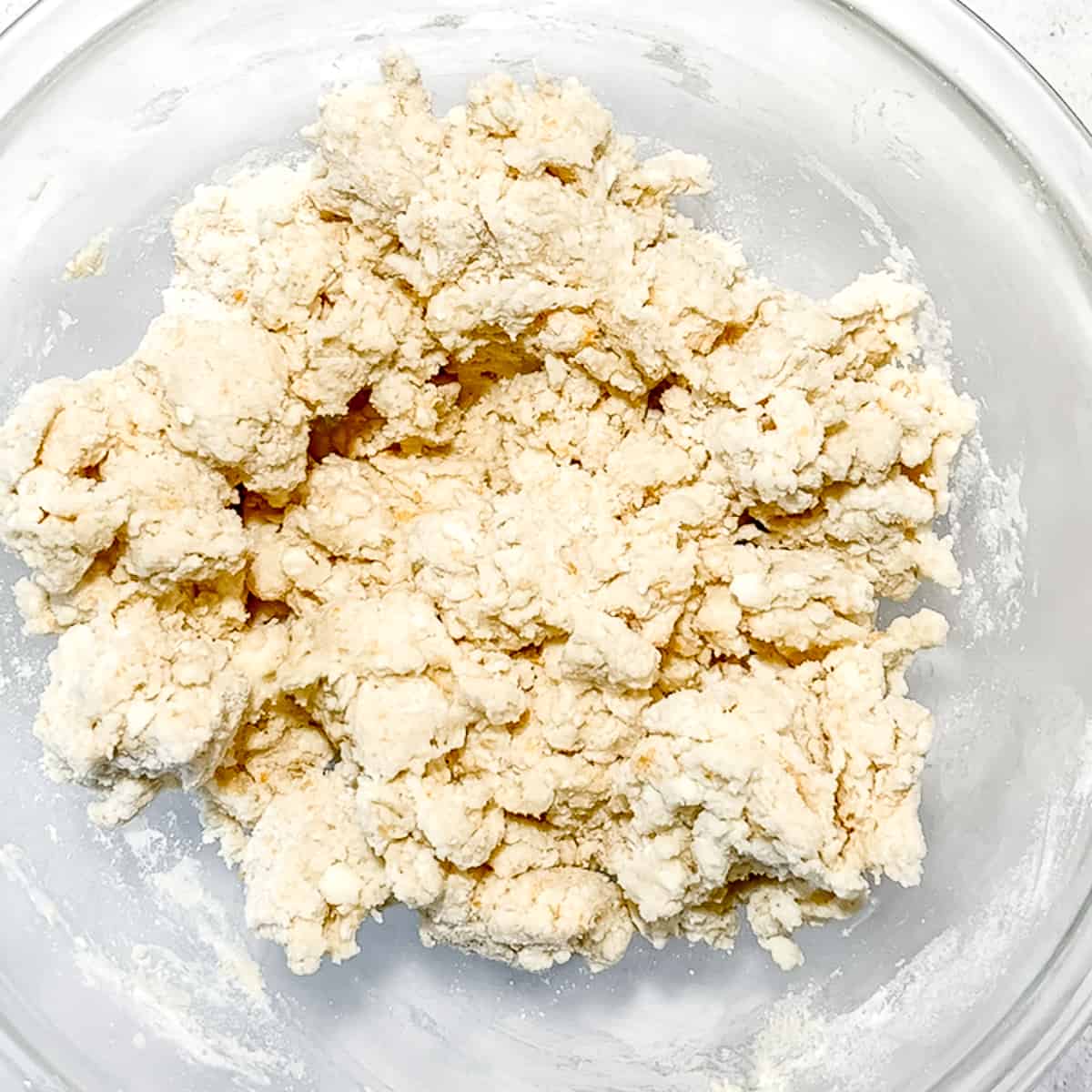 6. Use a danish dough whisk, rubber spatula, or wooden spoon to combine all the ingredients into a cohesive dough. Some loose flour bits are fine.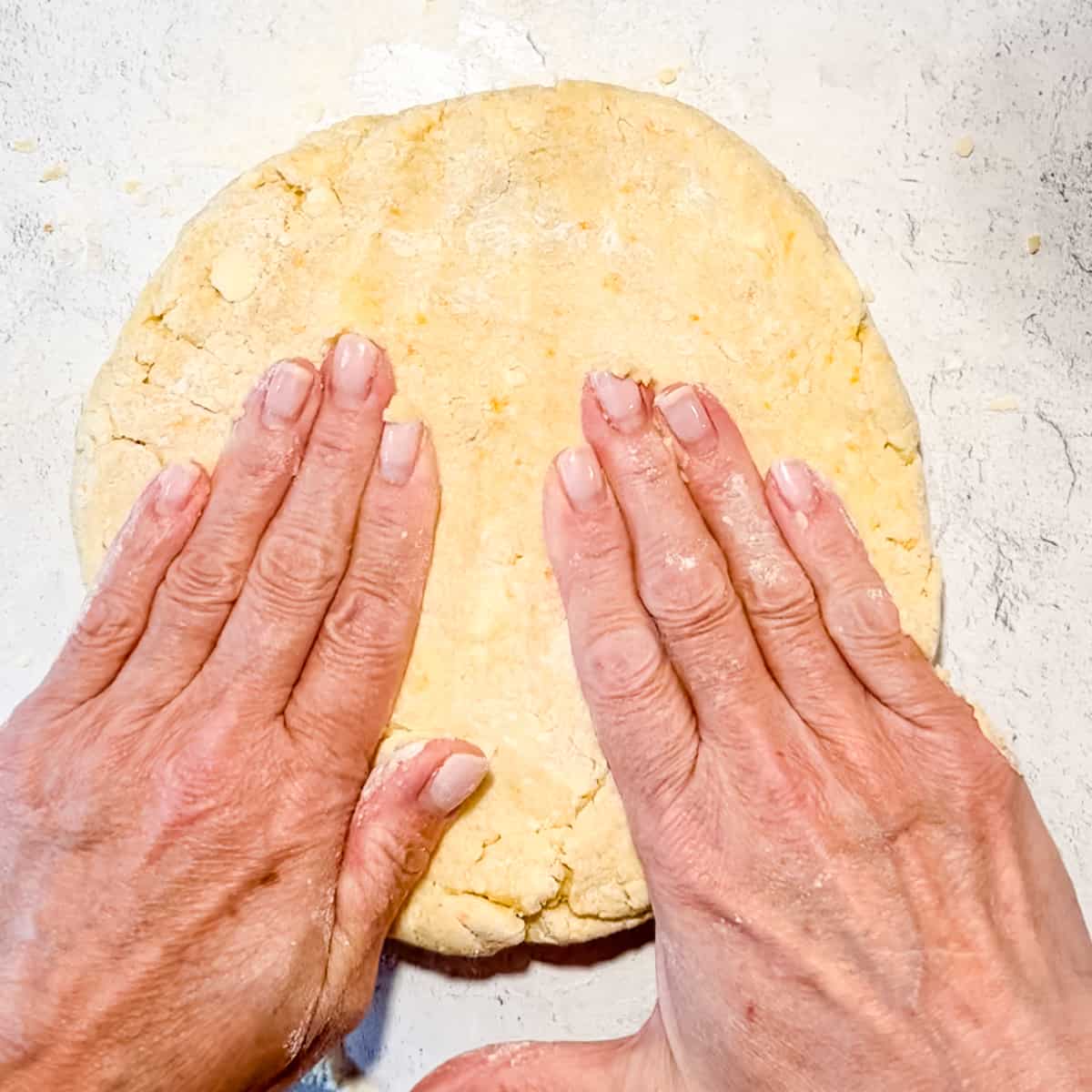 7. Dump dough onto a floured surface and pat into a ½ inch rectangle. Fold in half, pat out again, and fold in half one more time. Finally, form the dough into a circle about one-inch thick.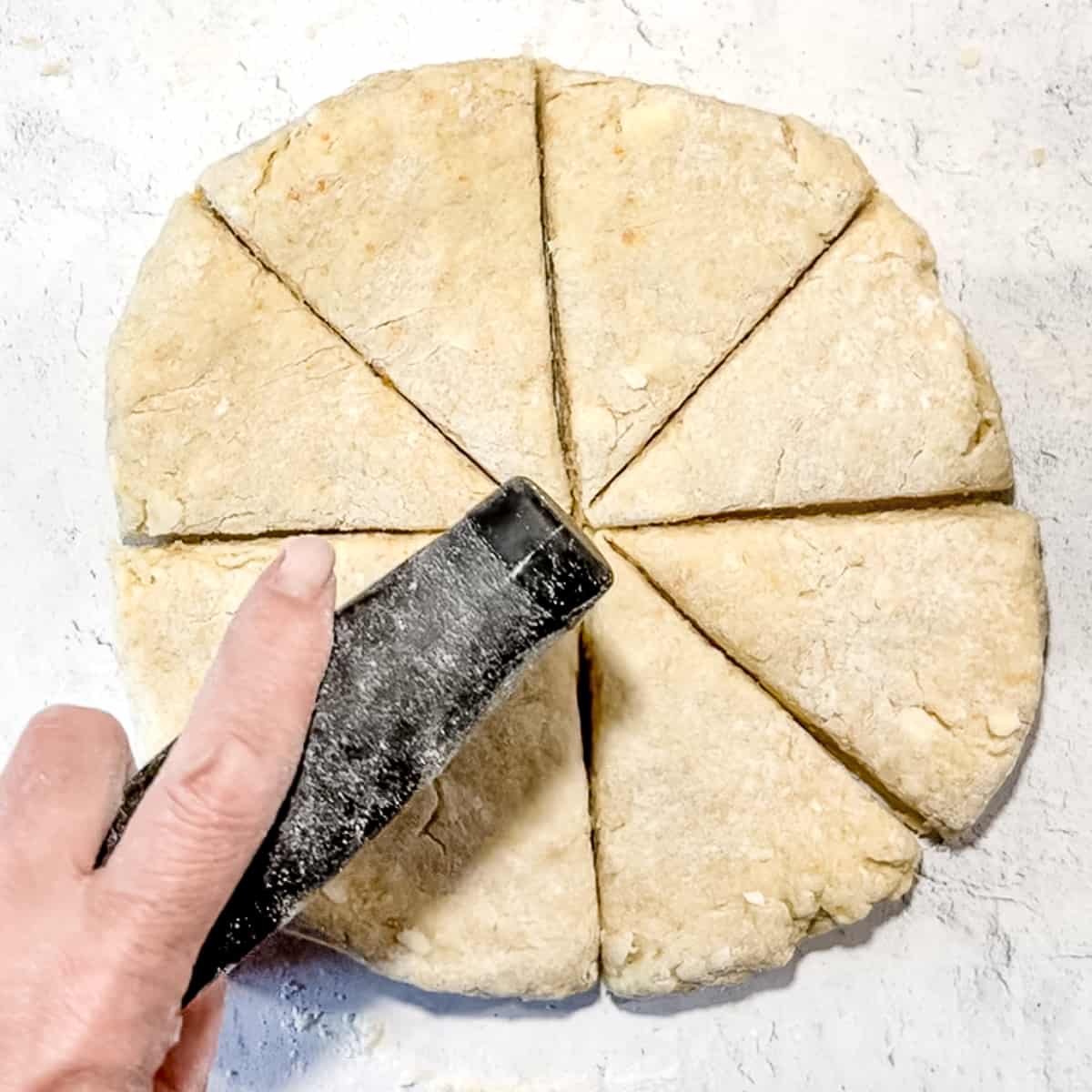 8. Use a sharp knife, or bench scraper, to divide into eight triangles. Transfer each triangle to a large baking sheet lined with parchment paper. Place into the freezer for 10 minutes, or the refrigerator for 20 minutes, while you preheat the oven to 400°F.
9. Remove scones from chilling and brush with an egg wash made of one egg whisked with one tablespoon of water,
10. Sprinkle each scone with a little bit of granulated or coarse sugar. This is optional, but it gives the scones a nice crunchy surface.
11. Bake for 20 to 22 minutes, or until the tops are golden brown and the scones are fragrant.
12. Allow to cool for 15 minutes while you make the glaze. Whisk orange juice, powdered sugar, and a tiny pinch of salt together. Drizzle over scones to your heart's content and enjoy!
Expert tip
Cut your butter in cubes first and then place back into the refrigerator or freezer to keep it cold while you gather and mix the rest of your ingredients. Really cold butter creates steam when it hits the heat of the oven. This helps create the fluffy texture you are looking for in a good scone! Keep your buttermilk cold too!
Recipe FAQ's
Do I have to chill the dough?
Chilling the dough is always a good idea. It allows the butter to get cold again, which will help with the rise of the biscuit. The resting period will also allow the flour to fully hydrate and for the gluten that developed during the mixing and folding to relax, resulting in a more tender scone.
If I add dried or fresh fruit, how much do I add, and when?
You should aim for about 1 cup of add-ins total, to have a good balance of scone to add-ins. I like to toss them with the flour and butter mixture, just before I add the buttermilk. If using fresh fruit, such as blueberries, fold gently so you don't burst them.
How do I store baked scones?
I store my leftover scones on the counter on a covered cake stand, but any airtight container will do. They should keep 2 to 3 days.
Can I reheat scones?
Yes, you can. I like to place my scones in a 350°F oven for about 10 minutes, or until just warmed through. My husband has little patience and just microwaves his for about 15 seconds. Both work great!
I would love to make these a few days ahead of my brunch and bake them on the day. Can I do that?
Absolutely! I find that freezing ahead can make for an amazing tender scone! Just cut out the scones and place them on a parchment lined sheet pan in the freezer until hard. Transfer to a zip top bag until ready to bake. You can bake them straight from frozen, only adding a minute or two to the original baking time.
More scone and biscuit recipes
Did you try this recipe? Tell me all about it!
Leave a ⭐️ review and comment below!
Take a pic and tag @butfirst_webrunch on Instagram!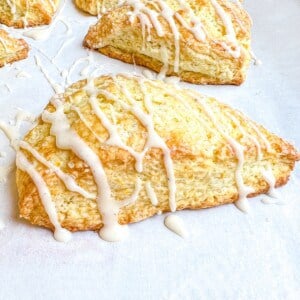 Orange Buttermilk Scones
Looking for Orange Scones that are fluffy and have a melt in your mouth texture? You've found them! Buttermilk makes them tender and light and the orange glaze ensures you have orange flavor in every bite.
Ingredients
Scones
2 ¼

cups

(

270

g

)

all-purpose flour

¼

cup

(

50

g

)

granulated sugar

Zest of an orange

1

tablespoon

baking powder

½

teaspoon

fine grain kosher or sea salt

6

tablespoon

(

112

g

)

unsalted butter

very cold and diced

1

large

egg

½

cup

(

120

g

)

buttermilk

1

teaspoon

vanilla

1

large

egg

beaten with 1 tablespoon of milk, for egg wash

Coarse or granulated sugar
Glaze
1

cup

(

120

g

)

powdered sugar

2

tablespoons

(

34

g

)

orange juice

Tiny pinch of salt
Instructions
Add the granulated sugar to a large bowl. Zest an orange onto the sugar (reserve the orange for scone glaze). Use your fingers to rub the zest into the sugar. This will release orange oils into the sugar, giving a vibrant orange flavor to your scones.

Add the flour, baking powder and salt to the orange sugar and whisk to combine.

Add the butter cubes and toss to coat in flour mixture. Use your fingers, or a pastry blender, to work the butter into the flour until it is the size of small peas.

Make a well in the center of the mixture and add the buttermilk and egg. Use a dough whisk or fork to gently stir the mixture into a shaggy dough. (It's OK if there loose floury bits at the bottom of the bowl.)

Dump the dough onto a lightly floured surface and pat it into a ½ inch thick rectangle. Fold the dough in half then pat it into a rectangle again and fold it one more time. Pat the dough into a one inch thick circle. Using a sharp knife, or a bench scraper, divide dough into 8 triangles.

Transfer the triangles to a large baking sheet lined with parchment paper and place in the freezer for 10 minutes, or the refrigerator for 20 minutes, while you preheat the oven to 400°F.

Remove the scones from the freezer and brush the tops of the scones with an egg wash and sprinkle with more granulated sugar or coarse sugar.

Bake for 20 to 22 minutes, until the tops are golden brown. Allow the scones to cool for 15 minutes.

While the scones are baking, make the glaze. Juice the orange. Place the powdered sugar, 1 tablespoon of orange juice, and a pinch of salt to a bowl. Whisk until smooth, adding more juice as needed to make a thick, but pourable glaze.

Let the scones cool for about 15 minutes, then drizzle or brush the glaze over the scones. Enjoy!
Notes
These are best the first day, but you can store any leftover scones in an airtight container for a day or two. They also keep well in the freezer for up to 2 weeks.
Nutrition
Calories:
342
kcal
|
Carbohydrates:
50
g
|
Protein:
6
g
|
Fat:
13
g
|
Saturated Fat:
8
g
|
Polyunsaturated Fat:
1
g
|
Monounsaturated Fat:
4
g
|
Trans Fat:
0.5
g
|
Cholesterol:
78
mg
|
Sodium:
341
mg
|
Potassium:
88
mg
|
Fiber:
1
g
|
Sugar:
22
g
|
Vitamin A:
451
IU
|
Vitamin C:
2
mg
|
Calcium:
122
mg
|
Iron:
2
mg
The nutritional and caloric information shown is an estimate provided by an online nutrition calculator. It does not assert or suggest that readers should or should not count calories, and should not be considered a substitute for a professional nutritionist's or doctor's counseling.