Made the night before and baked in the morning, these Overnight Cinnamon Rolls are so easy and delicious, you'll never go back to the tube brand again!
I have to be honest, in the past, the Winter Holidays were usually the only time I dared think about making cinnamon rolls. There are usually at least 2-3 cinnamon roll worthy morning occasions in December alone. We have two birthdays, at least two work parties (I work from home, so it's always a party🎈), and let's not forget Christmas morning.
Here's the thing, cinnamon rolls are not a spur of the moment pastry. They're relatively easy to make, but you need time for the dough to rise, let alone bake, and I'm not about to get up at 5 am so someone can bring something in to work. I love you guys but... 🙄
So I experimented with my regular cinnamon roll recipe and played around with letting it rise in the refrigerator overnight and they came out great! By taking the dough out in the morning and allowing it to come to room temperature and "rest" for half an hour or so (go take a shower, have some coffee), your cinnamon rolls will come out puffy and delicious every time.
Jump to:
Ingredients
All-purpose flour I'm not trying to complicate your life by using a special flour.
Active dry yeast I know a lot of people use instant yeast, but I really like to proof my yeast first. Seeing it bloom in warm milk makes me feel all warm and hopeful about my dough rising. There's nothing worse than making a dough and realizing your yeast was dead. That being said, you can use an equal amount of instant yeast, added to your dry ingredients.
Butter There's butter in the dough and butter in the filling. These are definitely made for eating in your stretchy pants.
Eggs Two large room temperature eggs are needed. If you forget to take your eggs out of the fridge, like I do, just cover them with warm water while you do all the other stuff and they'll be fine. Just not too war, we don't want soft boiled eggs 🤣
Cinnamon Buy what you can afford, but I find that Ceylon cinnamon has more depth and is less bitter than the 99¢ version I was buying. My mom used to say "you pay for quality" and, darn it, she was right.
Variations
I've changed up the filling from time to time by adding Chinese five spice, pecans, and my favorite Chai Spices. One of my favorite variations is my Blueberry-Orange Cinnamon Rolls, using blueberry preserves.
Instructions
These are a lot simpler to make than you might think. There are several steps, but you'll have time to relax in-between. Have a cup of tea. Or coffee. Read.
Make the dough You can do this by hand or with a mixer (definitely the easier route). If you use instant yeast, it's pretty much mix, let the dough hook do its work, and plop it into a lightly oiled bowl.
First rise After placing in an oiled bowl, cover with plastic (I use an inexpensive shower cap) and place in a warmer spot in your kitchen. About an hour should be enough time for it to double in size, but if your kitchen is colder, it might take longer.
Make the filling Just mix together the filling ingredients and set aside.
Shape the rolls Roll out your dough into a big rectangle and spread your filling. I usually spread the butter on the dough and then sprinkle the rest of the fillings on top, but you could mix the sugars and cinnamon with the butter and spread it all at once.
Second rise Roll your dough into a long log, cut the rolls, and place in a pan. Cover and refrigerate overnight.
Bake Take out at least 30 minutes before you want to start baking to allow the rolls. to come to room temperature and rise a bit more. Then bake.
Frost Mix your frosting ingredients together and spread over top and get eating!
Expert tips
You can make, shape, and and freeze these cinnamon rolls for later! I have experimented with freezing them directly after shaping and cutting, and also allowing them to rise after shaping and then freezing. Both worked great! Just place your shaped rolls on a parchment lined sheet pan and put in the freezer. When they have hardened, transfer to a ziplock bag. The night before you want cinnamon rolls, just place them in the pan you plan to bake in and allow them to thaw overnight in the refrigerator. In the morning, let the rolls to come to room temperature on the counter and bake as directed. Don't worry if they're not incredibly puffy before you bake them, they'll floof up in the oven.
I'm also gonna share another tip with you guys 🤫 It might sound odd, but a little known secret of Southern grandmas is to pour some warmed heavy cream all over your cinnamon rolls just before baking them! They come out so soft and gooey, and stay fresh for days. You've gotta try it!
Anyway, whether you make and bake today or put them away till later, you're going to want to make these cinnamon rolls all year round! That's how you roll now 😉
Recipe FAQ's
How do I store leftover cinnamon rolls?
Cinnamon rolls tend to drying out rather quickly and proper storage is key to a pleasurable leftover cinnamon roll moment. The key to keeping them moist is all in the packaging.

You can store these at room temperature if placed in an airtight container.
Store at room temperature for up to 2-3 days. After that, I recommend freezing them.
How do I freeze leftover cinnamon rolls?
In the unlikely event you haven't eaten all of your rolls, you can store them in the freezer. Separate the rolls and place them, unwrapped, on a parchment lined plate or tray. Flash freeze them for about an hour. Remove from the freezer and wrap each roll individually in plastic wrap and place wrapped rolls in a large ziploc bag. Store frozen for up to 2 months.
How do I reheat my Cinnamon Rolls?
Remove rolls from whichever storage method you are using, room temperature or frozen. Allow frozen rolls to thaw.

Lightly spread softened butter over the un-iced portions of the roll. Microwave 30-45 seconds on high. Add an additional 10-15 seconds at a time until warmed through, if needed.

Alternatively, you can reheat these in the oven. Preheat oven to 350°F. Lightly spread softened butter over the un-iced portions of the roll. Place in a baking dish and cover with aluminum foil. Bake for 10 minutes, or until warmed through. Enjoy!
Can I make cinnamon rolls without yeast?
This recipe requires yeast for the rolls to rise, but my No Yeast Biscuit Cinnamon Rolls are a great alternative. They are fluffy and gooey and delicious and ready to eat in an hour!
Looking for more yeast-based recipes?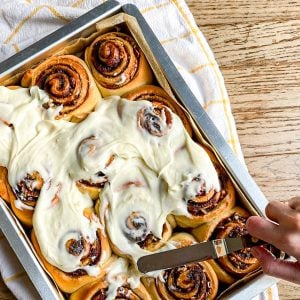 Overnight Cinnamon Rolls
Made the night before and baked in the morning, these Overnight Cinnamon Rolls are so easy and delicious, you'll never go back to the tube brand again!
Ingredients
Cinnamon Roll Dough
1

cup

(

240

g

)

warm milk

(105°-115° is optimal)

1

tablespoon

honey

2 ¼

teaspoon

active dry yeast

½

cup

(

100

g

)

granulated sugar

2

large

eggs

room temperature

½

cup

(

113

g

)

unsalted butter

(1 stick) room temperature and cut in small cubes

1

teaspoon

vanilla extract

or paste

4 ½

cups

(

540

g

)

all-purpose flour

1

teaspoon

kosher salt

fine grain
Cinnamon Sugar Filling
½

cup

(

113

g

)

unsalted butter

(1 stick) softened

½

cup

(

110

g

)

brown sugar

light or dark

½

cup

(

100

g

)

granulated sugar

3

tablespoon

ground cinnamon
Cream Cheese Frosting
8

oz

(

226

g

)

cream cheese

room temperature

¼

cup

(

57

g

)

unsalted butter

(½ stick) room temperature

2

cups

(

240

g

)

powdered sugar

½

teaspoon

vanilla extract

2

tablespoon

(

30

g

)

milk

1

pinch

kosher salt

fine grain
And finally
½

cup

(

120

g

)

heavy cream

warm (not hot)
Instructions
Making the dough
Warm milk in the microwave for 45-60 seconds, to about 105°-115°, or until it feels just warm. Place the milk into the bowl of your standing mixer, then add honey and yeast. Let sit until it becomes foamy, about 5-10 minutes.

Add the sugar, butter, eggs, and vanilla into the milk. Add in the flour, and the salt and stir with the beater attachment, starting on low and increasing to medium-high, until all the flour is mixed in.

Switch to the dough hook and knead for 5-6 minutes or until a large ball is formed and it pulls away from the bottom and sides of the bowl. It will still be slightly sticky, but not wet. If it doesn't start pulling away after 2 to 3 ,minutes, add up to ¼ cup more flour, 1 tablespoon at a time, until you get the right consistency.

Knead the dough on a lightly floured surface for a few minutes until it is just barely tacky and form it into a smooth ball. Grease a large bowl and place the dough inside. Cover the bowl with plastic wrap and put in a warm place to rise for about an hour, or until the dough has doubled in size.
Make the filling
In a small bowl, combine brown sugar, granulated sugar, and cinnamon until mixed.
Making the rolls
Sprinkle a large work surface with flour and plop the dough out. Form the dough into a rectangle, pressing out the gases as you go. Roll the dough into an 18"X12" rectangle. Using a silicone or offset spatula (I used my clean hands), spread softened butter all over the dough and then sprinkle with the cinnamon sugar, going all the way to the edges.

Roll the dough tightly away from you, along the long end and form a long log. Cut into 12 equal sized rolls using a serrated knife. Use a ruler. It's your friend. Line a 9x13 pan with parchment paper and lightly spritz with non-stick spray. Place rolls in the pan.

Cover and let rise until nearly doubled, about 30 to 60 minutes, and preheat your oven to 350° F

When your rolls have finished their second rise, pour the warmed cream (just warm to touch, not hot) all over the top of each roll and allow it to soak in for a few minutes. Bake at 350° until golden brown, about 25-30 minutes.
Overnight rise instructions
You can make these the night before and bake them in the morning. Cut your rolls and place them in your prepared pan. Cover tightly and place in the refrigerator overnight to finish proofing. In the morning, preheat the oven to 350°, take the rolls out of the oven, and allow them to rest next to the preheating oven for 30 minutes or until almost doubled again in size. If it's a particularly cold morning it might take an hour.
Frost the rolls and eat them so fast
While rolls are baking, beat together cream cheese, butter, powdered sugar, milk, vanilla extract, and salt. Spread the cream cheese frosting on the rolls while they are still warm so it gets into all the nooks and crannies. Eat them. Eat them. Eat them. Share 🙄
Nutrition
Calories:
435
kcal
|
Carbohydrates:
83
g
|
Protein:
8
g
|
Fat:
31
g
|
Saturated Fat:
19
g
|
Trans Fat:
1
g
|
Cholesterol:
118
mg
|
Sodium:
290
mg
|
Potassium:
151
mg
|
Fiber:
2
g
|
Sugar:
49
g
|
Vitamin A:
1075
IU
|
Vitamin C:
1
mg
|
Calcium:
95
mg
|
Iron:
2
mg
The nutritional and caloric information shown is an estimate provided by an online nutrition calculator. It does not assert or suggest that readers should or should not count calories, and should not be considered a substitute for a professional nutritionist's or doctor's counseling.