These Easy Homemade Yeast Donuts require less than 10 ingredients and the hardest part is waiting for the dough to rise. They're so delicious, you may never buy donuts again!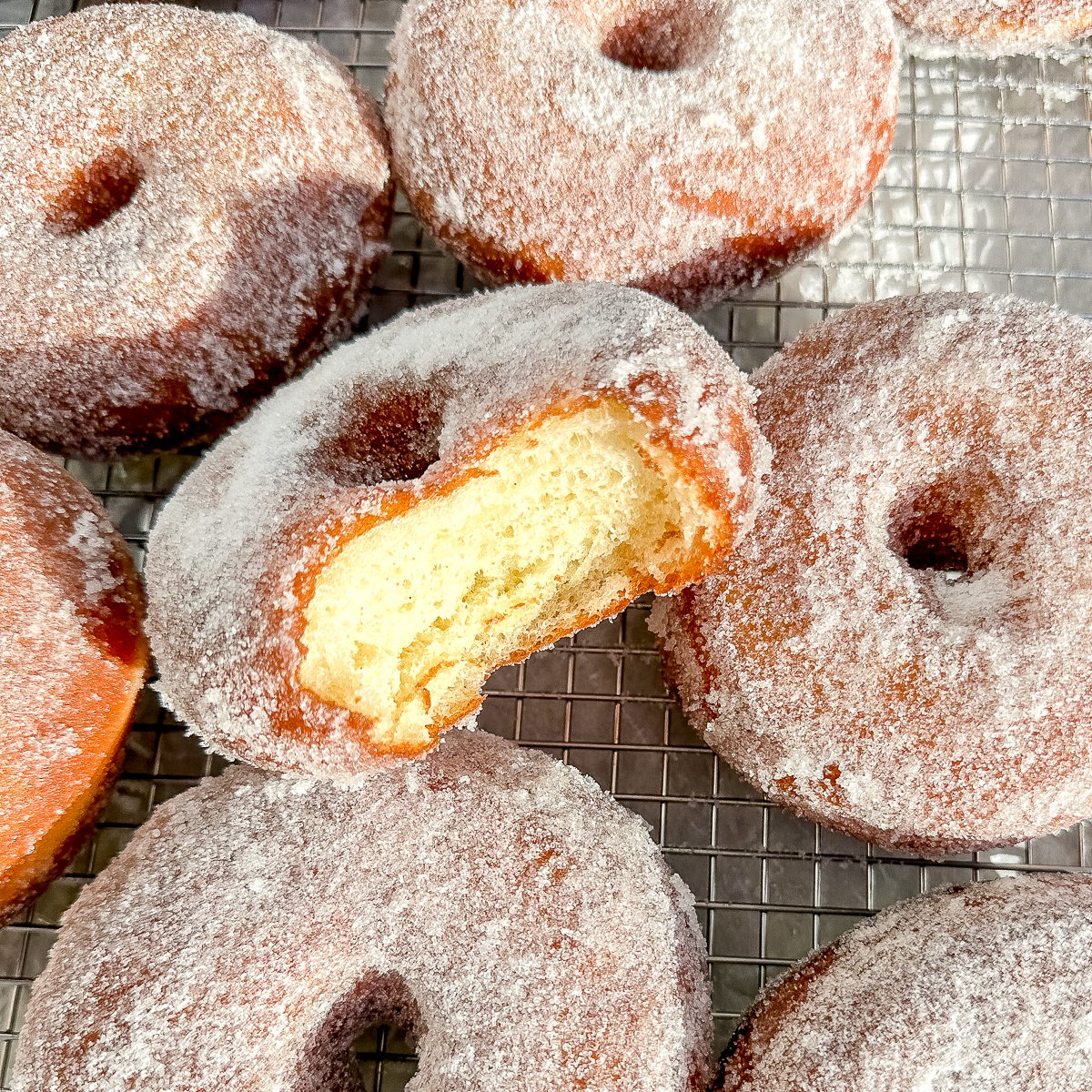 Growing up in Texas, on special occasions, my Dad would go out pick up a dozen donuts from Shipley Do-nuts. Famous for their warm donuts, everyone in my family preferred the glazed ones, but I just loved the texture and crunch, and the sugar mustache, I got from a sugar raised donut. A warm fluffy donut, tossed in plain granulated sugar. Oh man, I was a happy, sticky kid.
When I worked at the bakery, we made enough brioche dough every week to make brioche pastries, cinnamon rolls, sticky buns, babka, and again on special occasions only, donuts. Delicious, warm, sugary donuts.
This is my simplified version of those donuts in a recipe so simple, you can have donuts whenever you want. No special occasion required. Sorry Shipley.
Jump to:
Ingredients
I wanted to keep this as classic as possible, so you probably have all the ingredients you need to put a donut in your mouth tomorrow morning!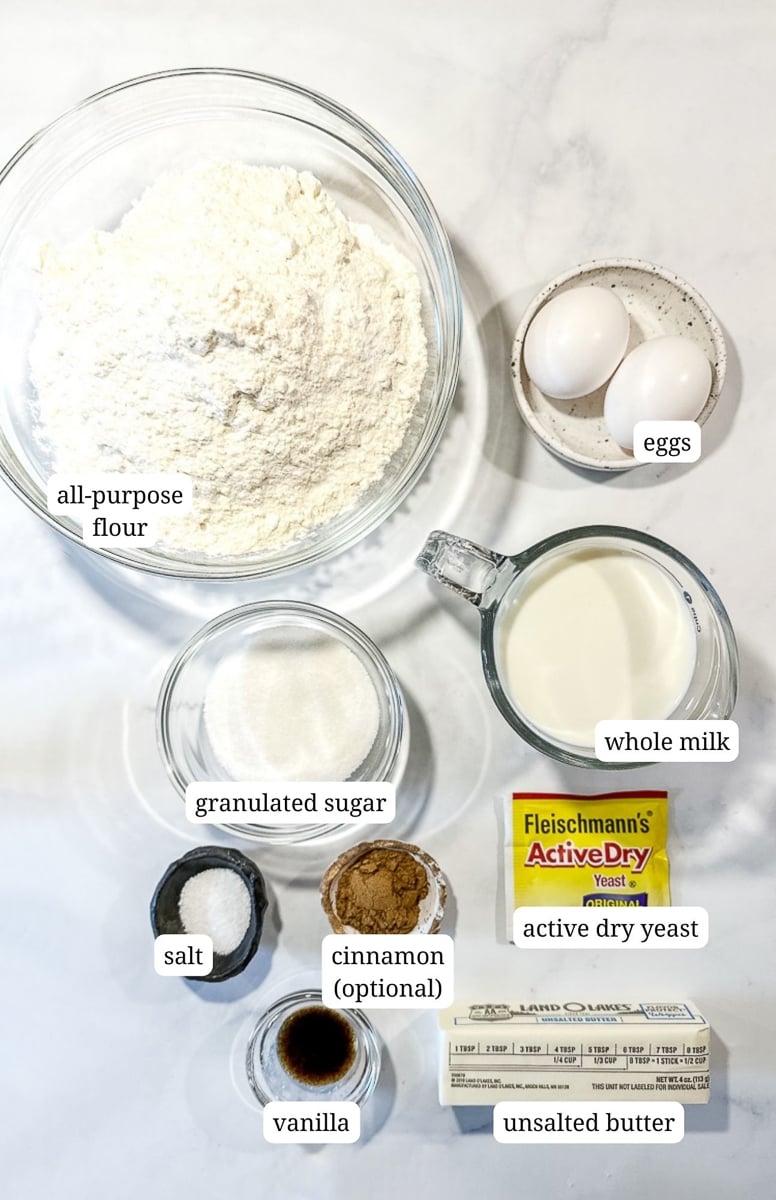 See recipe card for quantities.
Substitutions
It's pretty hard to find a reason to substitute such simple ingredients, but if something comes up...
Active dry yeast - Despite its deceptive name, this is a yeast that has to be activated in a warm liquid to wake it up. If you only have instant yeast, you can use the same amount and just skip the activation step.
Cinnamon - Some people have a cinnamon sensitivity, so you can skip this optional ingredient. Sometimes I like a nice cinnamon sugar coating, but I really just wanted to give these donuts a classic raised sugar vibe.
Milk - I use whole milk because, hello, I'm having a donut. This is not the time to haul out the skim milk. But you do you.
Vegan, gluten-free, etc - I respect the need for some people to follow dietary guidelines, but if you are looking to lo-cal, keto, or veganize these donuts, you're probably in the wrong place. There are fabulous food bloggers who specialize in those spaces that you can find online.
Tips for using yeast
For best results, buy and use yeast before the expiration date. Yeast loses its potency over time, resulting in longer rising times, or no rise at all. We proof active dry yeast to determine whether it is still alive. To proof, add your yeast to warm liquid, as directed in your recipe. If your yeast doesn't start to foam up within 5 minutes of adding it to the liquid, your yeast is probably deceased. You'll need to buy more, then start again.
Make sure the liquid you are using, to proof your yeast, is between 100°F and 110°F. Any hotter and you risk killing the yeast; colder and the yeast won't wake up. If you don't have a thermometer, the liquid should feel warm to the touch - not too hot and not too cold. Goldilocks.
If you don't have active dry yeast, you can use the same amount of instant yeast. Instant yeast may also be labelled as bread machine yeast or rapid rise yeast. They're all the same, just different names. Instant yeast does not have to be proofed. Just add it to the dry ingredients and go!
Variations
Other than classic sugar or sinnamon sugar, there are plenty of ways to toss your donuts. here are a few!
Powdered sugar - Instead of using granulated sugar as a topping, allow your donuts to cool completely, then toss them in powdered sugar.
Chocolate - Add two tablespoons of unsweetened cocoa powder to a cup of powdered sugar and give your donuts a roll for a chocolaty twist.
Fruity fun - Blitz up some freeze dried fruit, like strawberries or raspberries, in your food processor, and mix it with your sugar for a delicious fruity spin.
Equipment
You don't have to own a deep fat fryer to make homemade yeast donuts. I had one for years and just got tired of having to clean all the little nooks and crannies every time I removed the oil. I find it much easier, and more affordable, to use a dutch oven that I also use for soups, stews, and no-knead bread.
Instructions
I know that I used to get overwhelmed by the very thought of using yeast or frying stuff, but once you try it, you find it just isn't that hard. I've really simplified the whole process and I think this is going to become one of your favorite weekend projects! Read through all the steps and then let make some donuts!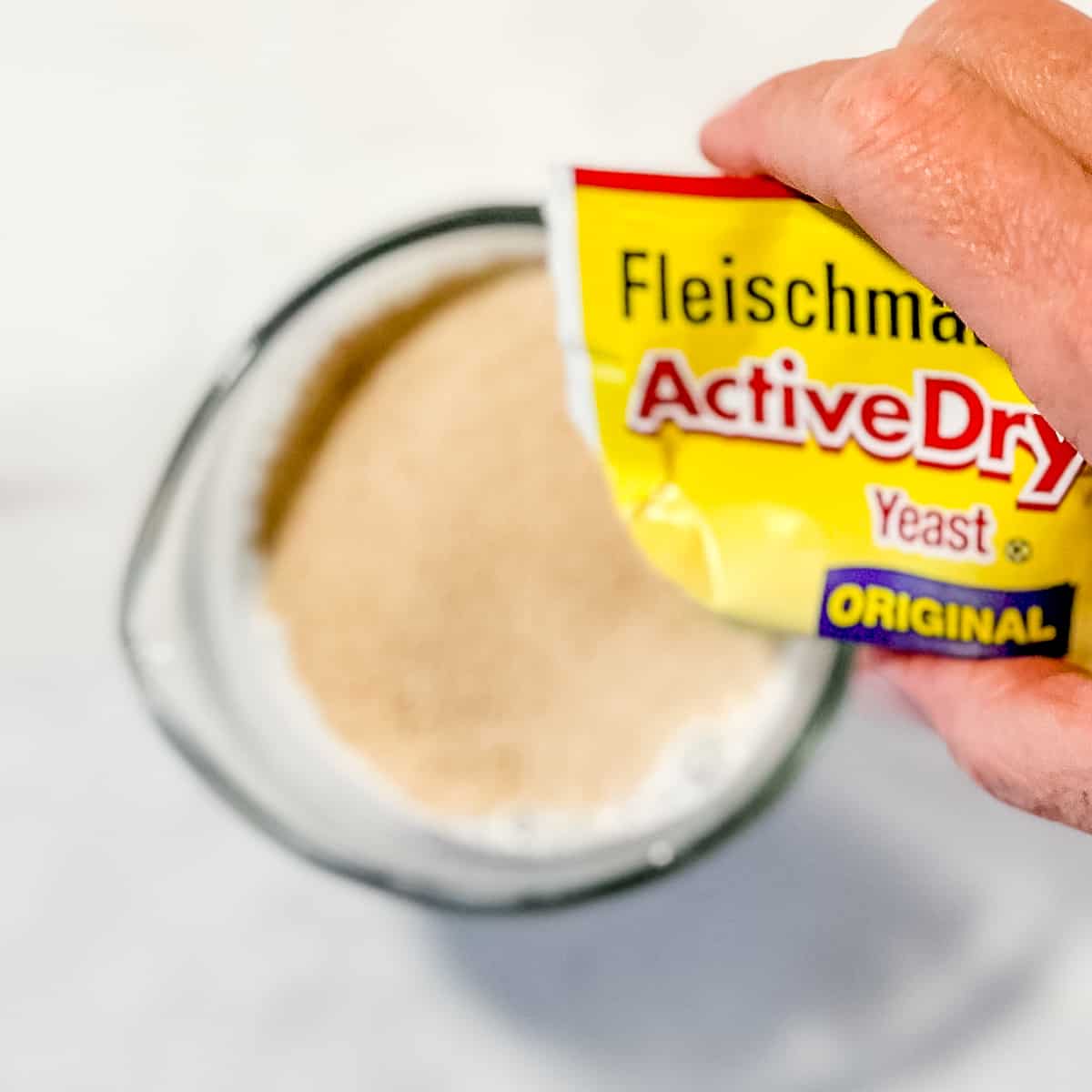 1. Add 2 ¼ teaspoons (one packet) of active dry yeast, and a tablespoon of sugar, to one cup of warm milk.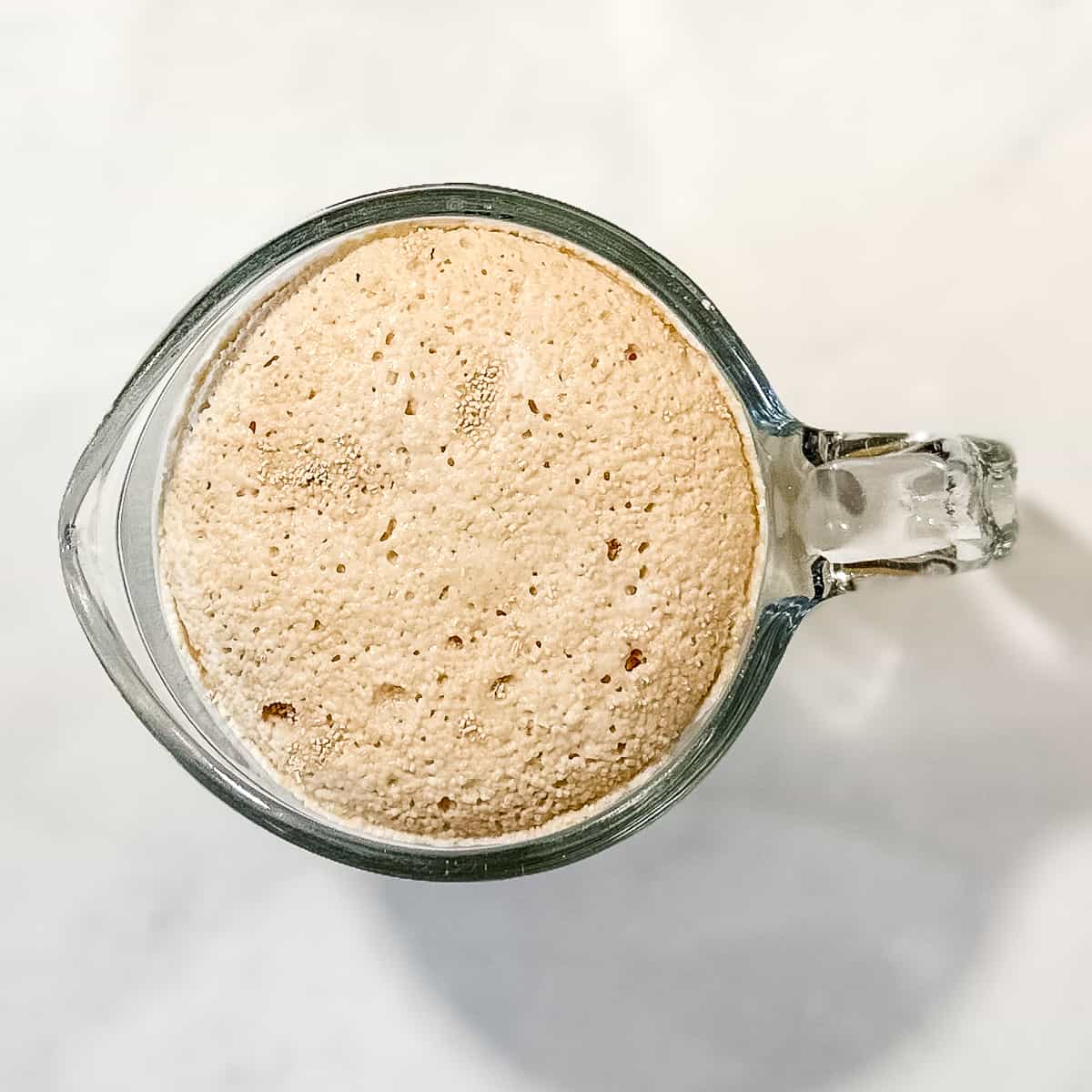 2. Let sit for 5 to 10 minutes, or until the mixture becomes foamy.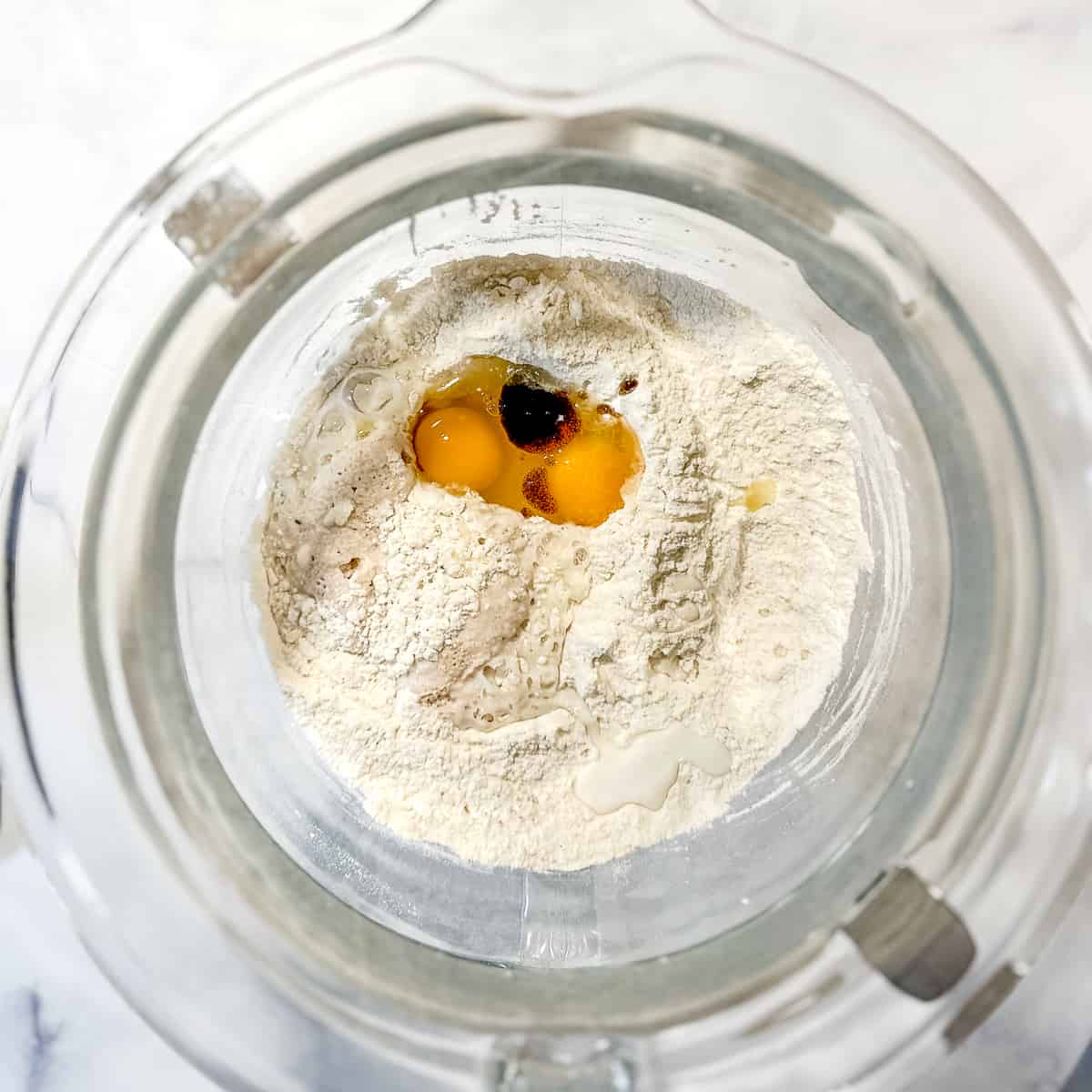 3. Combine all dry ingredients in the bowl of a stand mixer and add eggs, vanilla, and your foamy yeast mixture.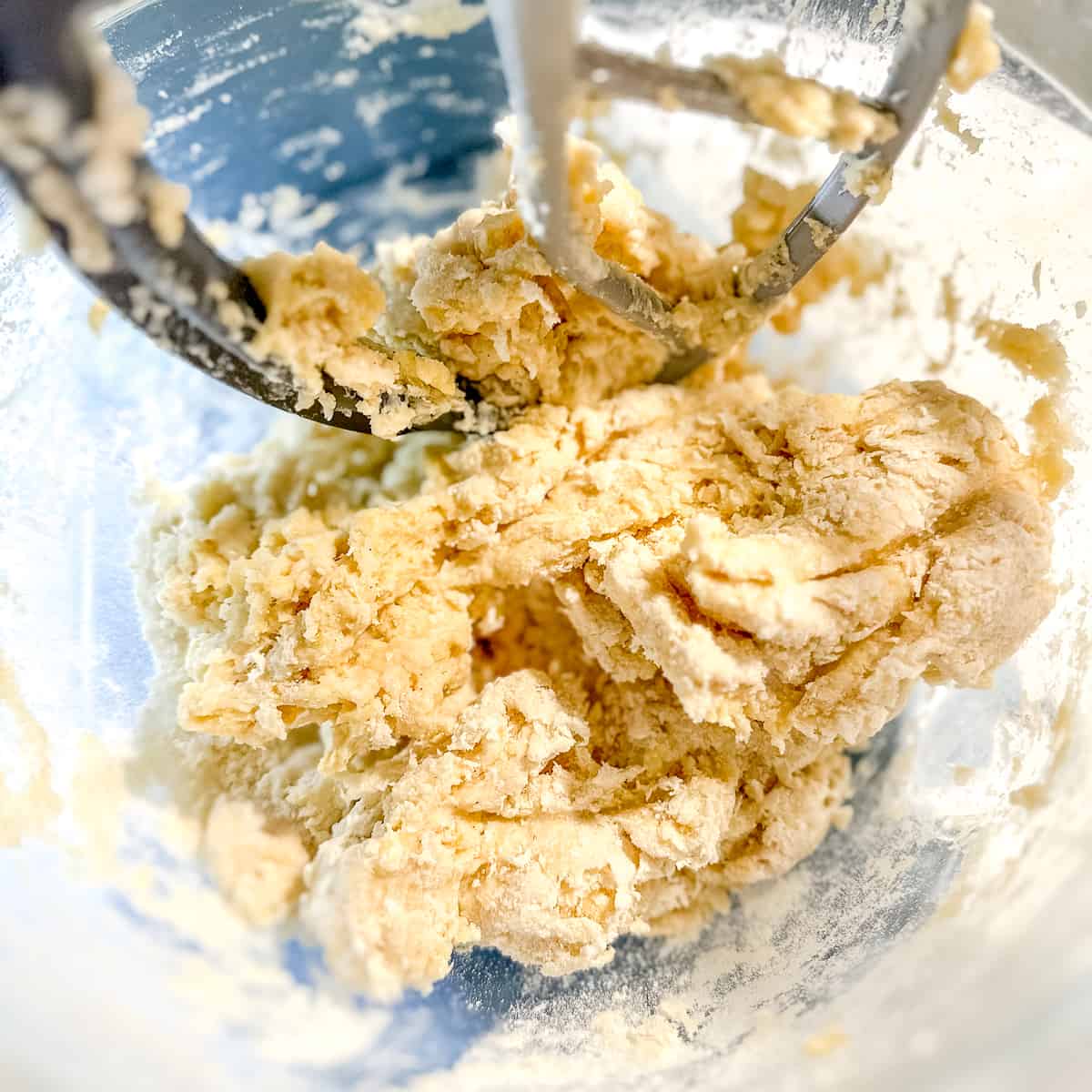 4. Using the beater attachment, mix on low for 3 to 4 minutes, or until a shaggy dough is formed.
5. Switch to your dough hook and, still on low, begin adding pieces of butter, one at a time, until they are all incorporated. Increase to medium and allow dough to mix for 4 to 5 minutes, or until soft and smooth, but still a bit sticky.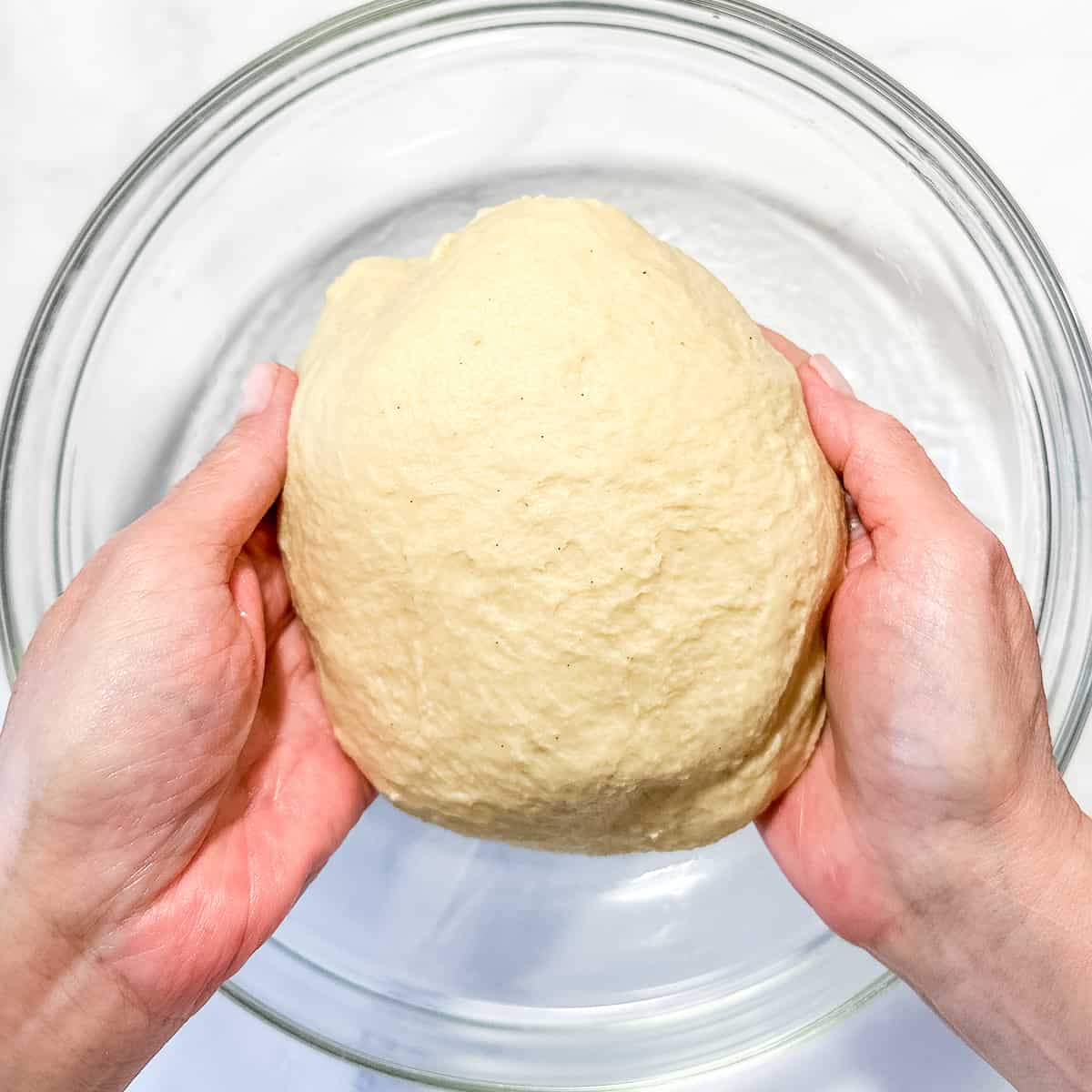 6. Remove dough from the mixer and shape into a ball. Place in a bowl that has been oiled. Cover with plastic and place in the refrigerator overnight. Alternatively, you can allow the dough to rise on the counter for 3 to 4 hours.
7. Remove dough from the refrigerator (or counter). It should have about doubled in size.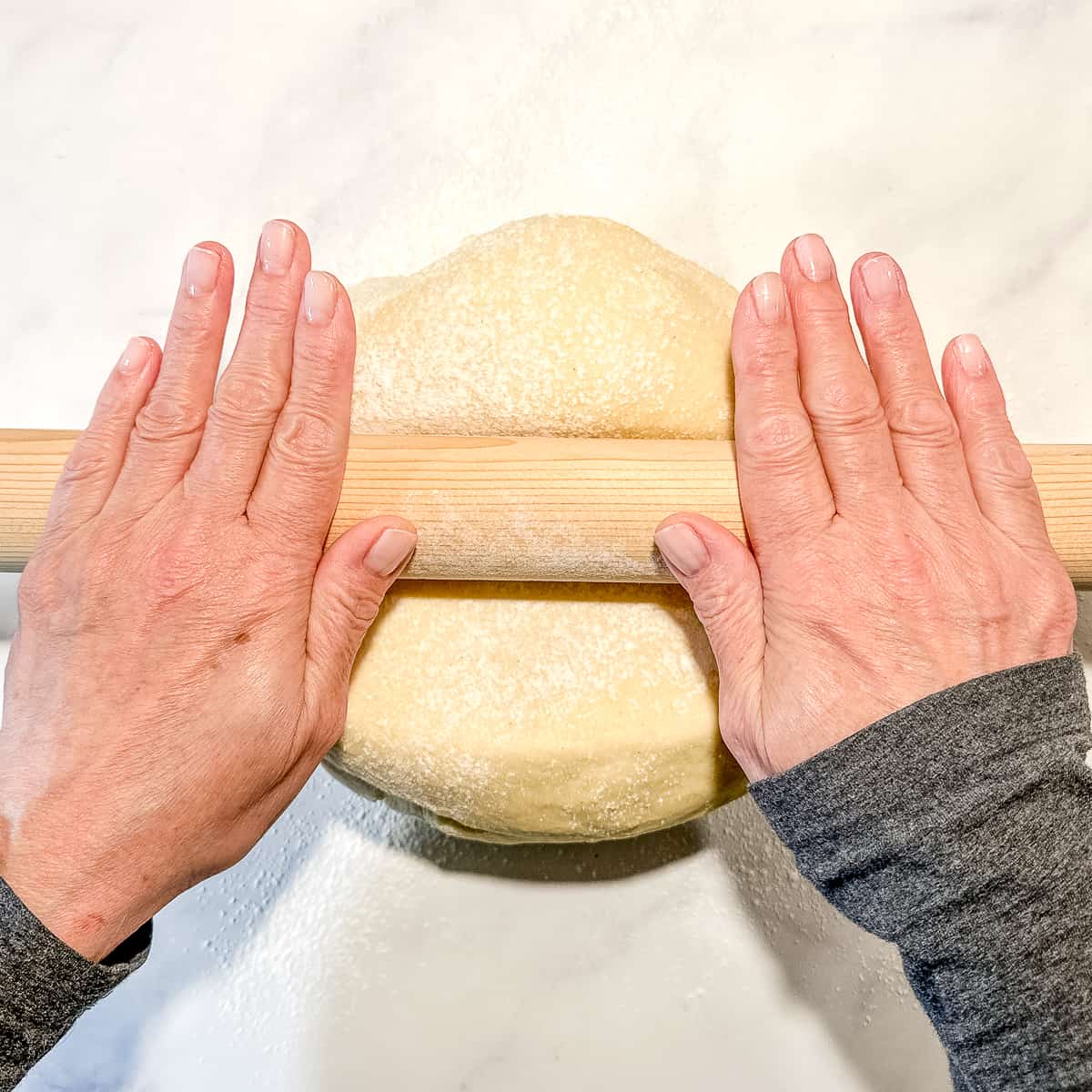 8. Turn the dough out onto a lightly floured counter and roll out to a 12 inch circle, about ¼ inch thick.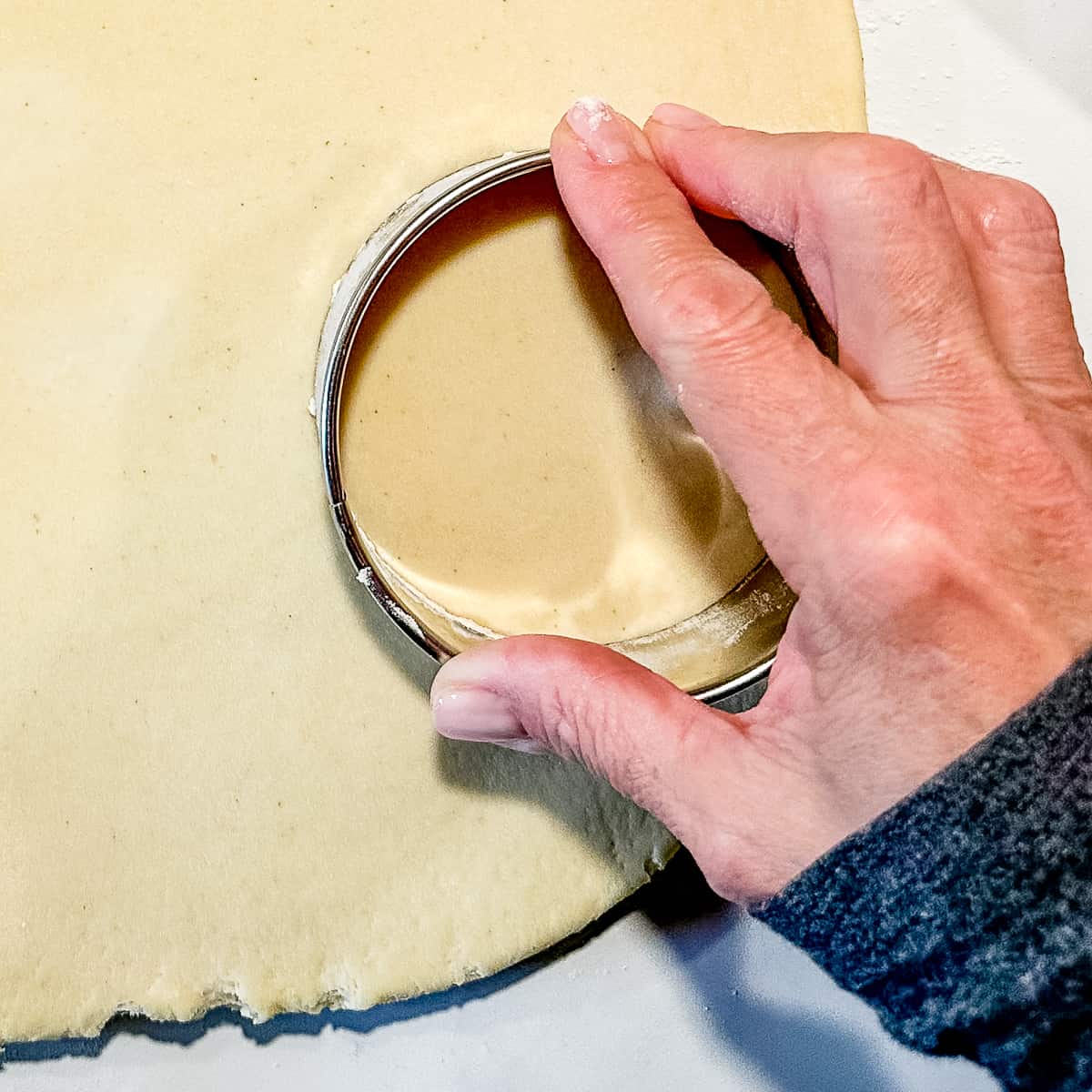 9. Using 3 to 3 ½ inch ring cutters, cut out round donuts, cutting as close together as possible.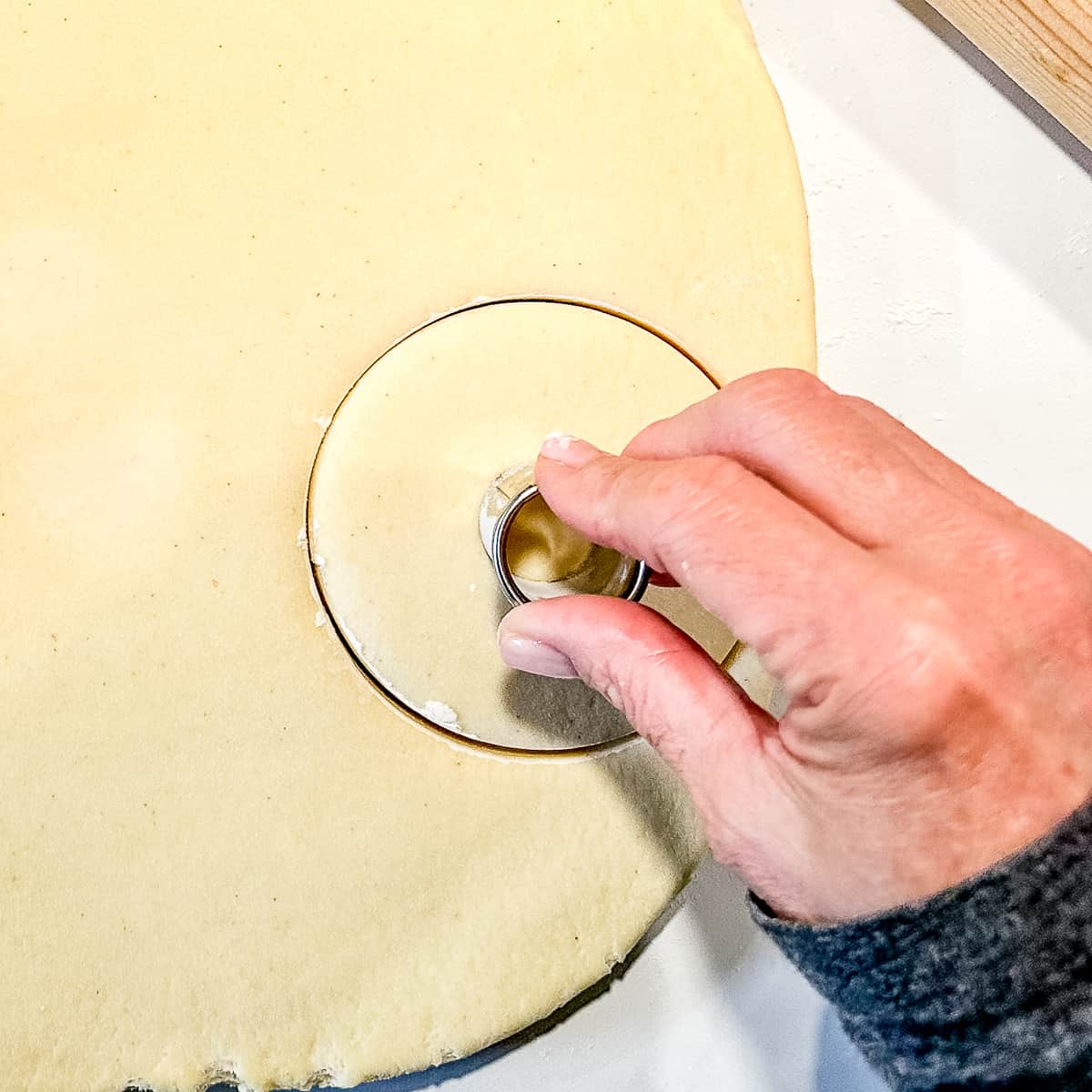 10. Using a smaller 1 inch ring cutter, cut out donut holes. Save those for, you know, donut holes.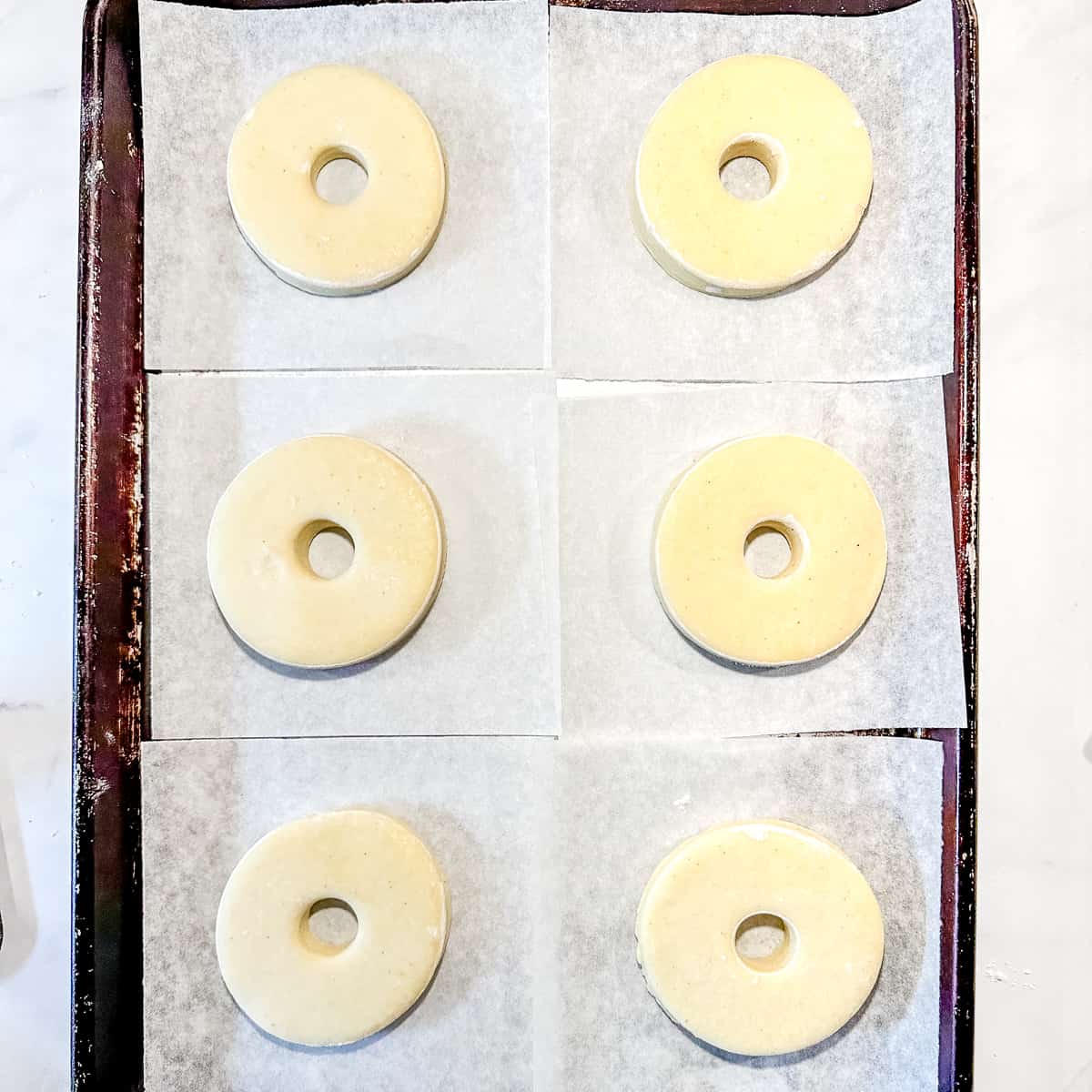 11. Cut 2 sheets of parchment paper into 6 pieces each. Place each donut on a individual square. The reason will become apparent. Place the donut holes on another small piece of parchment. Reroll scraps and make more donuts. You should get 10 donuts and ten donut holes.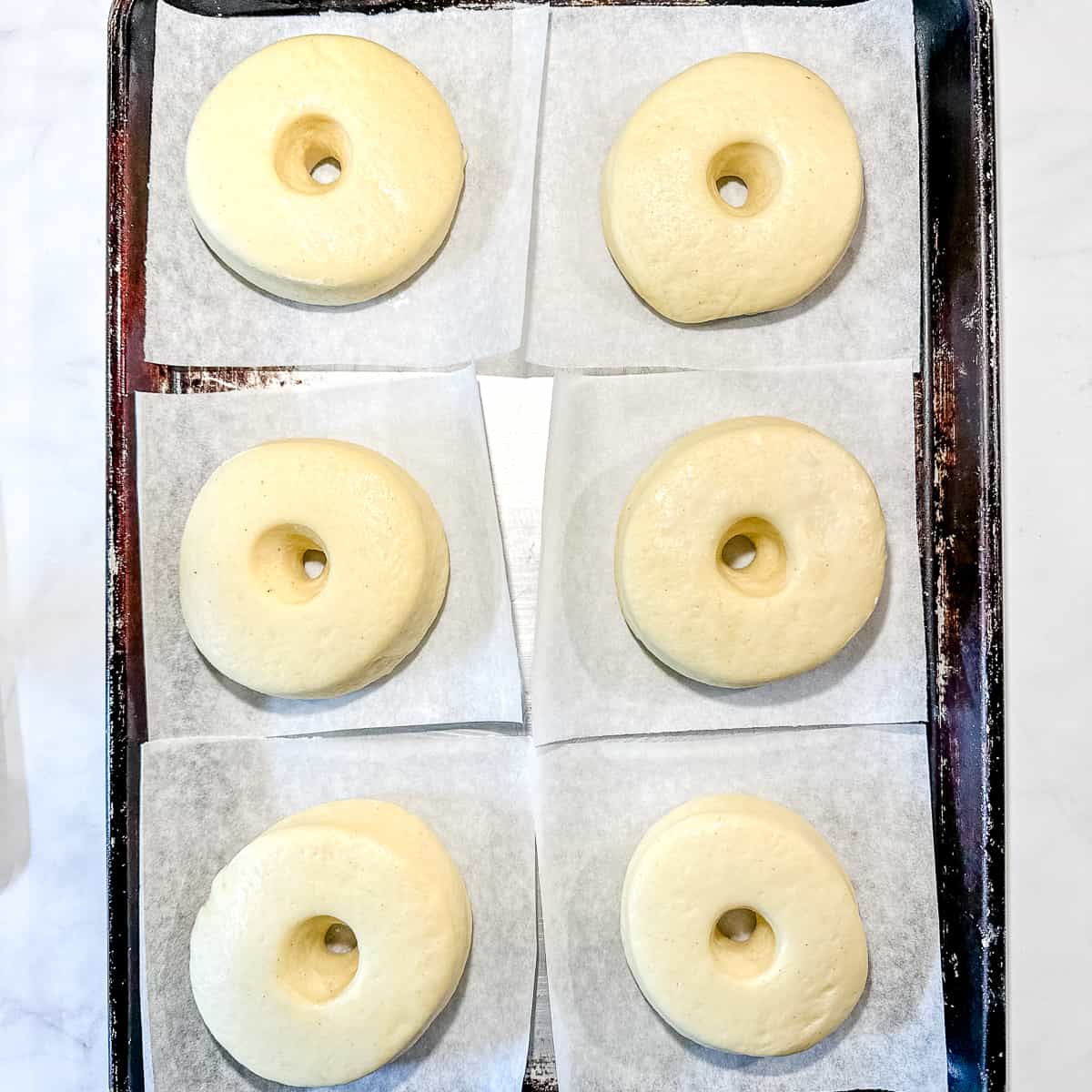 12. Spray a piece of plastic wrap with nonstick spray and cover donuts. Allow to rise for another 30 to 45 minutes, or until puffy. In the meantime, heat oil in a medium dutch oven or deep cast iron skillet to 350°F. Use a thermometer to test temperature.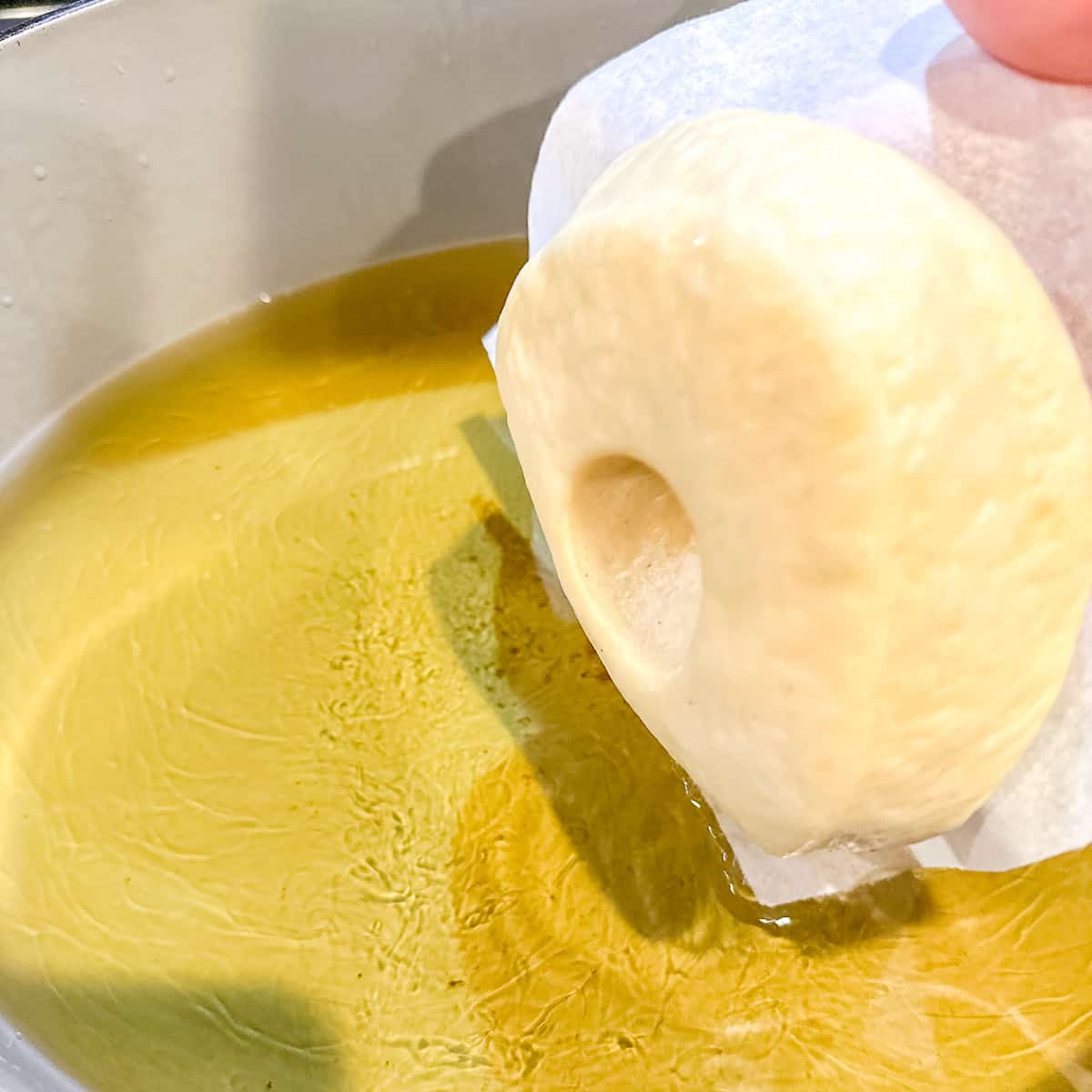 13. Using the parchment paper, lay 2 pieces of dough into the hot oil. The parchment paper will release and you can remove it with tongs and discard it. Cook donut for 80 to 90 seconds, or until golden brown.
14. Using 2 chopsticks, a slotted spoon, or a spider strainer, flip your donuts, and cook for another 80 to 90 seconds, or until golden brown on the other side.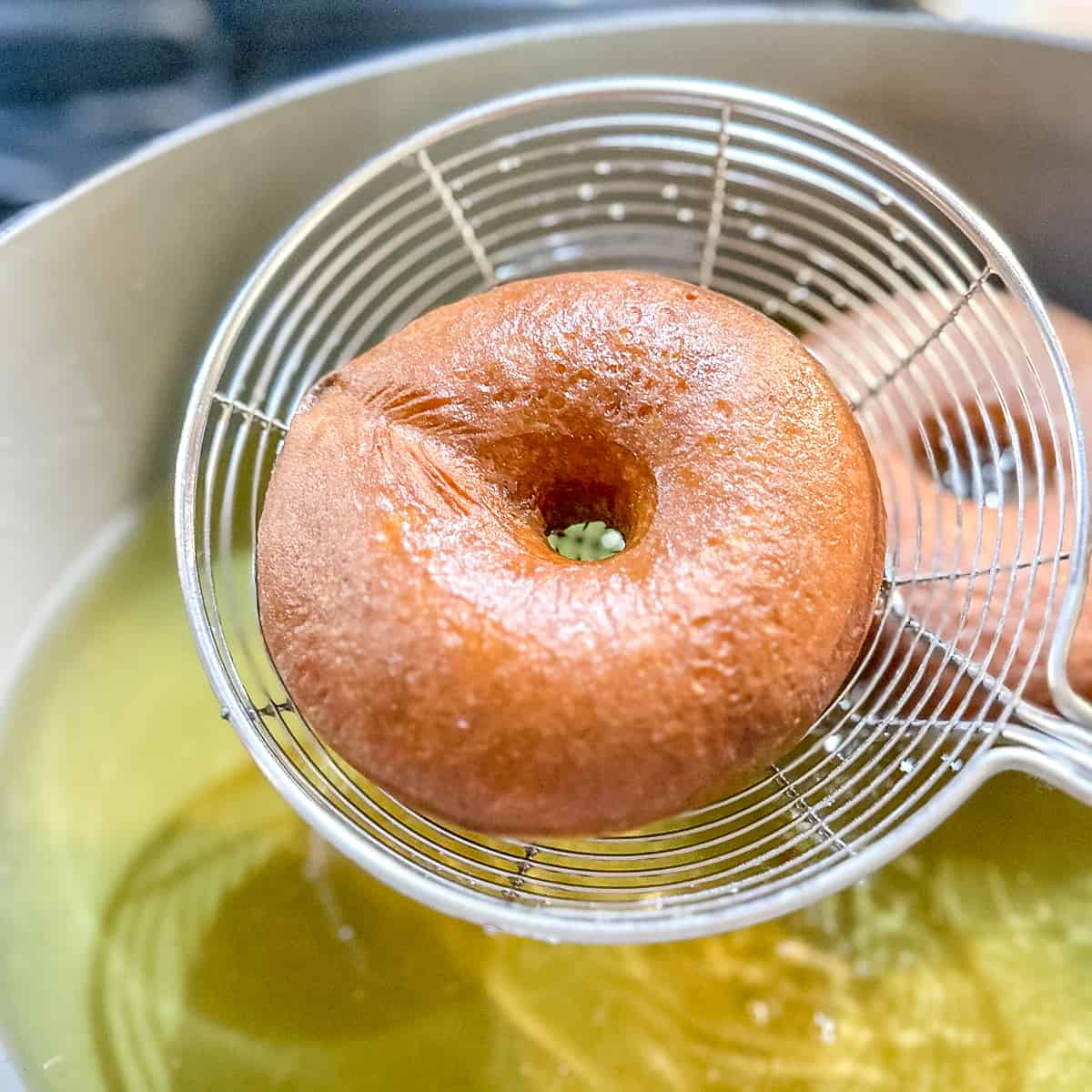 15. Carefully remove the finished donuts and place on a wire rack placed on a large sheet pan.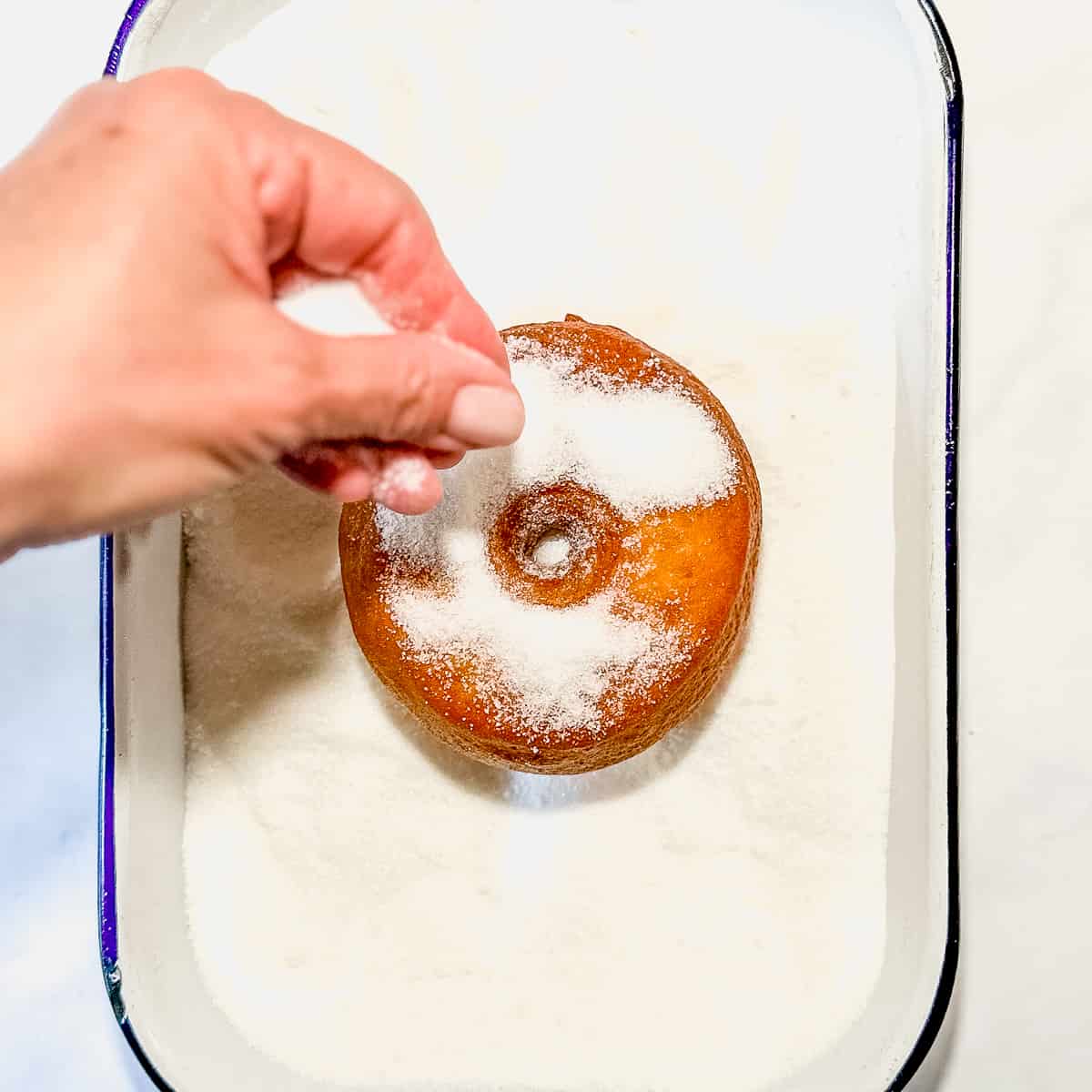 16. Allow to cool for 60 seconds, then place into a tray containing your sugar and toss to coat. Place back on wire rack to cool completely.
17. Check temperature between batches, keeping it around 350°F, adjusting your stove temp as needed. Continue cooking your donuts until done. Don't forget to fry your donut holes! They should only take about a minute. Sugar, cool, devour. Repeat forever.
Need more donuts in your life? Try my Old Fashioned Buttermilk donuts!
Expert tip
Re-use and disposing of oil: You don't need to discard your cooking oil after frying one batch of donuts. You do, however, need to strain, store, and dispose of it correctly.
After your oil cools completely, use a piece of cheesecloth or a coffee filter to strain out all loose crumbs or bits of dough.
Save your original oil bottle to store the used oil.
I find I can reuse my oil up to four times, provided I haven't burnt anything while frying, which can leave the oil with a bitter flavor.
Sweet before savory. You wouldn't want to fry your homemade donuts in the oil you used to fry a batch of shrimp, would you? Nope. In general, once you've used the oil to fry protein or vegetables, that oil should only be used to fry more proteins or vegetables. Fry dessert first!
If the oil smells at all funky or rancid, or if it's cloudy or has a foamy residue, it's done! Never use an oil that has a prominent smell or residue of any kind.
Never pour old oil, or any fat, down your sink. I don't care if you follow it up with hot water. It clogs municipal waste systems and is a real environmental problem. If your community doesn't have a program for recycling oil, place the used oil in a tightly sealable container and throw it out in your trash.
Recipe FAQ's
Why do I need to chill these overnight?
Although you can allow the dough to rise on the counter for 3 to 4 hours and then proceed, it is easier to work with after it has chilled in the fridge. The cold gives the butter a chance to solidify again and this makes the dough less sticky. The extra time also allows for a slower fermentation, which gives your donuts more flavor.
Can I make the dough a few days ahead?
Brioche dough can be. made ahead, but is best used within 48 hours. After that it may overproof, leaving you with flat, sad donuts. No one wants that.
What is the best temperature for frying donuts?
I like to fry mine at 350°F, but I have gone as high as 360°F. If using a higher temp, fry your donuts for only about 1 minute per side. If you go higher than that on the temperature, you run the risk of a darker donut with more of a crunchy outside.
How should I store leftover donuts?
Homemade yeast donuts are best eaten the day they are made, preferably immediately. In the unlikely case that you can't find anyone willing to eat some donuts, keep your leftovers stored in an airtight container, such as a cake dome, for up to 2 days.
Can I reheat donuts?
A cold donut may eat kind of "dry" due to the butter in the dough re-solidifying. Popping a donut in the microwave for about 6 to 8 seconds will take a bit of the chill off and make them softer.
More recipes using yeast
Did you try this recipe? Tell me all about it!
Leave a ⭐️ review and comment below!
Take a pic and tag @butfirst_webrunch on Instagram!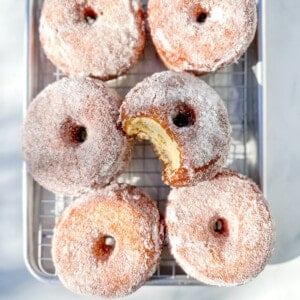 Easy Homemade Yeast Donuts
Easy Homemade Yeast Donuts require less than 10 ingredients and the hardest part is waiting for the dough to rise! So delicious, you'll never buy grocery store donuts again.
Ingredients
1

cup

(

240

g

)

240 g warm milk

(105°-115° is optimal temperature)

2 ¼

teaspoon

(

27

g

)

active dry yeast

one packet

½

cup

(

100

g

)

granulated sugar

4 ½

cups

(

540

g

)

all-purpose flour

1

teaspoon

(

6

g

)

kosher salt

fine grain

2

large

eggs

room temperature

1

teaspoon

(

4

g

)

vanilla extract

or paste

½

cup

(

113

g

)

unsalted butter

1 stick, room temperature, cut in small cubes

4

cups

(

872

g

)

vegetable oil

for frying

1

cup

(

200

g

)

granulated sugar

for topping donuts

1

tablespoon

(

8

g

)

cinnamon

optional
Instructions
Add yeast and 1 tablespoon of sugar to warm milk. Mix and let sit for 5 to 10 minutes or until foamy.

In the bowl of a stand mixer, add flour, remaining sugar, and salt and mix for about 30 seconds.

Add foamy yeast milk, eggs, and vanilla to the dry ingredients and mix on low for 3 to 4 minutes or until fully combined.

Switch to the dough hook. With mixer running on low, add softened butter, one cube at a time, until all added. Wait for one cube to completely mix in before adding the next. Increase mixer to medium and continue to mix for 4 to 5 minutes, or until the dough is soft and smooth.

Place dough in an oiled bowl, cover with plastic, and place in the refrigerator overnight, or for 3 to 4 hours on the counter.

Cut two sheets of parchment paper into six pieces each and place on two sheet pans, six to a pan.

Turn the dough out onto a lightly floured surface. Gently roll it out to about a 12 inch circle, about ¼ to ½ inch thick.

Using a 3 to 3 ½ inch round cutter, cut out donuts, cutting each one as close to the previous cut as you can. Use a smaller, 1 inch, round cutter punch out the donut holes.

Gather dough scraps and roll into a ball and allow to rest for 15 minutes, to relax the gluten strands. Roll dough out and cut out as many donuts as you can. I got a total of 10 donuts, plus the donut holes. Place one cut donut on each piece of parchment and place donut holes on the other pieces.

Cover loosely with greased plastic wrap and let the donuts rise for 30 to 45 minutes.

Heat oil in a heavy Dutch oven or deep skillet to 350°F. Using the parchment paper, carefully place the donuts in the oil, to fry two at a time. The parchment paper will release and you can discard it. Cook for about 90 seconds, or until golden brown.

Using a slotted spoon, a spider, or two chopsticks, flip your donuts over and cook for 90 seconds on the other side. Carefully remove from the oil and drain on a wire rack set into a large sheet pan. Allow to cool for at least 60 seconds before coating in sugar.

Add 1 cup of sugar to a small sheet pan or large tray. Add cinnamon, if desired, and mix. Place donut in the sugar and toss around until fully coated on both sides. Place back on the rack and allow to cool completely.

Check your oil temperature in between batches, and when it has reached 350° again, start two more donuts. Continue until you have fried all of your donuts and your donut holes. Donut holes should only take about 30 seconds per side.
Notes
Your homemade yeast donuts are best eaten on the day that they are prepared, but, if you keep them in an airtight container, they will last for another day. If you want to take the chill off, heat in microwave for about 6 to 8 seconds and enjoy.
Nutrition
Calories:
440
kcal
|
Carbohydrates:
76
g
|
Protein:
9
g
|
Fat:
11
g
|
Saturated Fat:
7
g
|
Polyunsaturated Fat:
1
g
|
Monounsaturated Fat:
3
g
|
Trans Fat:
0.4
g
|
Cholesterol:
63
mg
|
Sodium:
262
mg
|
Potassium:
140
mg
|
Fiber:
3
g
|
Sugar:
31
g
|
Vitamin A:
364
IU
|
Vitamin C:
0.1
mg
|
Calcium:
54
mg
|
Iron:
3
mg
The nutritional and caloric information shown is an estimate provided by an online nutrition calculator. It does not assert or suggest that readers should or should not count calories, and should not be considered a substitute for a professional nutritionist's or doctor's counseling.