These Old fashioned Buttermilk Donuts are crispy on the outside, ultra-fluffy on the inside, and are covered in a simple but delicious vanilla glaze. Easy to make and perfect for a few or a crowd.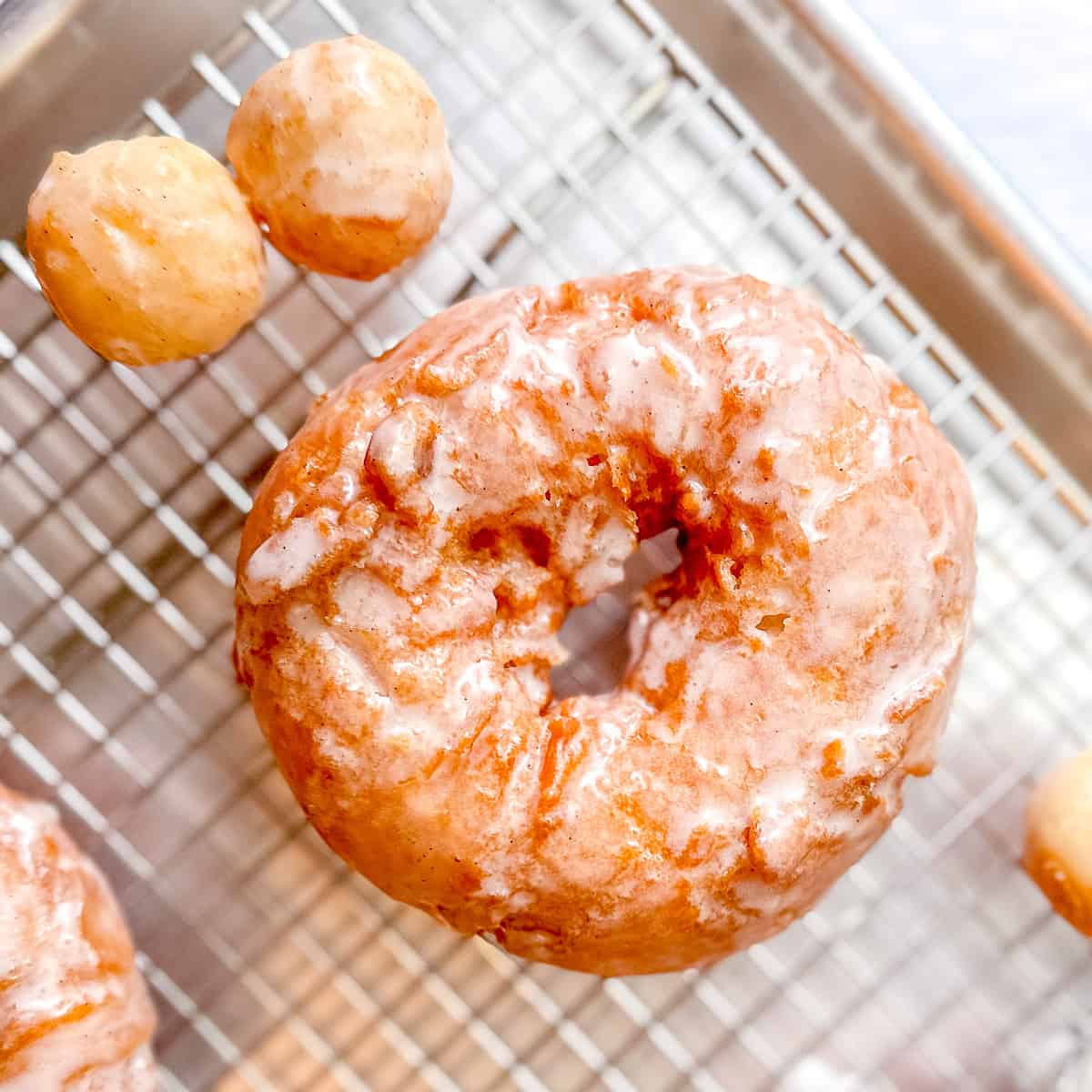 These Old Fashioned Buttermilk Donuts are a trip down memory lane for me. When we were kids, rather than bring home a box of donuts, my mom would occasionally take me and my brother to Shipley's Donuts to pick out our own. My brother would usually get a chocolate covered one, I would get the yeast raised donut (glazed of course), and my mom would get the plain Old Fashioned.
Mom's old fashioned donut was never going to be my choice at the donut shop. In my child's mind, it was the donut of old people, burnt coffee, and after church socials. But Shipley's - an integral part of my donut origin story - they had Glazed Old Fashioned Buttermilk Donuts. Ye Gods, I was converted.
Their Glazed Old Fashioned Buttermilk Donut was a blend of my yeast glazed and her cake old fashioned. A fluffy, cakey donut, dipped in a sweet crackly glaze that would drop onto my napkin and stick to my fingers, which I would lick with glee. Let's make those!
Jump to:
Why this recipe works
Make ahead - You can make this dough the day before and be mere minutes from donut heaven in the morning!
No yeast - No worrying that your yeast is still good or waiting for a dough to rise.
Easy to fry - These Old Fashioned Buttermilk Donuts only take about 3 minutes to fry. The donut holes (the best part, we all agree?) take less than a minute!
Delicious glaze - The addition of hot water eliminates the graininess you get with some donut glazes, and a touch of cream makes this vanilla glaze extra delicious!
No line - No more waiting in line, only to find your favorite donut is taken. You are the line!
Ingredients
I mean, look at this! You have everything you need, right? If not, we'll wait.
See recipe card below for quantities.
Substitutions
Here are a few subs you can make and still be in on the donut party!
Buttermilk - I have a special buttermilk note, below, but they are called Buttermilk Donuts for a reason. That being said, thinned down yogurt or kefir are my preferred substitutes.
Flour - I have not made these gluten free, but King Arthur Baking Company makes an excellent Gluten Free Flour that you can use on a one-to-one replacement for the all-purpose flour. You can also use cake flour for a lighter donut.
Sugar - I have made these with brown sugar, and they are pretty amazing.
Buttermilk substitutions
Buttermilk - I get that not everyone has buttermilk in their refrigerator, although with its long shelf life, you really should. But, if you don't have access to buttermilk, you can replace it with either plain or Greek yogurt. Because of the thickness of Greek yogurt, you'll need to thin it a bit with milk or water.
In a pinch, you can make your own substitute, although it won't give the same amount of lift or flavor as buttermilk or my preferred substitutes. For every 1 cup of milk, stir in 1 tablespoon lemon juice or vinegar. Let the mixture stand for 10 minutes. You can scale the formula up or down depending on how much buttermilk the recipe requires.
Variations
Here's a couple of ways to play with your Old Fashioned Donuts
PSL - Crazy right? Add 2 teaspoons of pumpkin spice to your dry ingredients and 1 teaspoon of instant coffee to your glaze, just before adding the hot water. Tastes just like a Pumpkin Spice Latte! Mind blown 🤯
Cinnamon sugar - Add 1 teaspoon of cinnamon and a pinch of nutmeg to your dry ingredients, and in place of your glaze, roll your donuts in cinnamon sugar (1 cup sugar + 1 teaspoon cinnamon) as soon as they come out of the fryer.
Equipment
The most important step in recipes that involve frying, is preparation. Once you start making the donuts, everything moves kinda fast. You wanna be ready:
Flour duster - You will be dusting the counter, top of your dough, rolling pin, and maybe even your hands. I use a can style flour duster to make a light or heavy layer, depending on the situation.
Dutch oven - Unless you fry a lot, you probably don't need a dedicated deep fryer. I used to own one, but hated the cleaning process, and I now use a large dutch oven on my stovetop. It is the perfect size, retains heat well, and I also use it to bake my No Knead Bread. Bonus!
Transfer device - You need something to transfer your donuts to and from the hot oil. I typically use a metal spider strainer, but have also used my fish spatula. Both of them allow you to scoop up and safely lower your donut into the oil.
Chopsticks - Believe it or not, these are the best tools for flipping donuts. Even small donut shops use a pair of elongated wooden sticks to flip their donuts. You just place on of the chopsticks into the hole to stabilize the donut, and use the other one to flip it over. Genius!
Wire rack and sheet pan - Your finished donuts are going to need a place to land when they come out of the fryer. I like to lay a wire rack inside of a large sheet pan lined with paper towels. I place it alongside my stove before I even start cutting out my donuts. When my donuts are done, they go onto the rack to drain excess oil, and when I glaze them, they go back on to drip off the excess.
Instructions
This is such a super simple recipe and, even better, the dough can be made the night before. In the morning, cutting out your donuts is as simple as cutting out biscuits. Let's do this!
Make old fashioned donut dough
Start your Old Fashioned Buttermilk Donut adventure by whisking together flour, baking powder, baking soda, and salt.
2. Next, use a large whisk or a hand mixer to blend sugar with melted butter.
3. Add eggs, vanilla, and nutmeg and mix until fully combined.
4. Fold in about a third of your flour mixture ...
5 ... followed by half of your buttermilk. Continue by adding a third of your flour, then the remaining buttermilk, and finish with the last of the flour, mixing after each addition until just incorporated.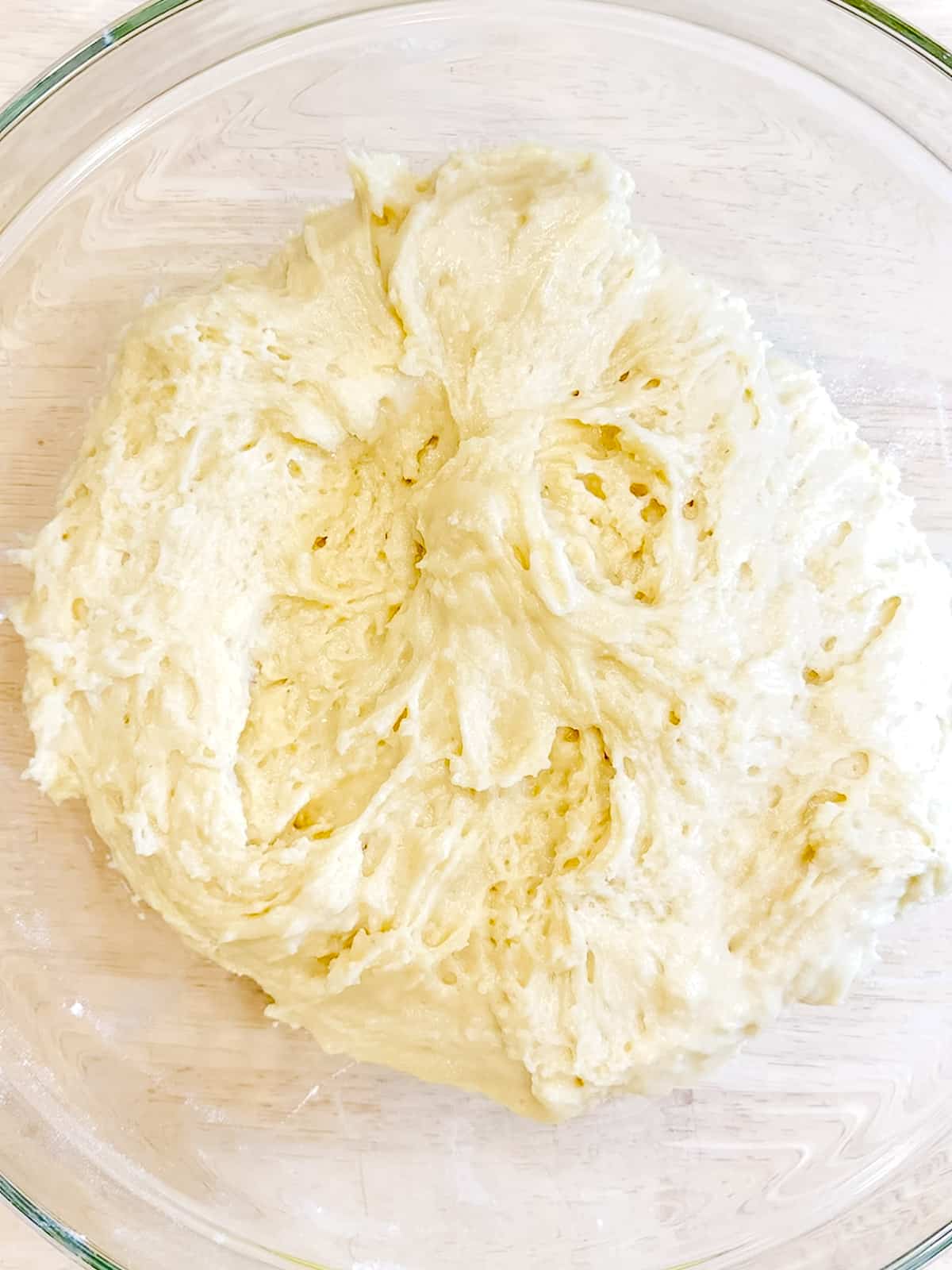 6. Cover bowl with plastic and refrigerate your dough for at least one hour, and up to 24 hours. When ready to make donuts, heat oil in a large dutch oven or heavy pot, to 350°F.
7. Place your dough on a floured surface, like your counter, and roll out to about ¼ to ½ inch thickness.
Cutting out and frying the donuts
1. Use a three inch ring cutter or biscuit cutter to cut out donuts.
2. Use a small ring cutter, or the wide end of a piping tip, to cut out donut holes too.
3. Use a spider strainer, or fish spatula, to lower individual donuts into the hot oil. Fry 2 to 4 donuts at a time, to avoid crowding or dropping the oil temperature.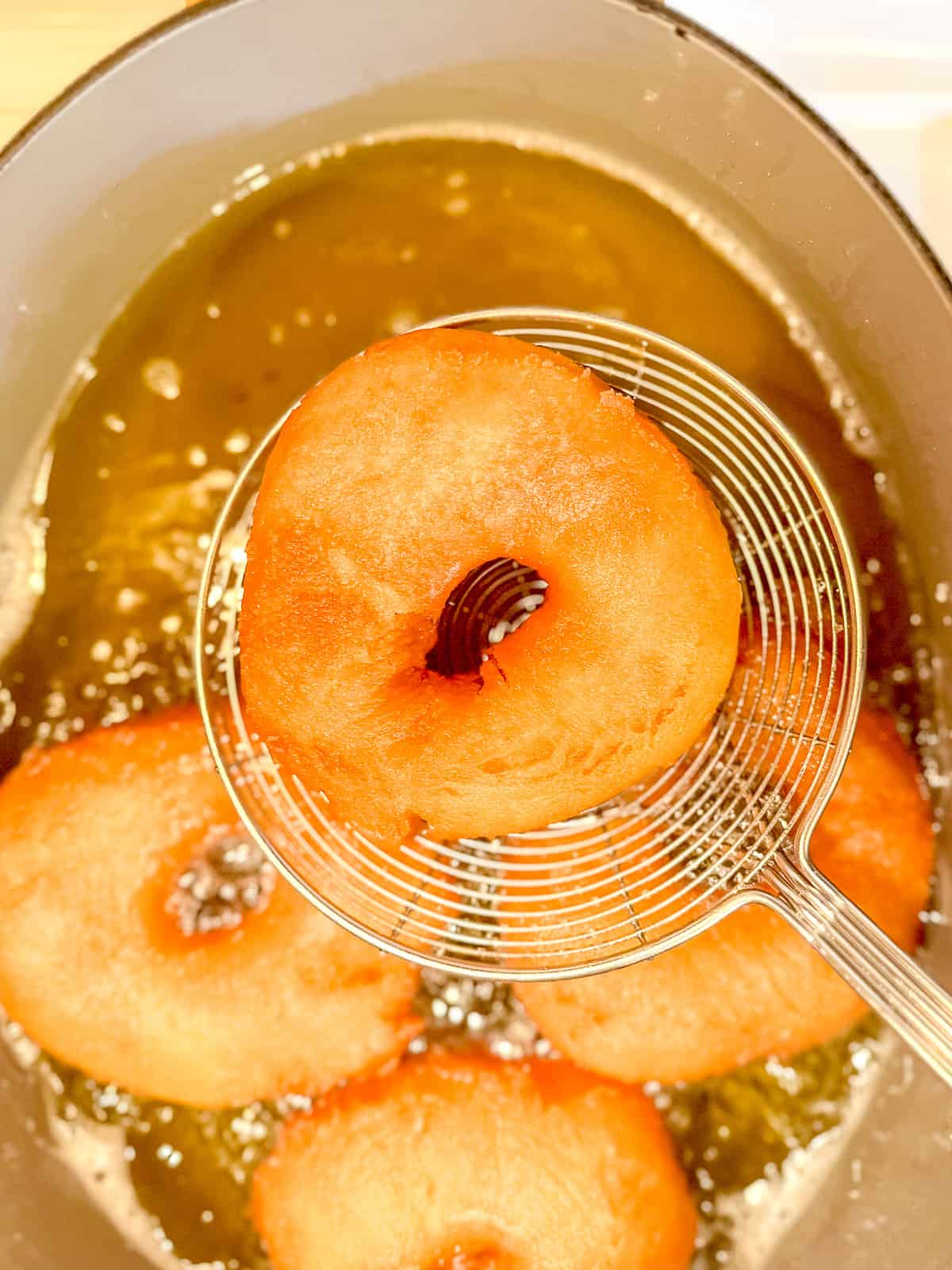 4. Fry donuts about 90 seconds on the first side, flip over, and fry another 90 seconds on the second side. Fry donut holes about 45 seconds to a minute, total. Remove from oil and place on a wire rack set in a large sheet pan.
Glazing the donuts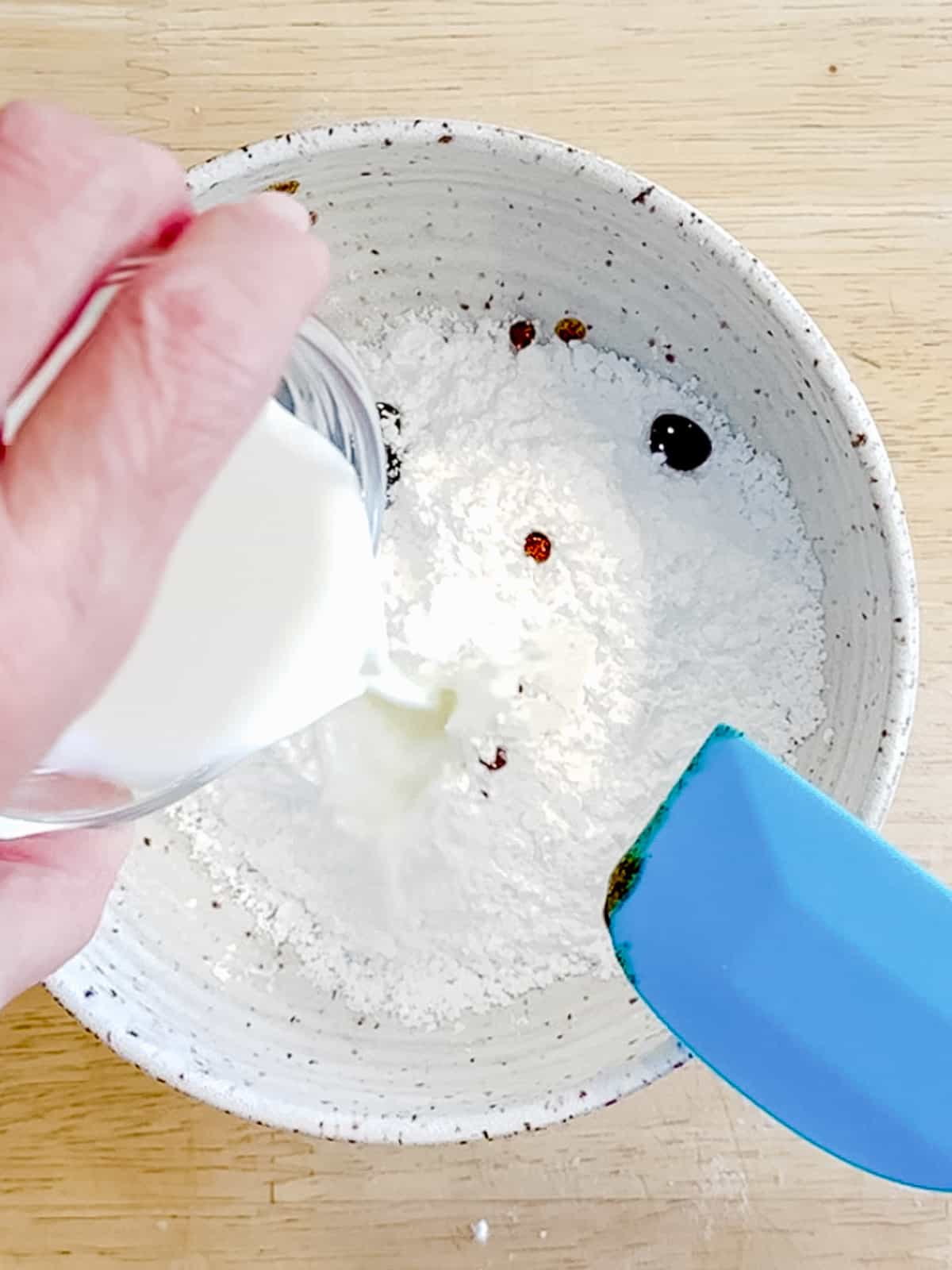 1. In a medium bowl, combine hot water, vanilla, and powdered sugar with one or two tablespoons of heavy cream or milk. The consistency of the glaze should be fairly thin, about the consistency of half-and-half. When set, it will dry into a thin crackly layer.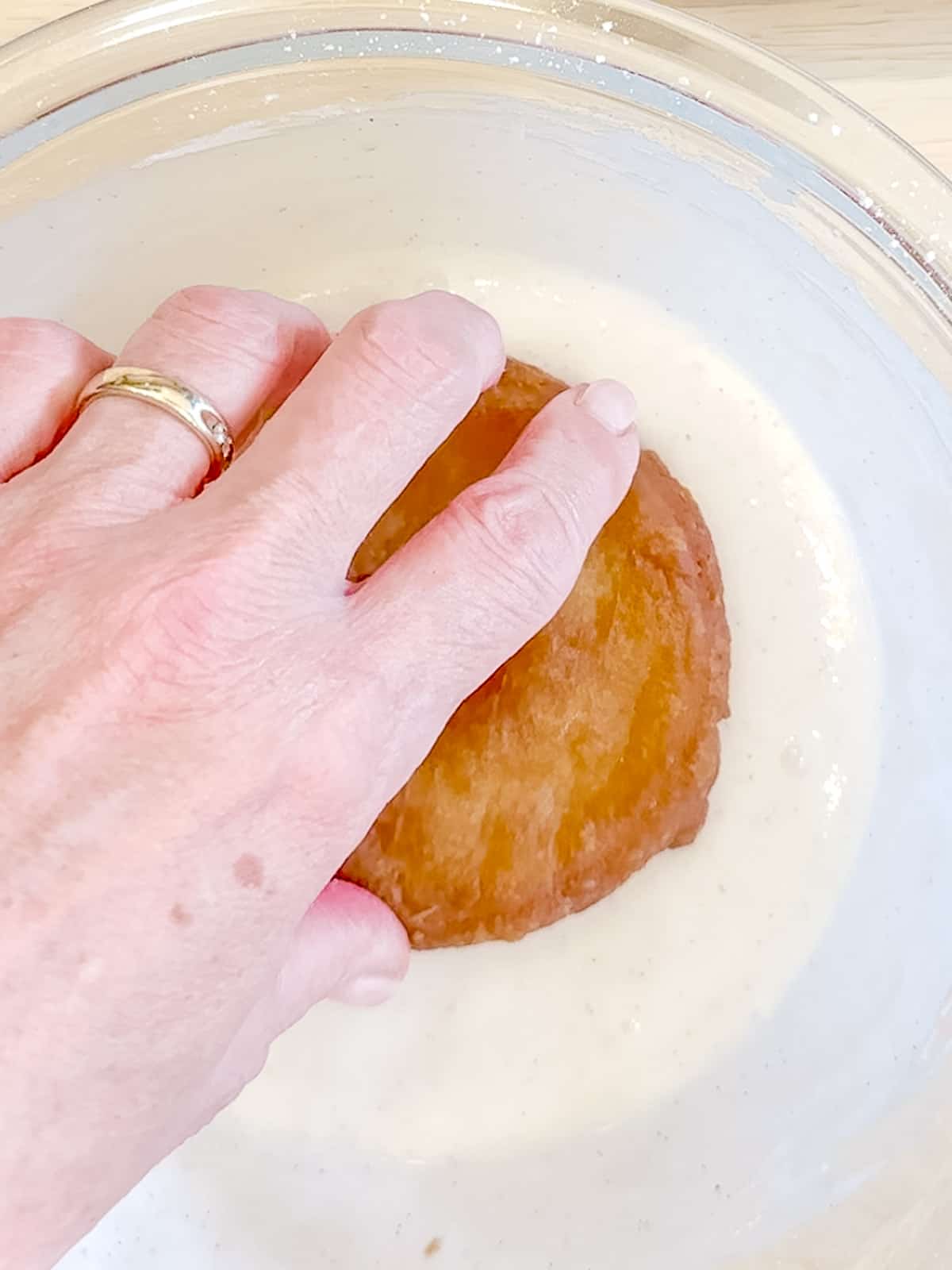 2. Dip still warm donuts in glaze and place back on the rack to dry and set.
3. Don't forget to dip your donut holes as well!
4. Let set at least 10 minutes before eating - unless you don't mind getting a little sticky and messy!
Expert tips
Old Fashioned Buttermilk Donut Dough is sticky. There's just no getting around the fact. You can, however, deal with this easily.
Be more chill - The longer your dough has to chill, the more the butter in the dough has a chance to solidify, decreasing its stickiness. You can do this for as little as an hour, but I find an overnight chill is best. I just make my dough whenever I have a few minutes (10 minutes tops) the day before I want donuts and take it out when I'm ready to fry.
Flour is your friend - Even cold, your dough is going to be a bit sticky. You can lessen the situation by using plenty of dusting flour. It won't incorporate into your dough, but it will keep it from sticking to... well, everything. I dust my counter before dumping out my dough. I dust the top of the dough and my rolling pin before rolling it out. I dip my ring cutter in flour before cutting out each donut. And finally, I place my donuts on a flour dusted piece of parchment paper or a silicone baking mat.
Re-use and disposal of oil
You don't need to discard your cooking oil after frying one batch of donuts. You do, however, need to strain, store, and dispose of it correctly.
When frying, I try to always use a mono-unsaturated, high smoke point oil that is higher in oleic acid, such as peanut or canola oil. Mono-unsaturated fats are one of the healthier fats and oleic acid is a cholesterol lowering agent. Safflower and soybean oil are also good.
Save your original oil bottle to store the used oil.
After your oil cools completely, use a piece of cheesecloth or a coffee filter to strain out all loose crumbs or bits of dough.
You can reuse fryer oil up to four times, provided you haven't burnt anything while frying, which can leave the oil with a bitter flavor.
Sweet before savory. You wouldn't want to fry your homemade donuts in the oil you used to fry a batch of shrimp, would you? Nope. In general, once you've used the oil to fry protein or vegetables, that oil should only be used to fry more proteins or vegetables. Fry dessert first!
If the oil smells at all funky or rancid, or if it's cloudy or has a foamy residue, it's done! Never use an oil that has a prominent smell or residue of any kind.
Never pour old oil, or any fat, down your sink. I don't care if you follow it up with hot water. It clogs municipal waste systems and is a real environmental problem. If your community doesn't have a program for recycling oil, place the used oil in a tightly sealable container and throw it out in your trash.
Recipe FAQ's
Do I have to have a donut cutter to cut out donuts?
You don't. I personally hate single use kitchen gadgets! You can use a biscuit cutter, ring mold or cutter, even a large drinking glass, to cut them out.
How do I know if my oil temperature is correct?
The best way to tell is by using a frying or candy thermometer. If you don't have one, do it the way my Grandma (and I did when I lost my thermometer) did it. Place the end of a wooden spoon into your hot oil. If bubbles form around it and float to the top, it's ready. If it bubbles vigorously, turn down the temperature of the stove and try again in 10 minutes.

Another way is to drop a piece of popcorn into the oil. When it reaches a good frying temperature, the kernel will pop! Fish it out and start making donuts!
Can I use water drops to check if my oil is hot?
DO NOT drop water in to check oil temperature!! You can cause a serious oil burn or fire! Never ever use water to check oil temperature.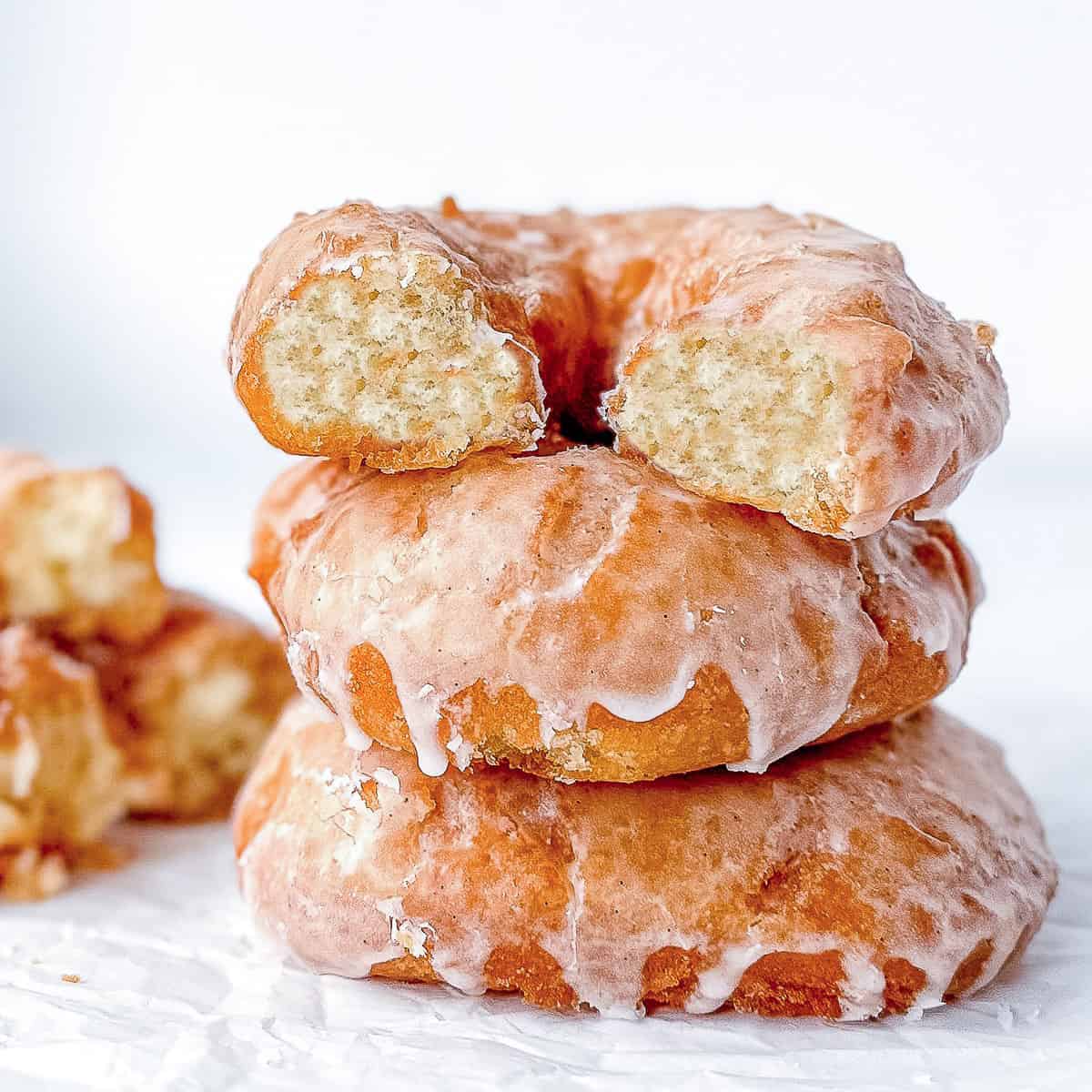 Storage and Reheating
Storage
As with all donuts, this recipe is best on the day it's made. I make them in the morning and then we try to eat them on the same day. If you do have leftovers, keep them in an almost-airtight container at room temperature for a day, max. Leave the container cracked a bit, to let in some air, to avoid the glaze getting too tacky.
If you keep them longer than a day, the fluffy inside will absorb some of the oil from the outside, which came into contact with the oil, making the donuts taste greasy.
Reheating
You don't want to reheat these donuts, or really any donuts. The oil will permeate and they will be... squishy is the word that comes to mind.
tl:dr Fresh is best when it comes to donuts.
Did you try this recipe? Tell me all about it!
Leave a ⭐️ review and comment below!
Take a pic and tag @butfirst_webrunch on Instagram!
Old Fashioned Buttermilk Donuts
These Old fashioned Buttermilk Donuts are crispy on the outside, ultra-fluffy on the inside, and are covered in a simple but delicious vanilla glaze. Easy to make and perfect for a few or a crowd.
Ingredients
Donuts
4

tablespoons

butter

melted

½

cup

sugar

2

large eggs

1

egg yolk

1

teaspoon

vanilla extract

3 ½

cups

all-purpose flour

2

teaspoon

baking powder

½

teaspoon

baking soda

¾

teaspoon

salt

¼

teaspoon

nutmeg

freshly grated if possible

¾

cup

buttermilk

6

cups

oil

for frying
Glaze
2 ¼

cups

powdered sugar

sifted if lumpy

2

tablespoons

heavy cream or milk

1

teaspoon

vanilla extract

¼

cup

boiling water
Instructions
Make donut dough
Place 4 tablespoons unsalted butter in a small microwave-safe bowl. Microwave on high until melted. Set aside to cool.

In a medium bowl, whisk together the flour, baking powder, baking soda, and salt. Set aside.

In a large bowl, with a whisk or a hand mixer, combine the melted butter and the sugar. Add in the eggs and the yolk one at a time, mixing each one completely before adding the next one. Add in the vanilla extract. and the nutmeg and mix.

Fold in about a third of your flour and then add in about half of your buttermilk and combine. Continuing alternating the flour and buttermilk, ending with the flour. Your dough will be very sticky. Cover the bowl with plastic wrap and chill in the fridge for at least 1 hour, or overnight.
Make glaze
Place 2 ¼ cups powdered sugar in a large bowl. Add 1 teaspoon vanilla extract and ¼ cup boiling water and whisk until smooth. Add in 1 tablespoon of heavy cream, up to 2 tablespoons, and whisk until you have an easSet aside while you fry your donuts.
Fry donuts
In a large dutch oven or heavy bottomed pot, add about 2 inches of oil. Heat the oil to about 375°F.

While oil heats, flour a large flat work surface and dump out your dough from the bowl. Roll the dough out, flouring it on top to prevent it sticking to your rolling pin. Roll out to about ¼ inch thickness. Using a 3 inch ring cutter, or biscuit cutter, cut out your donuts. Place on a floured piece of parchment paper or silicone mat until ready to fry. Use a 1 inch ring cutter, or the wide end of a piping tip, to cut out donut holes. Reroll the dough and cut out more donuts, flouring the dough as needed.

When the oil temperature reaches 375°F, use a metal spider, or fish spatula, to transfer individual donuts to the hot oil, 2 to 3 at a time, depending on the size of your pot. Fry the doughnuts for about 90 seconds per side, or until golden brown. Flip carefully using your spider strainer, fish spatula, or even 2 chopsticks.

Carefully transfer the donuts to your rack with the spatula. Repeat frying the remaining donuts. Finally, fry donut holes about 1 minute total, rolling to get all sides brown, and let cool on rack.
Glaze donuts
Drop the still warm donuts into the glaze mixture and place back onto the wire rack to drain. Continue glazing the rest of the donuts and allow to set about 20 minutes.
Notes
Once you add the four to the wet ingredients, do not overmix. Only mix until just incorporated.
Don't skip the step of chilling your dough at least one hour, preferably overnight. This will keep the dough from being too sticky and unmanageable.
Flour both your counter and the top of your dough before rolling out to prevent sticking to your rolling pin.
Do not fry too many donuts at once or you will drop your oil temperature, resulting in greasy donuts.
The donuts are best eaten the day they are made, but can be stored up to 2 days in an airtight container.
Nutrition
Calories:
377
kcal
|
Carbohydrates:
72
g
|
Protein:
7
g
|
Fat:
7
g
|
Saturated Fat:
4
g
|
Polyunsaturated Fat:
1
g
|
Monounsaturated Fat:
2
g
|
Trans Fat:
0.2
g
|
Cholesterol:
67
mg
|
Sodium:
385
mg
|
Potassium:
93
mg
|
Fiber:
1
g
|
Sugar:
38
g
|
Vitamin A:
248
IU
|
Vitamin C:
0.001
mg
|
Calcium:
87
mg
|
Iron:
2
mg
The nutritional and caloric information shown is an estimate provided by an online nutrition calculator. It does not assert or suggest that readers should or should not count calories, and should not be considered a substitute for a professional nutritionist's or doctor's counseling.