This Korean Fried Chicken and Waffles recipe takes a classic to all new levels of flavor! The crispy crust, Korean spices, and spicy drizzle will change your life!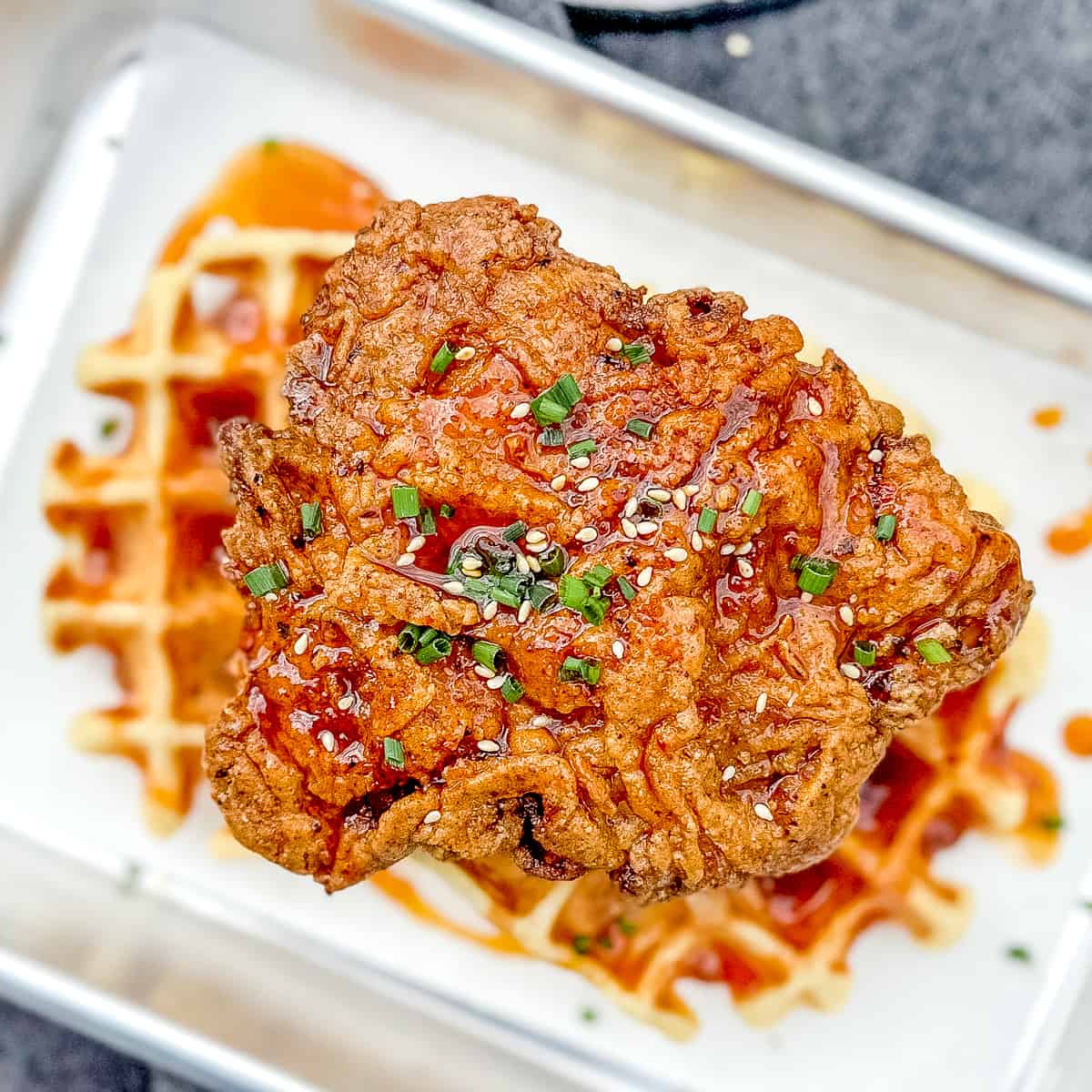 I didn't grow up eating Korean Fried Chicken. I don't think it really came into vogue until the 90's. Like most Western foods in Korea, it came about in the aftermath of the Korean War with an influx of American foods that Koreans took on as their own.
My first bite of the new KFC was from Bonchon, a Korean Fried Chicken chain from South Korea that opened a shop in New York City. That double fried extra crispy chicken, brushed with a spicy gochujang sauce, took me right over the edge!
How I went from the best fried chicken ever to Korean Fried Chicken and Waffles is something for a future psychological research study of my brain, but I'm so glad I went there. This may be the best breakfast/lunch/dinner/snack I've ever made. The end. Period.
Jump to:
Ingredients
Don't be overwhelmed by the number of ingredients. I tried to keep this as basic as possible without sacrificing any of the flavor. There are a couple of specialty ingredients that I fully explain below, but we got this and it's worth it!
Korean spice mix - This is a spice mix I originally developed just for myself to make spice rub chicken wings, and dang they were good (another recipe for another day). I now make the spice mix in mass quantities to use at home and to give as gifts. It's great on meat, fish, eggs, popcorn... just about anything you'd like to give a bit of heat and sweet. Make a double or triple batch. You'll use it!
You can buy the main ingredient, gochugaru, or crushed Korean chili peppers, from your local Asian market or online. Please do not even attempt to substitute with another crushed chili pepper or you won't be making Korean Fried Chicken.
Gochujang - Gochujang is another ingredient that you'll need to get from the Asian Market or online, but you'll be so glad you did. It's a thick spicy/sweet paste made from the same Korean chili peppers and soybeans and is a staple in every Korean home. Google gochujang and you'll see all the ways people use it in everything.
Cornstarch - One of the ways, other than the double fry, that we get Korean Fried Chicken so darn crispy is to use some cornstarch along with the flour. The science has to do with moisture absorption, gluten inhibition, and crazy molecular hijinks, but mostly it just means that your chicken will get crispy and stay crispy. Win/Win!
Waffles - I don't include a waffle recipe here because I have the world's greatest Buttermilk Waffles already on the blog. That recipe also includes cornstarch for crispy reasons. If you think frying chicken is enough of task for one cooking session, you can make them the day before (or make and freeze them weeks before), and reheat them right in your waffle iron for 2 minutes. Alternatively, you can buy frozen waffles. I will not judge you. To your face.
See recipe card for quantities.
Substitutions
If you want to make these Chicken and Waffles gluten free, you can substitute the all-purpose flour for gluten free flour. There are also gluten free frozen waffles you can try. Most gochujang brands contain gluten in the form of barley malt powder, but Sempio makes a gluten free gochujang you can use with the same taste.
If you are averse to spicy foods, I'm not sure how you got to this recipe, but I want to help you! Try the recipe using half of the recommended amounts of Korean spice and gochujang and see how you tolerate the heat 🔥. Next time maybe you can increase it by another half. I believe in you.
Equipment
Using a thermometer is crucial for accurate frying. It not only helps you to monitor and maintain your oil temperature, it helps you ensure you cook your temperature to a minimum internal temperature of 165°F.
I'm a huge proponent of making a recipe work with the equipment that you already own. Although I often recommend my favorite items, I don't want your cooking something to be determined by whether or not you can buy new stuff. However, I think every kitchen should have a good thermometer that you can use to measure foods and liquids up to 400°F. My favorite thermometer costs less than $15.
Instructions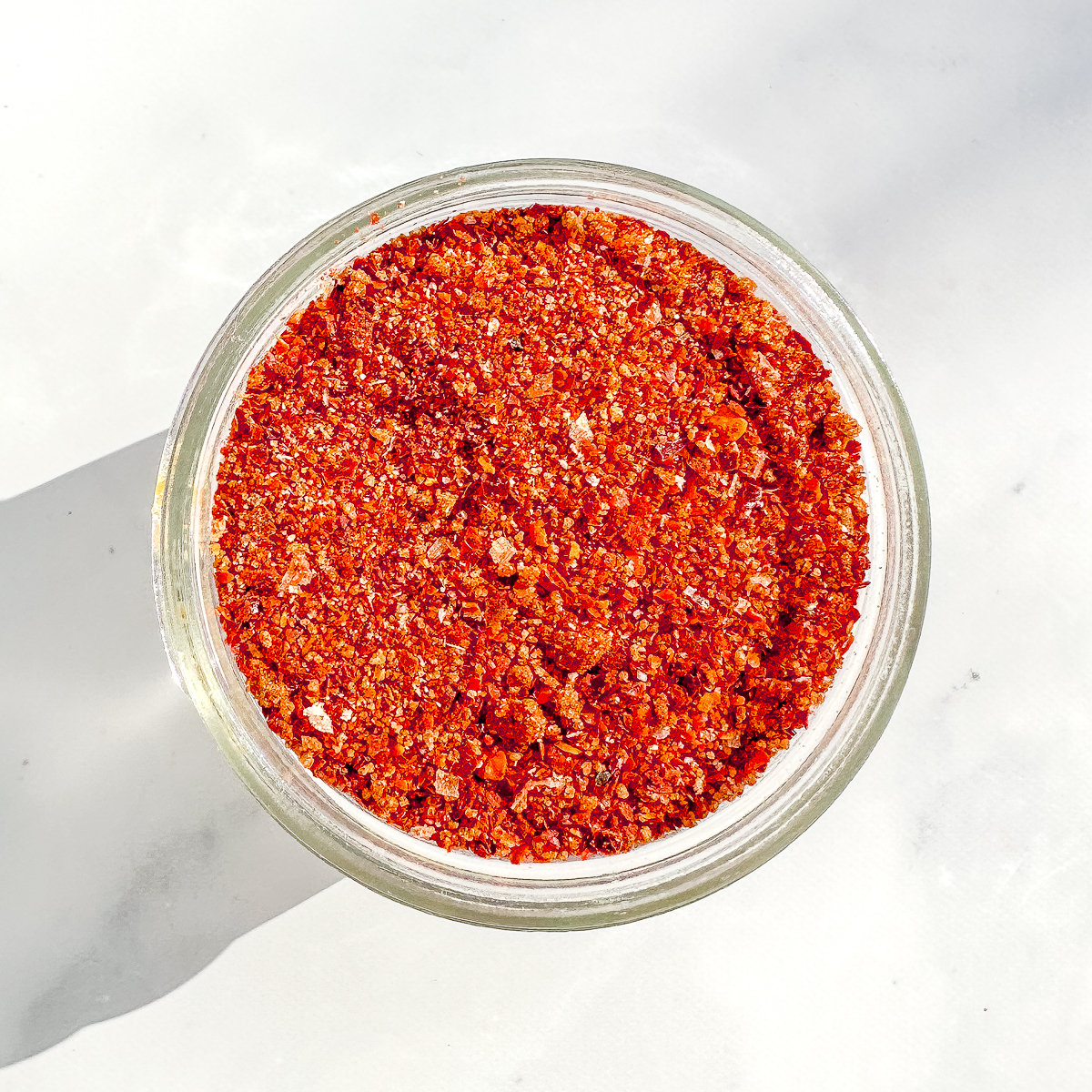 1. Mix all the spices together and store in an airtight container.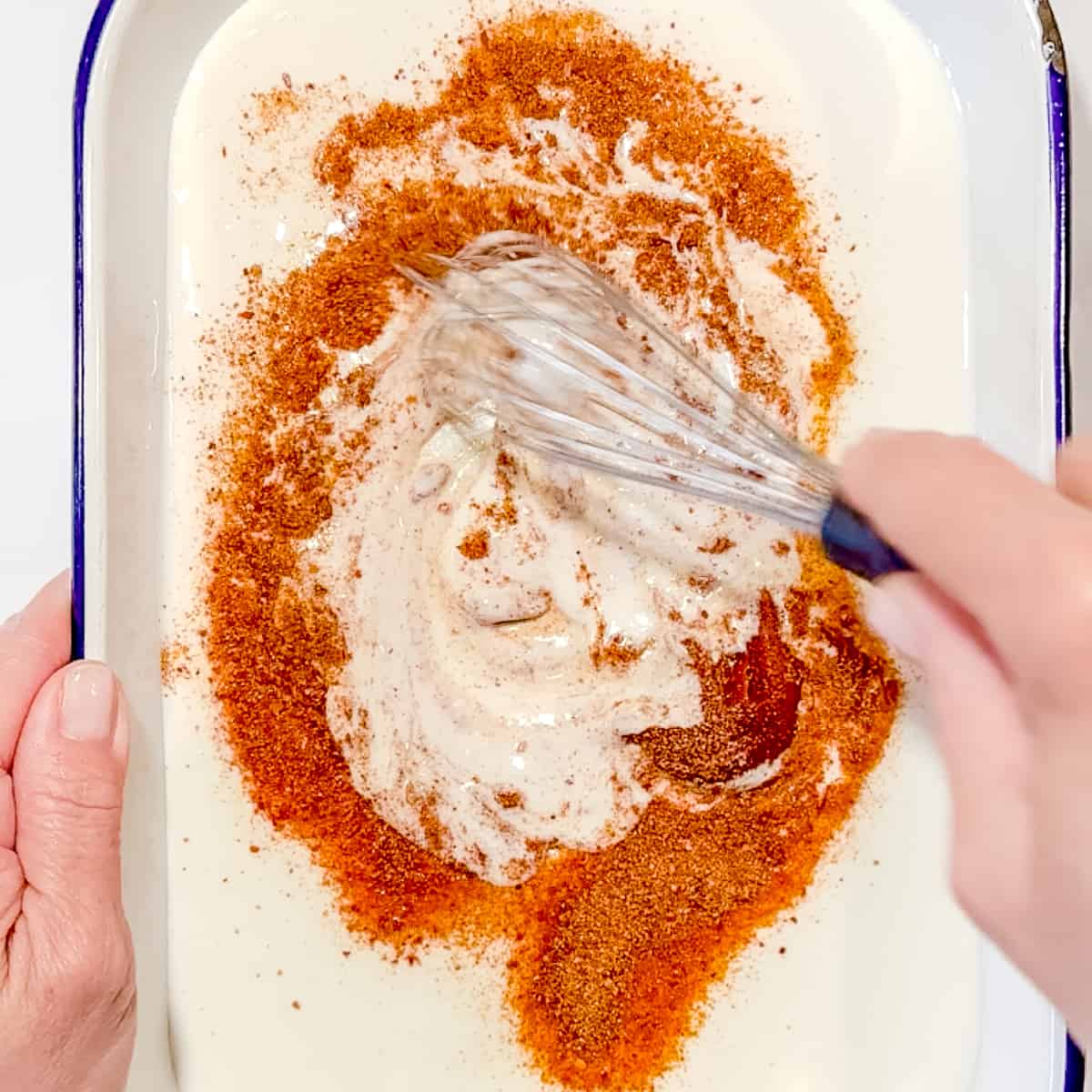 2. Whisk brine ingredients in a shallow pan or container.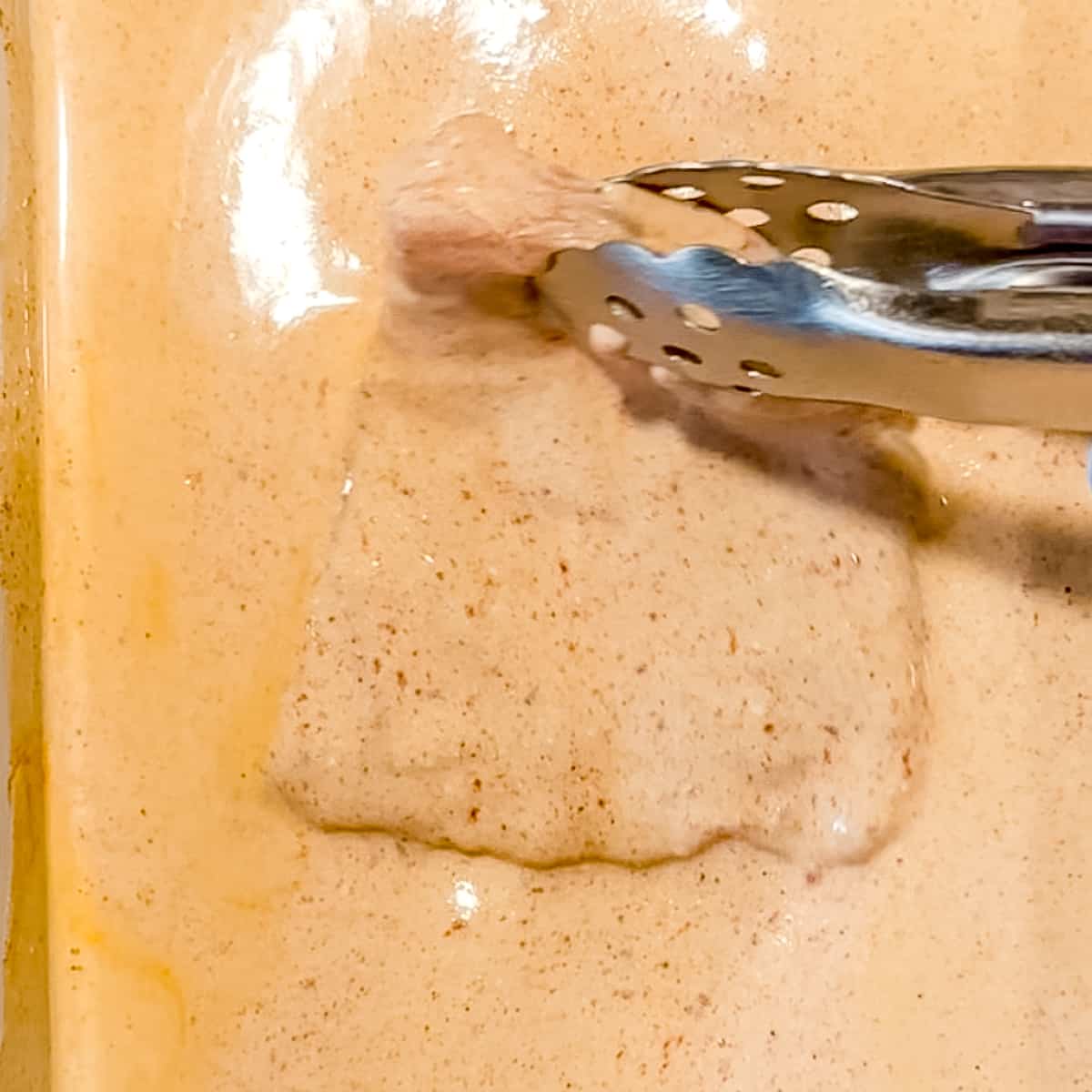 3. Add chicken to the brine, turning to coat both sides. Cover and refrigerate for at least 1 hour, up to 12 hours.
4. Melt butter in a small saucepan. Add honey, maple syrup, gochujang, korean spice mix and whisk. Simmer, then keep warm.
5. Whisk all flour dredge ingredients in a shallow pan. Heat oil to 350°F in large skillet or dutch oven. Make waffles and place in a 200°F oven to keep warm for their moment.
6. Place brined chicken into the flour mix, back into the buttermilk, then one more time into the flour. Place on a parchment paper lined large sheet pan until ready to fry.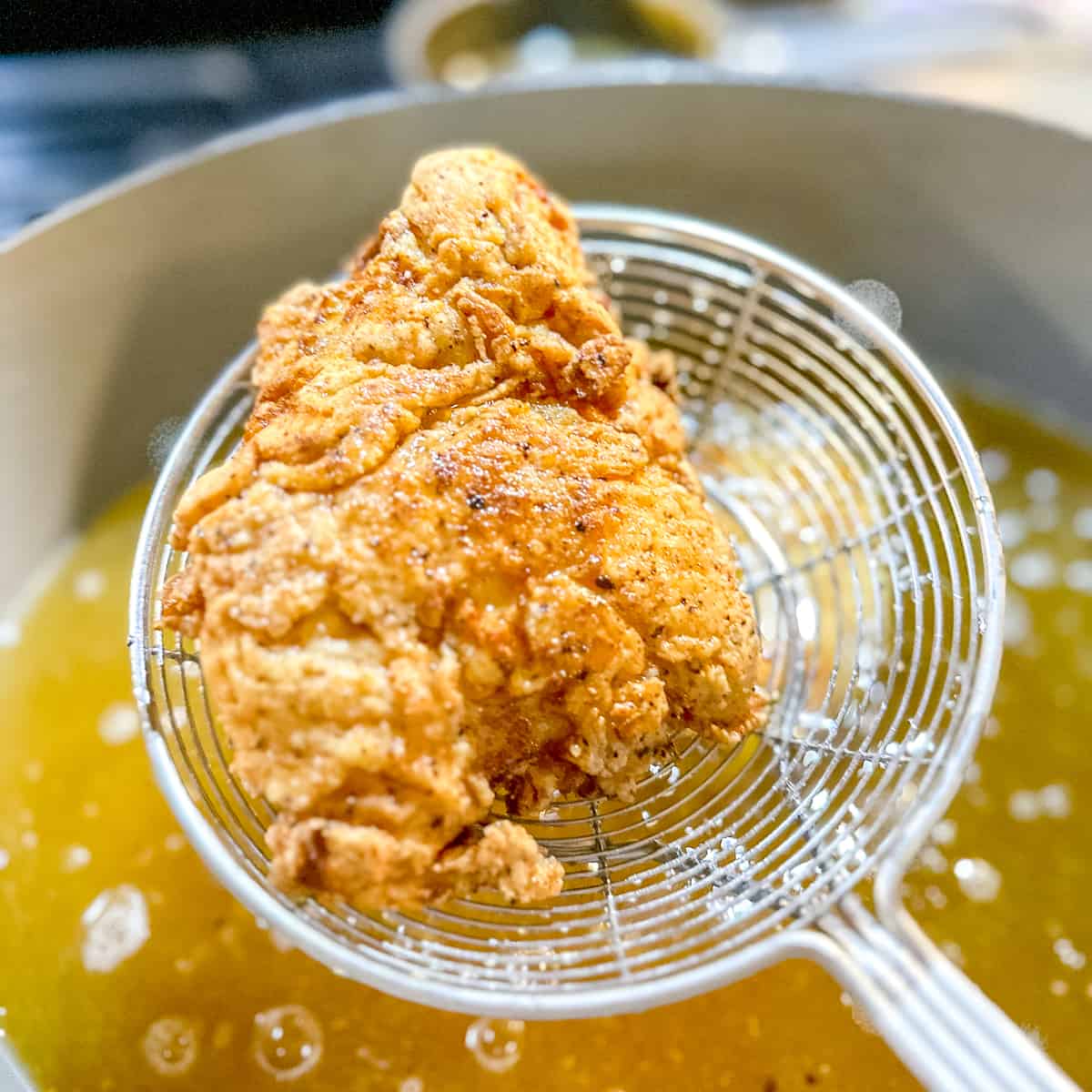 7. Fry chicken for 7 to 8 minutes, or until 165°F internally and golden and crispy on the outside. Carefully remove using tongs or a spider strainer.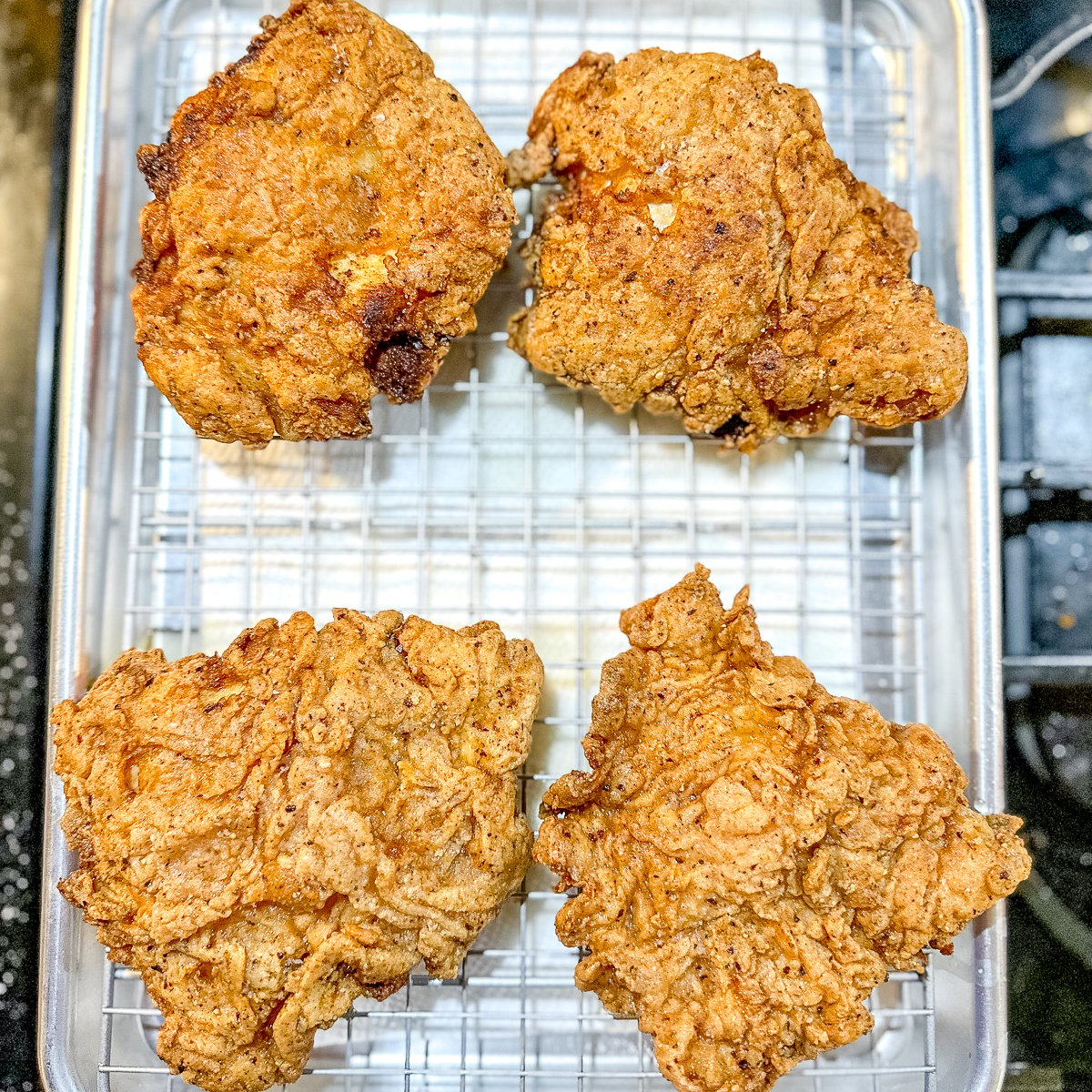 8. Place fried chicken on a rack in a sheet pan and increase oil temperature to 375°F. Fry each piece for 1 to 2 minutes more, or until a deep golden brown.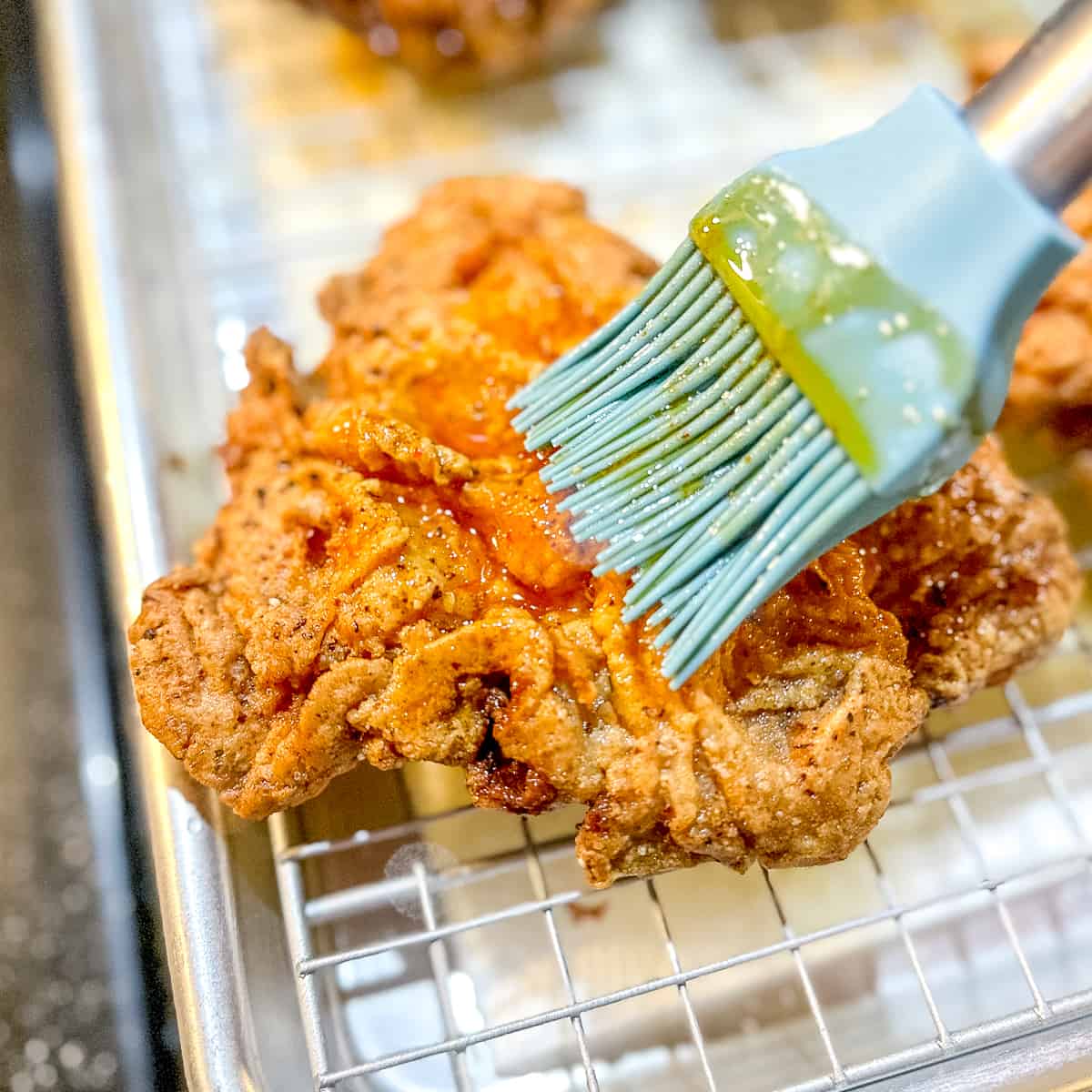 9. Brush finished chicken with warm spicy maple honey butter.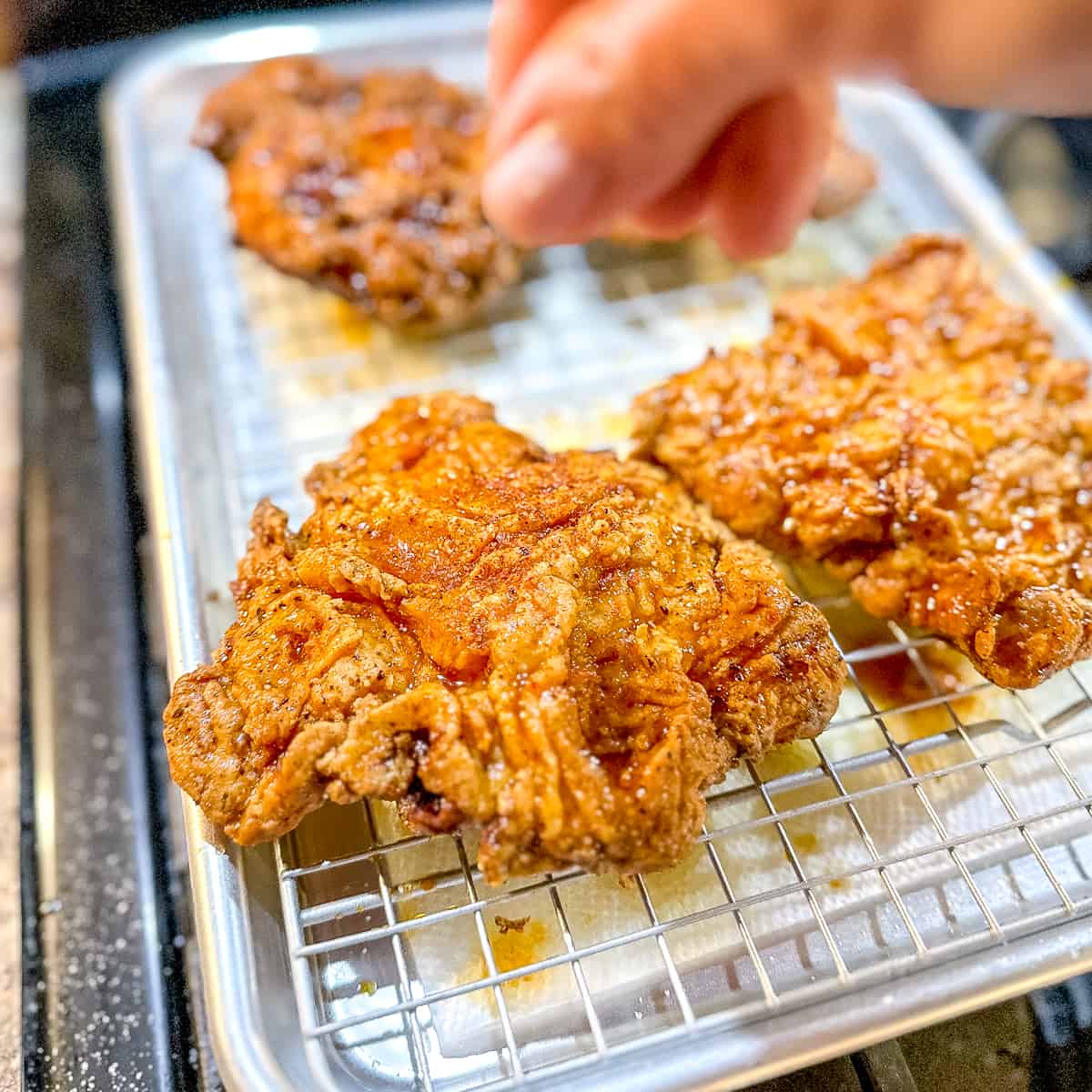 10. Sprinkle with more Korean spice mix.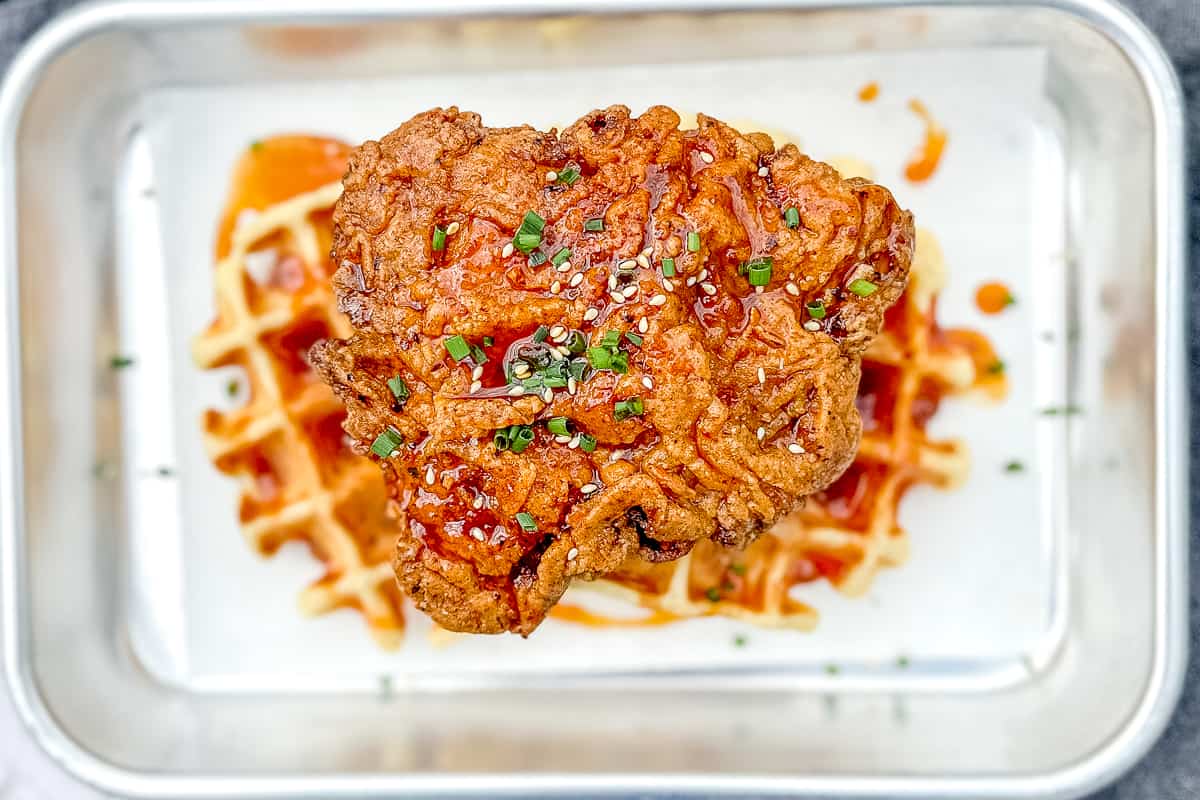 11. Serve your chicken on top of however many waffles your heart desires (I like two), drizzle with more spicy maple honey butter, and top with chopped chives and toasted sesame seeds. Dig in, and you're welcome in advance for the happiness your tongue is about to experience. This is your new favorite Chicken and Waffles, for sure!
More waffle recipes
Expert tip
To save time, you can make most of the components ahead of time. The spice mix will last for months in your pantry and you can make and freeze the waffles to reheat just before frying your chicken. You can also make the spicy maple honey butter ahead and just reheat it.
If you brine your chicken the night before, all you have to do in the morning is fry chicken and reheat stuff. It's like you have Future-You Fairies or something!
Recipe FAQ's
The recipe calls for chicken thighs. Can I use chicken breasts instead?
Yes, you can use any part of the chicken you like. If you are using chicken breasts, make sure you don't go over 165°F internally or you might end up with dry chicken. Chicken thighs are much more forgiving and stay juicy at temperatures up to 185°F.
Can I use bone-in chicken?
You can, but I don't recommend it. Here's why: chicken on the bone takes much longer to cook, up to 20 minutes for chicken thighs. Longer for breasts. Plus, you can't really get that knife and fork slicing through the chicken and the waffle action with the bones getting in the way. Stick to boneless, in my opinion.
Why do you double fry the chicken?
What a great question! Science time! Letting the chicken cool a bit before refrying allows excess moisture to evaporate. The second fry takes advantage of all the space opened up by the departing moisture and gets those parts crispy too!
How do I store and reheat my chicken and waffles?
Store the waffles and the chicken separately in the refrigerator for up to 3 days. To reheat the waffles, I find the best way is to place them back in the waffle iron for about 2 minutes, although you can use a toaster.

Place the chicken on a wire rack set into a sheet pan and reheat in a 350°F oven for 10 to 15 minutes, or until hot. Warm your syrup in the microwave and you're ready to waffle!
More chicken recipes
Did you try this recipe? Tell me all about it!
Leave a ⭐️ review and comment below!
Take a pic and tag @butfirst_webrunch on Instagram!
Korean Fried Chicken and Waffles
This Korean Fried Chicken and Waffles takes a classic to all new levels of flavor! The crispy crust, spicy maple honey butter, and Korean spices will change your life!
Ingredients
6

boneless skinless chicken thighs

6 to 12

waffles

depending on appetites
Korean spice mix
4

tablespoons

gochugaru

3

tablespoons

brown sugar

2

tablespoons

smoked paprika

1

teaspoon

flaky salt

1

teaspoon

powdered ginger

1

teaspoon

granulated garlic

1

teaspoon

mustard powder

1

teaspoon

kosher salt

½

teaspoon

onion powder

¼

teaspoon

ground cumin
Buttermilk brine
1

cup

buttermilk

1

tablespoon

gochujang

1

tablespoon

Korean spice mix

1

tablespoon

kosher salt
Flour dredge
1 ½

cups

all purpose flour

½

cup

cornstarch

2

tablespoons

Korean spice mix

1

teaspoon

kosher salt

½

teaspoon

black pepper
Spicy maple honey butter
4

tablespoons

unsalted butter

½

cup

maple syrup

2

tablespoons

honey

2

tablespoons

Korean spice mix

1

tablespoon

gochujang

½

teaspoon

kosher salt
Garnish
Chopped chives

Toasted sesame seeds
Instructions
Make spice mix
In a medium bowl, combine all the spice ingredients. Whisk well to break up any brown sugar clumps and to mix all the spices together. Store in an airtight container. This makes more spice mix than you will need for this recipe. You're welcome!
Brine chicken
In a large shallow container, whisk together buttermilk, gochujang, 1 tablespoon of Korean spice mix, and 1 tablespoon of kosher salt. Use tongs to add chicken to the brine, turning each piece over to evenly coat. Refrigerate and allow to brine at least 1 hour, up to 12 hours.
Prepare Spicy maple honey butter
In a small saucepan, melt 4 tablespoons of butter. Whisk in maple syrup, honey, korean spice mix, gochujang, and kosher salt. Heat on medium-low until just bubbling. Allow to simmer for 5 minutes on low. Keep warm until ready to serve. Whisk again before using.
Make waffles
Using my Buttermilk Waffles recipe, or store bought waffles, prepare 1 to 2 waffles per person, depending on their appetite. Keep warm in a 200°F oven until ready to top with fried chicken.
Fry chicken
In a 12 inch cast iron skillet, or a large dutch oven, heat at least 2 inches of neutral oil, such as canola or safflower to 350°F.

In a large shallow pan, whick together all-purpose flour, cornstarch, Korean spice mix, kosher salt, and black pepper.

Remove one piece of chicken at a time from the brine and allow excess to drip off. Dredge on both sides in the seasoned flour. Dip back into the buttermilk brine on both sides and then return to the flour, coating both sides thoroughly. Place coated chicken on a parchment lined large baking sheet and repeat the dredge with the remaining chicken.

Use tongs to carefully place chicken into the hot oil (no more than 2 at a time) and fry for 7 to 8 minutes, or until lightly golden brown, turning chicken over halfway through the frying time. Use a thermometer to check that the internal temperature of the chicken is at least 165°F.

Use tongs, or a spider strainer, to carefully remove the chicken from the oil and place them on a large baking sheet fitted with a wire rack. Repeat with the remaining chicken. Increase oil temperature to 375°F.

Return the chicken to the oil, 2 pieces at a time, for 1 to 2 minutes, until the coating is super crispy and darkly golden. Set back on the wire rack and brush with spicy maple honey butter, and sprinkle with more Korean spice mix.

Serve the chicken on top of one or two waffles, depending on your appetite. Drizzle with more spicy maple honey butter and garnish with chopped chives and sesame seeds.
Notes
If you don't like/can't find boneless, skinless chicken thighs, you can use boneless, skinless chicken breasts. If they are thick, use a sharp knife to cut them in half lengthwise. Be sure not to overcook chicken breasts, as they will dry out much faster than chicken thighs.
Using a thermometer will be very helpful in accurately maintaining oil temperature and essential for checking the temperature of the fried chicken.
I prefer chives as a garnish because their light onion flavor won't overpower the chicken and waffles. If you can't find them You can substitute with the dark green portion of chopped scallions.
Nutrition
Calories:
637
kcal
|
Carbohydrates:
87
g
|
Protein:
31
g
|
Fat:
19
g
|
Saturated Fat:
8
g
|
Polyunsaturated Fat:
4
g
|
Monounsaturated Fat:
5
g
|
Trans Fat:
0.4
g
|
Cholesterol:
141
mg
|
Sodium:
2651
mg
|
Potassium:
743
mg
|
Fiber:
6
g
|
Sugar:
32
g
|
Vitamin A:
4938
IU
|
Vitamin C:
1
mg
|
Calcium:
223
mg
|
Iron:
7
mg
The nutritional and caloric information shown is an estimate provided by an online nutrition calculator. It does not assert or suggest that readers should or should not count calories, and should not be considered a substitute for a professional nutritionist's or doctor's counseling.