Crispy on the outside and fluffy on the inside, these Lemon Poppy Seed Waffles have the light freshness of lemon and the subtle crunch of poppy seeds, for a new twist on your breakfast favorite!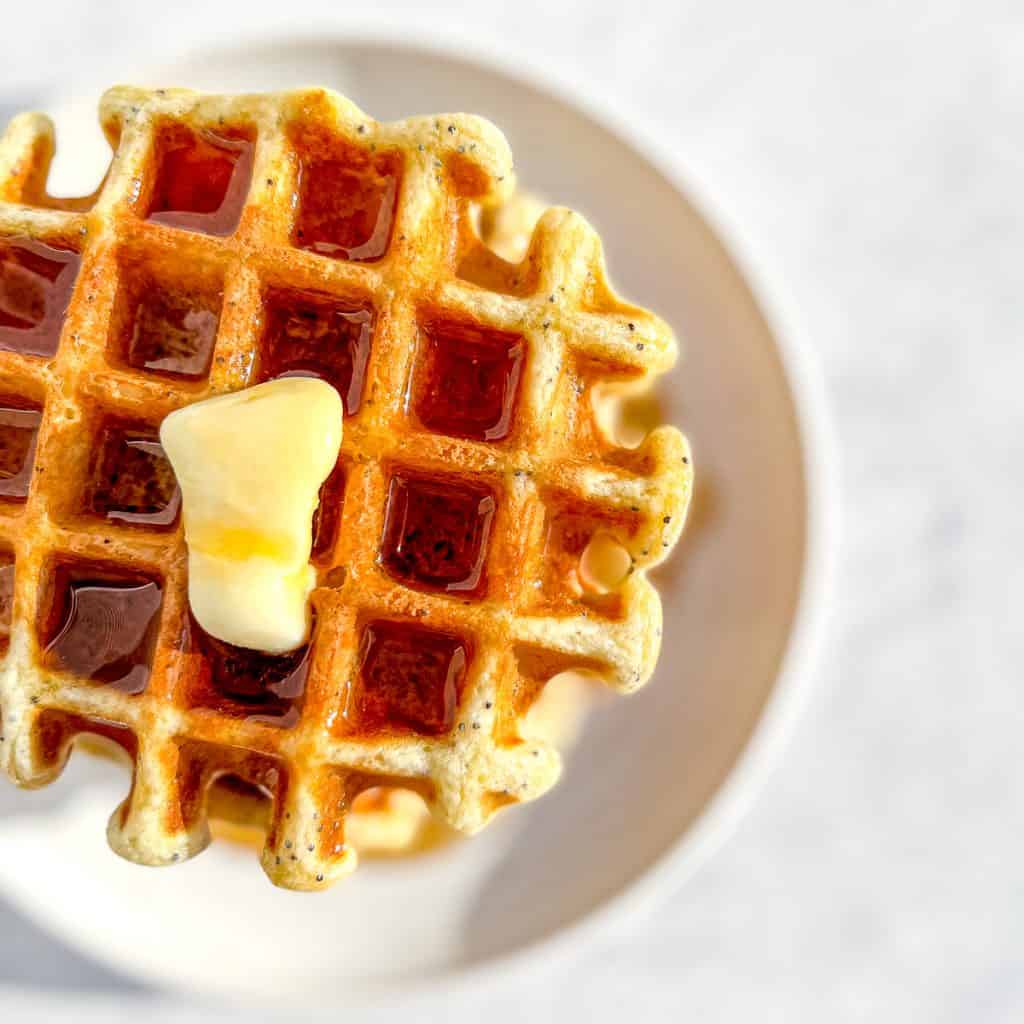 Don't get me wrong, I love pancakes, but waffles are better than pancakes. I said it. Like I said in my original Buttermilk Waffles post, waffles hold a special place in my memories. As a child, Sundays were for waffles, and why not? The crispiness is unbeatable, the little pockets are custom built to hold syrup and small fruits, they are good sweet, and they are good savory. I mean, waffles may be the perfect food. I'm just saying.
Jump to:
Jazzing up buttermilk waffles
My original waffle recipe includes cornstarch for a super crisp exterior. Because I wanted these waffles to be more fluffy, I omitted the cornstarch. To balance of the tartness of the lemons, I add a bit of sugar.
Finally, because there is liquid coming from the lemons as well, I reduced the amount of buttermilk for the perfect batter consistency. These waffles are like a lemon poppy seed muffin in a crispy coating. There's nothing I don't like about that!
❤️ What you'll love about this recipe
KID FRIENDLY - Crispy and sweet, with syrup and fruit holders built right in? The kid in all of us is giddy!
HEALTHIER - Frozen waffles are full of unpronounceable ingredients. With this recipe, you'll feel good knowing exactly what goes into your waffles!
INEXPENSIVE - None of the ingredients in these waffles in expensive or hard to find! You can make these anytime for pennies!
Ingredients
I just have a few notes about some of the ingredients:
Buttermilk

I love the tanginess and tenderness that buttermilk brings to my waffles, and its acidity works with the baking soda to makes them super fluffy. However, since you have the acidity of lemon juice in these waffles, you can use whole milk, if that's what you have. Batter made with milk will be thinner than batter made with buttermilk, but will otherwise cook the same. I have not tried these waffles with alternative milks but, if you do, leave me a comment and tell me how it works out for you!

Lemon juice You need about 3 tablespoons of lemon juice, which is about how much a medium lemon will give. Make sure to zest your lemon before squeezing it. If you've ever tried to zest a juiced lemon, you'll understand why!
Poppy seeds I love the tiny little pop you get when you're eating these waffles. Oh my gosh, is that why their called poppy seeds?! No, but wouldn't that be adorable? Some people prefer to avoid poppy seeds. If that's you, no worries. These will still make amazing lemon waffles without them!
Instructions
Getting started First, turn your oven on to 200°F and place a large sheet pan, fitted with a wire rack, into the oven. This will be the landing pad for your finished waffles. Next, melt your butter, so it has a few minutes to cool. Adding hot butter to the wet ingredients will cause the butter to clump in a not so good way.
Add lemon zest Start by extracting all of the lemon flavor you can from your lemon. Grate your lemon right into the granulated sugar and, using your fingers, scrinch the zest and the sugar together. This will release all of the lemon oils that are in the zest and flavor your sugar before you add it to the rest of the ingredients.
Mix dry ingredients In a large bowl, whisk together your lemon sugar with flour, baking powder, baking soda, and kosher salt.
Mix wet and dry Whisk together your milk, lemon juice, oil, eggs, poppy seeds, and vanilla. Pour into the bowl with the dry ingredients and mix together gently until just combined. Some dry spots and lumps are good right now. The lumps will smooth out as you add the butter and allow the batter to rest.
Add butter While continuing to gently mix, pour in your butter. Stop as soon as it is fully incorporated. Allow the batter to rest while you heat your waffle maker. The batter should rest a minimum of 10 minutes to allow the flour to fully hydrate and let the leavening agents start to work (the fluffinators to start fluffing). If your waffle iron has a variable heat, place it on the medium setting.
Cook Once your waffle iron is ready, using a large scoop, add the amount of batter recommended in the instructions that came with your waffle maker. For these Lemon Poppy Seed Waffles, I like to make them just a little bit smaller so I can see all the cute poppy seeds peeking out of the rustic edges, but you can fill it up if you like. Cook to manufacturer's instructions, or 4 to 5 minutes.
Keep warm Transfer cooked waffles to your warm sheet pan in the oven and repeat with the remaining batter.
Serve I am a huge advocate of real, authentic maple syrup. The smoky sweetness really accents the lemon flavor in these waffles. Warm up some syrup and dig in!
Expert tips
In a rush in the morning? Make this batter the night before! Let rest at room temperature for about 30 minutes before waffling. If the batter is a bit too thick after resting, you can add a couple of tablespoons of buttermilk or milk to thin it out.
Don't overmix the batter. A few small lumps are fine, and most will smooth out as the batter rests.
No mess, less stress. Use a large scoop to portion your waffle batter into your waffle maker.
Don't overfill the waffle maker. Spills happen, but if you underfill your waffle maker a bit, you not only have less mess, you get those cute rustic edges.
Don't peek! Most waffle makers have a fairly accurate timing system. If you don't trust yours, when the steam coming from the waffle maker slows down, you can be pretty sure they're done.
Rest your waffles. Just 5 minutes in the oven will do wonders for the texture of your waffles. The low heat in the oven will dry the moisture on the outside of the waffle, leaving you with a crispy-coated fluffy breakfast.
Prepare to freeze! Cook a few waffles on the lighter setter for freezing. There's nothing better on a busy morning than realizing you have delicious frozen waffles ready to pop in the toaster!
Storage & freezing instructions
Place fully cooled waffles in a ziptop bag and store for up to 3 days in the refrigerator. Reheat by popping into your toaster until hot and crispy. You can also put them back into your waffle maker and reheat them on the lowest setting, or for 1 to 2 minutes.
Wrap fully cooled waffles individually in plastic wrap. Store in a ziptop freezer bag in the freezer up to one month. You can thaw waffles overnight in the refrigerator and pop in the toaster. You can also put frozen waffles directly in your waffle maker at the lowest setting, to allow to thaw and cook at the same time. Add more time as needed until hot and crispy.
More waffle recipes
Lemon Poppy Seed Waffles
Crispy on the outside and fluffy on the inside, these Lemon Poppy Seed Waffles bring the light freshness of lemon and the subtle crunch of poppy seeds for a new twist on you breakfast favorite!
Ingredients
2

cups

(

240

g

)

all-purpose flour

¼

cup

(

50

g

)

granulated sugar

1

tbs

lemon zest

from one lemon

1

teaspoon

baking powder

½

teaspoon

baking soda

½

teaspoon

kosher salt

1 ½

cups

(

360

g

)

buttermilk

3

tbs

(

45

g

)

lemon juice

from one lemon

¼

cup

(

56

g

)

vegetable oil

2

large eggs

1

tbs

poppy seeds

1

teaspoon

vanilla

¼

cup

(

56

g

)

unsalted butter

melted
Instructions
Preheat oven to 200°. Place a wire rack into a large sheet pan and set in oven. Your waffles will rest here as you finish cooking them.

Combine sugar and lemon zest in a large bowl and, using your fingers, scrinch them together, releasing the lemon oils into the sugar. Using a large whisk, combine flour, baking powder, baking soda, and salt with your lemon sugar. Set aside.

Melt butter and set aside to cool for a couple of minutes. In a large measuring cup, whisk milk, oil, eggs, poppy seeds, and vanilla.

Add wet ingredients to dry and stir until just combined. Drizzle in butter while continuing to mix. Allow batter to rest for at least 10 minutes while you heat up your waffle maker. If you have a temperature dial on your waffle maker, set it to the medium setting.

Pour batter onto preheated waffle maker (amount suggested by your waffle maker). Cook to manufacturer instructions, or about 4-5 minutes.

Transfer the cooked waffles to the wire rack and keep warm in the preheated oven as you cook the rest. Repeat to cook the remaining batter.
Nutrition
Calories:
242
kcal
|
Carbohydrates:
34
g
|
Protein:
6
g
|
Fat:
9
g
|
Saturated Fat:
5
g
|
Polyunsaturated Fat:
1
g
|
Monounsaturated Fat:
2
g
|
Trans Fat:
1
g
|
Cholesterol:
61
mg
|
Sodium:
357
mg
|
Potassium:
127
mg
|
Fiber:
1
g
|
Sugar:
9
g
|
Vitamin A:
312
IU
|
Vitamin C:
3
mg
|
Calcium:
141
mg
|
Iron:
2
mg
The nutritional and caloric information shown is an estimate provided by an online nutrition calculator. It does not assert or suggest that readers should or should not count calories, and should not be considered a substitute for a professional nutritionist's or doctor's counseling.