Crispy on the outside and fluffy on the inside, these Crispy Buttermilk Waffles are the best ever! Using pantry staples and your imagination, you can make an endless variety of waffles to start any day off right!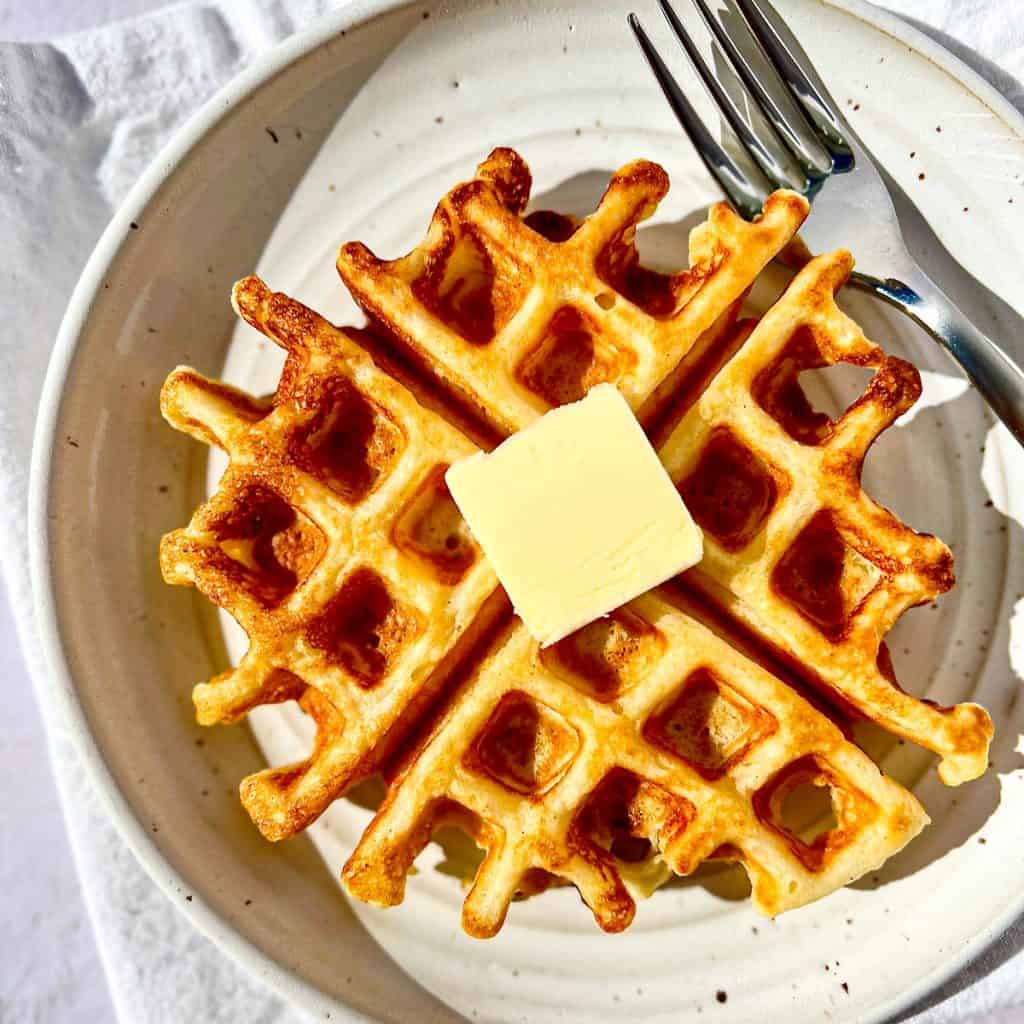 As a kid, breakfast followed a weekly schedule. Monday through Friday was cereal or Cream of Wheat. Saturday was scrambled eggs with Poppin' Fresh biscuits and sausage gravy. But Sundays... Sundays were for waffles!
Well, I'm all grown up and make my own waffles now, and I'm here to give you all the hot tips to the best waffles of your life. Over the years I've worked hard to develop the perfect waffle recipe, and with a few secret ingredients, I've finally done it!
Better than Basic Waffles
Sometimes when we want to cook something, we want to put our own spin on it. But before you can spin something, you need to know the basics, right? Well, I believe that having a handful of solid base recipes at your disposal can lay a terrific foundation for anyone who is trying to figure it all out and have fun while doing it.
My Better than Basic series of recipes are meant to help you perfect the basics so you can show off your improv skills. I'm here to lend a hand to both the beginner and the adventurous culinary soul. I started this series with my Brown Butter Blondies and my Not So Basic Buttermilk Muffins and now I'm bringing you The Best Crispy Buttermilk Waffles ever!
Ingredients
All-purpose flour Fancy flours need not apply. All-purpose flour has just the right texture for these waffles, and the strength to hold up more than its weight in add-ins. If you are gluten-free, a friend tested this recipe with Bob's Red Mill Gluten Free 1-to-1 Baking Flour and reported great results.
Cornstarch My first secret ingredient! Replacing part of the flour with cornstarch guarantees a crispy waffle, even if it's not steaming hot.
Butter and oil Butter, of course, adds tremendous flavor, but the oil keeps the inside of your waffle moist and delicious, even if it's cold. And who hasn't nibbled on a cold waffle an hour after breakfast? Just me?
Sugar Just a bit of sugar adds a hint of sweetness to your waffle and also helps with browning.
Baking powder and baking soda Leavening agents work not only to give rise and fluffiness to your waffles, but also contribute to the golden waffle color!
Buttermilk I am a tremendous fan of buttermilk. It might be from growing up in the South. where buttermilk is so commonly used, but I also love the tang and the tenderness that buttermilk brings to foods. I use it for everything from my buttermilk biscuits, to muffins, and I even marinate my chicken in it before frying. Try it yourself and I think you'll be a buttermilk convert. If you don't feel you'll use it often enough, it freezes amazingly in ice cube trays, and will last in the freezer for up to three months.
Add-ins The second secret ingredient is your imagination! You can add most anything you desire to waffles. I've added chocolate chips, reese's pieces, swirled jam, and even cheese and jalapeños. In general, try to keep the total amount of add-ins to one cup to ensure you have a good batter to "stuff" ratio.
Instructions
Dry ingredients In a large bowl, whisk together flour, cornstarch, sugar, baking powder, baking soda, and salt.
Wet ingredients In a large measuring cup, whisk buttermilk, vegetable oil, eggs, and vanilla.
Mix together Lightly fold the wet ingredients into the dry ingredients, but don't over-mix. Leave it half mixed at this point.
Butter and rest Drizzle in the butter while you finish mixing the batter. Doing it now keeps the butter from solidifying and allows it to fully incorporate into the batter. This is also when you would add any add-ins, such as chocolate chips, bacon, cheese, etc. Allow the batter to rest for 10 minutes. This gives time for complete hydration of the batter to take place and for any gluten, that you might have developed in mixing the batter, to relax. Most of the lumps will smooth out as well. Heat up your waffle maker during this short rest time.
Scoop To avoid drips, I like to use a large scoop to drop batter into my waffle maker. Follow your manufacturer's directions as to how much your machine holds.
Place in oven The final secret ingredient is time! A freshly cooked waffle is steaming hot and steam is the crisp killer! While the cornstarch definitely adds crispness to your waffle, placing the finished waffles in a 250° oven for 5-10 minutes to dry out the exterior will reinforce that crisp!
Variations
Now that you've learned all about making crispy buttermilk waffles, it's time to put your knowledge to work. Your waffle variations will be limited only by your imagination! Although I encourage you to make these waffles your own, here are a few ideas to get you started:
Lemon Ricotta Blueberry Swirl Waffles Replacing part of the buttermilk with rich ricotta, and adding zingy lemon, gives you the lightest and most moist waffles around. Swirling blueberry jam into the batter? Unforgettable!
Jalapeño Cheddar Add one half cup of cheddar cheese and a finely diced jalapeño to your batter for a sweet, savory, and spicy waffle. Want more spice? Leave in the seeds from your jalapeño and add ½ teaspoon cumin and ½ teaspoon chili powder to the dry ingredients. Perfect for a Tex-Mex spin on your Waffles.
Cornmeal waffles There's something about the extra crunch of cornmeal in a waffle that gets me every time! Just replace the cornstarch with ½ cup of cornmeal to give a cornbread vibe to your waffle. Perfect with fresh fruit and maple syrup, and amazing with jalapeño and cheddar too!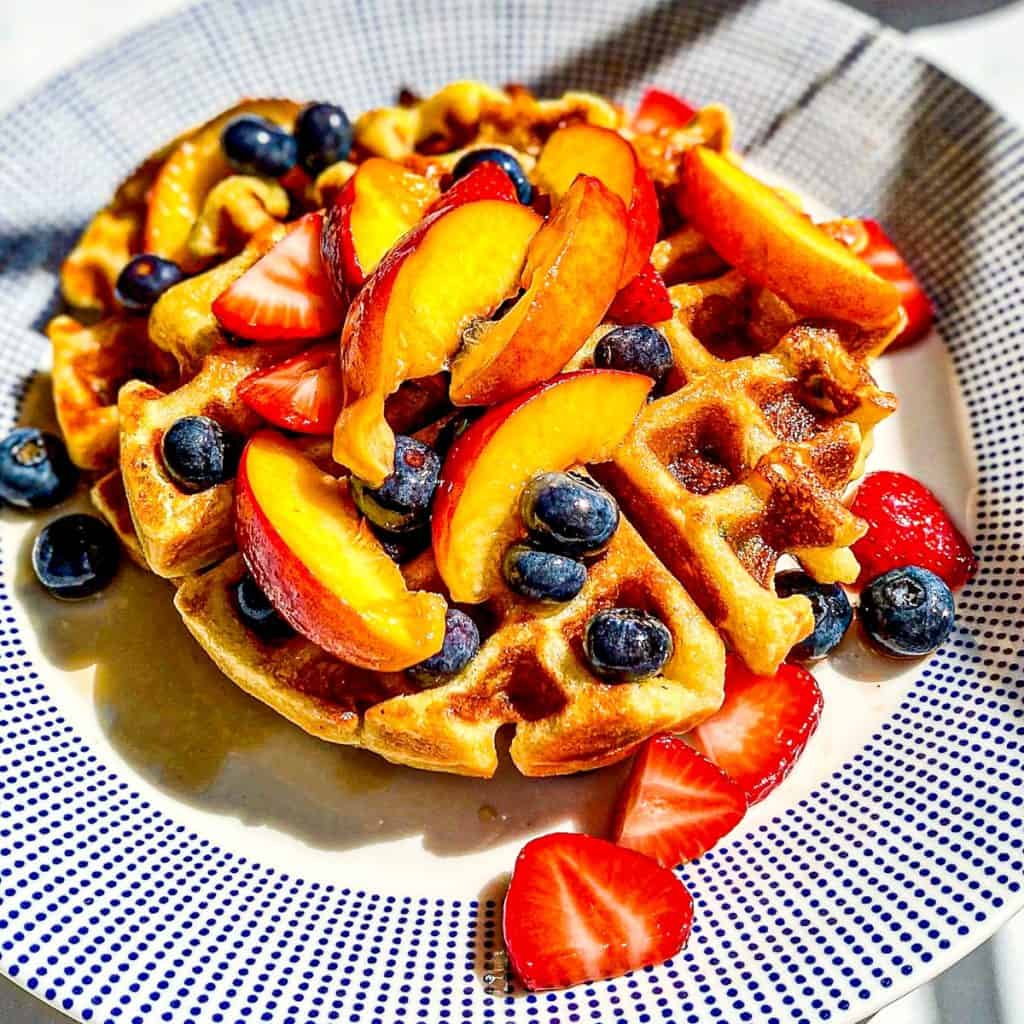 Blueberry compote Just make your Crispy Buttermilk Waffles as directed and top with lightly sweetened whipped cream and a spoonful of my easy blueberry compote.
Blueberry Compote Recipe
You'll need 2 cups blueberries (fresh or frozen), ⅔ cup water, ⅓ cup sugar ½ teaspoon vanilla, zest of a lemon, 2 teaspoon cornstarch, and the juice of one lemon. Place 1 cup of the blueberries in a small saucepan. Cover with water and add sugar, vanilla, and lemon zest. Heat over medium-high heat until the mixture comes to a low boil and the blueberries start to break apart. Mix cornstarch into lemon juice and add to saucepan. Bring mixture to a rolling boil. Turn heat down and simmer on low heat for 2-3 minutes, or until compote reaches desired consistency. Remove from heat. Add remaining blueberries and stir gently. Serve warm.
How do I store my waffles?
We all know that waffles are best eaten as soon as they are made. That being said, if you need to store them, wrap each fully cooled waffle in plastic wrap and place them in an airtight container or zip top bags for up to 3 days. You can freeze them for up to 3 months. To reheat, just pop them in the toaster until warm and crisp.
More French Toast and Waffle Recipes
Best Crispy Buttermilk Waffles
An amazingly fluffy and crispy buttermilk waffle recipe is just the beginning. Limited only by your pantry and your imagination, you'll never run out of waffle combinations!
Ingredients
1 ½

cups

(

180

g

)

all-purpose flour

½

cup

(

64

g

)

cornstarch

3

Tbs

(

36

g

)

sugar

1

teaspoon

baking powder

½

teaspoon

baking soda

½

teaspoon

kosher salt

2

cups

(

480

g

)

buttermilk

¼

cup

(

60

g

)

vegetable oil

2

large

eggs

1

teaspoon

vanilla

¼

cup

(

56

g

)

unsalted butter, melted
Instructions
Preheat oven to 250°. Place a wire baking rack in a sheet pan and set in oven. Your waffles will rest here as you finish cooking each one.

Combine flour, cornstarch, sugar, baking powder, baking soda, and salt in a large bowl and set aside.

In a large measuring cup whisk buttermilk, oil, eggs, and vanilla.

Add wet ingredients to dry and stir until just combined. Drizzle in butter while continuing to mix. Allow batter to rest for 10 minutes while you heat up your waffle maker.

Pour about ¾ cup of batter onto preheated waffle maker, or the amount suggested by your waffle maker directions. Cook to manufacturer instructions, or about 4-5 minutes.

Transfer the cooked waffles to the wire rack and keep warm in the preheated oven as you cook the rest. Repeat to cook the remaining batter.
Notes
Storing waffles:
Wrap each fully cooled waffle in plastic wrap and place in an airtight container or zip top bags. Refrigerate for up to 3 days or freeze for up to 3 months. Reheat in toaster until hot and crispy.
Nutrition
Calories:
321
kcal
|
Carbohydrates:
44
g
|
Protein:
8
g
|
Fat:
12
g
|
Saturated Fat:
7
g
|
Polyunsaturated Fat:
1
g
|
Monounsaturated Fat:
3
g
|
Trans Fat:
1
g
|
Cholesterol:
91
mg
|
Sodium:
466
mg
|
Potassium:
168
mg
|
Fiber:
1
g
|
Sugar:
10
g
|
Vitamin A:
458
IU
|
Calcium:
148
mg
|
Iron:
2
mg
The nutritional and caloric information shown is an estimate provided by an online nutrition calculator. It does not assert or suggest that readers should or should not count calories, and should not be considered a substitute for a professional nutritionist's or doctor's counseling.