Crispy and caramelized on the outside, soft and fluffy on the inside, this Sheet Pan French Toast is an easy way to make a breakfast favorite on a busy morning.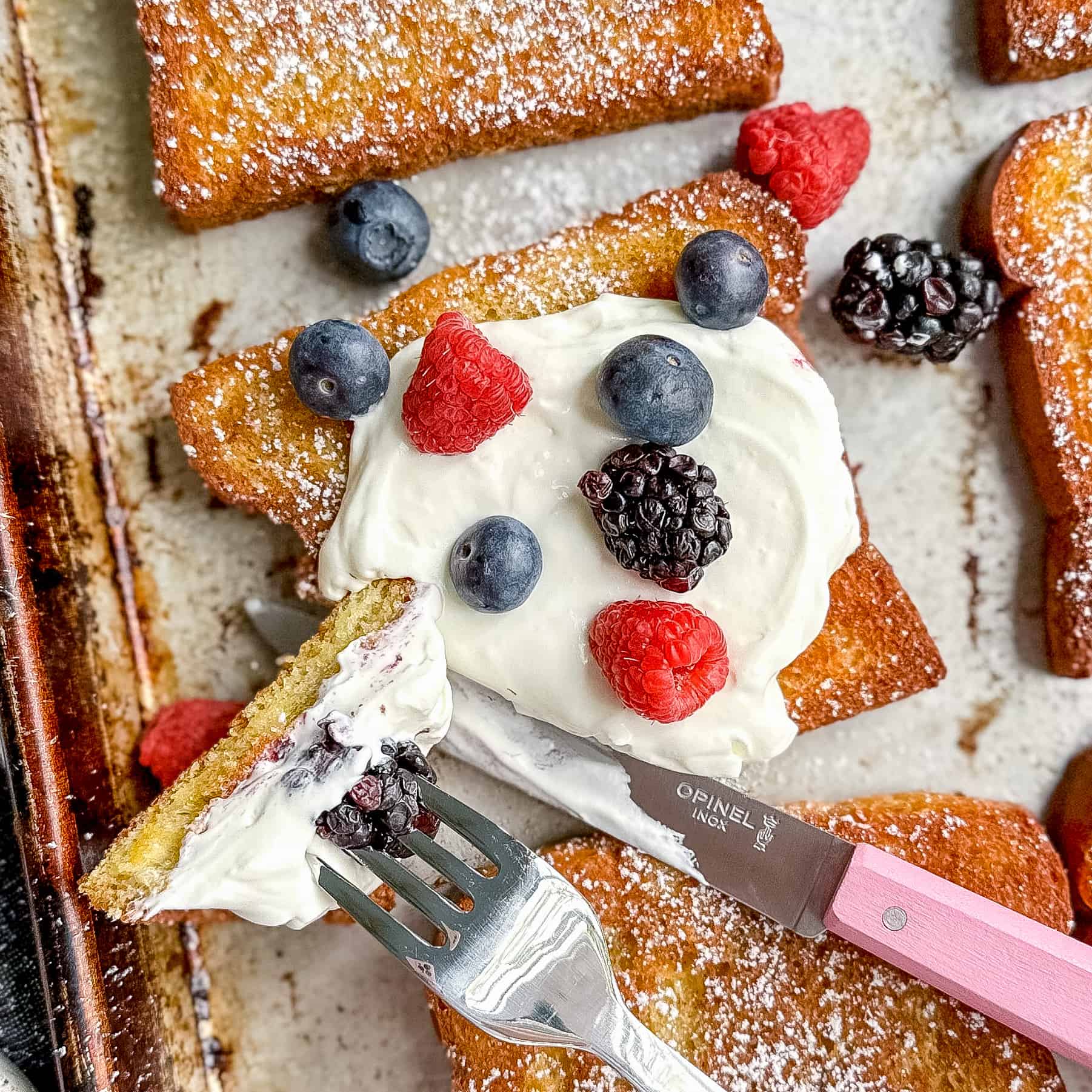 My Dad raised me and my brother on Sunday morning French Toast. French Toast is a part of my origin story. I gained my Superpowers through sweet griddled bread 💪 Well, according to an informal poll of my household, it's apparently a family favorite for them too.
The thing is, making French Toast requires concentration - watching for hot spots in your pan, wiping out the pan between batches to avoid burnt butter, keeping batches warm while you make more... Well, not anymore! Sheet Pan French Toast is cooked all at once, on one sheet pan, with not-burned brown butter.
Alongside my Biscuits and Gravy, Fluffy Pancakes, and Scrambled Eggs with Bacon, this Sheet Pan French Toast is about to become your family favorite as well!
Jump to:
Ingredients
Any bread will do, though I have a real affinity for sweet, buttery brioche. I add cardamom and nutmeg to the cinnamon traditionally found in French Toast. Otherwise, everything on the ingredient list is a pantry staple.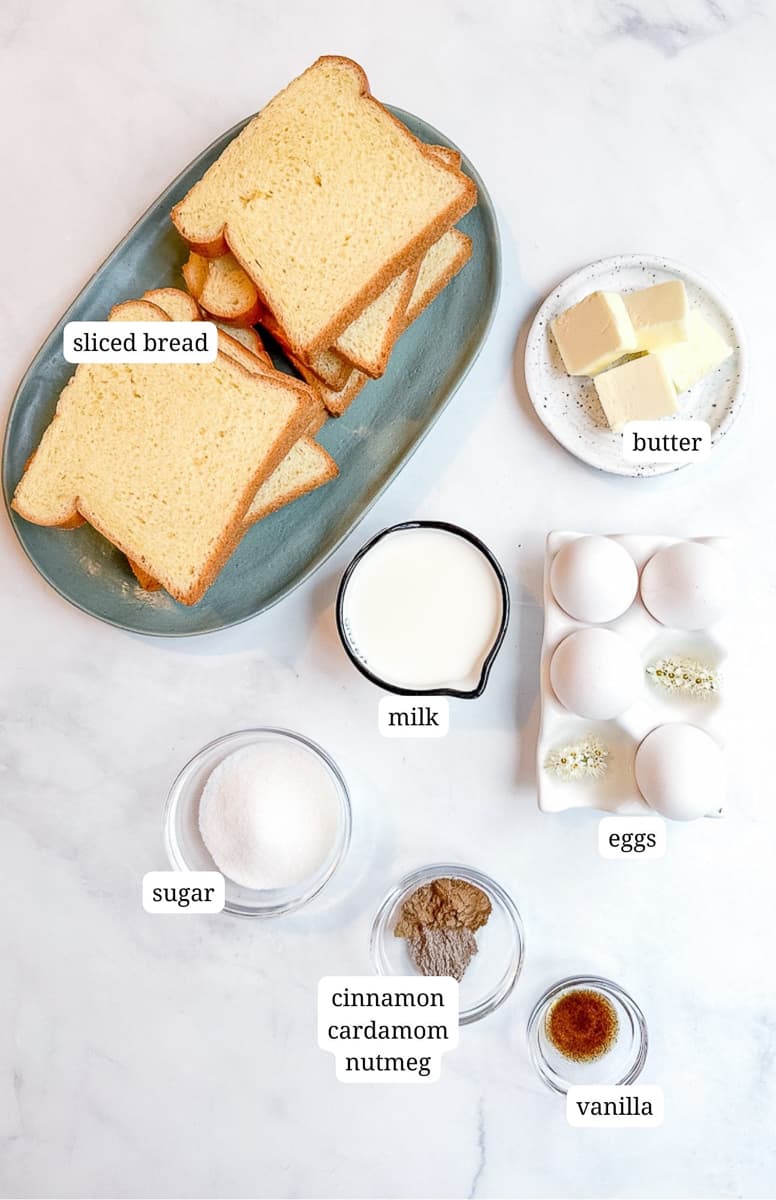 See recipe card for quantities.
Substitutions
I haven't tried all the substitutes in the world, but here are a few I have tried:
Bread - Feel free to use any bread you prefer, although I find that super soft white bread makes Sheet Pan French Toast that is way too soggy and harder, more rustic loves don't soak up enough of the custard to get to that softness sweet spot. Brioche and challah are personal French Toast favorites for me.
Milk - If you prefer not to use dairy milk, go ahead and substitute with the alternative milk of your choice. Coconut milk is my go to substitute because the taste is amazing. I even add a hint of coconut extract to enhance the coconut flavor.
Butter - If we're going full diary-free, you can use coconut oil or non-dairy butter substitutes on the sheet pan. Since they don't contain milk solids, browning them is not possible, but otherwise your Sheet Pan French Toast will still be delicious.
Variations
I love French Toast. Of course I have variation ideas:
Peaches - My French Toast with Brown Butter Peaches is an amazing flavor combo and the peach component can easily be added to your Sheet Pan French Toast.
Apples - It's always apple season for me and my Chai Spiced Waffles with Maple Cinnamon Apples have the spice combo and apple topping to convince you too!
Churro - Top your finished Sheet Pan French Toast with a generous sprinkle of cinnamon sugar and serve with dulce de leche and whipped cream. Oh. My.
Instructions
Sheet Pan French Toast isn't just for Sundays. As a matter of fact, this recipe is so simple that you'll find yourself making it on a Monday, on a Thursday... on any day of the week that the craving strikes!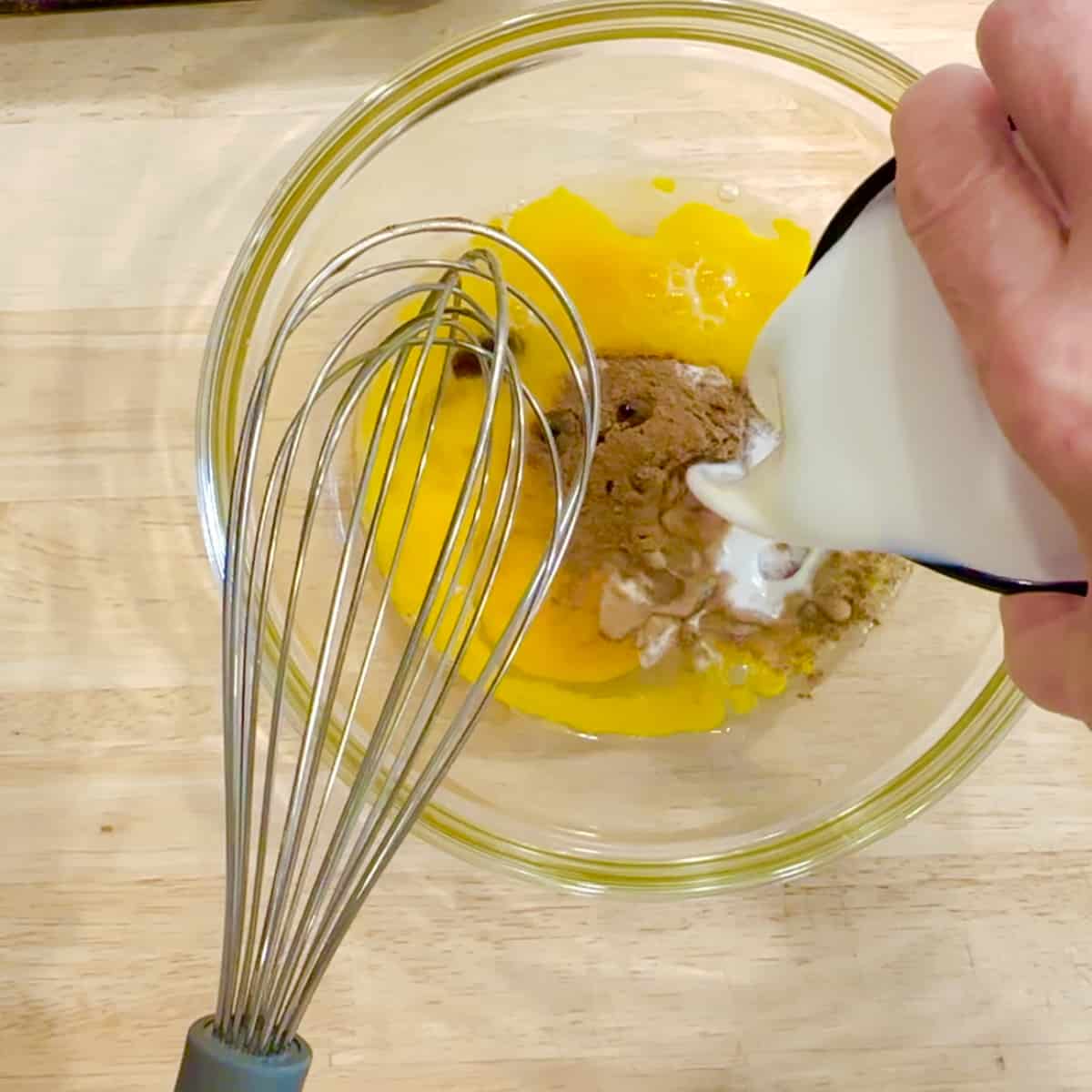 1. Heat a large sheet pan in the oven at 400°F. While everything is preheating, whisk together eggs, spices, vanilla, and milk. Pour into another sheet pan, or a shallow baking pan, and set aside.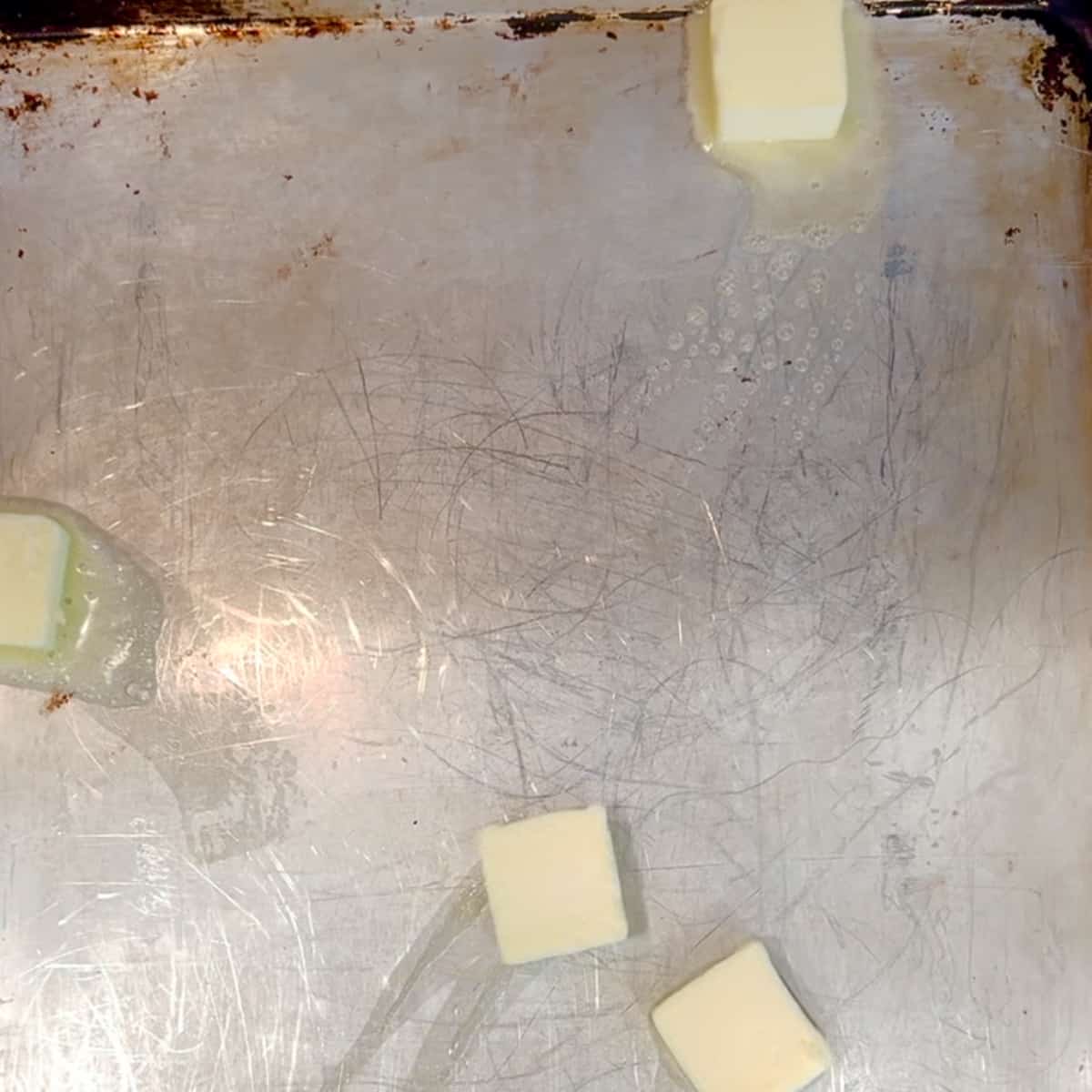 2. Carefully remove the hot sheet pan from the oven and drop 4 tablespoons of butter onto the surface.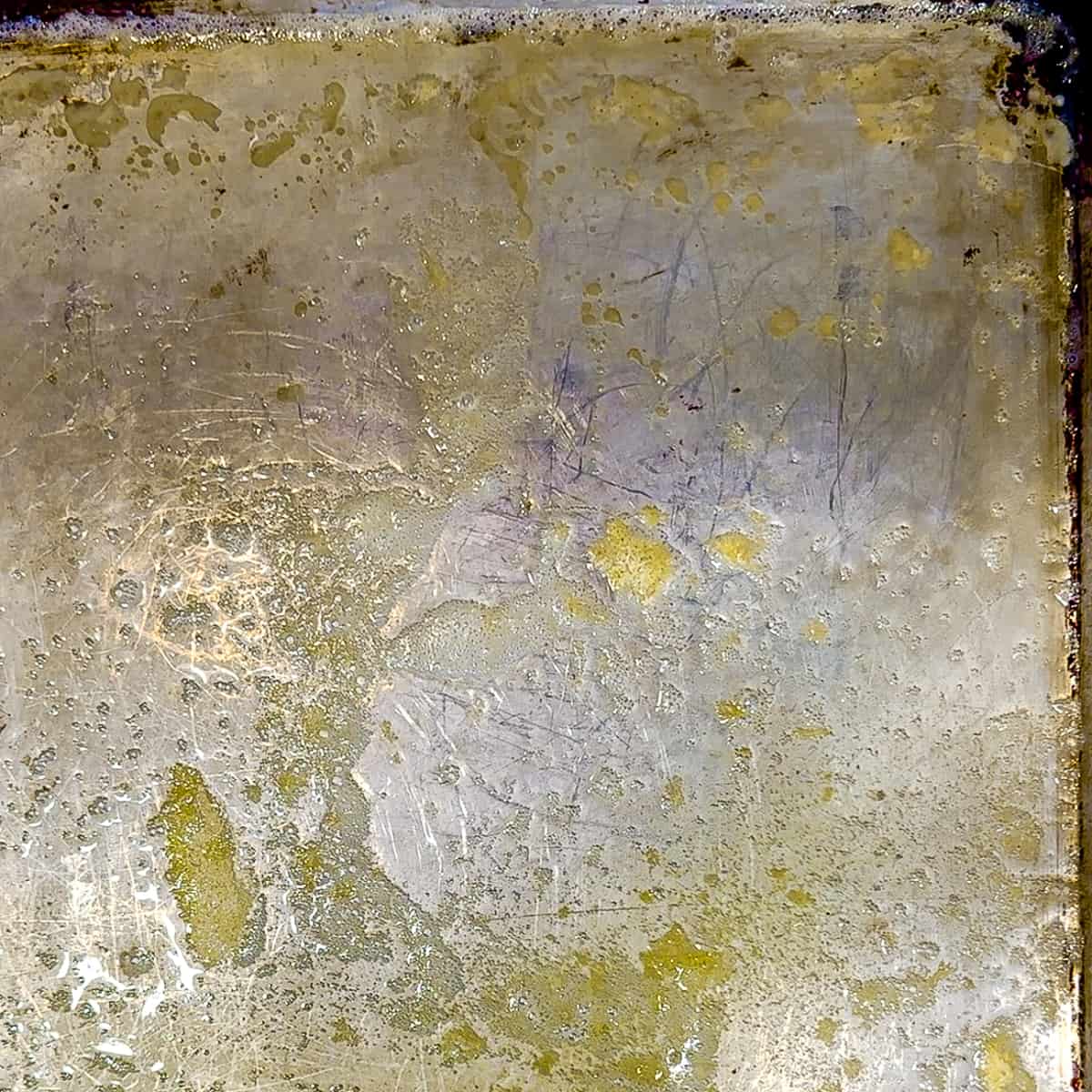 3. Return the pan to the oven for 5 minutes, or until it just starts to look light brown around the edges of the pan. Remove from the oven.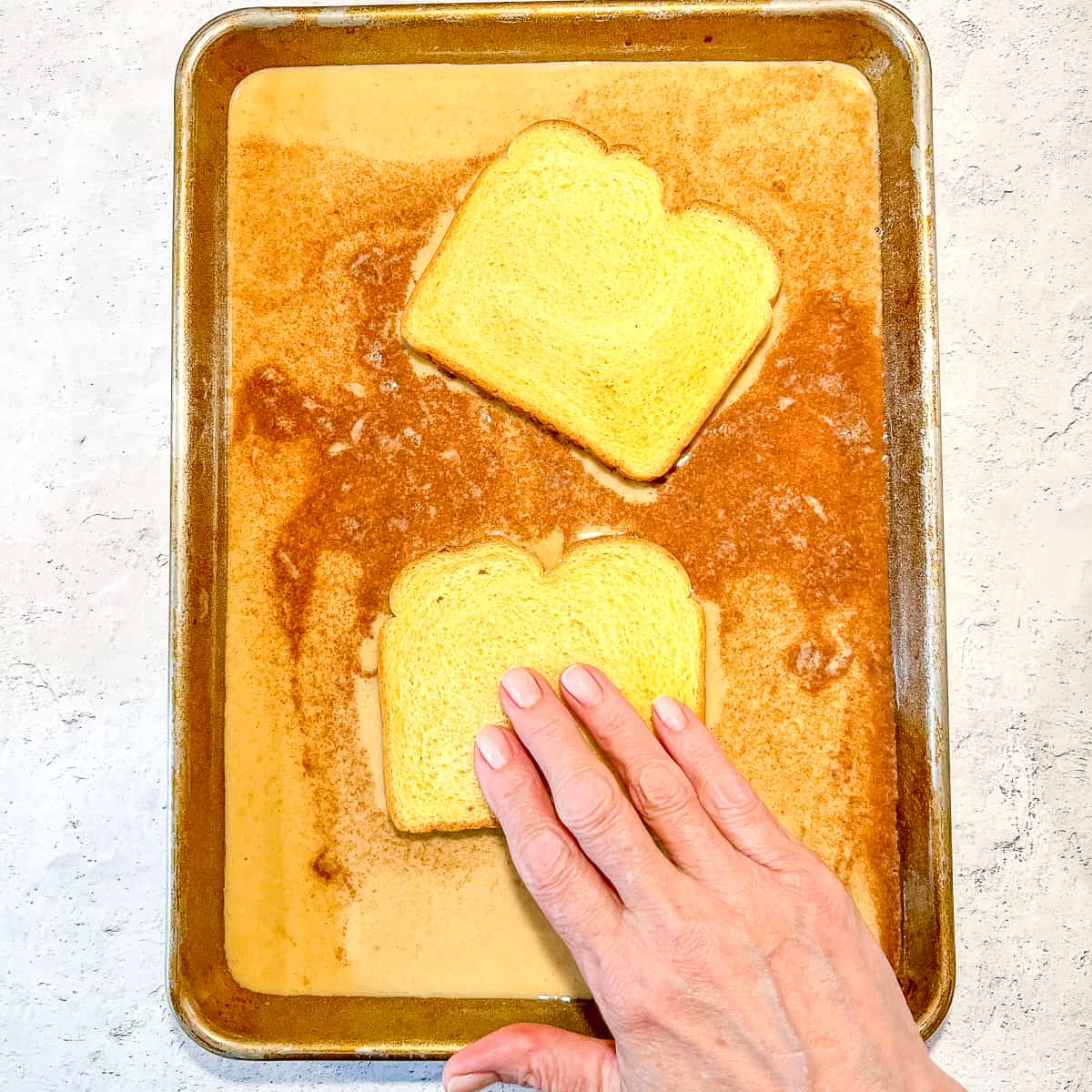 4. Place slices of bread into the custard for a few seconds and turn each piece over to soak the both sides.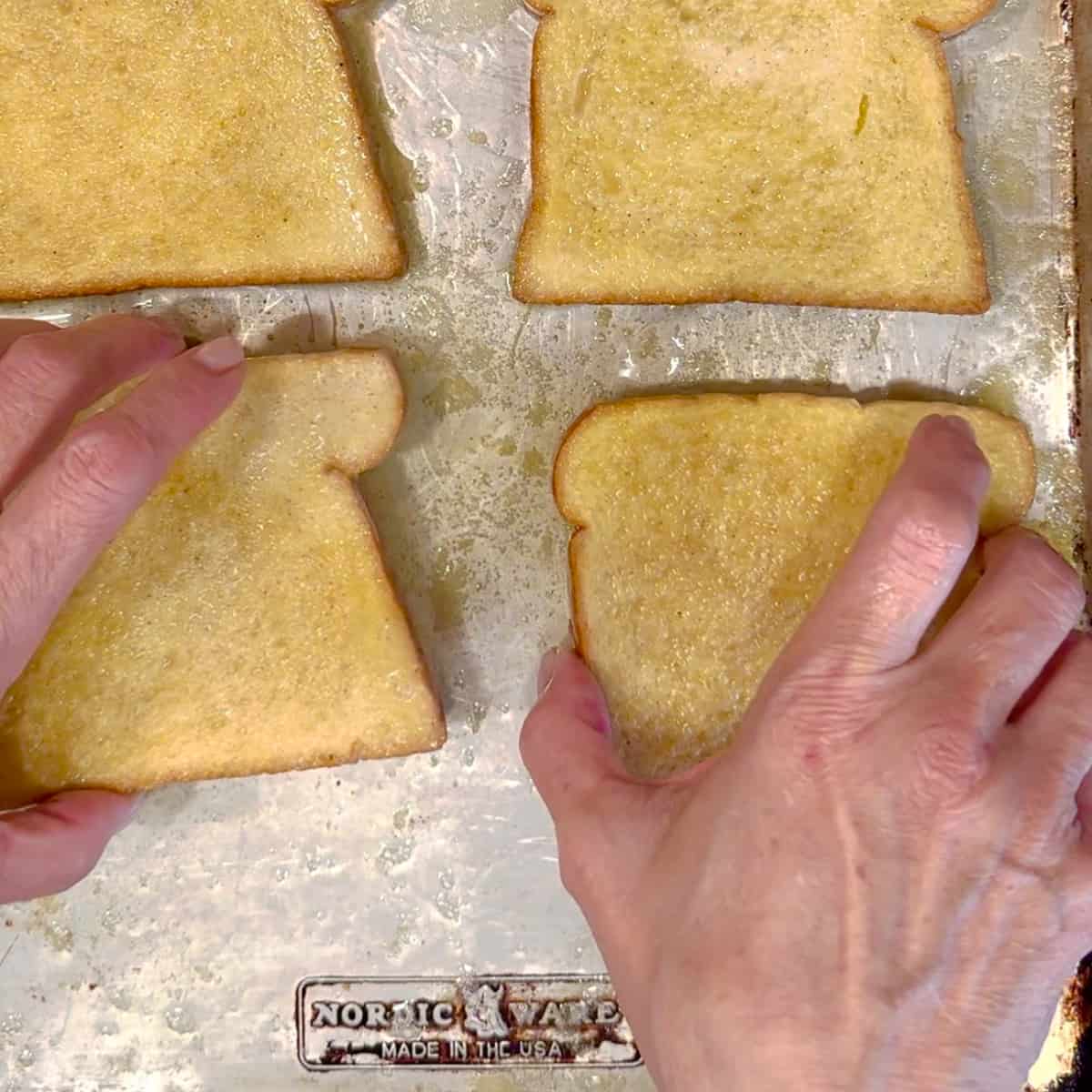 5. Place all of the slices on the hot sheet pan.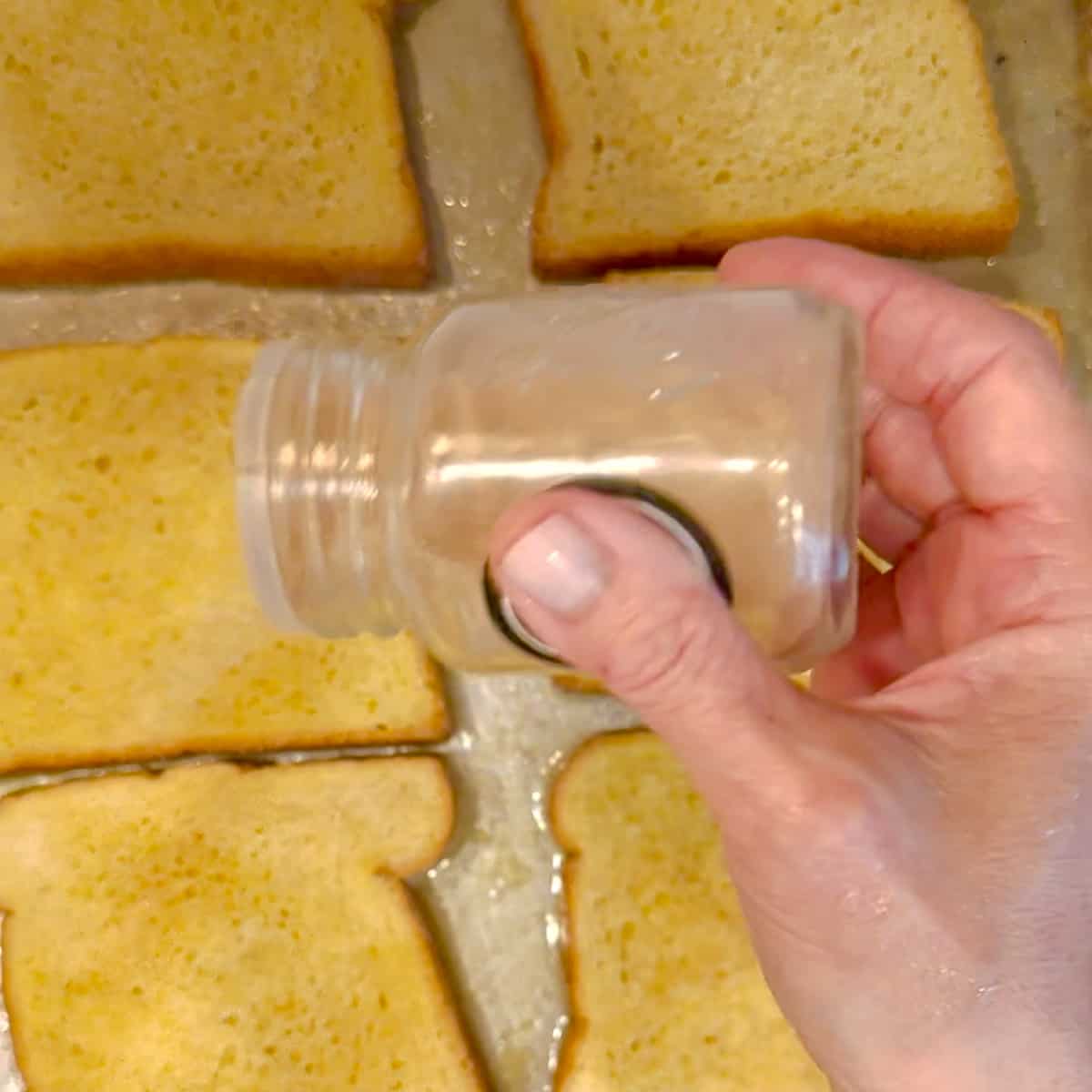 6. If desired, sprinkle the exposed sides with cinnamon sugar. Place in the oven for 10 minutes.
Optional, but highly recommended, whipped greek yogurt cream topping: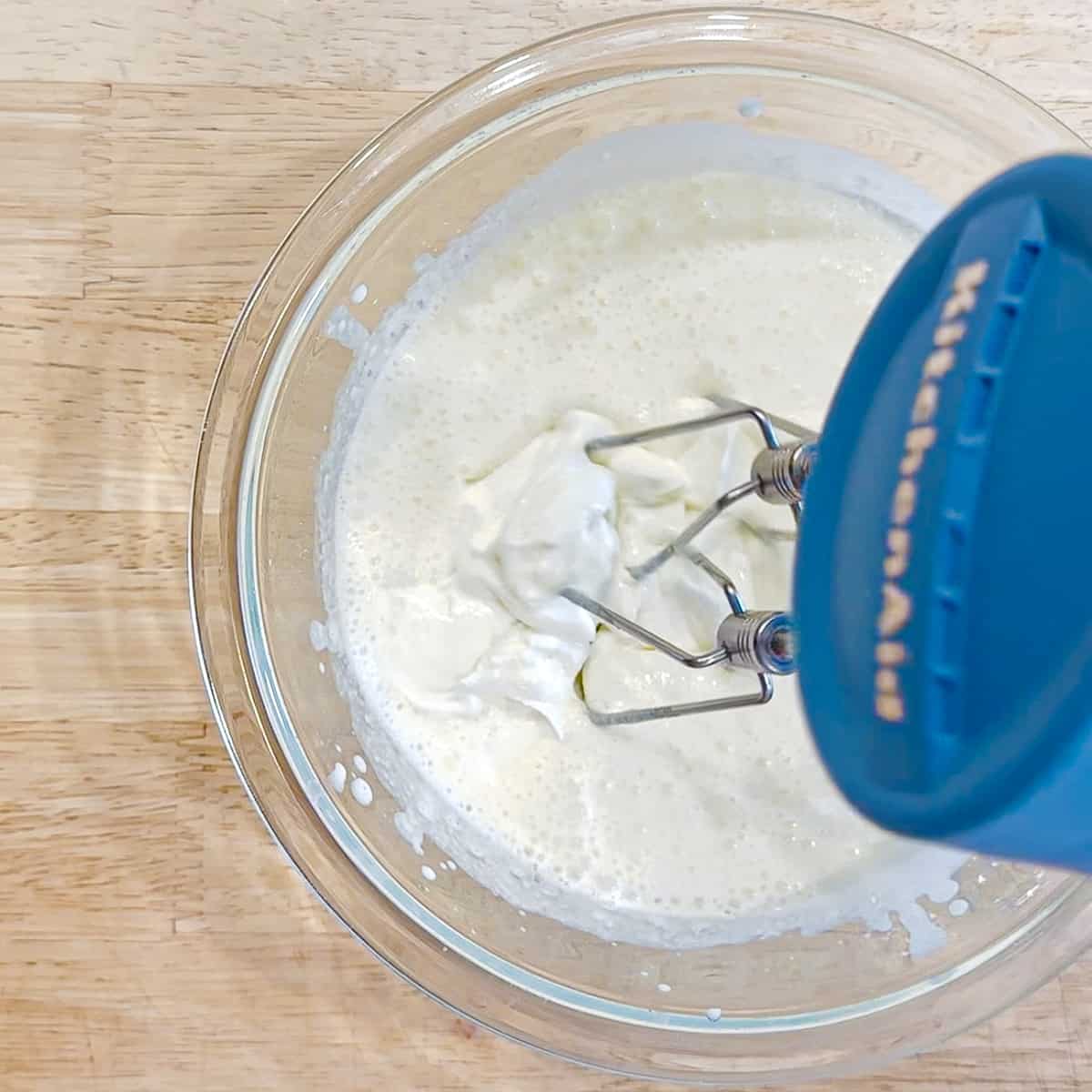 7. While the bread is baking, combine heavy cream, powdered sugar, and Greek yogurt in a bowl.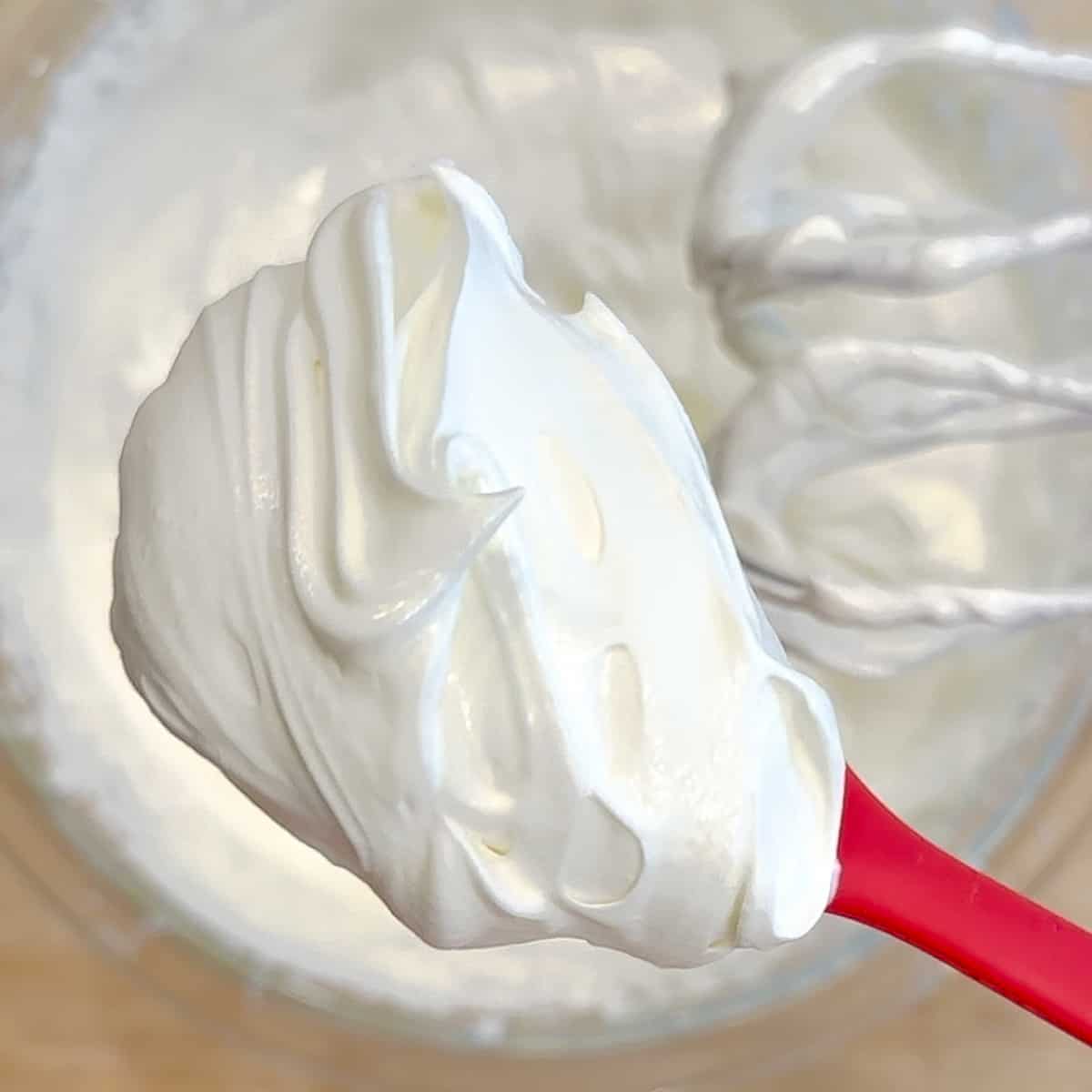 8. Whip to medium peaks. Set side.
Back to our regularly scheduled Sheet Pan French Toast: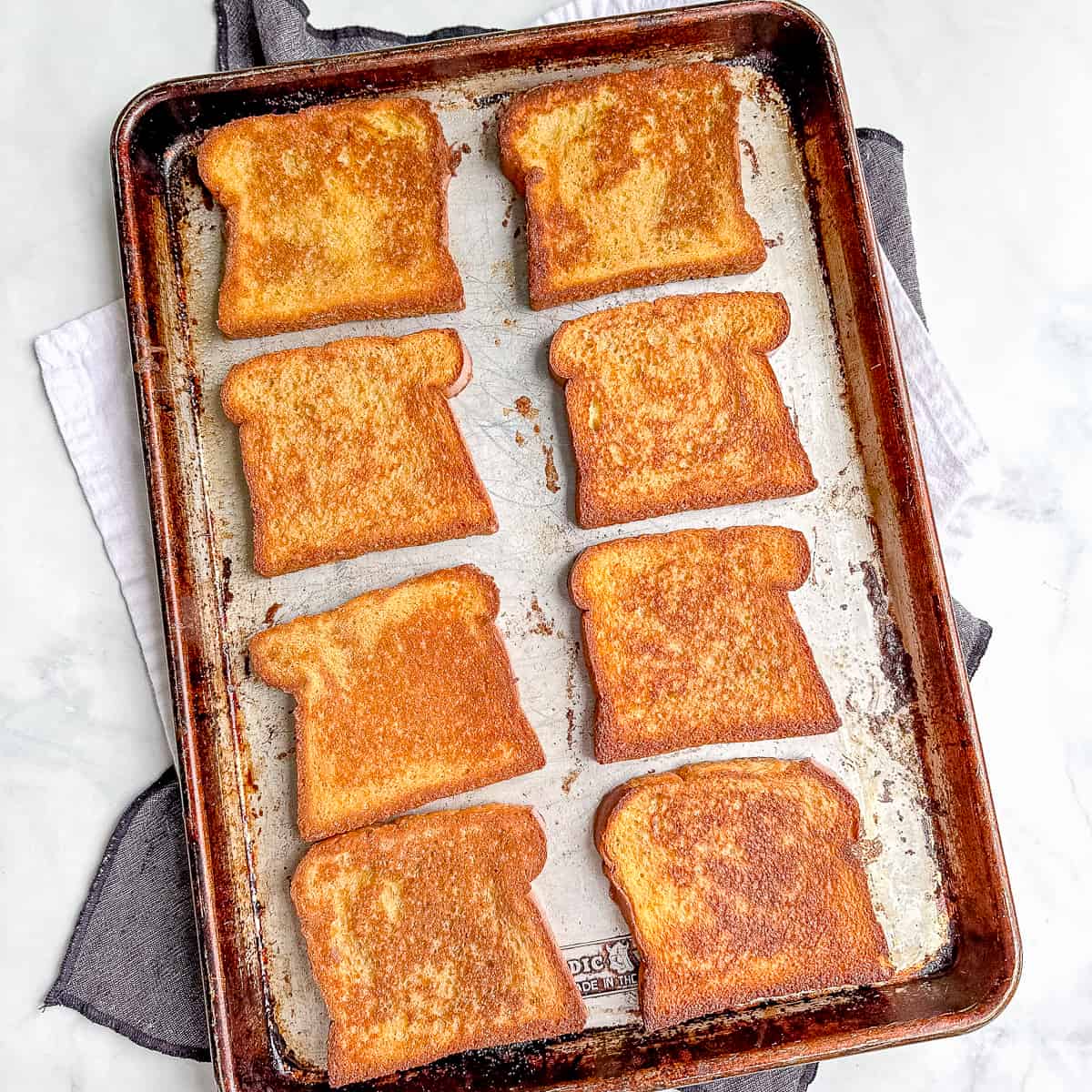 9. Turn each slice of Sheet Pan French Toast over and sprinkle the other side with more cinnamon sugar. Dot the pan with another 2 tablespoons of butter around and between the slices. Return to the oven for another 10 minutes.
10. Remove from the oven and dust with powdered sugar if desired.
Serve it up!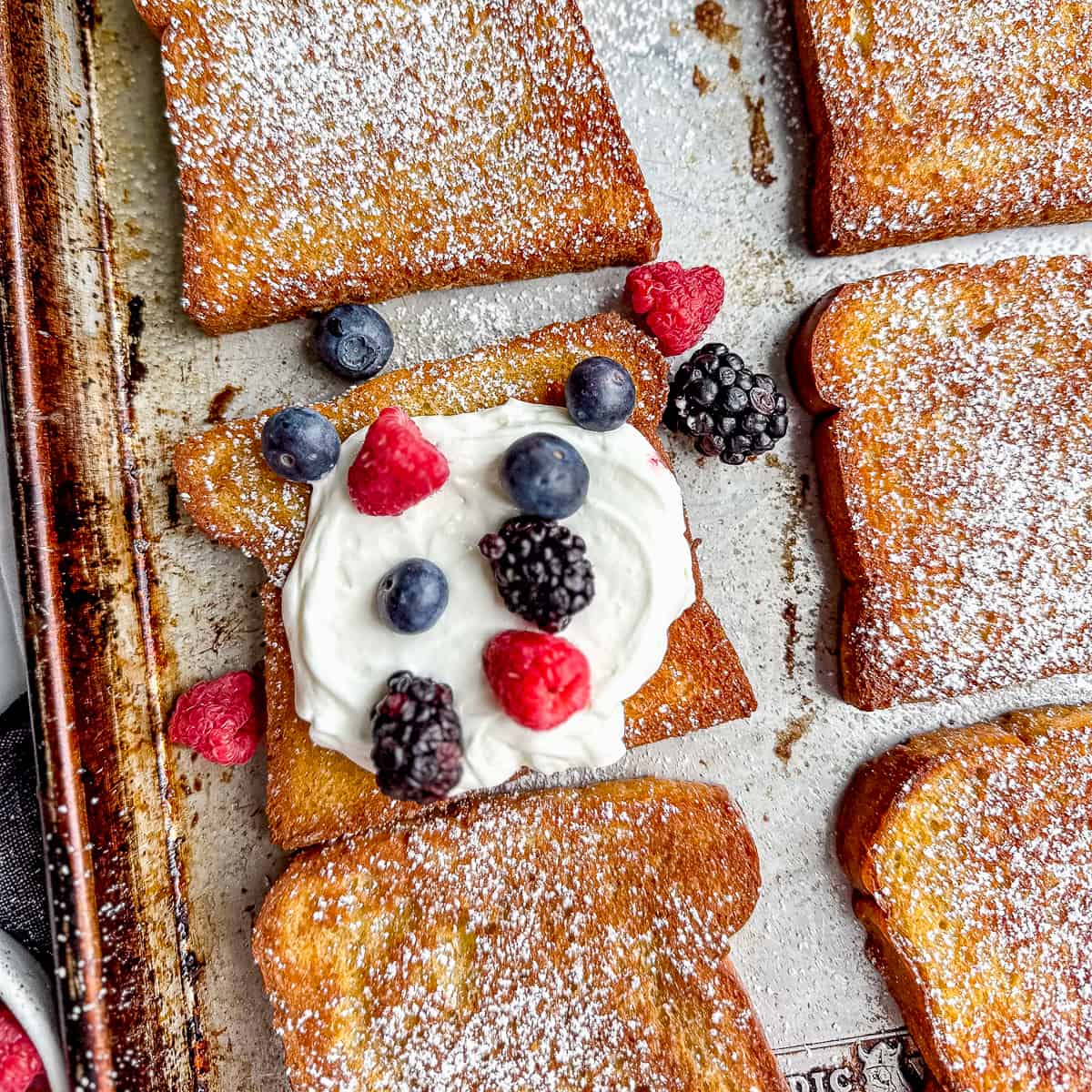 Dollop each slice with a generous spoon of the whipped yogurt cream and top with fresh berries.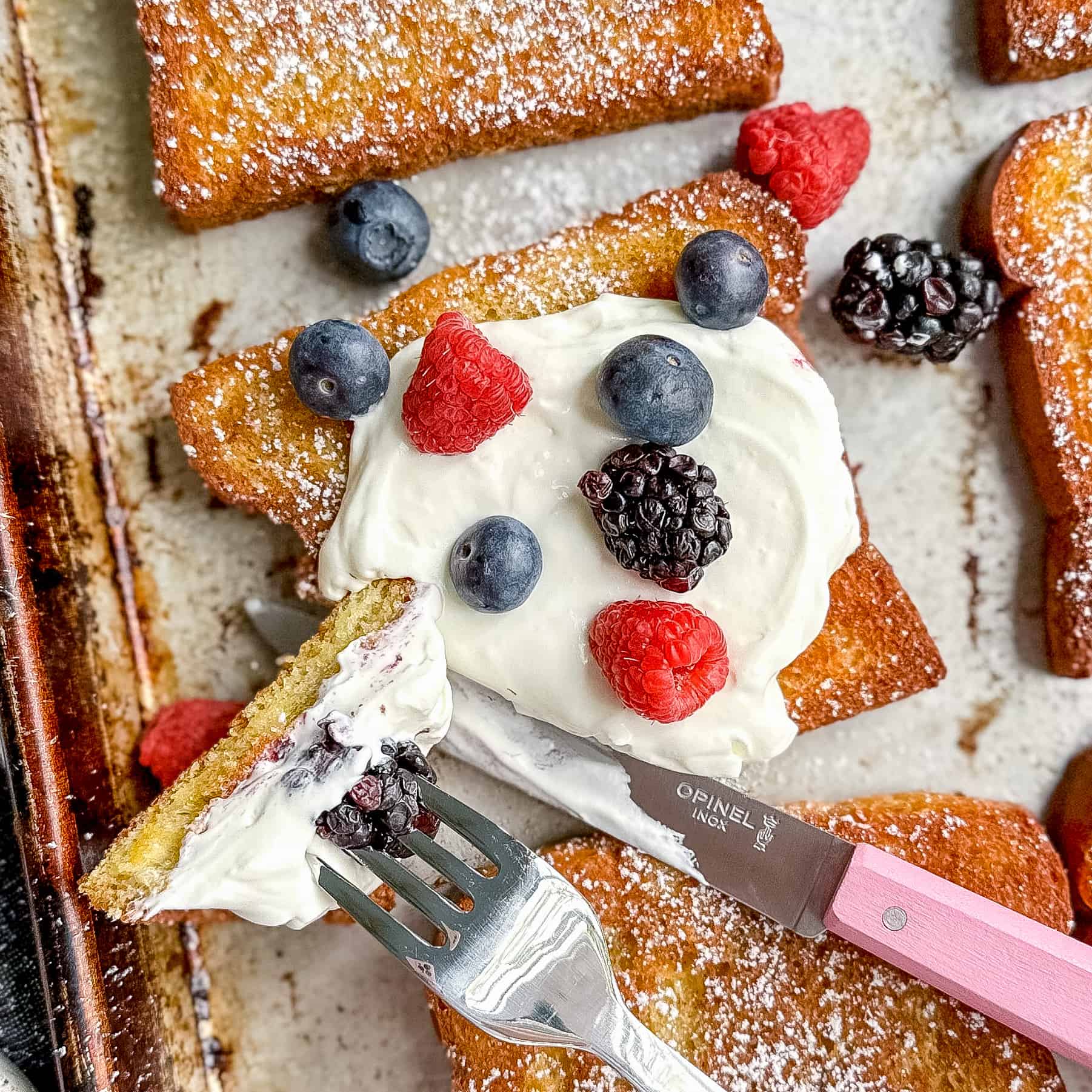 Slice in and enjoy!
Equipment
All sheet pans are not created equally. We've all had, and some still have, those cheap, dark, allegedly non-stick sheet pans that warp and buckle and make those loud popping noises in the oven as the heat twists them out of shape. And don't even get me started on what they've done to my cookies 🤬
If there is one recommendation that I can make for an essential kitchen product, it would be to purchase a good quality rimmed large sheet pan and a small sheet pan. Maybe more than one. Maybe I have 4 or 6 or 8 of them. Maybe I even have tiny ones just because they're cute. Don't judge.
I use my sheet pans for cookies, of course. They don't warp or buckle and they don't result in burnt bottoms, unless I over-bake my cookies of course. But they're also great for roasting veggies, whole chickens, I've even roasted a turkey or two on my sheet pan. I also use them to corral ingredients when I'm preparing dinner and once used them to separate beads when crafting. I'm a busy gal!
Expert tip
In order to get more of the sweet custard into your bread, I recommend that you start with stale bread. You can "stale" it yourself by just leaving it out overnight. I like to leave mine on a wire rack overnight so both sides are exposed to air.
How much you soak your bread for Sheet Pan French Toast is a personal decision. I tell you to do it for just a few seconds per side, but I know there are those among you who like to really soak your bread and get that full custardy center. I may not join you, but gosh darn it, I support your desire for wet bread.
Finally, check to see how many pieces of bread can comfortably fit on your pan, with about ¼ inch of space between slices. This recipes makes 8 slices, but bread loaf sizes vary and you may need to use a second sheet pan and divide the butter between them.
Recipe FAQ's
What bread should I use?
The number one factor for good French Toast bread is sturdiness. You want a bread that is sliced a little thicker and has a good density. Like a brioche bread or challah that you can slice yourself into at least ½ inch slices. Ooh, how good does cinnamon swirl bread sound?!
Can I use white bread?
Sure! That's what my Dad used and I loved it. But, if possible get a loaf you can slice yourself or just take care with how long you soak it. The bread you choose needs to withstand the soaking process and the french breading (🧐) process.
How do I store any hypothetical leftovers?
In the fantasy realm, where you didn't smash all 8 slices of Sheet Pan French Toast in one sitting, you can store your leftovers in a zip top bag in the refrigerator for up to 3 days.
How do I reheat my imaginary leftovers?
You would just toast them in your real life toaster until warm or give them a few minutes on each side in a buttered pan on the stove.
More French Toast Recipes
Did you try this recipe? Tell me all about it!
Leave a ⭐️ review and comment below!
Take a pic and tag @butfirst_webrunch on Instagram!
Sheet Pan French Toast
Crispy and caramelized on the outside, soft and fluffy on the inside, this Sheet Pan French Toast is an easy way to make a breakfast favorite on a busy morning.
Ingredients
French toast
8

slices

bread

4

large

eggs

½

cup

milk

2

tablespoons

granulated sugar

1

teaspoon

vanilla

1

teaspoon

ground cinnamon

½

teaspoon

ground cardamom

¼

teaspoon

ground nutmeg

6

tablespoons

unsalted butter

divided
Cinnamon sugar
¼

cup

granulated sugar

caster sugar

1

tablespoon

ground cinnamon
Greek Yogurt Whipped Cream
½

cup

heavy whipping cream

2

tablespoon

powdered sugar

½

cup

Greek yogurt

plain
Instructions
Greek yogurt cream
Add heavy cream and sugar to a medium bowl. Using a whisk or a hand mixer, whip to soft peaks. Add yogurt and continue mixing until peaks hold when whisk or beaters are lifted from the bowl. Cover and chill until ready to use.
French toast
Combine ¼ cup of granulated sugar with 1 tablespoon of sugar and set aside.

Place a large sheet pan in the oven and turn the oven on to 400°F. When oven comes to temperature, leave sheet pan in the oven for an additional 15 minutes.

Make custard by whisking eggs, milk, sugar, vanilla, cinnamon, cardamom, and nutmeg and pour it into a shallow pan, such as a small sheet pan.

Remove hot pan from the oven and place 4 tablespoons of butter on the surface. Return to the oven for 5 minutes, or until the butter begins to brown around the edges of the pan.



Place bread slices into the custard and soak on both sides for a few seconds, or as long as desired.

Carefully remove hot, buttery pan from the oven and place custard soaked bread on the pan. Sprinkle exposed sides with cinnamon sugar.

Place pan in the oven and bake for 10 minutes. Remove pan from oven and flip over bread slices. Sprinkle with more cinnamon sugar and return to the oven for another 10 minutes, or until the bread is browned on top and crispy on the edges.

Serve with your favorite side up (you know you'll have a favorite side). Serve with Greek yogurt cream and fresh berries.
Notes
Use any bread you like. I used brioche, but challah, french bread, or even everyday white bread will work. The thicker the slices, the better.
Nutrition
Calories:
302
kcal
|
Carbohydrates:
27
g
|
Protein:
9
g
|
Fat:
18
g
|
Saturated Fat:
10
g
|
Polyunsaturated Fat:
2
g
|
Monounsaturated Fat:
5
g
|
Trans Fat:
0.4
g
|
Cholesterol:
135
mg
|
Sodium:
184
mg
|
Potassium:
139
mg
|
Fiber:
2
g
|
Sugar:
15
g
|
Vitamin A:
646
IU
|
Vitamin C:
0.2
mg
|
Calcium:
107
mg
|
Iron:
2
mg
The nutritional and caloric information shown is an estimate provided by an online nutrition calculator. It does not assert or suggest that readers should or should not count calories, and should not be considered a substitute for a professional nutritionist's or doctor's counseling.