Just 3 ingredients, and 5 minutes, will give you the fluffiest, most moist, and delicious scrambled eggs of your life! These amazing eggs are going to bring you Sunday Brunch vibes every day of the week!
Recreating the perfect eggs
After giving birth to my second daughter, a million years ago, I had a divine experience. No, I didn't see Jesus, but close. I had the best scrambled eggs I had ever, or will ever have in my life. I was in a tiny rural hospital in Mississippi, and the kitchen was run by women of the local AME (African Methodist Episcopal) Church and those ladies could cook. Almost 34 years later and I am still obsessed with those eggs. I love my daughter too, but those eggs.
The actual angel who brought me my breakfast that day said that the eggs came from her own coop. Lucky chickens. I don't have a chicken coop, but I've spent the past "a lot of" years trying to recreate the taste of those eggs. I've come as close as humanly possible. These are very good eggs.
What's in the fluffiest scrambled eggs?
Eggs I like to use 2 large eggs per person and usually cook 2 portions at a time. It's what comfortably fits into my nonstick pan and is the perfect portion size. That being said, for extra creaminess, I often add one extra egg yolk per serving because I'm a luxurious person. Totally optional.
Heavy Cream I add 2 tablespoons of heavy cream per serving. You can substitute an alternative milk, but it won't be as creamy.
Cream Cheese One tablespoon of cream cheese per serving will help ensure that your eggs stay moist, even if you accidentally cook them a little too long.

Optional Ingredients

Butter This is completely optional. I have a very high quality nonstick pan and prefer not to add butter, but if your pan tends to stick a bit, add the butter or an equivalent amount of neutral oil.
Salt I do not add salt to these because I just love the flavor of the eggs and there's enough sodium in the cream cheese to elevate the flavors to just the right level. Also, adding salt while cooking can pull water from your eggs, leaving you with a clumpy, weepy egg situation. Sad. That being said, adding a small sprinkling of either kosher salt or flaky sea salt just before serving is a personal choice that I sometimes make.
Secrets to making the creamiest eggs
Room temperature vs cold eggs Using room temperature eggs ensures your eggs have a custardy creaminess to them. This kind of texture is difficult to achieve with cold eggs because egg proteins, as they cook, tend to clump up, making scrambled eggs that are tight or even weepy. Adding heavy cream to the eggs moves those proteins even further apart, slowing the clumping process, leading to even creamier eggs. BOOM! Science.
Everything the same temperature I crack my eggs (and egg yolks) in a medium bowl, add my cream and cream cheese, and let it sit at room temperature for 15-20 minutes. Don't even whisk them yet. This resting time gives the eggs and the dairy ingredients time to warm to room temperature and gives you time to sip your coffee or tea and get any other breakfast items together. Now you can whisk them.
Medium heat and a nonstick pan Usually I'm a huge fan of cast iron. I use mine almost every day, sometimes multiple times a day, but for eggs I say go nonstick. Why take chances with your eggs sticking to the pan? As for the heat, most recipes will tell you low and slow for scrambled eggs. I use medium heat because you will be in charge of regulating the temperature by just moving the pan on and off the heat as you cook the eggs and you won't be babysitting eggs forever. You're hungry!
Keep things moving As soon as you pour your eggs in the pan, take a silicone spatula and drag it across the bottom and around the sides of the pan. This will move the already cooking eggs aside and allow raw eggs from the top to drop down and cook. Keep doing this, and if at any time you feel the eggs are cooking too fast, just take the pan off the heat, and keep stirring the eggs. Continue to stir until there is no liquid egg mixture left. Turn off the heat and continue stirring the eggs gently until all of the uncooked parts get firm. This should all take only 2-5 minutes.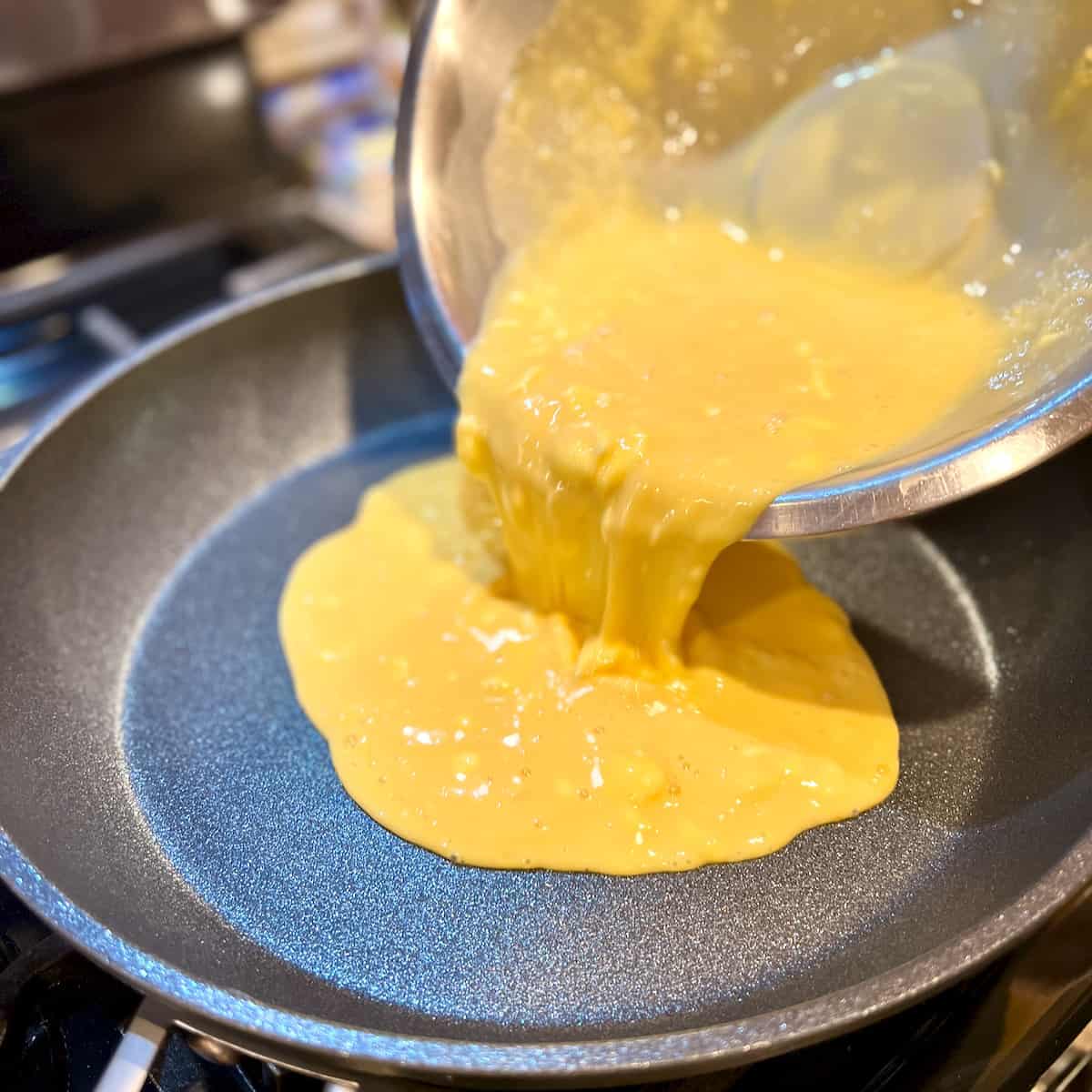 Remove eggs to a bowl To avoid overcooking your eggs, you will take them out of the pan when they still seem a bit wet. Not runny, but you will still see glossy, moist yellow eggs. Almost, but not quite, soft egg yolk texture. At this point, remove them from the pan and into a medium bowl. Keeping them in the pan to serve risks overcooking. They will still continue to cook a bit, just from their own carry over heat.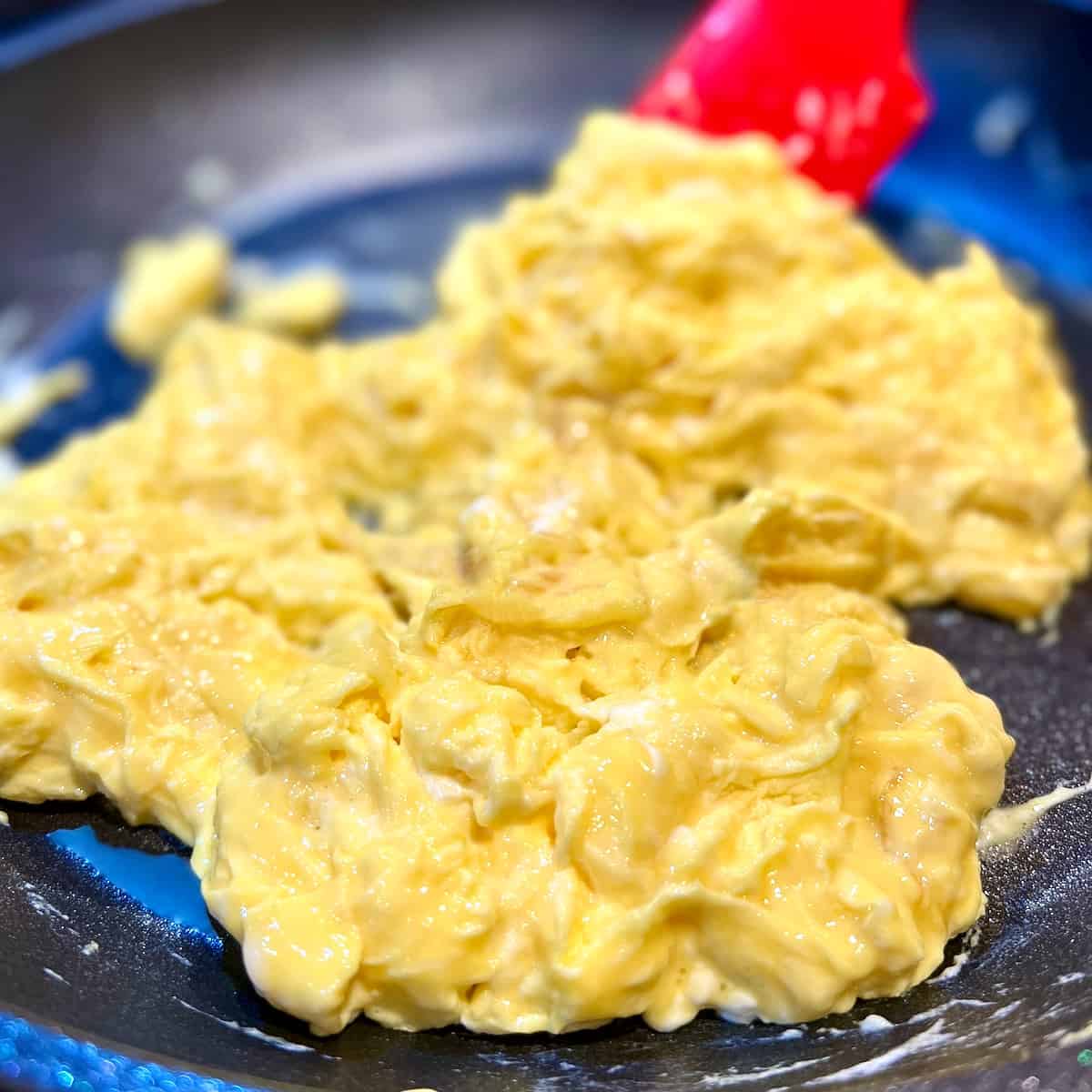 Want more savory breakfast recipes?
Fluffiest Scrambled Eggs
Just 3 ingredients, and 5 minutes, will give you the fluffiest, most moist and delicious scrambled eggs of your life! These amazing eggs are going to bring you Sunday Brunch vibes every day of the week!
Ingredients
4

large

eggs

2

large

egg yolks

optional

4

tbs

(

60

g

)

heavy cream

2

tbs

(

29

g

)

cream cheese

spooned into tiny bits

1

tbs

(

14

g

)

unsalted butter

optional
Instructions
Place eggs, egg yolks (if using), heavy cream, and cream cheese (in bits) in a medium bowl Allow to sit for 15-20 minutes to come to room temperature.

Whisk eggs, cream, and cream cheese vigorously. The cream cheese will not completely break down into the eggs. This is fine as it will melt into the eggs.

Heat a nonstick skillet over medium heat. Add butter to hot skillet, if using. Pour eggs into hot skillet.

Using a rubber or silicone spatula begin sweeping the sides and bottom of the pan. Cooked egg will be gathered up, allowing uncooked egg to drop to the bottom of the pan. If you feel that it is happening too quickly, or if you see any browning developing on the eggs, move the pan off of the heat and continue stirring.

Continue to gently move the egg mixture as it begins to form curds, until there is no liquid egg mixture left. Remove from the heat and pour eggs immediately into a bowl to stop the cooking. Garnish with chopped chives or other soft herbs, if desired. Serve warm.
Nutrition
Calories:
401
kcal
|
Carbohydrates:
3
g
|
Protein:
17
g
|
Fat:
36
g
|
Saturated Fat:
18
g
|
Polyunsaturated Fat:
3
g
|
Monounsaturated Fat:
12
g
|
Trans Fat:
1
g
|
Cholesterol:
629
mg
|
Sodium:
209
mg
|
Potassium:
201
mg
|
Sugar:
1
g
|
Vitamin A:
1596
IU
|
Vitamin C:
1
mg
|
Calcium:
113
mg
|
Iron:
2
mg
The nutritional and caloric information shown is an estimate provided by an online nutrition calculator. It does not assert or suggest that readers should or should not count calories, and should not be considered a substitute for a professional nutritionist's or doctor's counseling.