These amazing Soft and Fluffy Dinner Rolls have a melt in your mouth texture. With an easy to follow recipe, these are rolls you'll make again and again.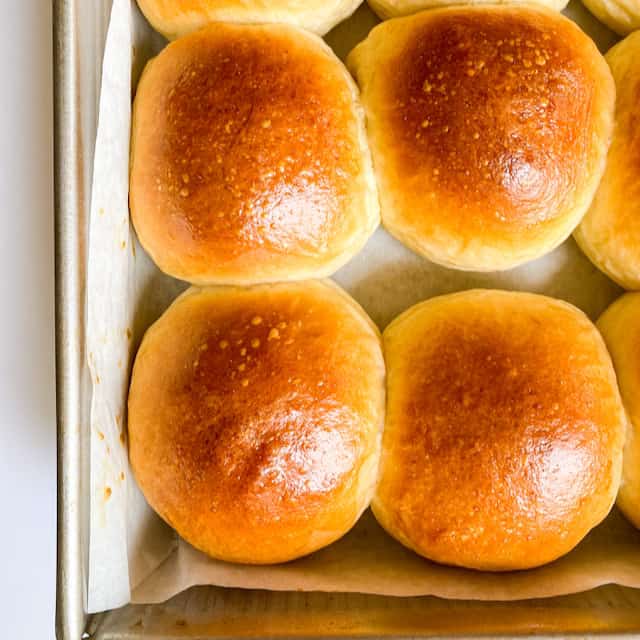 Making bread is not (very) scary
Let's face it. Baking can be scary as... heck. Breads and rolls are made with just a few simple ingredients, yet somehow, the idea of making bread scares the daylights out of some people. I was one of those people once. Then I made these Soft and Fluffy Dinner Rolls.
I think the trick to making bread is not to take it too seriously. I mean it's just bread. If you read too much into dough hydrations, and flour protein percentages, and "how many types of flour are there now?", you're going to overthink yourself into making some pretty awful bread. Or no bread at all.
But, if you just keep in mind that it's a few basic ingredients, and you follow my pretty simple instructions, you're going to be fine. I write my recipes as though I'm teaching my daughters, so scoot on in kids, Mom's gonna show you to make soft and fluffy dinner rolls.
Ingredients in these Dinner Rolls
Yeast You can use instant yeast or active dry yeast, both will do the job. If you use active dry yeast, you need to activate (proof) it before starting. See notes about yeast below.
Water and milk Whole milk adds flavor and fat to the rolls, but I found that too much milk reduced the fluffiness of the rolls in a way that I didn't like, so I use a mixture of milk and water.
Sugar Feeds the hungry, hungry yeast.
Flour All-purpose flour is the most common flour, and makes really good dinner rolls. You can also use bread flour, which produces a chewier, more stretchy roll.
Salt Salt adds flavor, not saltiness. Just a teaspoon flavors all the rolls perfectly
Egg This adds both structure to the dough and flavor to the rolls.
Butter Butter makes everything better, doesn't it? It's certainly true in these dinner rolls! I use room temperature butter here.
Tips for using yeast
For best results, buy and use yeast before the expiration date. Yeast loses its potency over time, resulting in longer rising times, or no rise at all. We proof active dry yeast to determine whether it is still alive. To proof, add your yeast to warm liquid, as directed in your recipe. If your yeast doesn't start to foam up within 5 minutes of adding it to the liquid, your yeast is probably deceased. You'll need to buy more, then start again.

Make sure the liquid you are using, to proof your yeast, is between 100°F and 110°F. Any hotter and you risk killing the yeast; colder and the yeast won't wake up. If you don't have a thermometer, the liquid should feel warm to the touch - not too hot and not too cold.

Goldilocks.
If you don't have active dry yeast, you can use the same amount of instant yeast. Instant yeast may also be labelled as bread machine yeast or rapid rise yeast. They're all the same, just different names. Instant yeast does not have to be proofed. Just add it to the dry ingredients and go!
How to make Soft and Fluffy Dinner Rolls
Make the dough In your stand mixer, using the paddle attachment, cream softened butter with sugar, then add in egg, your yeast mixture and some of the flour, just to get things started.
Knead the dough Add in the rest of the flour and mix the dough for about 2 more minutes. Switch to the dough hook and mix 3 more minutes, or until it completely pulls away from the sides of the bowl and the dough feels stretchy and not too sticky.
No stand mixer? No problem
You can knead your dough by hand! In a large bowl, gradually add the flour to your butter/yeast/egg mixture and stir with a heavy wooden spoon until you just can't do it anymore. Then place the dough on a lightly floured surface with room for kneading.
Begin kneading the dough by folding the dough towards you, and then pushing it down and away from you with the heel of your hand. Turn the dough slightly and repeat. If it feels sticky, sprinkle on a little more flour. Continue to knead, folding and turning the dough, until it is smooth and supple, about 8-10 minutes. It's hard work, but I get into a rhythm and find it relaxing.
Rise Form dough into a ball and place in a large greased bowl. Cover the bowl with plastic wrap and let it rise for about 1-2 hours in a relatively warm spot.
Shape Remove the dough from the bowl, divide into 12 equal pieces, and then shape into rolls. I weigh my dough and divide it equally (using my scale). I then flatten the dough on my surface, with all the loose bits on top, and pinch all the edges together like a drawstring purse. Then I place it back on my surface, seam side down. In my cupped hand, I roll the dough in a circular motion, pressing down lightly, until it forms a neat ball.
Special note: I use this same technique to make my No-Knead Crusty rolls!
2nd Rise Place the shaped dough balls in the pan that you will be baking them in, cover, and let them rise for about 1 hour.
Bake Brush tops of the rolls with an egg wash and bake at 350°F for 20-25 minutes, or until golden brown.
Handy tip: Prepare Ahead!
Not everyone has 3 to 4 dedicated hours to mix, shape, and bake dinner rolls, especially when there are other dishes to prepare. You have options! To begin, prepare the dough, let it rise, and shape into rolls. Then follow either of the directions below:
Overnight instructions: Baking tomorrow? Place the shaped rolls in their baking pan and cover tightly with plastic wrap. Refrigerate for up to 18 hours. When ready to bake, remove the rolls from the refrigerator, keep covered, and allow to rise on the counter for 1-2 hours before baking as directed.
Freezer instructions: Baking in a week or two? Place the rolls, a bit apart on a baking pan, and freeze until hard. Place frozen rolls in a zip top bag until ready to use (within 2 to 3 weeks is best). When you're ready to roll, place in baking pan, and allow to thaw and rise for about 4-5 hours. Bake as directed.
Looking for more yeasty recipes?
Soft and Fluffy Dinner Rolls
Soft and Fluffy Dinner Rolls are amazingly light with a melt in your mouth texture. With an easy to follow recipe, these are rolls you'll make again and again.
Ingredients
½

cup

(

120

g

)

water

(100-110°F)

½

cup

(

120

g

)

whole milk

(100-110°F)

3

tablespoon

(

36

g

)

granulated sugar

divided

2 ¼

teaspoons

(

7

g

)

active dry yeast

1

large

egg

6

tablespoon

(

84

g

)

unsalted butter

softened

3 ½

cups

(

420

g

)

all-purpose flour

1

teaspoon

kosher salt

1

large

egg

whisked with 1 teaspoon of water, for egg wash

2

tablespoon

(

28

g

)

unsalted butter

optional, for tops of rolls, after baking
Instructions
In a small bowl, combine warm milk and water with yeast, and 1 tablespoon sugar. Let stand until foamy, about 5 minutes.

In a larger bowl, whisk together flour and salt.

In the bowl of your stand mixer, fitted with the paddle attachment, beat butter and remaining 2 tablespoons sugar on medium speed until light and fluffy, about 2-3 minutes. Add in egg, the bloomed yeast, and one cup of your flour mixture and mix until well combined, about a minute. Add the rest of the flour and beat on medium speed until a soft, smooth, slightly sticky dough forms, about 2 minutes.

Switching to the dough hook, increase speed to medium-high and knead for 3 minutes.

Lightly oil a large bowl or coat with nonstick spray; place dough in bowl, turning to coat. Cover and allow to rise in a warm spot 1 to 2 hours, or until doubled in size.

Gently deflate dough by punching down. Divide the dough into 12 equal pieces. Press each piece into a disk, fold all the edges in towards the center of the disk. Turn seam side down and shape into a ball by rolling on the counter in your cupped hand.

Spray a 13X9" pan with cooking spray. Place your rolled balls into the pan, in three rows of four. Cover again and leave in a warm place to double again, about 1 hour.

While the rolls are rising, preheat the oven to 400°. Brush the tops of your rolls with a egg wash and bake for 20-25 minutes.

Brush finished rolls with melted butter and sprinkle with flaky sea salt if desired.
Notes
After shaping the rolls, you can cover them with plastic and refrigerate up to 18 hours or freeze for 2-3 weeks, before baking.
Allow refrigerated rolls to rise for 1-2 hours before baking. Frozen rolls will need 4-5 hours to thaw and rise before baking.
Nutrition
Calories:
240
kcal
|
Carbohydrates:
32
g
|
Protein:
6
g
|
Fat:
10
g
|
Saturated Fat:
6
g
|
Trans Fat:
1
g
|
Cholesterol:
54
mg
|
Sodium:
219
mg
|
Potassium:
96
mg
|
Fiber:
1
g
|
Sugar:
4
g
|
Vitamin A:
312
IU
|
Vitamin C:
1
mg
|
Calcium:
41
mg
|
Iron:
2
mg
The nutritional and caloric information shown is an estimate provided by an online nutrition calculator. It does not assert or suggest that readers should or should not count calories, and should not be considered a substitute for a professional nutritionist's or doctor's counseling.